8 Bridal Trends Set To Be Hot With 2024 Brides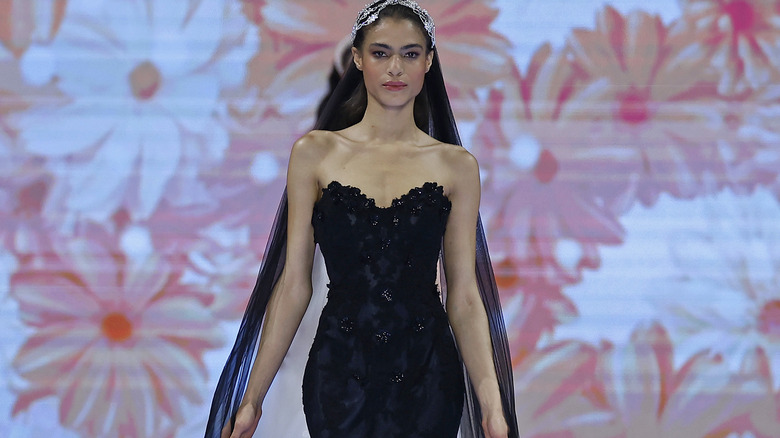 Estrop/Getty Images
Wedding season is in full swing, which means we're taking notes. If you have just gotten engaged, you are likely planning a wedding in 2024. Most Americans wait 12 to 18 months to get married. Why? Not only to savor this moment in their lives but also to have plenty of time to plan. Countless brides have been dreaming of their wedding day since they were children, so they need optimal time to ensure every desire of theirs is met. Catering, flowers, and bridesmaids, oh my!
Arguably, the most important part of a wedding remains the bride's look. The traditional wedding dress is something special that you will only wear once in your life (if all goes to plan), so it better be unforgettable. When it comes to picking a wedding dress, trends start to show in the year before as popular bridal designers release their newest collections. "Designer gowns should be ordered six to nine months in advance to ensure there is enough time for delivery and alterations," says co-owner of Kleinfeld Bridal Mara Urshel, speaking to Bridal Guide on why you should start looking for your dress early.
If you are newly engaged, the time is now to begin searching for a bridal look that will be on trend for your 2024 wedding. We have curated eight of the top designer-approved trends set to be popular with 2024 brides.
Go short (it's your wedding day)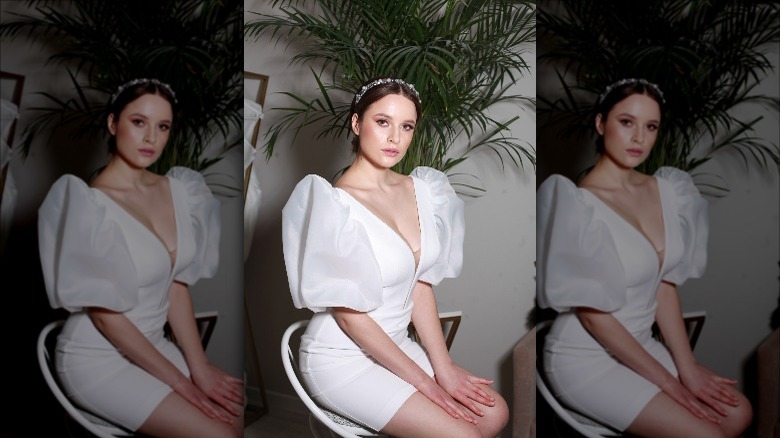 Ina ART/Shutterstock
Short wedding dresses serve as a great option for the more casual bride. The free-spirited bride who still wants to be fashion-forward often chooses it. As more couples than ever elect to elope, the short wedding dress is also much more packable, and you need not deal with squeezing loads of tulle or fabric into your suitcase.
Ditch the traditional white
White is overrated for 2024 weddings. The standard white wedding dress came became a tradition after Queen Victoria chose white over gold or silver for her wedding dress. Nowadays, brides should be able to wear what they want to their wedding. After all, it is their day, and what better way is there to express emotion or your personal connection with your partner than through your clothing? Men get to wear colorful suits — we admittedly love a red or navy moment — so it's time women got to step out of the box more. Black is perfect for the moody, mysterious babes, but we also pink for an elegant, fairy tale touch.
Bridgerton-inspired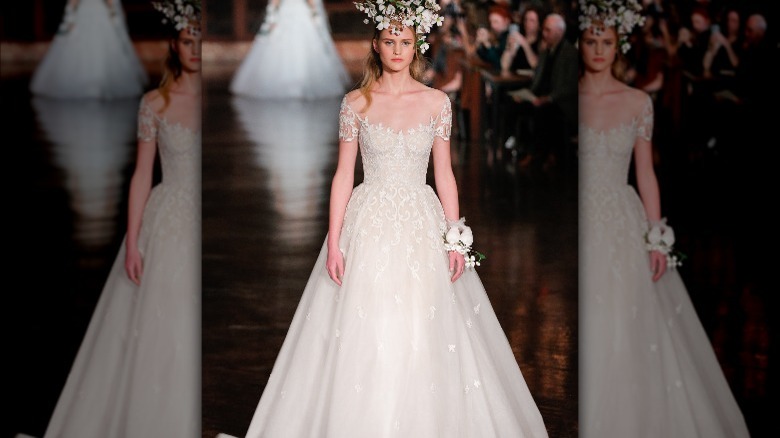 Thomas Concordia/Getty Images
One of the hottest shows out there, "Bridgerton" leaves people embracing royalty-core in their everyday lives. Seeing queens and kings on the screen has compelled many women to dream of the princess dresses they can wear on their wedding day. Slipping into a big ballgown on your wedding day will have you looking and feeling like royalty.
Bigger and better bows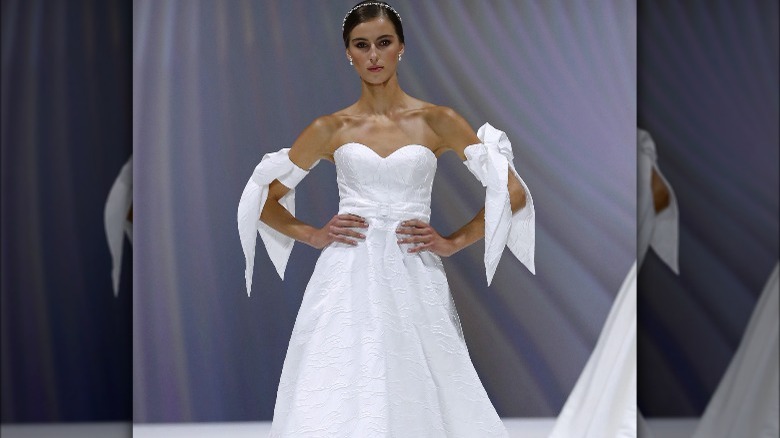 Estrop/Getty Images
Bows have been a 2023 fashion staple and we don't anticipate the trend to die down any in 2024. Incorporating big bows into your 2024 wedding will add a feminine and fashion-forward touch. Whether you use them on your dress, in your hair, or as an addition to your shoes, bows deliver a beautiful finishing touch.
Fun and feathered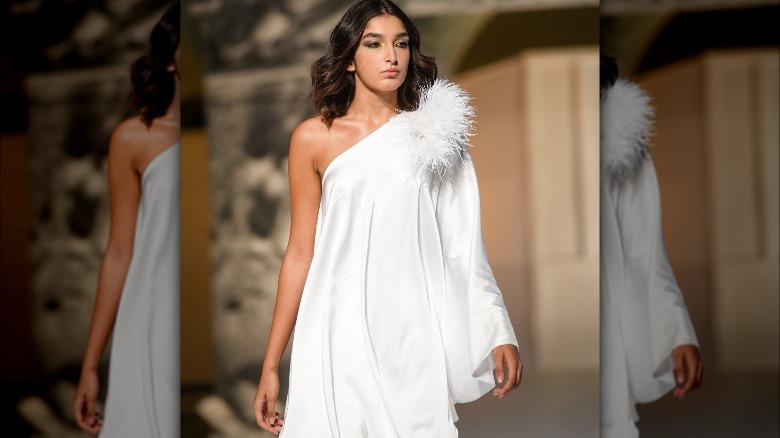 Edward Berthelot/Getty Images
Shockingly, you can wear feathers on your wedding day without looking like Big Bird. Whereas fully feathered dresses are also trending, subtle touches will work best for your wedding day. Instagram content creator @the.sam.aesthetic was the ultimate cool girl bride when she wore feathers on the cuffs of her short wedding dress, complete with other details such as white boots and a pearl-detailed veil.
A reception dress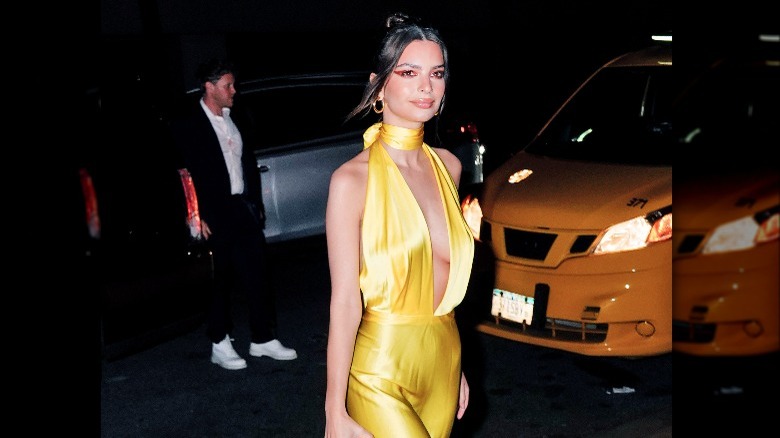 Gotham/Getty Images
While at your wedding you will mostly be standing still, get ready to hit the dance floor at your reception. Welcome to the main reason many brides now choose to have a separate reception dress rather than wearing their actual wedding dress to their reception. It-girl Sofia Richie Grainge posted photos to her Instagram showcasing her change into a Chanel custom mini dress for her reception.
Floral appliqués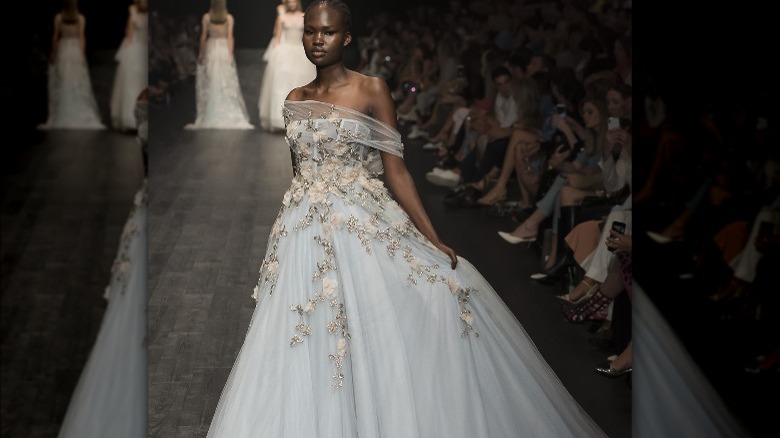 Naomi Rahim/Getty Images
Flower arrangements don't have to be the only thing floral at your wedding. Whether you choose one or many scattered across your dress, floral appliqués are trending for 2024 brides. Floral appliqués add a mix of feminine style and bohemian spirit to your wedding dress, making them perfect for an outdoor spring wedding.
Something blue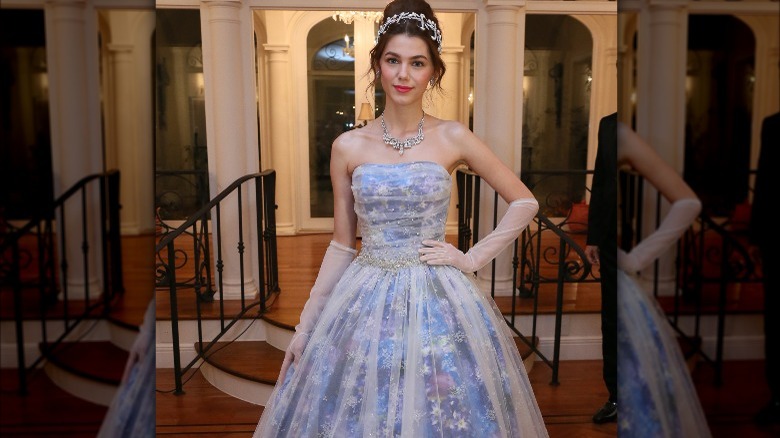 Ken Ishii/Getty Images
"Something old, something new, something borrowed, something blue" is a traditional saying describing what many brides should wear on their wedding day. Now, 2024 brides are taking the saying seriously adding blue to their wedding day accessories — or even sporting a blue dress. Whether it be in their jewelry, their bouquet, or even the color of their shoes, next year's brides want their "something blue" to be noticeable. And it will.