The Exact Lash Map Halle Bailey's Stylist Used To Bring Disney's Doe-Eyed Ariel To Life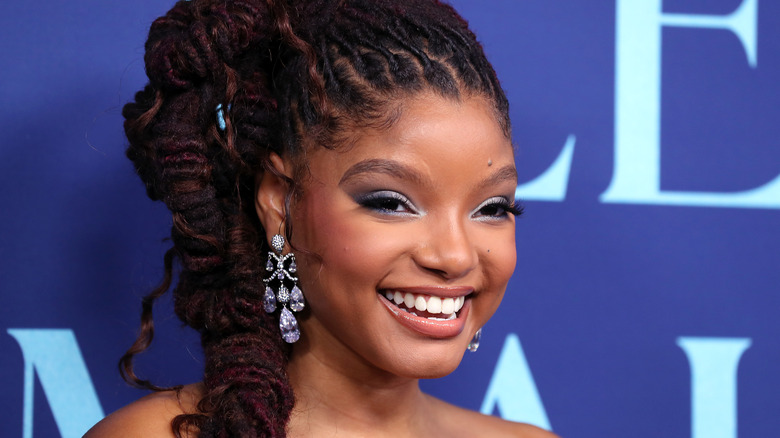 Lisa Maree Williams/Getty Images
False lashes and lash extensions have continued to trend, despite an increased focus on improving your natural appearance with skincare and serums over using enhancers. Still, we aren't seeing exaggerated lashes like we were pre-pandemic. Instead, we are seeing natural and wispy lashes. In particular, we have gained plenty of natural lash inspiration from Disney's latest release, the live-action version of "The Little Mermaid." In the movie, Halle Bailey showcases eyelashes fit for a true princess.
Bailey's stylist used a lash map to get the look. If you aren't an eyelash tech yourself, you have probably never heard of a lash map, but it can be a simple way to explain your preferred look the next time you head to the salon. Lash mapping is a technique used to plan out the size, length, and thickness of lashes you will apply to each area of the eye. If you are looking to use the technique at your next lash appointment, you're in luck because TikTok star @kirbiejohnson reached out to Bailey's stylist to get the exact lash map she used to bring Ariel to life.
Halle Bailey's lash map
In the live-action version of "The Little Mermaid," Halle Bailey wore beautiful lash extensions that were long but still appeared natural due to them being perfectly imperfect. When TikTok influencer @kirbiejohnson reached out to Bailey's stylist Ria Biggerstaff, she not only learned the lash map behind Ariel's look but also the backstory as to why she chose the lashes. 
Biggerstaff told Johnson that she was inspired by all of the Disney princesses when creating Ariel's eyelash look. Many of Disney's most famous princesses have no lashes at all or barely-there lashes. She created a "Disney" version of natural, ensuring that the lashes flared up and outward, remaining noticeable, but not being perfectly uniform.
Bailey's lash stylist emphasized to Johnson that she does not usually create lash maps as she believes every eye is different — so the map she provided should be taken with a grain of salt. In it, the lashes begin very short close to the inner corner, and get longer as they go across the eye. She started with a 7cm lash and ended with a 13cm lash, which gave Bailey's lashes a full and flared appearance.
Other lash tips to get a wispy, natural look
Gorica Poturak/Getty Images
Though a lash map is a helpful tool, no two eyes are the same, so we cannot expect the same lash pattern to give the same look to everyone. Therefore, there are some other tips you can follow to get a wispy, natural lash look. According to Biggerstaff, the biggest rule is to not be too strict with where you place each lash. While they should generally go from shorter to longer, Biggerstaff said she often "overlap[s] and filter[s] in the next sizes."
Another tip Biggerstaff told Johnson is to add narrow fans to fill any gaps in the lashes, which helps where natural lashes are the most sparse. To make the look more "Disney" she told Johnson to never forget to brush out the ends of the lashes near the outer corner. This move is essential for gaining the voluminous flare that many animated Disney princesses have. The last tip Biggerstaff shared? A good lash glue is a necessity. Now go get your Disney princess on and try these pro lash tips.