Cropped Jackets & Bralettes: The Up-And-Coming Outfit Formula For Chic, On-The-Go Babes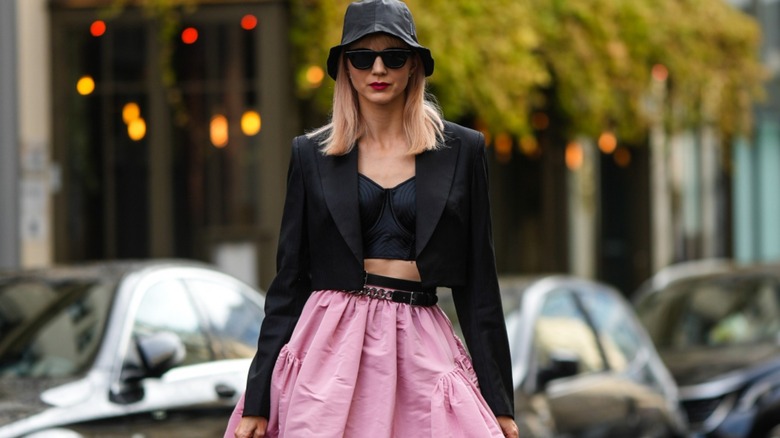 Edward Berthelot/Getty Images
There have been some iconic pairings in the fashion world that have taught us all a lesson in styling. From a basic white tee with jeans to graphic tees paired with dress pants, these formulas are the go-to ways to style simple pieces that can make your mornings easier. The beauty of sticking to some of these formulas is the fact that they are foolproof at making you look chic while saving time and money. One of the newest outfit formulas to make a splash involves a cropped jacket and bralette. These two unexpected pieces are key for a chic and daring outfit everyone will love.
Although many will find this trend too wild and risque, it can perfectly be modified to suit your needs and preferences. No matter how you approach this pair, there is no doubt there will be plenty more cropped jackets and bralettes in the future.
Leather jacket and bralettes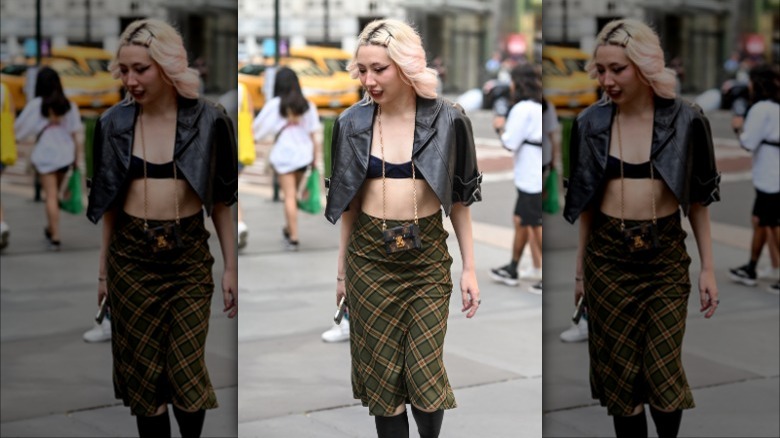 Daniel Zuchnik/Getty Images
The leather jacket is a staple of edginess and grunge. Since the beginning, the leather jacket has given all outfits a touch of a rock-in-roll or punk vibe that everyone simply loves. Pair an iconic cropped leather jacket with your bra top for an outfit that's made for wildlife. Not only does leather naturally add texture and grunge to your look, but the bralette will also give your look a touch of femininity. A perfect going-out pair, these two are simply made for a fun night out.
More coverage, no problem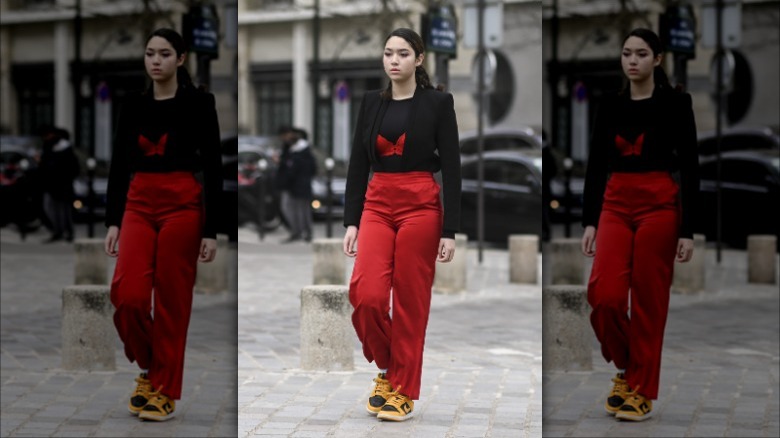 Daniel Zuchnik/Getty Images
At first glance, the cropped jacket and bralette combination can seem like an ultra-risque pair. Even though it's not for the faint of heart, there are ways you can add more coverage to help you feel more comfortable and secure. Simply add another piece underneath your bralette to give you more coverage. Keep your bralette in a vibrant hue to help you create a chic contrast that won't hide the details of the undergarment. A layering tank in the same hue as your cropped blazer will give you the same vibe without feeling too exposed.
Monochrome moment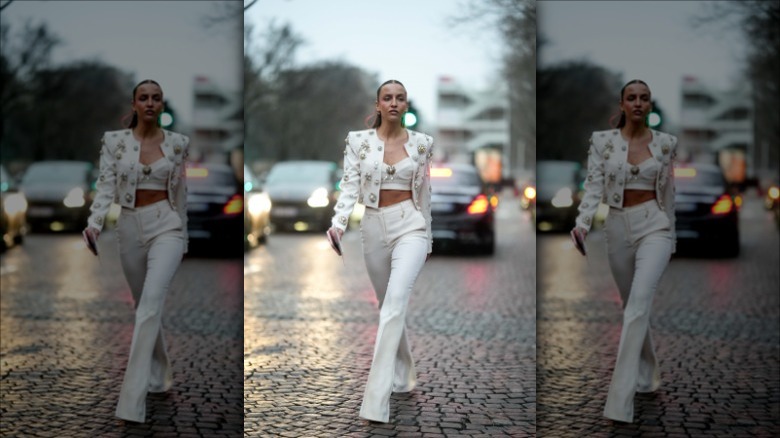 Edward Berthelot/Getty Images
Styling your cropped jacket and bralette is not only the perfect combination for those looking for chic and quick alternatives, but it can also lend itself to serious high-fashion moments. Monochrome is the perfect styling theme to use with this pair as it will highlight the outfit while keeping styling to a minimum. Plus, a monochrome outfit will contrast perfectly against your skin, making it pop even more. Since your skin will act as a visual break in the outfit, no need to feel overwhelmed by wearing only one color.
Tweed jackets and bralettes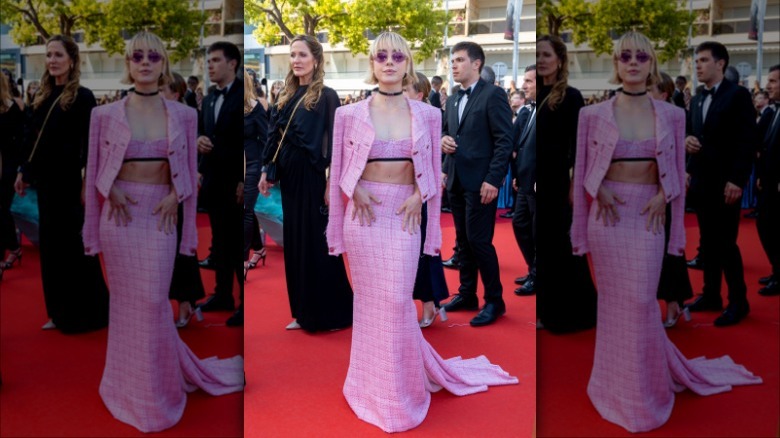 Marc Piasecki/Getty Images
Tweed cropped jackets and matching bralettes is no stranger to high fashion. This combination is the formula for many of the most iconic Chanel looks. Since this iconic combination is a staple on the runway, it's the perfect formula to take with you in the real world, too. Reach for a matching bottom for a head-to-toe tweed moment that will surely become your go-to uniform.
Funky prints and combinations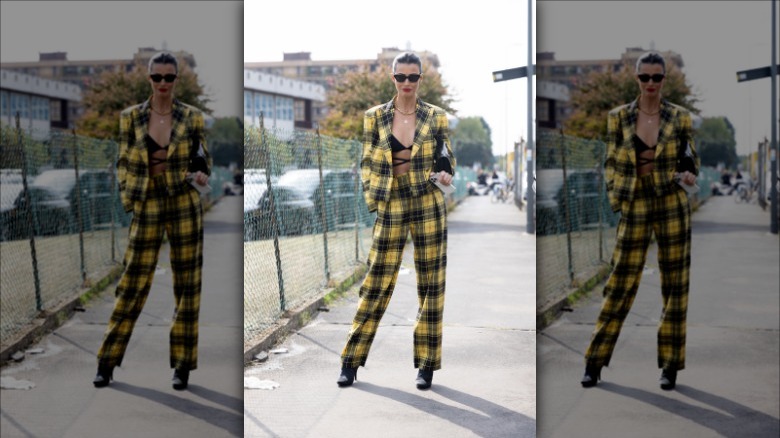 Valentina Frugiuele/Getty Images
A cropped jacket and bralette can already be an eye-catching fashion combination, but nothing adds more of a statement than a bold print. Use this daring pair to have some fun with your prints for a look no one will forget. Unique and statement prints in your cropped jacket and bottom with a contrasting bralette color will create a runway-ready look that will capture everyone's attention. Not only is this a fun way of playing with this pairing, but it can also help make styling prints even easier.
Head-to-toe matching moment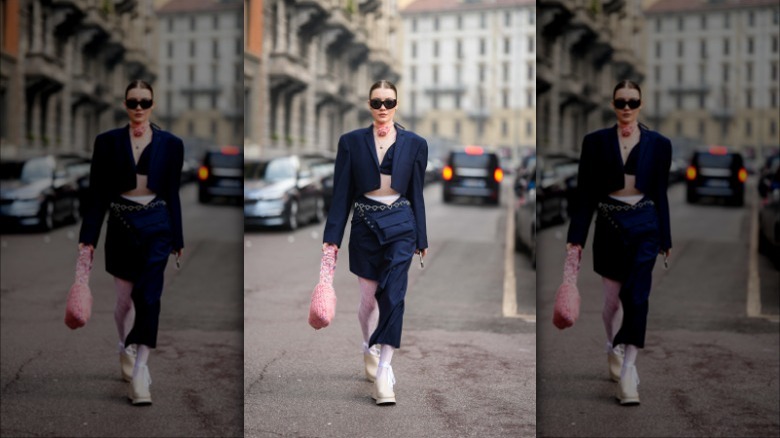 Edward Berthelot/Getty Images
At a minimum, your cropped jacket and bralette outfit combination will contain three separate pieces. While you could match two and go with a different color or print on the third piece, there's no easier styling than going with a head-to-toe matching look. Matching your cropped jacket, bralette, and bottoms will look cohesive and intentional, even if it wasn't.
Styling can be daunting, even if it's just three pieces. Make this pairing simple and easy on yourself by going with a matching ensemble that will look ultra-chic and modern.