Why An Aged Leather Jacket Is The Grungy Staple Your Closet Is Missing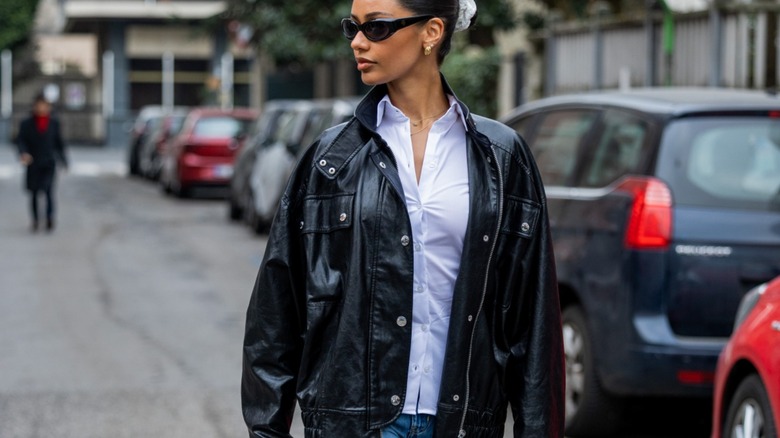 Christian Vierig/Getty
Updating your wardrobe basics is the best method for keeping your style fresh, and when it comes to fashion staples, you should add to your closet in 2023, a leather jacket is a must-have. You might already have a leather jacket, but the 2020s have taken the classic clothing item in a significantly grungier direction, meaning you'll need an update.
Advertisement
Today's on-trend look is an aged leather jacket. The more stretched, wrinkled, and faded your leather (or faux leather) is, the better. A distressed leather jacket feels authentic and lived-in and can add a mature edge to any outfit. Moreover, vintage leather jackets are excellent examples of sustainable fashion, whether you get your jacket from a thrift store or an older relative's collection.
Distressed leather jackets are versatile pieces that can be dressed up or down and styled for numerous aesthetics, ranging from rocker chic to retro glam. Once you have the perfect vintage leather jacket, your options are endless.
Elevate a casual ensemble
An aged leather jacket is a classic piece for elevating a casual outfit. The leather creates a luxurious, structured feeling, while the distressed elements will give off the energy of a cool girl who just happened to grab a gorgeous jacket on her way out the door. This style works best if your outfit has neutral tones, but it can also be great with a more vibrant look as long as you match your hues well.
Advertisement
Vintage silhouettes
The distressed leather jacket trend is ideal for showing off a vintage silhouette. Embrace the '80s and '90s aesthetic and look for a jacket with ballooning sleeves. The sweet spot is massive in the shoulders, slightly tapered at the wrists, and a cropped length to accommodate high-waisted pants. It can feel a little funky to style at first, but in the end, you'll look effortlessly cool (not to mention extra cozy with your big sleeves).
Advertisement
Playful details
Daniel Zuchnik/Getty
Don't be afraid to rock an aged leather jacket with playful details. A standard leather jacket is great, but you can make your jacket a signature piece when it has a unique design. If you're going thrifting, keep an eye out for jackets with unusual elements. Oversized pockets, a distinctive collar, or a strangely placed zipper are all ways a leather jacket can go from boring to bold.
Advertisement
Pair it with a skirt
You can also style your distressed leather jacket for a more femme look. A midi or maxi skirt paired with a faded jacket will transform you into a street style icon, especially with the midi skirt trend getting an edgy update this season. Since the vintage jacket already makes it a purposefully eclectic outfit, you can match it with practically any long skirt, and it will feel like a brilliant fashion statement.
Advertisement
Try an oversized motorcycle jacket
If you want a simple item that can make every outfit look cool, get an oversized motorcycle jacket. Put an oversized moto jacket over jeans and a white T-shirt, and you'll be identical to every it-girl paparazzi photo of the '90s. You can't go wrong with styling this piece. The loose fit has an off-duty model vibe, while the dangling belt and large lapels add dynamism to the silhouette.
Advertisement
The ultra-distressed look
Take this trend to the extremes and show off the most distressed leather jacket you can find. If it's high-quality leather, the aging process will only make the jacket more visually engaging. Plus, an old jacket is a convenient everyday item since you won't have to worry about damaging it.
Advertisement
Give it a sporty vibe
Aged leather jackets are useful for sporty gals, as well. If you need an extra layer when spending the day outside or just want your usual look to feel more put together, a distressed leather jacket is your friend. Find a vintage leather jacket with fabric elements to evoke an athleisure aesthetic, and wear it with leggings and sneakers for the perfect on-the-go look.
Advertisement
Add elegance with a leather trench coat
Distressed leather isn't just for jackets. Go for a more elegant feel with a leather trench coat. Some mild stretch and fading on the leather ensures that this piece won't feel stiff or cheesy ("The Matrix" jacket is awesome as a statement piece, but not so much as a clothing staple). Since a trench coat is one of the basics to build your spring capsule wardrobe around, incorporating the aged leather trend into this item will keep your closet relevant and versatile for the rest of the year.
Advertisement