Tips For Styling A Floppy Sun Hat For Everyday Wear - Not Just Vacation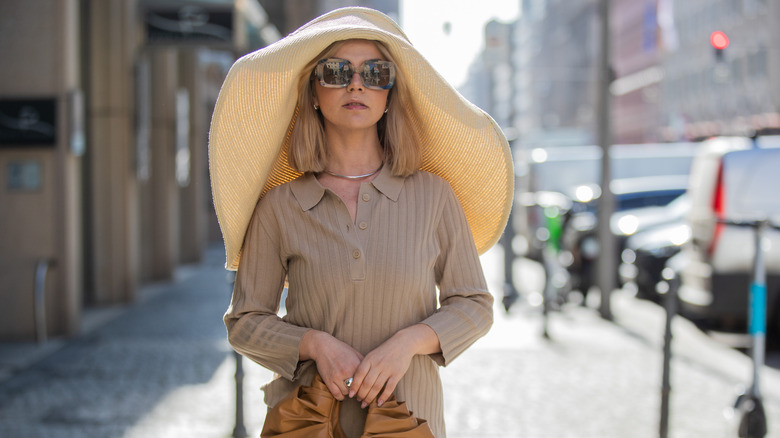 Christian Vierig/Getty Images
Everyone has specific types of hats they prefer, but every hat can be fun to wear when you know how to style it, including bold floppy sun hats. When you first hear floppy sun hat, you probably think of something ultra-dramatic or Rose from "Titanic." After all, these floppy hat designs exude an expensive, luxurious vibe, thanks to iconic film characters and actors. A TikToker, who goes by Laurel, posted a video wearing a white floppy hat and sharing the words, "Whether you're protecting your skin from the sun or your identity from paparazzi, the floppy hat has been THE accessory for luxury and functionality for several decades now." We love that you can buy ultra-affordable floppy hat options, and people will likely still think you look expensive.
Advertisement
Floppy hats can add enough flair to make daily outfits appear glamorous, making you feel like a movie star during your everyday life. Regarding styling, these accessories aren't nearly as intimidating as you may initially imagine. Our tips for rocking floppy hats will make the pieces worth the annoying hat hair.
Wear it with a cute dress
One of the easiest ways to style a floppy hat is to wear it with a dress. Whether you pair the accessory with a flirty sundress or a dramatic gown, floppy hats are perfect for accessorizing dresses and leaning into the girly vibes. The dress doesn't have to be anything fancy if you don't want it to be — these hats work with every style, from T-shirt dresses to floor-length looks.
Advertisement
Try a black hat for classy looks
We understand why so many people enjoy wearing light neutral floppy hats, as those options are ideal for beachy vacations, but that doesn't mean black floppy hats should be forgotten. When these hats are black, they add an elegant touch of mystery to everyday outfits ranging from little black dresses to jeans and crop tops, helping you look like a movie star wherever you wear them.
Advertisement
Add your favorite earrings to the ensemble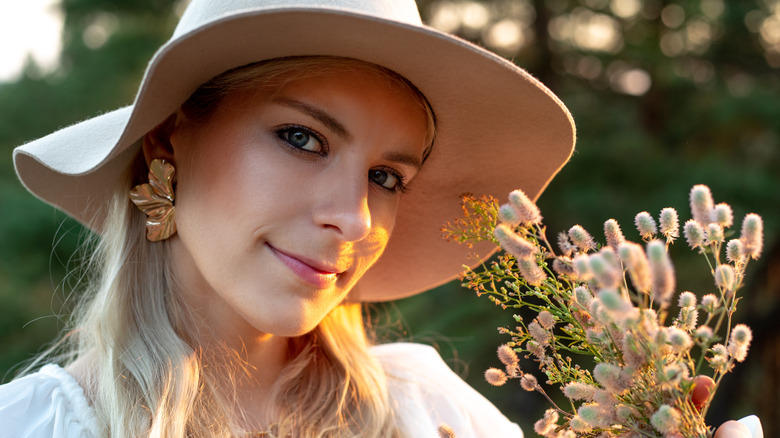 Tatsiana Volkava/Getty Images
While earrings might not be practical for the beach, they pair beautifully with floppy hats. When you wear a floppy hat with a dress or blouse in your everyday life, add a pair of earrings to incorporate another glamorous detail into your ensemble for classy, luxurious magazine-cover-worthy vibes.
Advertisement
Opt for a fun pair of sunglasses with your hat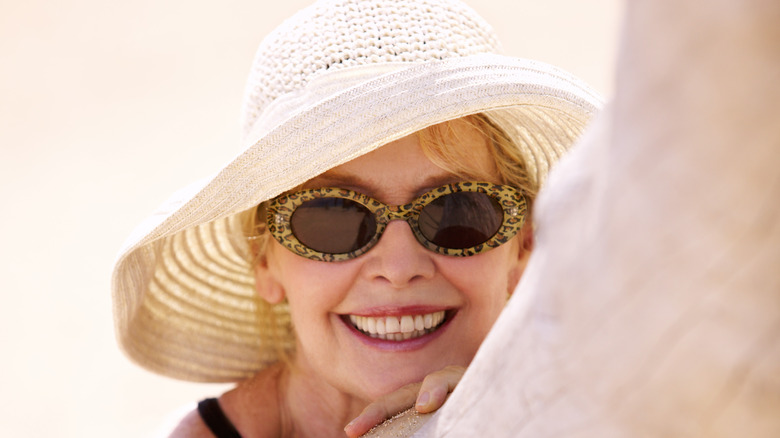 Thinkstock Images/Getty Images
When you wear a floppy hat on vacation, sunglasses are typically the go-to for completing the look. However, feel free to leave the typical all-black pair of sunglasses at home and opt for a fun leopard print. While the floppy hat will help keep the sun out of your eyes, sunglasses can further help protect your eyes from the sun.
Advertisement
Explore pops of color
A fun way to style a black or other neutral monochromatic outfit is by adding a colorful hat. The bright, bold hat will add a lively detail to your ensemble, instantly elevating the outfit. For instance, a blue floppy hat or even a neutral floppy hat with a red stripe will help your attire appear significantly more exciting.
Advertisement
Experiment with patterns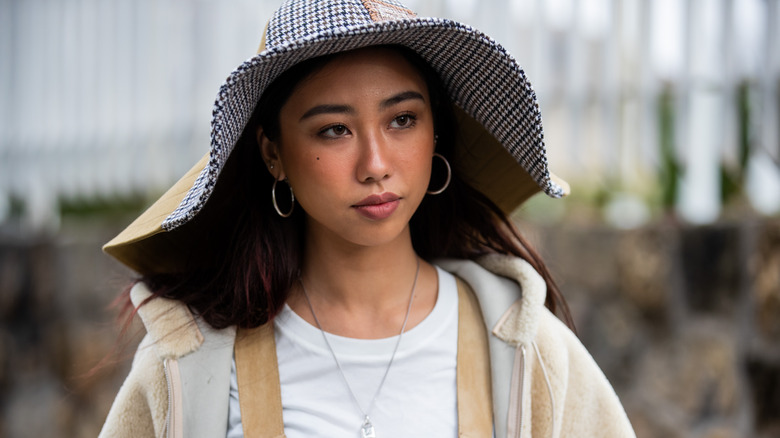 Christian Vierig/Getty Images
Don't stop at exploring colors — work with patterns too! While floppy hats with prints might be a little too high-fashion for low-key vacation vibes, these more unique options are excellent for everyday or semi-formal outfits. In other words, pair a pattern-featuring floppy hat with garments in the same pattern, or use the accessory to a solid-hue ensemble for contrast.
Advertisement
Go as oversized as you want
When choosing your floppy hat, decide how floppy you're willing to go. As the intensity of the floppiness varies from hat to hat, wear whatever you're comfortable with. In other words, if you want a super dramatic and bold ensemble, go for an oversized, ultra-floppy option, but if you want something a bit more subtle, try a semi-floppy hat.
Advertisement