Is TikTok's 'Revenge Makeup' Filter Worth The Hype? (Spoiler: Your Ex Will Be Quaking)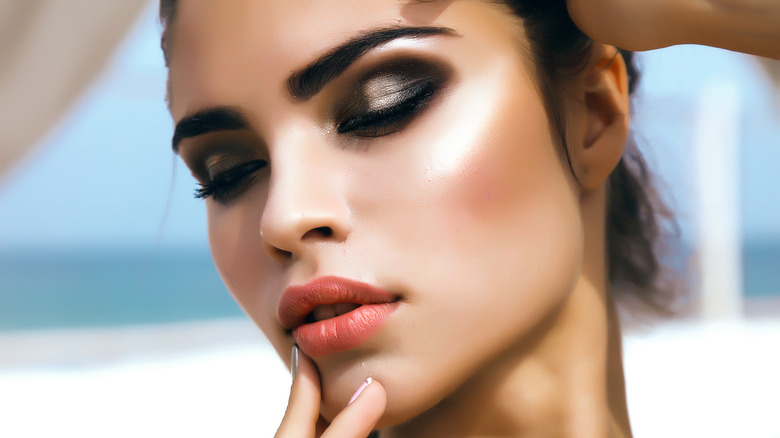 Diana Indiana/Shutterstock
We may receive a commission on purchases made from links.
We'll never forget some revenge outfits from celebrities who looked so stunning in their ensembles that their exes probably regretted everything. After all, why seek traditional revenge when you can look hot enough to make your exes cry and beg for mercy? That form of revenge sounds a lot more fun to us. Now that real-life society embraces revenge fashion, we also have revenge makeup: the TikTok beauty trend that stunts on your ex. Use the revenge makeup at your ex's risk.
The revenge makeup look isn't about looking cutesy or subtle. So, if you only like wholesome-looking and barely-there makeup, this filter likely won't be for you. "It's about makeup that makes you feel strong, confident, and sexy in a bold way," Bobbi Brown Cosmetics global pro artist Sara Nicole Smith told Byrdie. The specific revenge makeup filter shows you how to apply makeup in a flattering, sexy way, giving you all the post-breakup confidence you need. Are you ready to get revenge?
TikTokers show how the filter is worth the hype
If you're looking for guidelines regarding exactly where you should apply your makeup products on your face for a striking full face of revenge makeup, TikTok's revenge makeup filter will give you what you need. TikToker @user456267856247 posted a video using the Revenge Filter "by juliadudok," which first looks like a bunch of lines on the face and will likely scare people who don't typically contour their faces. She applied various products, such as concealer, contour, and blush to her face, following the guidelines. Once she finished blending it all in, the results appeared professional and were model-level gorgeous. Impressed viewers commented, "Had me scared but it came out good," "beautiful," and "I did this last night AND IT TURNED OUT SOOO GOOD. Now it's gonna be my go-to fr."
Moreover, TikToker @lilybayliss_ shared a video following the filter's guidelines and was so pleased that she captioned it, "This might be my new routine." Her features looked so emphasized, and her face looked so snatched that people commented, "Stunning" and "You look so beautiful wow." One commenter even got Margot Robbie vibes from the look. We're not saying following the filter will turn everyone into a Margot Robbie doppelganger — but from the TikToks we've watched, it seems like the filter can still help you look red carpet-worthy.
Use these products for the best revenge makeup
Anyone planning on using the TikTok revenge makeup filter will need the types of makeup the filter shows in the guidelines. So, you'll need at least contour, concealer, blush, and a beauty blender as the bare minimum. If you want to treat yourself to a high-quality contour stick, consider the Fenty Beauty by Rihanna Match Stix Matte Contour Skinstick, available for $32 at Sephora. The reliable contour stick currently has 4.3 out of five stars with more than 1,600 ratings and an 83% recommendation rate.
Concealer is another crucial part of the filter's guideline, so invest in a good concealer, like the Rare Beauty by Selena Gomez Liquid Touch Brightening Concealer, selling for $22 at Sephora. The vegan liquid concealer has 4.2 stars and an 82% recommendation rate. Also, look for a bold, flattering blush, such as the Glossier Cloud Paint blush, selling for $20. The cruelty-free product is dermatologist tested and has 4.6 stars with more than 4,600 reviews. To blend it all, you'll need a beauty blender like the E.l.f. Total Face Sponge — available for only $6 at Target. Despite being super affordable, the pink Latex-free beauty blender has 4.5 stars with over 1,000 ratings. While those items are prominent in the filter's instructions, we recommend completing the look with more products you like, such as BB cream or foundation, mascara, lipstick, and lipgloss.