Foundation Concentrates Are What Shade-Matching And Summer-Wearing Dreams Are Made Of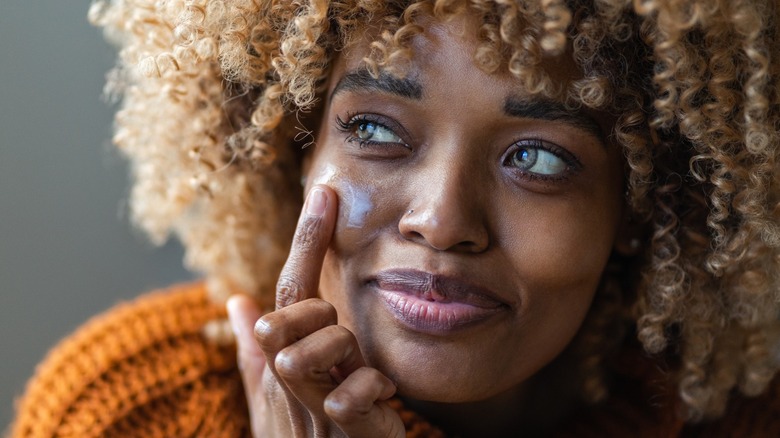 Georgijevic/Getty
If you've been wearing makeup for a few years, there's a good chance that your foundation collection has mutated into an unwieldy beast. You have matte foundations, glowy foundations, powder, liquid, and a multitude of coverage options. That doesn't even factor in the many tinted moisturizers and serum foundations that have become popular in recent years. If you feel it's time to narrow down your makeup collection, you're in luck: with one simple product, you can get rid of virtually all of your foundation products. Enter foundation concentrates.
Foundation concentrates are highly pigmented foundations that you can combine with other products to create your perfect makeup base. With just a foundation concentrate, you have the power to formulate any foundation style you wish. Plus, with so much pigment, one bottle of concentrate can last you ages. From easy shade-matching to versatile wearing, foundation concentrate may become your favorite go-to product of the summer.
What is a foundation concentrate?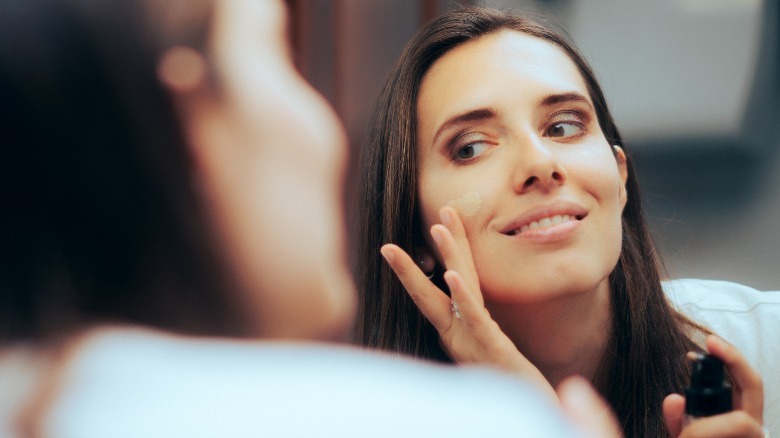 Nicoletaionescu/Getty
A foundation concentrate has a highly concentrated amount of pigment. Numerous beauty brands offer a variation of this product, including brands such as Color FX and Rituel de Fille. Foundation concentrates usually aren't meant to go directly onto your face, but rather serve as an additive for your other skincare products, such as moisturizers or serums. Some concentrates can also be used on their own, requiring only a few drops to cover your entire face. For this reason, foundation concentrates are a flexible and simple alternative to hunting around for a foundation that both matches your skin tone and has a lightweight, nourishing feeling that's ideal for the summertime.
Now, some makeup novices might be wondering why they can't just pull this trick with their regular liquid foundation. Unfortunately, normal liquid foundations don't have the proper ingredients for mixing with other products. The oils can separate, producing a strange, chunky goop. And since a regular foundation doesn't have a high concentration of pigment, you'd probably have to use a lot of it to create a tinted moisturizer, thus defeating the purpose of a lightweight tinted product. On the other hand, foundation concentrates are specially formulated for blending with other substances and will give you reliable results without having to use up all of the product.
How to use a foundation concentrate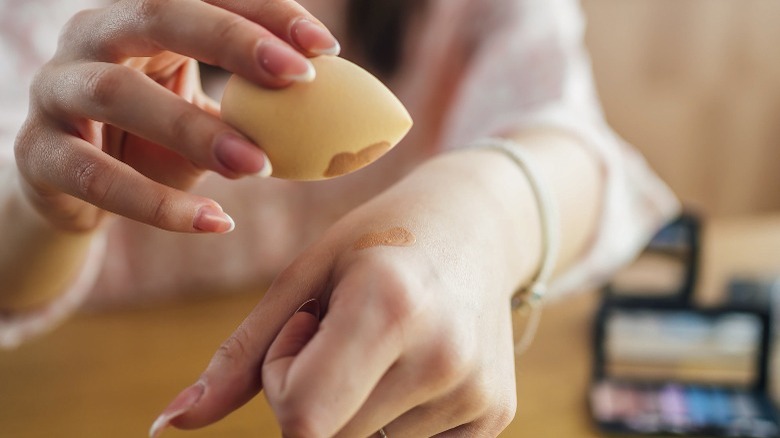 Lordhenrivoton/Getty
Foundation concentrates are often easier to apply than traditional foundations, since you get so much control over the shade and finish. If you like the texture and consistency of the concentrate, you can apply a few drops directly onto your skin and you'll be good to go. But if you want a more nourishing effect, you'll need to combine the concentrate with a skincare product.
To start, you'll need to choose the base for your customized foundation. Most people opt for a moisturizer or serum, but you can use practically any skincare or makeup product. The only style of product you can't use is a powder, as that would only create an unappealing paste when combined with the concentrate. But as long as the product you choose has a liquid or gel-like consistency, it should work well.
Place a small amount of moisturizer (or the product of your choice) on the back of your hand. Then, add a few drops of your foundation concentrate. These concentrates can be quite intense, so try only one or two drops at first, and blend it together. If you want the foundation tint to be more saturated, you can continue adding one drop at a time until you get your desired shade. After you have the color you want, all you need to do is apply the tint to your face. And remember, the best tool for applying tinted moisturizer is free – just use your fingers.
Shade-matching with foundation concentrates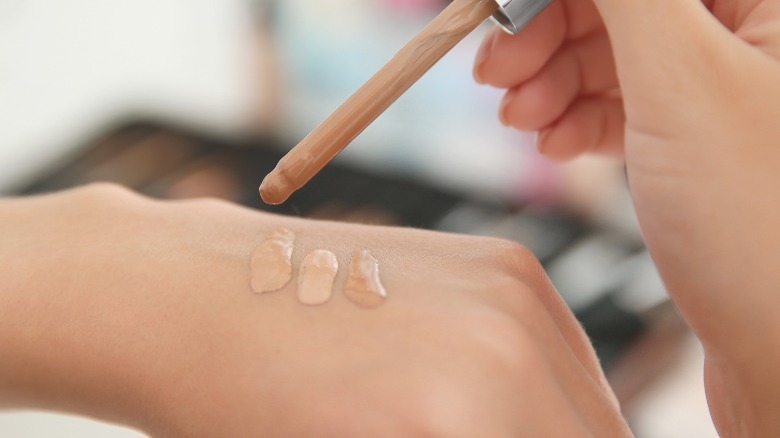 New Africa/Shutterstock
If you struggle with finding the right shade of foundation, using foundation concentrates may be the makeup hack you've been looking for. Many of the brands that make these highly pigmented products offer a broad range of shades, so you're already in a good place for finding one that's closest to your real skin color. And while traditional foundations leave you at the mercy of whatever's in the bottle, concentrates give you the opportunity to modify your chosen shade depending on what kind of base product you mix it with and how much pigment you use.
So if you get a shade of foundation concentrate that ends up being slightly too light or too dark, or if your skin depth changes during the summer months, you can try decreasing or increasing how much of the concentrate you use until you get a diluted tint that works for you. And if you're feeling confident with your color blending skills, you can even experiment with using two shades of concentrate to get the perfect tint. The only factor to keep in mind when choosing foundation concentrate shades is that your skin undertones matter – regardless of how much pigment you use, it still needs to be the right warm or cool undertone for it to match your skin color.
Using foundation concentrates for minimalist summer makeup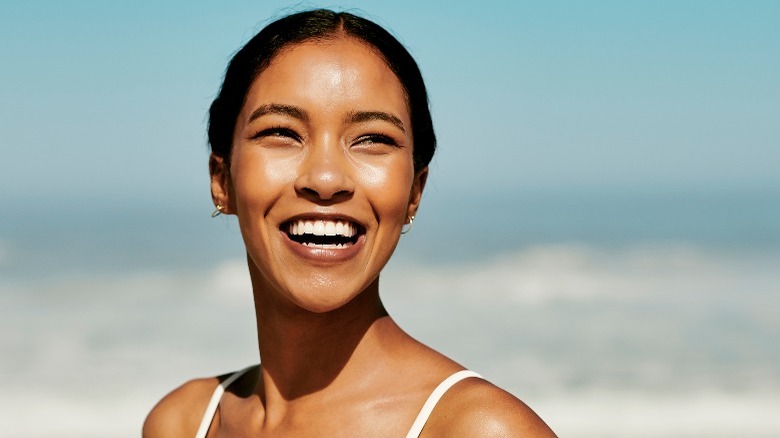 Delmaine Donson/Getty
A foundation concentrate is an extremely versatile product, and you can keep your summer makeup minimal and low-key if you explore all of the potential uses of a concentrate. For the ultimate barebones makeup approach, all you need are a few drops of foundation concentrate blended out across your face. But if you like to be more thorough with your skincare, you can incorporate a foundation concentrate into all of your favorite summer products. For instance, with a foundation concentrate, any sunscreen can become a tinted SPF. Sunscreen should be your skincare priority during the summer months, and by taking advantage of foundation concentrates, you won't have to stress over finding a tinted sun protection product that both comes in your shade and offers adequate SPF.
Aside from sunscreen, you can also use a foundation concentrate to make both matte and dewy foundation bases. Adding a concentrate to moisturizers and serums with a glowing finish will give you a dreamy, radiant tint. Use a foundation concentrate with a moisturizer or primer with a more matte finish if you want a natural, your-skin-but-better aesthetic. Summer skincare and makeup doesn't have to be complicated — once you find a foundation concentrate you like, you can focus on sun protection and skin health knowing that you'll always have products in the shade you need.