Dry Eyelids: How To Use Skincare To Heal Them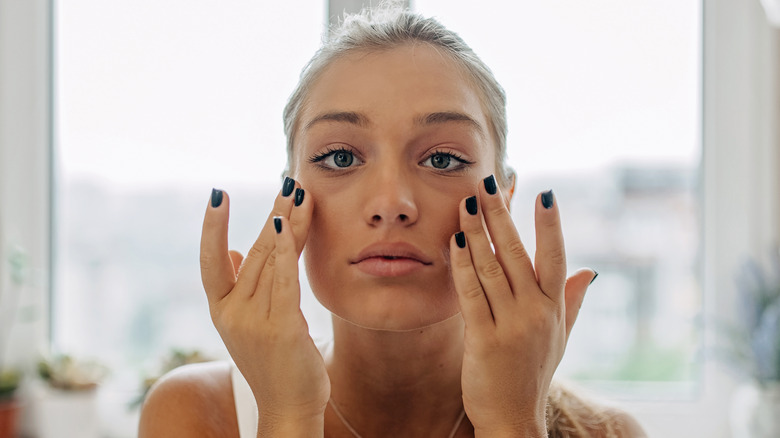 Supersizer/Getty Images
We may receive a commission on purchases made from links.
Whether you suffer from allergies or product sensitivity, dry eyelids are no one's idea of fun. The condition of our skin changes with the seasons, and eyelids are no exception. In fact, you might notice that your eyelids are the first area to show signs of dryness on your face. Eyelids have the thinnest skin found on the human body, according to Medscape, making them some of the most sensitive areas as well. As such, addressing dry eyelids requires a strategic approach to avoid irritating the delicate epidermis, or outer layer of the skin.
Naturally, the best way to combat rough eyelids is by giving them extra attention in your skincare regimen, which means using gentle cleansers and moisturizers for dry skin. However, fighting dry eyelid skin can get tricky, seeing as plenty of issues can arise when treating this sensitive area. For example, using too much eye cream on sensitive lids can actually lead to bigger problems, like waxy buildup, oily skin, and blocked pores, according to Well+Good. And let's not forget that many of us use makeup and cleansers on or around our eyes, which can lead to an endless cycle of irritation when dry skin comes into play. That said, there are several steps you can take to keep your eyelid skin hydrated and healthy.
Your cleansing routine can make all the difference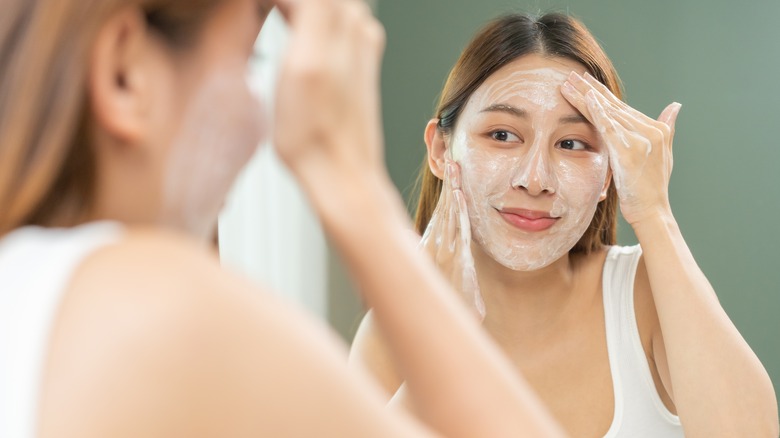 Kmpzzz/Shutterstock
When combating dry skin, many gravitate towards moisturizers as a first defense. However, it's important to consider how your cleansing routine affects the skin around your eyelids. Using an astringent or clarifying cleanser is fine on 'tougher' areas of your face, such as the cheeks or chin, but may prove too stripping for the delicate orbital region. You may not realize it, but your cleansing and toning products can easily irritate your eyelids, setting the stage for dry, flaky skin. "The structure of the skin in the eye area is different from facial or body skin and doesn't respond in the same ways to active ingredients and is more likely to be irritated when a product isn't a good match," Noelle Sherber, MD, tells WebMD. 
To stop dry eyelid skin at the source, start by reevaluating the products you use near or on your eyelids while cleansing. First, look at your makeup remover — is it designed for sensitive or dry skin, and how well does it remove makeup? Even a product designed for sensitive skin can lead to papery eyelids if it requires repeated removal attempts. If that's the case, try a makeup remover, like Chanel's Démaquillant Yeux Intense, along with soft cotton pads to keep the eyelid area feeling smooth. After that, follow with a cleanser and toner designed for sensitive or dry skin. Choose hypoallergenic products without fragrance or alcohol to help avoid a damaged skin barrier.
Choosing the correct moisturizer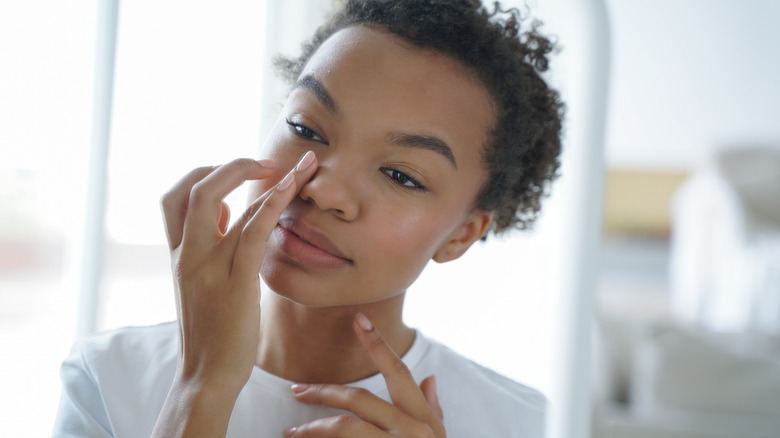 Viorel Kurnosov/Getty Images
As much as we wish there were, there isn't a one-size-fits-all moisturizer for every skin type. What's more, the skin on one's eyelids is so delicate that choosing the right moisturizing product for the job is imperative. Of course, you'll want an eye cream designed specifically for use on the skin on and around the eyelids. Although some might think facial moisturizer can moonlight as an eye cream, it simply isn't true. In fact, using a moisturizer or cream that's too heavy for the orbital region can cause milia, explains Gainesville Dermatology Aesthetic Center. On the other hand, a product with a lighter formula may not be enough to soothe seriously dry eyelid skin. 
The process of selecting the right moisturizer for your needs can take time, but your eyes will thank you when you've found your match. In your search for the best eye cream, there's no harm in trying products designed for dry skin, even if you have a more resilient complexion. Look into eye creams that contain soothing agents like ceramides, vitamin E, or glycerin, among others, as per Healthline. Identifying the right amount of eye cream needed may vary depending on how dry your skin is, though a pea-sized amount is often enough for each eye. With a hydrating skincare routine in place for your lids, you should see silky smooth skin in no time.