Does The Mascara Type Or Wand Matter More? Here's What To Know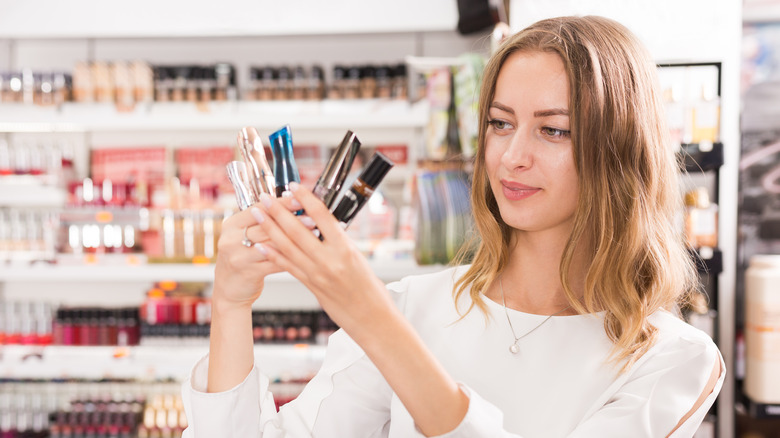 BearFotos/Shutterstock
Our eyes are the windows to our souls, so naturally, we want to dress them up as nicely as possible to reflect our inner beauty. Whether you love a dramatic smokey eye or prefer to keep them au naturel, our peepers rarely look complete without a swipe of mascara. Adding some color and volume to our lashes gives our makeup the finishing touch it needs. However, if you're a makeup newbie (or not), you may be confused as to what mascara type to buy. If you've perused the drugstore makeup aisle lately, you'll have noticed the many different formulas and brushes. Some offer to lengthen your lashes, while others promise more volume. And then there are the ones with fibers — what the heck are those about?
When choosing a mascara, there's definitely a lot to consider. You need to take into account what formulas and brushes are best suited for your lashes, but is one more important than the other? Well, it all depends on what effect you're going for — but it's safe to say that the mascara type and the wand are equally important.
The mascara formula and wand work hand-in-hand to give you the best results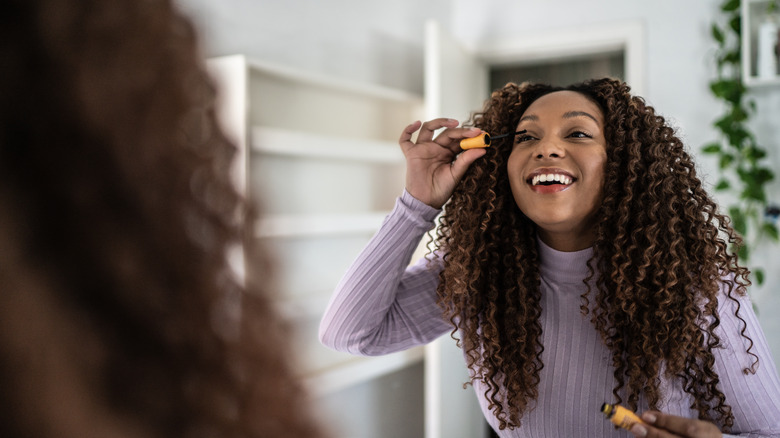 Fg Trade/Getty Images
We all strive for thick, lush lashes, and luckily for us, there are tons of mascara types to choose from. If you find yourself confused as to which one to get, take a look at the mascara type and the brush that it comes with. For those who have short lashes, you'll need a lengthening formula with a thin, tapered brush. If you're aiming for thicker lashes, choose a volumizing type with a fluffy brush. Do you already have long lashes and just want some definition? Pick a defining formula with a comb or one that comes with a spiky ball.
For the most dramatic look, there are mascaras that contain tiny fibers made out of rayon, silk, or nylon that attach to the ends of your lashes, making them appear thicker and longer. The brushes for these formulas are usually hourglass-shaped to provide the most deposit. Then there are tubing mascaras, which contain polymers that wrap around each lash — these are popular for their non-smudging tendencies and easy-to-remove formula. Of course, when it comes to mascara, it's not just about the formula and brush, but about the application as well.
Application is just as important as the mascara type and wand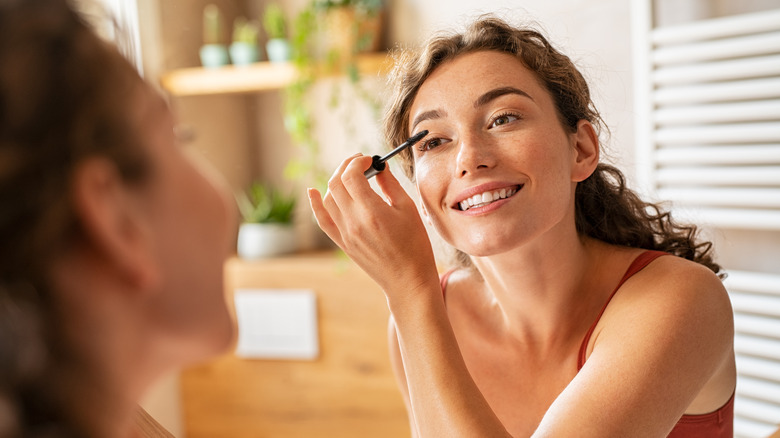 Ground Picture/Shutterstock
You may have the perfect mascara, but if you're not applying it correctly, you won't get the most out of your tube. The biggest complaint about mascara is that it clumps upon application, but there are ways to prevent spider eyes.
Mascara tends to thicken as it ages, so make sure that yours isn't more than three months old. If you have a new tube, the reason for clumps is most likely too much formula on the wand. When taking out the wand, lightly wipe off the excess against the plastic ring around the opening. When applying it, wiggle the brush back and forth from the base of your lashes until you reach the ends. Do this a few times until all your lashes are coated, but be sure to apply a thin layer. If you see any clumps, quickly comb them away before the formula dries.
Mascara generally gives us thicker and longer lashes, but each formula is geared toward a specific goal. If you want both length and volume, why not double up on the two types? You can use a thickening mascara for the first swipe and then a lengthening formula on the second layer. Just make sure to wait about 15 to 30 seconds in between coats to avoid smudging or flaking.