Tips For Styling A Wide-Brimmed Felt Hat (Without Looking Like Freddy Krueger)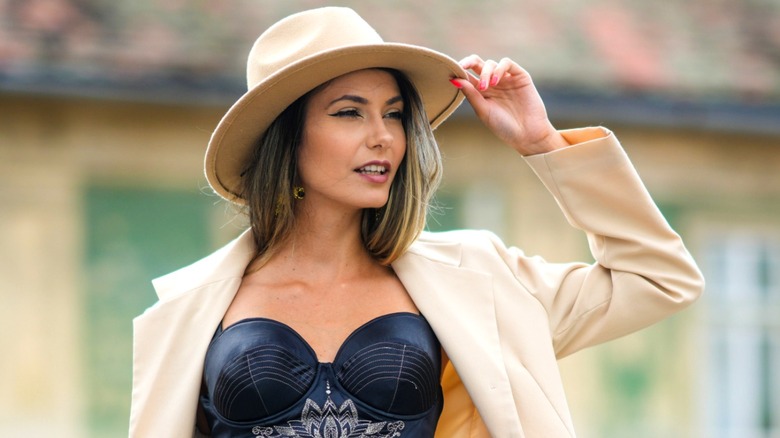 Edward Berthelot/Getty Images
Every few years, it seems like wide-brim felt hats have a serious moment. Especially when the annual hat trends for fall and winter roll around, dramatic felt hats inevitably make the list. From floppy, unstructured chapeaus to tightly designed trilbies and fedoras, these versatile pieces of headwear literally put the cap on any outfit. When you're dressed to impress, a stylish felt hat can be the flourish that takes your look to the next level. Or, when sporting a more casual ensemble, a wide-brim felt hat can take your vibe from "thrown together" to fashionably intentional.
However, it's not always easy to integrate a felt hat into your wardrobe. Sometimes, it can feel like you're not wearing the hat — the hat is wearing you. Worse, a wide-brim felt hat can come off as costumey, glossing right past fashionista to evoke Indiana Jones or Freddy Krueger. Probably not the look you were hoping for.
But wide-brim felt hats have so much potential, it would be a shame to write them off completely. We promise, there are plenty of stylish ways to wear a fedora that won't instantly make you look like a Harrison Ford wannabe. Just try these tips for styling a wide-brim felt hat so that it feels like an integral part of your outfit, not a gimmicky afterthought.
Class it up with sharp tailoring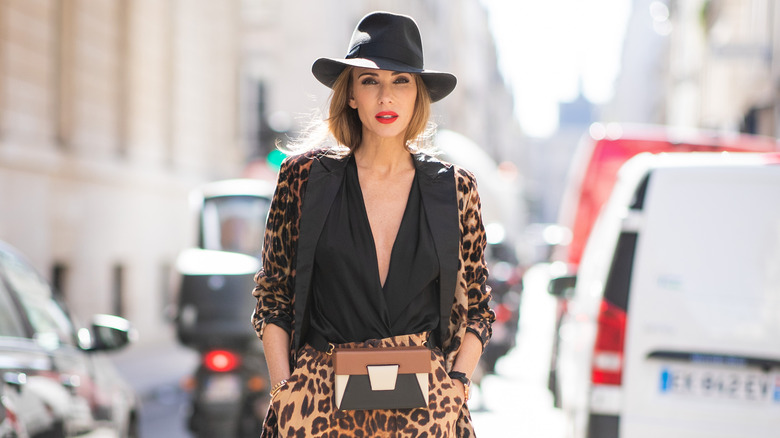 Christian Vierig/Getty Images
One of the quickest ways to ensure that your wide-brimmed felt hat reads fashion rather than costume is to partner it with sharply tailored separates, or even a chic suit. At their best, felt hats are classic and timeless, and it pays to play up this angle with clean lines. A flattering blazer and well-fitting blouse will go a long way toward elevating your hat, whether you're rocking a fedora or something with an even wider brim.
Tie it all together with a monochrome look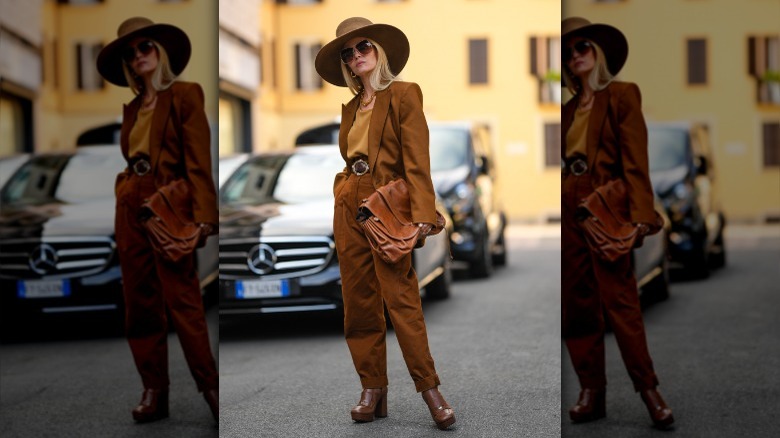 Edward Berthelot/Getty Images
If you find yourself wondering whether a certain hat is just too much look, that may be your sign to tone it down with a monochromatic outfit. Dressing all in hues of a single color will make your wide-brimmed felt hat seem like less of a wild statement and more like a cohesive part of the overall aesthetic. We love this technique for neutrals, but if you're feeling adventurous, it can also be used with more unusual shades.
Make a statement with bold color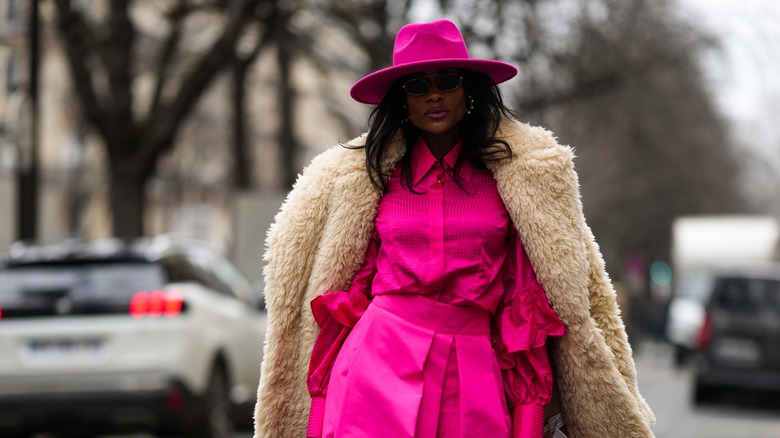 Edward Berthelot/Getty Images
For a braver, more in-your-face look, wide-brimmed felt hats can transition an outfit from "Huh?" to "Wow!" by doubling down on your daring fashion choices. If you're trying to turn heads, add a hat in bright neon or primary colors. You can coordinate this with an equally eye-catching dress or separates, or use your hat as a single, outrageous pop of color that punctuates a quieter outfit.
Balance it with bare shoulders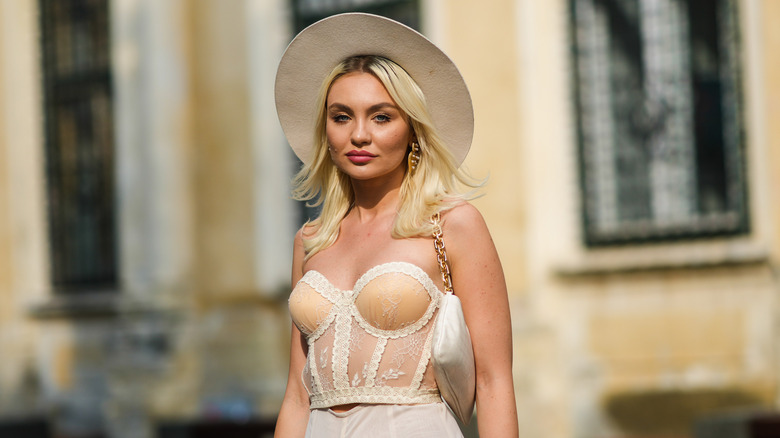 Edward Berthelot/Getty Images
A wide-brimmed felt hat adds volume at the top of your silhouette, which can sometimes feel bulky. So if you're going for a lighter or flirtier look, consider balancing out your hat with a sleek neckline. Baring your shoulders — whether with a breezy camisole or an alluring sweetheart bustier — gives your felt hat space to shine without competing for attention against other garments.
Soften the look with a floppy brim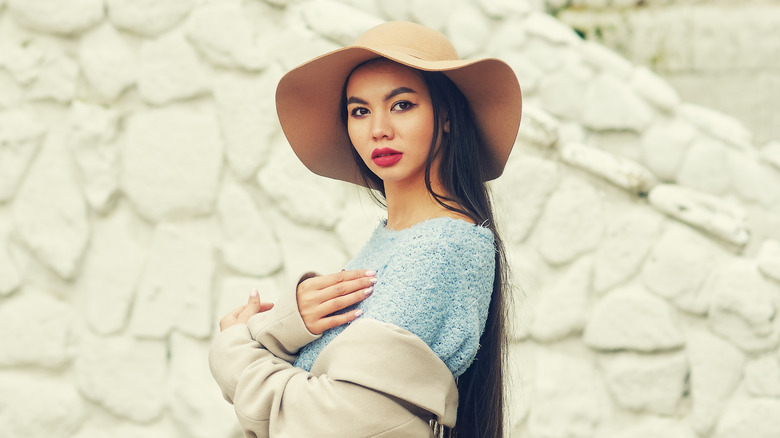 ValeryMinyaev/Shutterstock
Some wide-brimmed felt hats have a very rigid and structured feel. This can be extremely chic, but sometimes you may be going for a gentler, more romantic look. If you want to wear a felt hat in a way that's stylish and feminine, consider opting for a floppy brim, instead. The sweeping, organic lines of a floppy, wide-brim felt hat add softness to any ensemble. For extra flow, wear it with your hair down and sporting a dreamy, vintage makeup look.
Make it modern with color blocking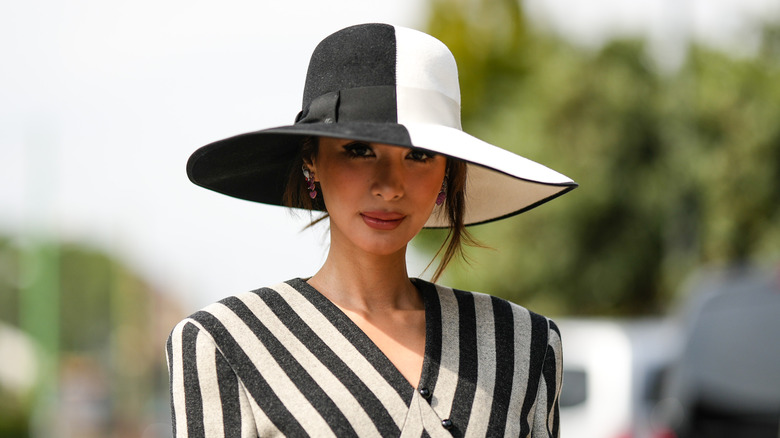 Edward Berthelot/Getty Images
By default, most wide-brimmed felt hats come in a single color. But you can push the envelope and give your outfit a modern edge by selecting a chapeau that experiments with color blocking. This might mean a 50/50 split down the middle, a difference of color between the brim and the crown, or even concentric circles in contrasting shades.
Of course, this doesn't have to mean channeling your inner Cruella de Vil. If the stark contrast of black versus white is too harsh for your personal aesthetic, play with color blocking in softer tones. For instance, pairing a neutral like brown or beige with a warm rose pink looks fantastic for summer.
Add interest with patterns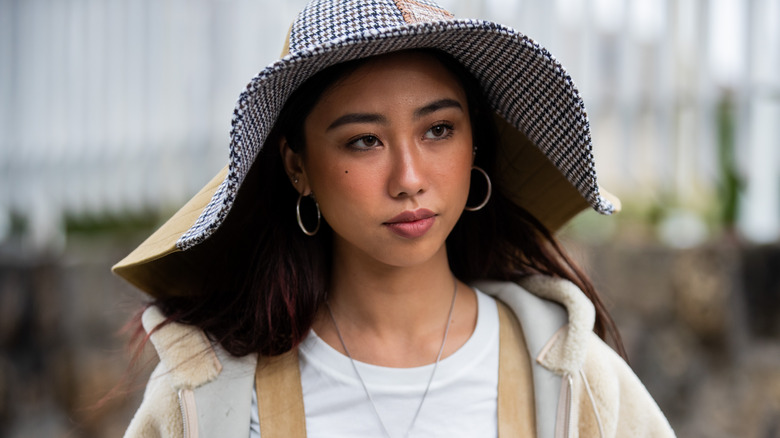 Christian Vierig/Getty Images
When it comes to adding a little extra visual interest to your wide-brim felt hat, why not try out options constructed from patterned fabrics? When in doubt, start with something subtle. Felt is heavy, hearkening back to the thick wool of winter coats, and so it naturally goes well with the menswear-adjacent patterns you might find in such garments. For example, houndstooth, pinstripes, and plaids are all an attractive complement to the lines of a felt hat. However, if you're feeling more wild and eclectic, you can also upset expectations by choosing a more whimsical pattern like polka dots.
Bring the drama by going oversized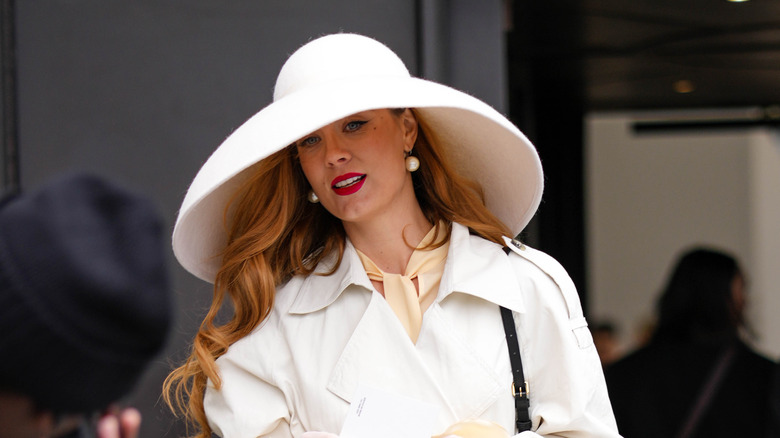 Edward Berthelot/Getty Images
Often, less is more. But occasionally, more is more. So if you want to radiate a confident vibe, try reaching for the stars with a statement hat that doesn't skimp on width. Oversized headpieces sometimes get lumped together as derby hats, but you don't have to be at the racecourse to show off this dramatic look. Don a super-wide felt hat to add a bit of glamor and intrigue to any formal or semi-formal ensemble.