Gauchos Are Trending Again & We're Making Them Much Cuter This Time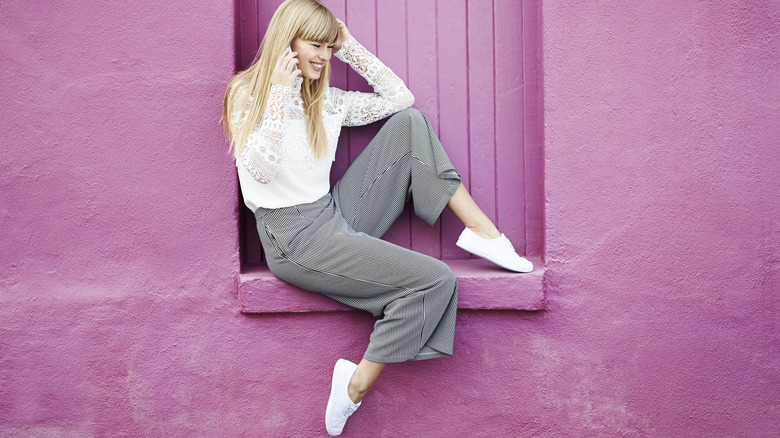 Sanneberg/Getty Images
It's been the season of big pants for a while now, and along with baggy boyfriend jeans, gauchos are making their way into the fold. They were popular in the 1970s and were originally worn by South American cowboys called gauchos, but they're quietly becoming a fashion trend again. Since they haven't been around for a while, you may be confused as to what these pants actually are. Gauchos are wide-legged with a cuff that hits right around the mid-calf. They can be formal trousers, but there are more casual denim styles as well.
Gauchos have been a favorite style for decades because they're so comfortable and forgiving. They're often high-waisted, and the wide legs keep you cool in the warmer seasons. They're also super fun to style, and you can pair them with a variety of tops and shoes. If you're looking for an easy, breezy pair of new pants, look no further. From traditional, classic pieces to fashion-forward, trendier styles, you'll have a variety of gauchos to choose from.
Gauchos can be high fashion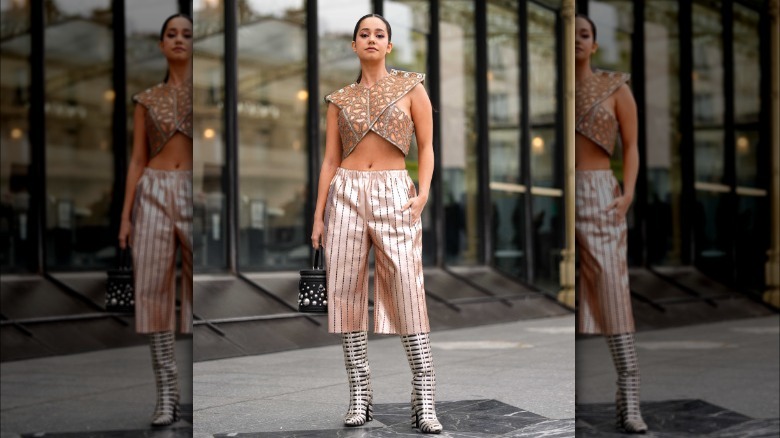 Edward Berthelot/Getty Images
If you think gaucho pants are casual loungewear, you're highly mistaken! These days, designers are having fun with them and creating elevated looks, like the one influencer Léna Mahfouf is wearing. The silk material and thin stripes give them a high-fashion pajama pant vibe. Paired with a criss-cross crop top and funky boots, the gauchos in this outfit are definitely red carpet worthy.
Elevate your streetwear with knit gauchos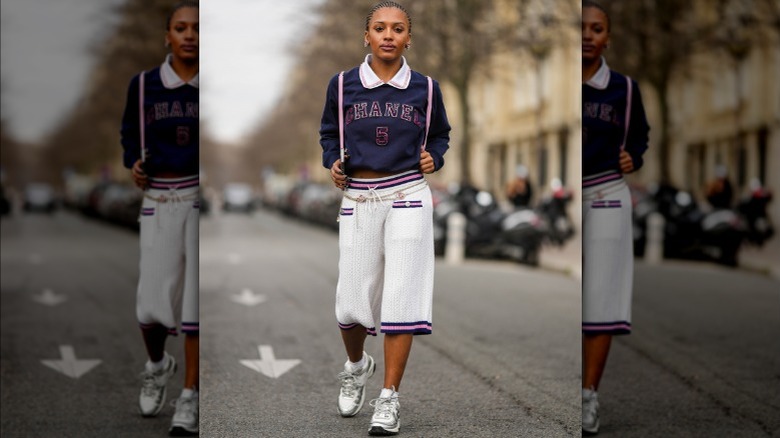 Edward Berthelot/Getty Images
Streetwear used to be a boring pair of sweatpants and a sweatshirt, but these days, it's all about fashionable comfort. Even high-end designers like Chanel are hopping on this trend and have added a stylish pair of gauchos to their collections. We suggest pairing knit gauchos with platform sneakers to add some height. Comfy and cute is our everyday goal!
Try gaucho pants with a matching top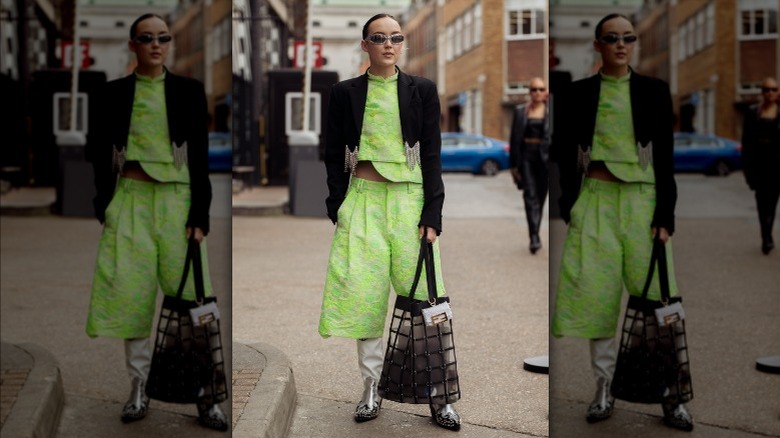 Raimonda Kulikauskiene/Getty Images
All eyes will be on you with a bright, matching set like this lime-green gaucho pant and top combo. Fun steel-toed cowboy boots are a nod to the South American cowboys the pants are named after. We love a good matching set that takes the guesswork out of pairing clothes, and we'd definitely put this one in our shopping cart stat.
Gauchos and a baggy sweater are a cozy combo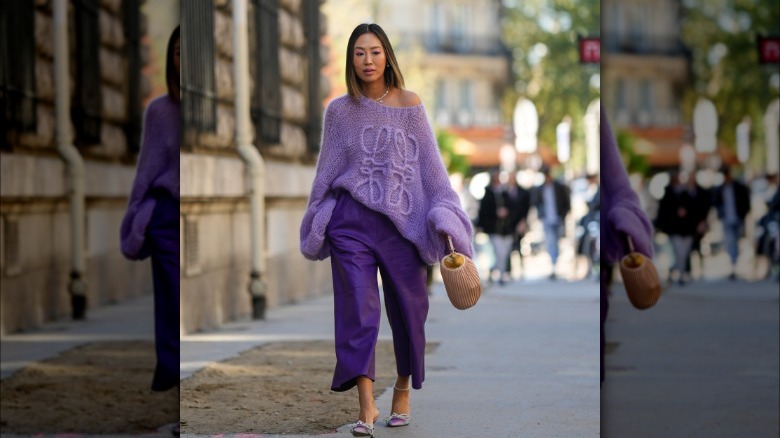 Edward Berthelot/Getty Images
While many style experts recommend pairing gauchos with a fitted top, we're all for breaking rules when it comes to fashion. Fashion influencer Aimee Song is rocking a pair of royal purple gauchos with an oversized lilac off-the-shoulder sweater for this casual yet elegant look. If you do opt for a baggy top, make sure that it's tucked in so that you give your outfit some shape.
Replace your LBD with a gaucho pant and bodysuit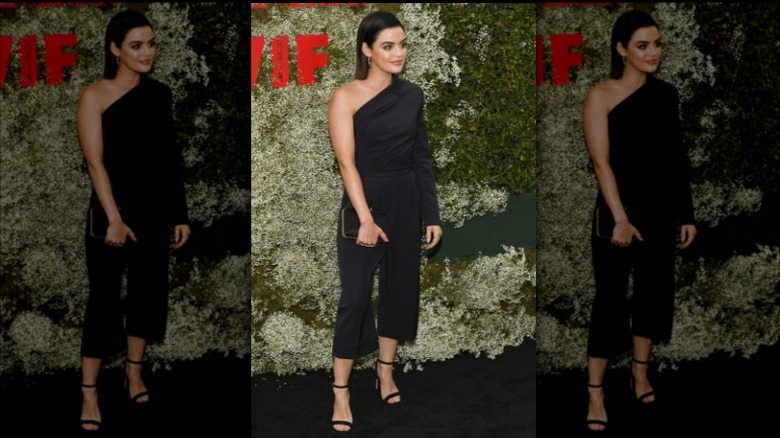 Rodin Eckenroth/Getty Images
Little black dresses are classic, and while we can never get rid of ours, try going for a black gaucho and fitted bodysuit instead. To keep this look a bit formal, make sure the legs aren't too wide and have the hems stop right at your calves, like Lucy Hale's. A small black clutch and strappy sandals will complete your date night look.
Leather gauchos are great for the fall
Now that gauchos have been trending for a while, it looks like they're here to stay. Keep ahead of the fall season and get a pair of leather gaucho pants for the cooler months. A camel-brown color goes with anything, and a bright sweater gives your outfit a pop of color. This outfit is chic and office friendly while also being stylish enough for happy hour.
Go retro with polka dot gauchos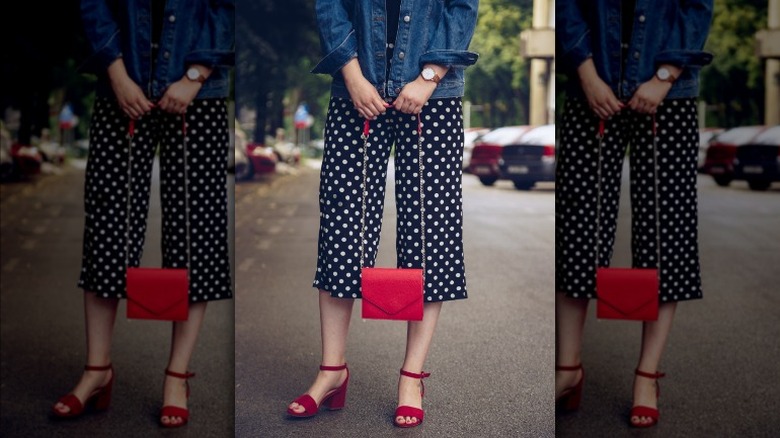 Dramalens/Getty Images
These '50s-inspired polka dot gauchos are a blast from the past, and we're loving them. The red low-heeled sandals and matching purse just add to the retro vibe, along with the denim jacket. Because gauchos are specific on where the hems hit, you'll want to buy them according to your height. If you're on the petite side, get one with a shorter length or have them hemmed so they don't fall right around your ankles. Taller folk should avoid gauchos that are too short, or they'll look like capris.
Keep a pair of casual gauchos around for errands
We all have that go-to pair of yoga pants we reach for when we need to run out of the house for a few minutes, but we think gauchos are a more fashionable option. You can throw on a tee for a casual look or opt for a spaghetti strap cami to elevate your outfit. Slip on a pair of sandals, and you'll have a super-cute outfit you don't have to think twice about.