The Best Ways To Incorporate Platform Shoes Into Your Wardrobe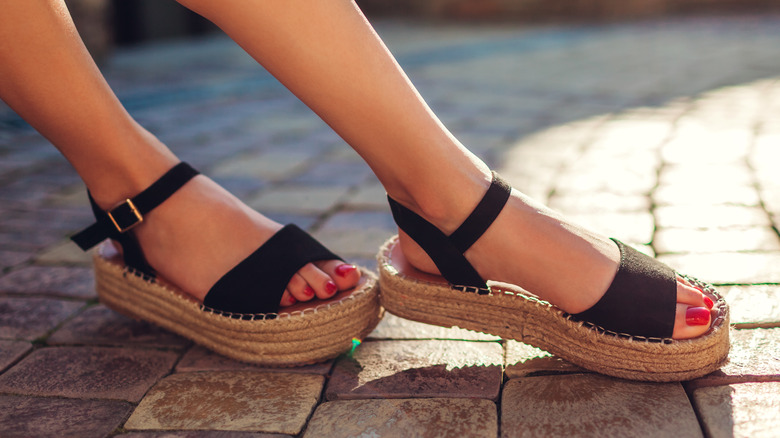 Mariia Boiko/Shutterstock
Platform shoes made a comeback in recent years and it looks as if they're here to stay, at least for a few more seasons. After people started coming out of their cocoons when the world opened up again, they ditched their sweats and sneakers for more festive looks. Fashion became a thing again and with it, platform shoes accompanied many outfits.
Advertisement
Chunky heels are great for those who want more height, but blanch at the thought of wearing tricky stilettos. Platform shoes have a more stable base, making them more comfortable on the feet and ankles. The elevated height under the balls of the feet makes up for the difference in the heels. The possibilities are also endless with platforms — you can find them on everything from sneakers to stacked-heel clogs. While platform sandals were not considered as fancy as stilettos back in the day, they are now being worn all over the red carpet by celebrities. You don't have to be Beyoncé or Lady Gaga to sport this look. You can incorporate platform shoes into your everyday wear by going as casual or as fancy as you desire.
Advertisement
Elevate your nighttime look with platform sandals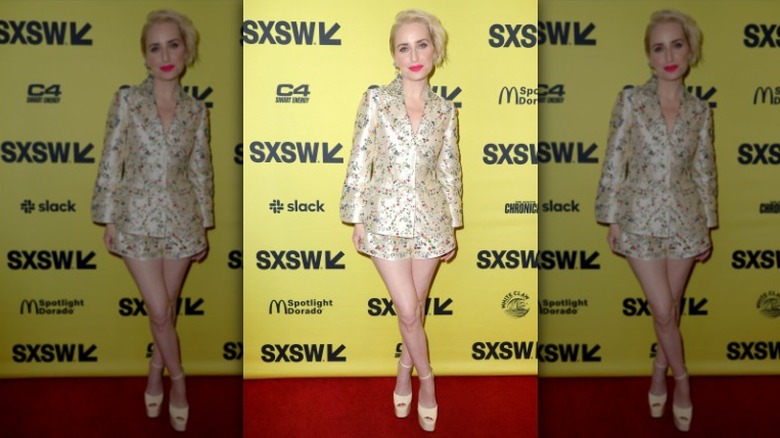 Michael Loccisano/Getty Images
If you're going out on the town, heels over flats is definitely the way to go. However, it's not cute to be hobbling down the street while trying to balance on stilettos. Platform sandals are a great alternative and there are so many styles to choose from. To keep your look sophisticated, opt for a satin finish with a peep toe. Ankle straps make them extra sturdy so you won't have to worry about rolling your ankle while you dance the night away.
Advertisement
Platform combat boots rock
Along with platform shoes, combat boots have made a major comeback, so why not incorporate both trends together? Chunky combat boots bring an edge to any outfit and they're comfortable to walk around in all day long. They also go with any outfit, from mini sundresses to an all-black leather outfit. To balance out the platforms, choose one with a higher shaft that hits mid-calf.
Advertisement
Your summer wardrobe isn't complete without espadrilles
Espadrille sandals with wedge platform heels are a must-have for a breezy, daytime summer outfit. The natural fiber of the wedged heels and cotton fabric make them extremely comfortable and wearable. A pair in a neutral shade such as beige will guarantee to go with anything you put on. Tie-up straps add a bit of flair to the otherwise casual look.
Advertisement
Go from the office to happy hour with platform loafers
Business attire can be a snooze — until you add a pair of on-trend platform loafers. The chunky soles give the traditional shoes a modern twist, while also being office-friendly. They don't just have to be relegated to the boardroom. Platform loafers can be worn with ankle socks and a feminine minidress, or a pair of stirrup leggings. With their versatility, you'll be reaching for your platform loafers over and over again.
Advertisement
Platform sneakers take your streetwear to new heights
Sneakers are not just for working out anymore. What used to be a functional necessity for running or playing tennis has since become a fashion statement. This year, it's all about the platform sneaker. Not only does the added height jazz up your streetwear, but you can also pair them with a cute T-shirt dress or a maxi denim skirt, which happens to be one of 2023's biggest trends. A pair of white platform sneakers will make your outfit possibilities endless.
Advertisement