'Fun Pants' Have Officially Replaced The Age-Old 'Going Out Top'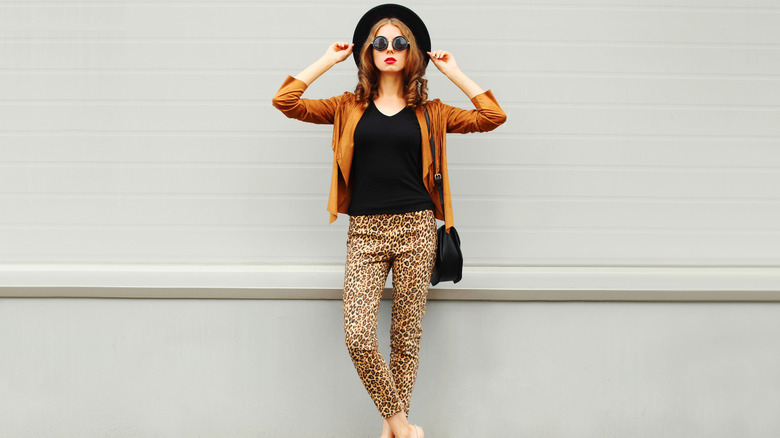 Rohappy/Getty Images
Whether your idea of an exciting night out is attending a wild nightclub, loud concert, dive bar, chic restaurant, or full-on rave, one of the night's most important decisions is always what to wear. And once upon a time, we all swore by our party tops. In other words, this meant most women would pull out their rocking sexy tube tops, cropped pieces, and statement options. However, those going out nowadays may spend more time choosing what pants to wear, also known as fun pants.
At first, this may sound surprising, but why not try it? "There was a bigger discussion about fun pants being not as versatile to wear, but then people were arguing the same thing about going out tops," Jessica Britvich, a social worker and TikToker, told Insider. That being said, we're ready to embrace fun pants for the next night of partying. Here are some options to consider.
Leather pants are everywhere
We see leather pants every time we go out, in all forms of nightlife, making them a must-have party wardrobe staple. After all, leather pants are so sexy and edgy that you don't have to worry much about what top to wear with them. Call us bold for saying this, but it appears that leather pants may be the new leather jackets.
Strive for colorful jeans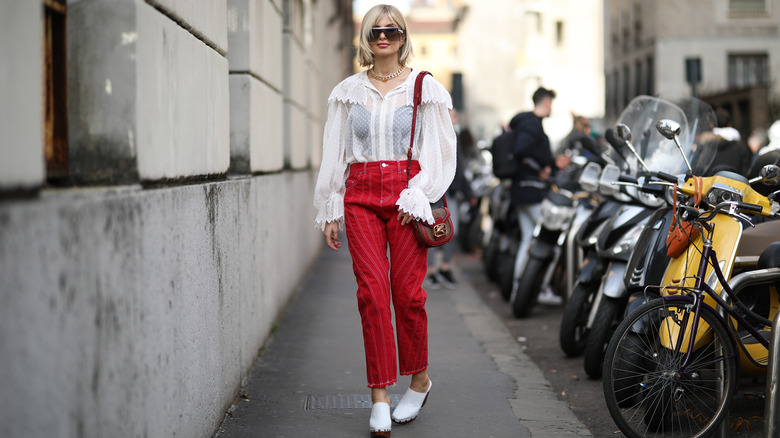 Jeremy Moeller/Getty Images
The 2020s aren't the time to only wear your basic blue denim jeans that you've worn a million times when you go out. Instead, go daring and shake it up with bolder, more colorful jeans for a statement look. For instance, red jeans look striking at the club, so all nightlife enthusiasts and frequent party-goers should invest in at least one pair.
Bold boho vibes
The 2000s boho style is back, so break those comfortable, colorful boho-inspired pants out of retirement. Flaunt bell-bottom jeans with free-spirited, unique patterns for a fun, carefree spin on nightlife fashion. Or, even opt for a pair of pants with fringe or intriguing textures for a one-of-a-kind yet trendy outfit.
Contrast is everything
When you wear fun pants with lively colors and patterns, the exciting pants will be the outfit's focal point. In that case, don't try to match the pants' energy with a bold top. Typically, a basic solid-color top and shoes will be all you need to let your party pants shine. In fact, a plain black top is often an excellent choice.
Explore animal print
Something about animal print pants and partying makes sense for an ideal combination. So, don't be afraid to opt for a wild pattern, and have fun with it. Cheetah, zebra, and even cow prints on jeans or leggings are perfect for party outfits — we can't picture these exciting patterns in any other setting besides the nightlife scene. In pants like these, you'll bring all the party energy.
We adore bright pink Barbiecore-inspired pants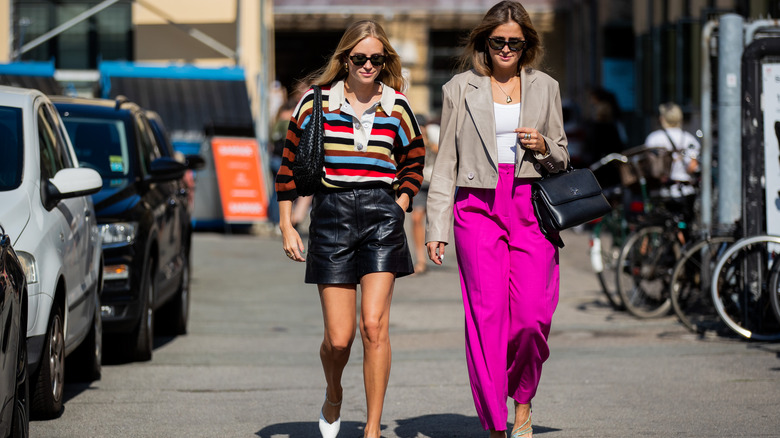 Christian Vierig/Getty Images
We know the extensive plethora of cores brings mixed feelings and reactions, but the specific Barbiecore aesthetic is a great addition to the party pants trend. Barbie pink trousers, leggings, and jeans are fun, playful, and eye-catching enough to bring the party to any event — with an ultra-girl vibe.
There's no such thing as too bold
Bolder is better for the fun pants look, so embrace the unconventional and creative energy for unique and dauntless looks. Flaunt pants with leafy or trippy prints — or even faces. As we said before, why not? Party pants are all about fun, so wear any pants you like as long as you feel confident in them.