Patrick Ta's Sage Makeup Advice? Always Match Your Skin And Face Routines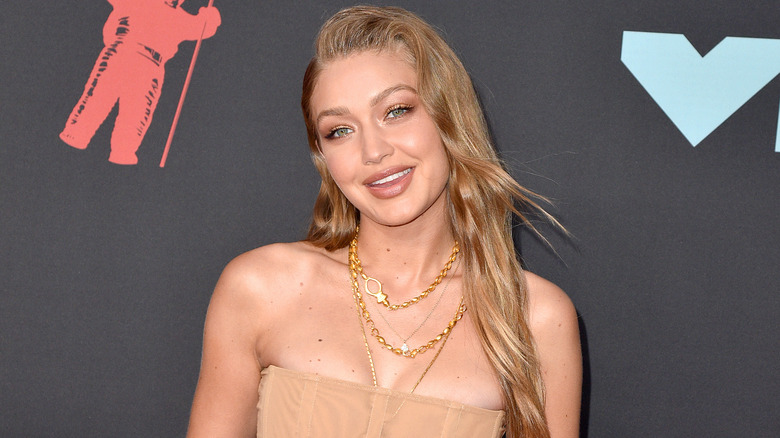 Bryan Bedder/Getty Images
There's no better way to learn the insider tricks of the makeup world than from the pros themselves. With the rapid pace of social media, it's easier than ever to learn the top hacks from people who know makeup the best. Whether it's TikTok or YouTube, there are plenty of places where you can pick up new methods and techniques for getting the best makeup application. Thankfully for all of us, this means we get to learn some deep industry secrets for a flawless finish without having to spend years learning the trade. 
Recently, body makeup has become a staple in many routines because it can elevate your look beyond just a pretty face. For those looking to create a head-to-toe dazzling aesthetic, this extra step can make a serious difference. Makeup artists like Patrick Ta, well-known for numerous iconic hacks, are currently loving body makeup for a cohesive look that will have you looking your best all around.
Matching your routines
Nowadays, makeup is much more than just what goes on your face. Although we're probably used to stopping at the top of the neck and calling it a day, artists like Patrick Ta suggest otherwise. While it may be an extra step, matching your face to your skin will give you a complete look, rather than just stopping abruptly in an awkward spot. 
Ta explained to The Cut, "If your face is really glowy, the body should be, too." Although this may seem excessive to the time-poor, a matching body makeup look can be the difference between natural and unnatural makeup. He demonstrates this in the above TikTok video, adding a brush of shimmer to Lori Harvey's décolletage. 
Just like with your face and neck, it's essential to continue the makeup down to the rest of your visible skin. Not only will this application help everything blend, but it will help you to avoid any obvious lines that separate your bare skin and makeup. This tip is essential for low-cut tops and dresses, sweet-heart necklines, and strapless items. In the end, body makeup will also help give you some extra shine and glamour throughout.
How to wear body makeup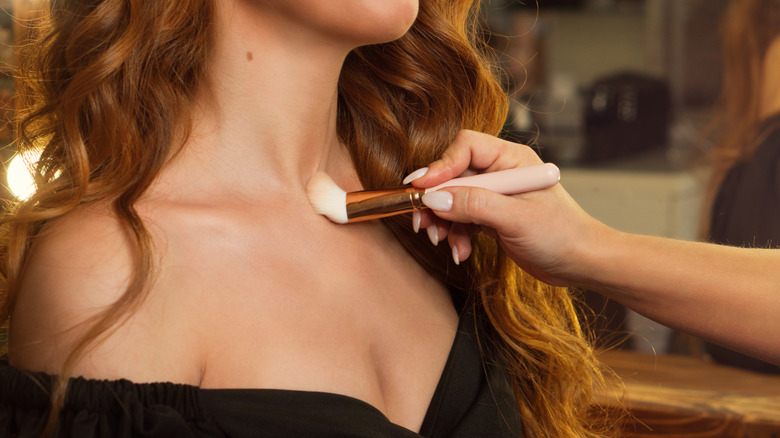 Vagengeim/Shutterstock
Wearing body makeup doesn't mean having to carve much more time out of your day. The trick is to match whatever you're doing to your face to the rest of your skin. If you're opting for a matte finish look, you can simply apply your regular body lotion and call it a day. The real difference comes when you are opting for a more glamorous makeup look.
If you're looking to create a bedazzling glowy makeup look on your face, continue this to the rest of your body using a tint or body foundation. You'll want to follow similar rules as if you were using self-tanner. Exfoliate and moisturize your skin before applying any type of foundation-like product to avoid applying over dead skin cells, per Aedit. Once you've applied body foundation, you can continue on with glitter or a body balm, which will make your body glisten and match shimmery or dewy makeup looks. Ensure that you apply the product in long strokes or circular motions for even distribution along the skin. Avoid over-applying, which can result in patchy color that is too dark or too shiny.