Patrick Ta's Blush Hack Will Change The Game For Your Rouge Application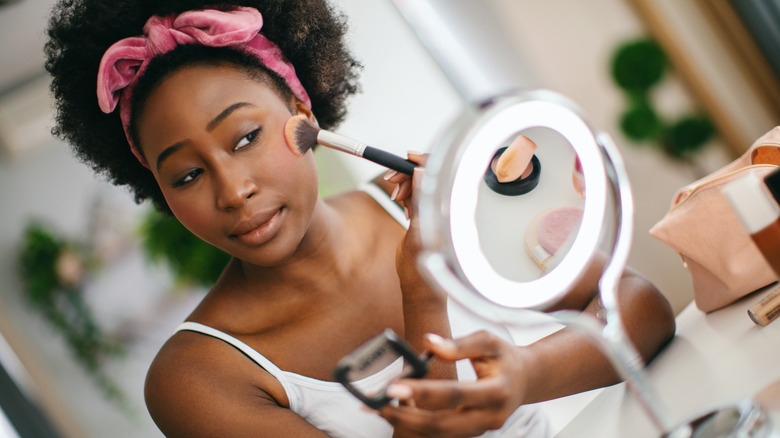 Aja Koska/Getty Images
Everyone knows that blush is one of the easiest ways to give you a new makeup look. A little bit of blush can go a long way to obtaining the perfect flushed cheeks. Whether it's a little or a lot, blush is a must-have in any beauty lover's drawer. Although many have the correct blush technique down, there's a new trick that will instantly change the way you put on blush. This newest hack is courtesy of celebrity makeup artist Patrick Ta, and the truth is that it perfectly makes sense. When picking out our blush product, we tend to have to decide between one formula or another. Cream and powder blushes offer different looks, even when they're the same color. Cream blushes can give a dewy touch, while powdered blushes are more pigmented in their application.
Advertisement
According to Patrick Ta, we can now use our cream and powder blushes together to help create a look with more pigment and dimension. This hack may seem excessive at first, but it makes perfect sense, especially for those with dry or oily skin. Like any other makeup combination, not every product will work under this trick, making it important to test it out first on a small area before implementing it throughout the cheeks.
Cream over powder blush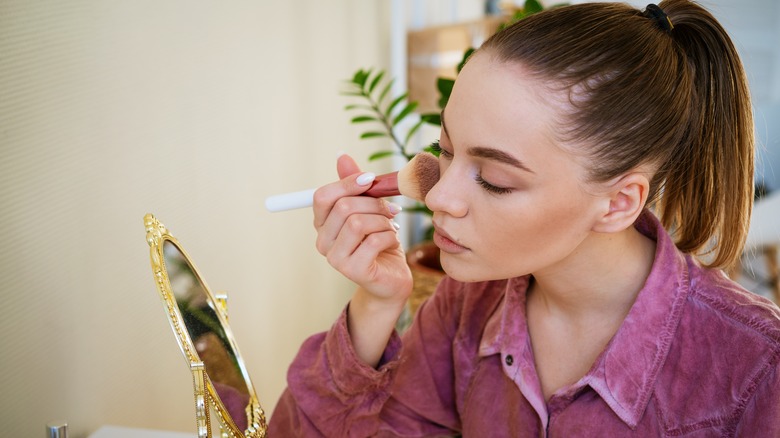 Pereslavtseva Katerina/Shutterstock
Thanks to Patrick Ta, there's no need to stress about picking the right blush formula for your skin type or makeup look. Now you can perfectly use both in the same look. In a TikTok video, Ta showed off his hack for creating the ultimate blush application. Instead of choosing just one blush, the makeup artist layered a cream blush over his powdered blush. This combination of blush is perfect for those who can't use only one due to their skin type. For those with dry skin, powdered blush can get patchy and dry out the skin even more. On oily types, cream blushes can simply melt and slip away after a few hours. This extra pigment will help your blush pop and remain on your face for hours after.
Advertisement
Cream over powder isn't the only way you can implement this trick — you can also opt for powder over cream blush. This layering combination might suit those with oily skin best, as the powdered product will act as a setting product on top of your cream blush. Anyone can use this trick, but it will look different on everyone depending on their skin. When using this trick, try building up your product little by little, to prevent overapplying.
How to apply powder or cream blush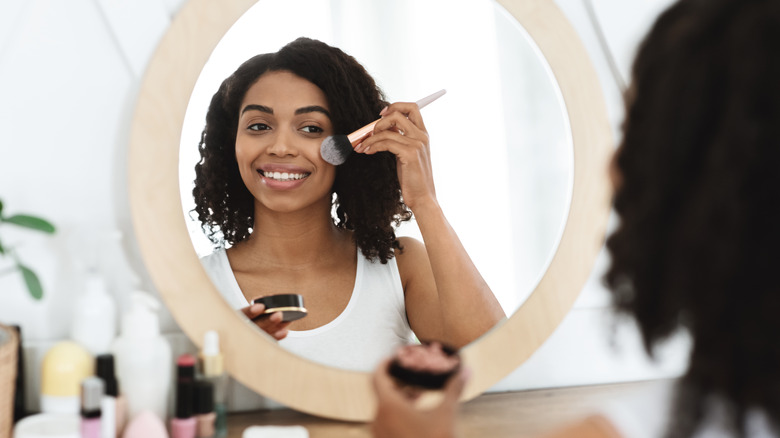 Prostock-studio/Shutterstock
It's not enough to just swipe cream or powder blush on your cheeks and call it a day. There's a specific application process to follow to ensure that your blush looks flawless and streak-free. When applying your cream blush, you want to give some heat to your cream product before applying it to your skin. Cold cream blush won't apply or blend onto the skin as easily on your cheek as it would with some warmth. Using your fingers, apply or blend the product so it can heat up and absorb into your skin like a natural glow. Tap some powder blush of the same color over the top to add some extra color to your cheeks and keep it in place. Acting as a setting powder, this mix will ensure your cheeks pop for hours.
Advertisement
Powder blush is a staple in almost every collection and has been the go-to for years. To correctly apply powder blush onto your face, swirl your blush brush into the product and tap out any excess product. When applying the product, you'll want to start on your cheekbones and work your way from the inside toward your hairline. This application will give your face a lifted effect and give your cheeks most of the application. Always blend out the product to avoid having streaks and to give you a more natural look.