Surfer Chic Style Is In Reach This Summer With Our Tips
Alenapaulus/Getty Images
What do Blue Crush, Bachelor in Paradise, Outer Banks, and Baywatch all have in common? Watching them makes us want to hit the beach — and maybe even learn how to surf. While the chances of magically turning into a beachy TV or movie star or becoming a famous surfer overnight aren't too likely, anyone can still learn how to dress with a surfer-chic style.
Don't assume swimsuits are the only pieces you can wear to rock the surfer aesthetic. Yes, bathing suits are always on-theme for the beachy look — as we all typically wear swimsuits when we go to the beach — but you can wear non-swimwear garments and still nail the style. "Being a surfer girl is what you make it," Rebecca Hessel Cohen, founder slash creative director of LoveShackFancy, told The Zoe Report. "Wearing what makes you feel comfortable and confident is your best asset." Thus, confidence is crucial for mastering the surfer vibe. But some other fashion and beauty elements can also help you discover and display your inner surfer.
Wear light colors
The surfer chic style is about exuding beachy, carefree, and summer-loving vibes. So, wearing light hues — such as white, ocean blue, subtle oranges and pinks, and bright yellow — will help you show everyone that you're ready to have some fun under the sun. Darker hues, such as black, are timeless and perfect for many other aesthetics but don't quite match the lighthearted surfer look.
Show off a little skin
Confidence is everything when mastering the surfer style. Therefore, you should be confident enough to show off some skin in cropped or sleeveless tops and short shorts or skirts. Only show as much skin as you're comfortable revealing, but wearing these sexy garments will help you exude instant summery vibes. After all, we can't think of any movies or TV shows wear the surfers would prefer to cover up.
Incorporate beachy details
There are many ways to look beachy without wearing a swimsuit or physically being on a beach. Some beachy details to include in your ensembles include shell jewelry, t-shirts with summery graphics like dolphins or palm trees, and dresses featuring tropical-inspired patterns. These details will bring the beach to wherever you wear them, even if you're nowhere near a beach.
Embrace wavy or messy hair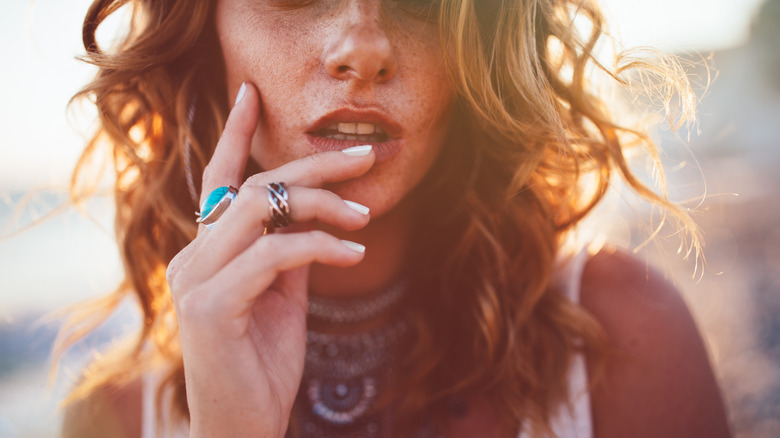 Wundervisuals/Getty Images
Don't listen to old stereotypes — you don't need long, blond hair to look surfer-chic. However, how you style your locks can help you look more like a surfer. Wavy hair always appears beachy, so consider investing in a hair waver for perfect beachy waves. People with any hair color and length will instantly look more surfer chic by adding waves. And it doesn't have to look perfectly neat! Hair is bound to get messy after some time in the ocean, so some messiness will only add to the surfer flair.
Keep it casual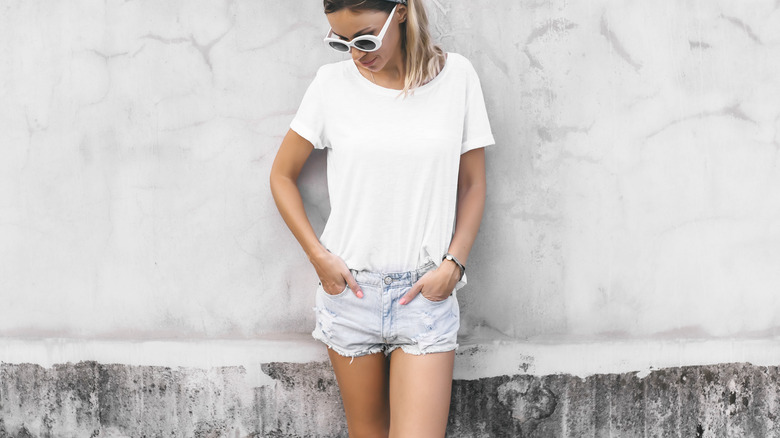 Alena Ozerova/Shutterstock
The surfer attitude is famous for a laid-back, freedom-seeking mindset, not for wanting to dress up and look fancy. So, don't overdress! Keep it casual for a calm surfer look. No one typically gets dressed up to go in the ocean, so think about it from that perspective. A true surfer would likely prefer to show up slightly underdressed and beachy instead of overdressed and uncomfortable.
Think about footwear
Clothes, jewelry, and hairstyles aren't the only aspects to consider when planning a surfer-chic ensemble. You should also think about what footwear will work with the aesthetic. Ditch the stilettos or boots and wear beachier footwear options. Break out your favorite flip-flops or invest in new sandals that feel like walking on a cloud for comfy feet and surfer-approved footwear.