Neon Bags Are Taking Over From Neutrals This Summer (Move Over, Quiet Luxury Trend)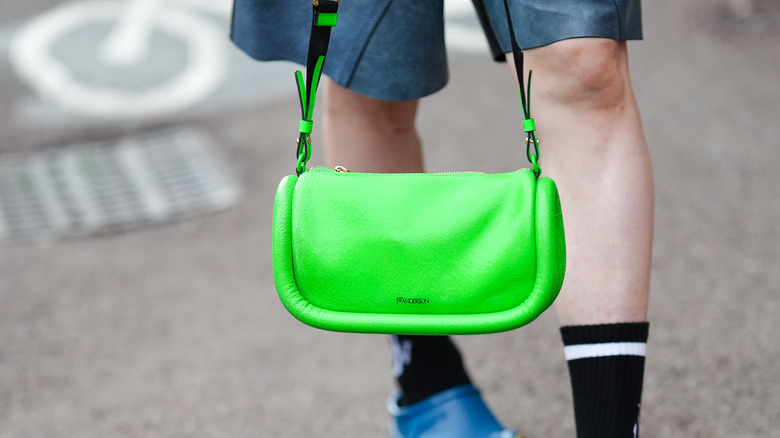 Edward Berthelot/Getty Images
If you haven't taken note yet, neon is everywhere. While some people enjoy the quiet luxury trend and its minimalism, others are opting for the opposite side of the color spectrum. For those who want a summer with bright and bold colors, the neon trends couldn't come fast enough.
Thankfully, there are plenty of ways to inject these saturated hues into your summer closet. However, the easiest item to carry your neon hue is a bag. Bags are always an easy way of introducing a new color or print trend since it only takes up a small part of your overall look. Whether you love head-to-toe color or not, a neon bag can do wonders for your summer outfits.
These bags are set to become staples for the summer season, holding their own against minimal and neutral trends. The summer season is the best time to try something unique and bold with your looks, and neon is the best place to start.
Neon color paired with a bold design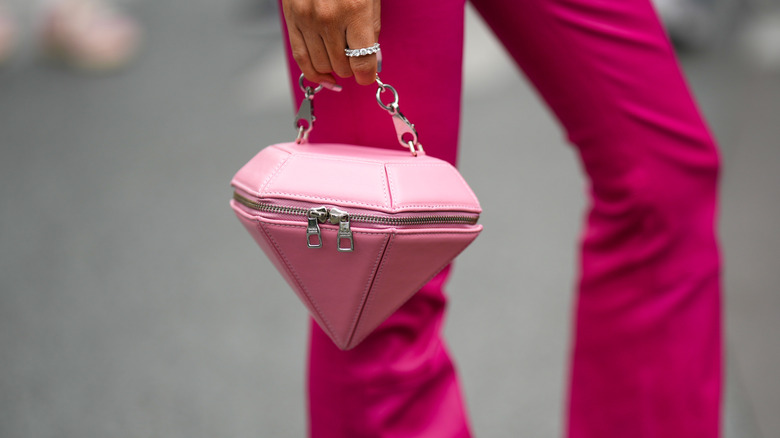 Edward Berthelot/Getty Images
A neon color is already a statement in any way you wear it. The benefit of incorporating it into your bag is being able to opt for an item that's simply out of this world. Combine the bold color with a unique design for something that will simply elevate all of your looks. Going with a unique design will ensure that not only the color helps you stand out, but your piece also becomes an actual work of art.
Petite neon bags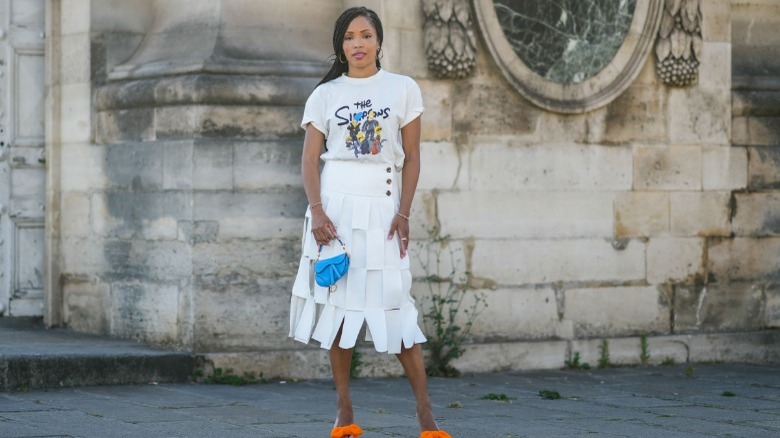 Edward Berthelot/Getty Images
If you're concerned about lugging around a big bag with a bold color, you can quite literally shrink its size. Micro bags have become a hit because of their unusual size and they're here to stay.
Micro purses are more than just a way of causing curiosity, they can also add a literal small pop of color to your outfit. Pair these neon petite bags with a neutral outfit for a small punch of color that will completely transform your look in a chic and high-fashion way.
Neon clutch bags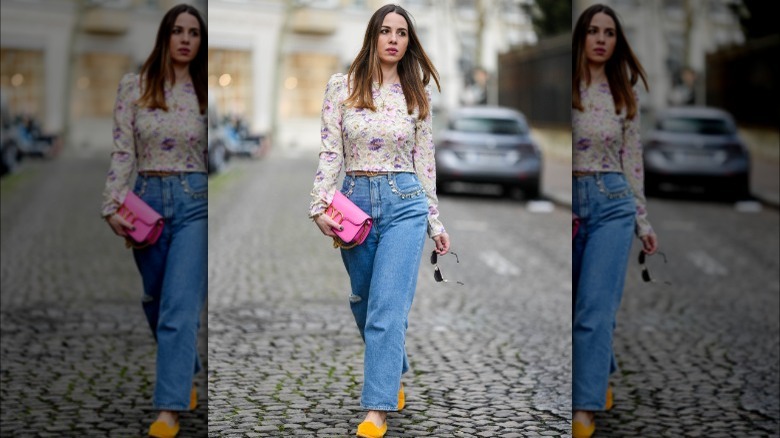 Edward Berthelot/Getty Images
Clutch bags are a fun and practical way of heading to a formal event or night out. These bags tend to be used in settings where crossbody and tote bags simply don't fit. A neon clutch bag will help bring some summer fun to your formal attire with a small addition of color. With a vibrant hue, you can take a simple summer midi dress into a cohesive and captivating ensemble.
Neon crossbody bag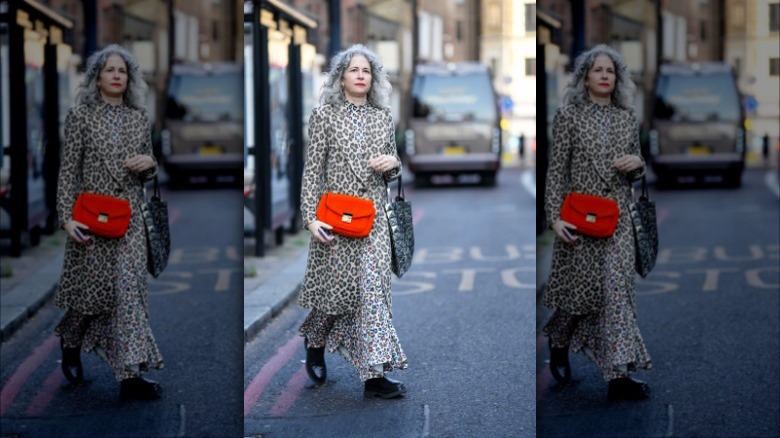 Edward Berthelot/Getty Images
Women on the go know and love the crossbody and all of the practicality it brings. Not only can they be the finishing piece for your outfit, but they also hold all of your belongings close to you. Neon crossbody bags are completely useable and will add some extra fun punch of color to your casual looks.
Neon tote bags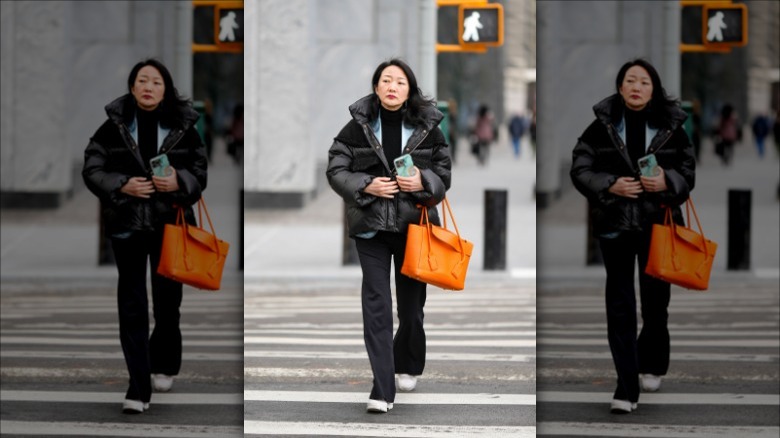 Edward Berthelot/Getty Images
If there's any bag that has completely transformed the summer season this year, it's the tote bag. We've seen how canvas totes and straw tote bags have taken over many of our social feeds and convinced us all to go out and buy one. Instead of going with a common tote design that everyone has, opt for a neon and bright color that will create a high impact.
Neon shoulder bags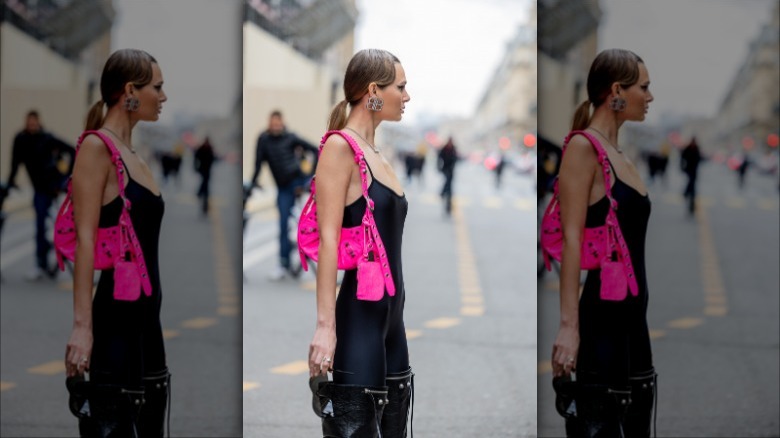 Christian Vierig/Getty Images
Shoulder bags are one of the most popular items to return in the current Y2K renaissance in fashion. These nostalgic bags add a touch of retro by reminding us of the '90s when they hit their peak. Neon colors are another component of Y2K fashion that has managed to transcend fashion and beauty. Combine these two vintage trends by rocking a neon shoulder bag that's straight out of a '90s rom-com.
Neon bags with a twist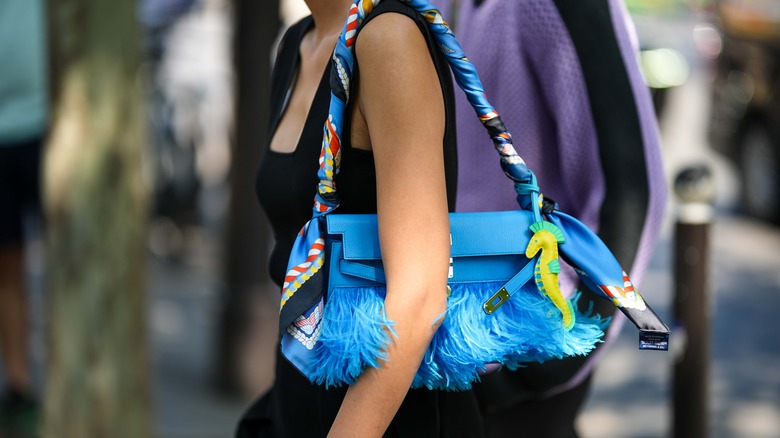 Edward Berthelot/Getty Images
While changing up the design of your neon bag is fun, you can also kick it up a notch with some fun details and accents. Add embellishments, feathers, and prints to your neon bags for something transformative and unique. The beauty of a bag is that it allows you to be as creative as you want without having to worry if you've gone too far. Let your creativity shine with a neon bag with some extra personalized flair.