Zip-Front Swimsuits: The Summer Trend Bringing Athleisure To The Beach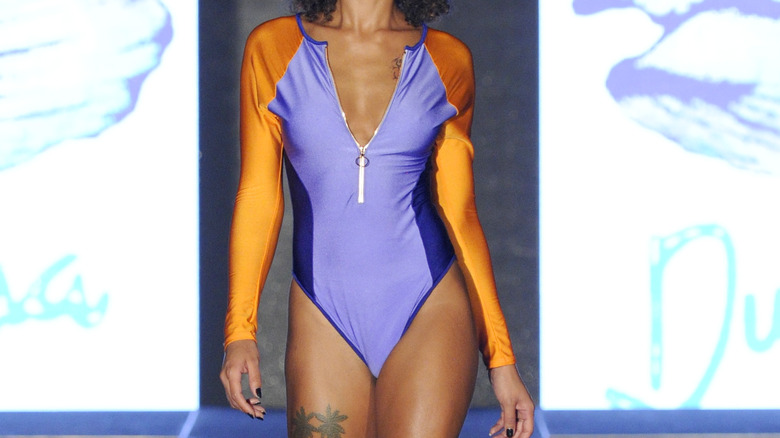 Arun Nevader/Getty Images
Because the summer means swimsuit season, it's only natural that new and exciting trends pop up every year. Since you're mainly using them only one season of the year, swimsuits are classic pieces that can last you for years, depending on the style and quality. Although it's easy to hold onto these pieces for numerous seasons, there's nothing quite like new swimsuit trends, making you question whether it's time to buy a new swimsuit. Recently, we've seen swimsuits transform from basic and simple pieces into an extension of your wardrobe, as Kim Kardashian demonstrated in May 2023 when she wore a zip-front swimsuit as a top. From high-glam swimsuits to minimalist and classic pieces, there are plenty of styles to choose from.
One recent swimsuit trend to take over the beaches is the zip-front swimsuit. Although you've likely seen this style on professional surfers or athletes, they're the newest swimwear trend to capture our attention. Zip-front swimsuits have a natural athletic feel to them, giving them an athleisure look that can totally be elevated. Yet, you can still wear them in a variety of stylish ways, making zip-front swimsuits a chic, versatile option for the summer season.
Zip-front swim top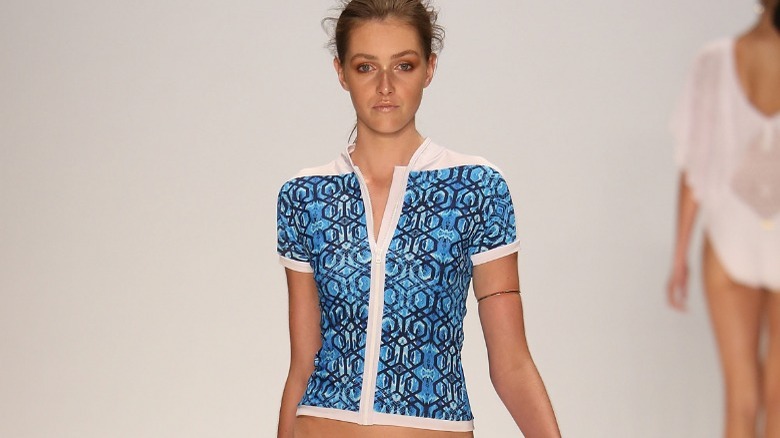 Matt Jelonek/Getty Images
You've likely seen zip-front swim tops if you've ever seen the image of a professional surfer. These pieces tend to mimic the style of a rashguard, which helps keep these athletes protected during their activities. Although they're perfect for surfing, they're also stylish for any other water activity. Swim tops are comfortable and can be more versatile than your average swimsuit. Add a zipper and you have a swimsuit that makes the perfect post-beach top.
Edgy zip-front swimsuits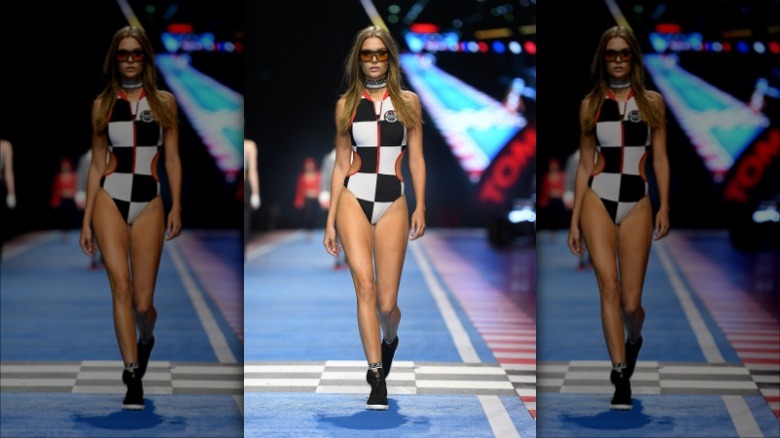 Daniele Venturelli/Getty Images
Zip-front swimsuits already have a sporty vibe to them, but they can also exude edginess. If you're a fan of the rocker/grunge look, a zip-front swimsuit with incorporated cut-outs and other metalwork details can be the perfect fit for you. The zipper detail on these swimsuits gives you some fun metal accents to play with. A zip-front swimsuit is perfect for anyone looking to add something edgy and unique to their swimsuit without sacrificing their style.
High-neck zip-front swimsuits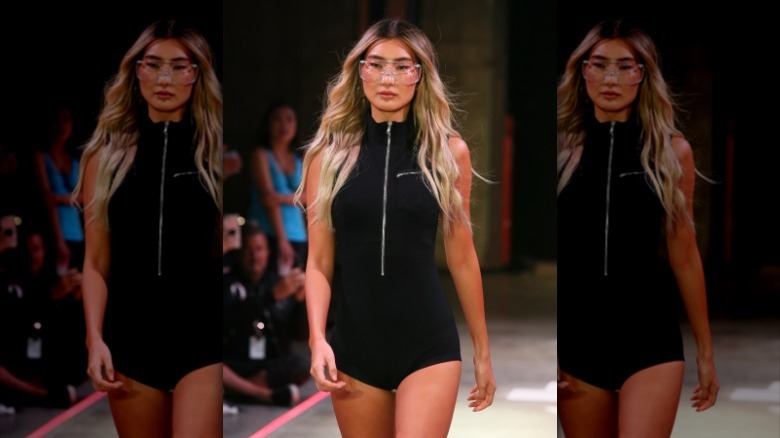 Jean Baptiste Lacroix/Getty Images
Although the beach is likely not somewhere you want to add layers, the zip-front detail is perfect if you'd like to remain more covered up. With a higher neckline and a zipper accent, you can stay as covered as you want and have the option of rocking the swimsuit either way. With a higher neckline — as seen on the Davis zipped swimsuit from Myra Swim — you also can wear this style as a built-in swimsuit. Simply zip up and you're ready for all your post-beach activities.
Printed zip-front swimsuits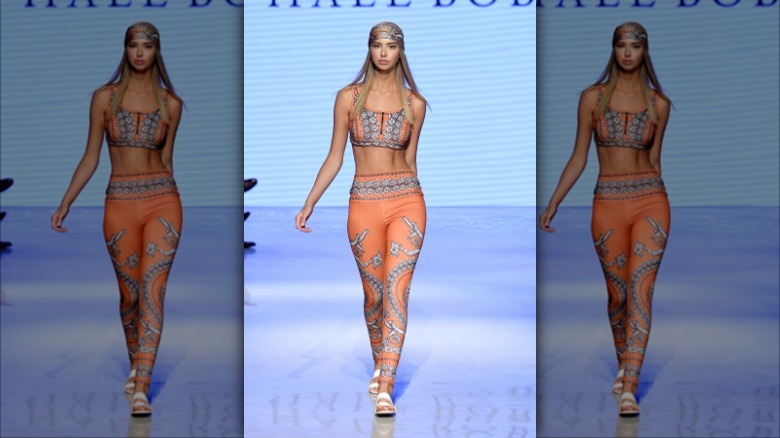 Arun Nevader/Getty Images
Although zip-front swimsuits look more athleisure than posh, they can still don fun prints. Athleisure pieces are available in various designs and colors, making it easy to match your style. If you're looking for something a bit bold or unique, opt for a zip-front swimsuit with a bold print that keeps your swim look creative. To rock this trend, there's no need to stick with minimal — personalize it to match your personal style.
Two-piece zip-front swimsuits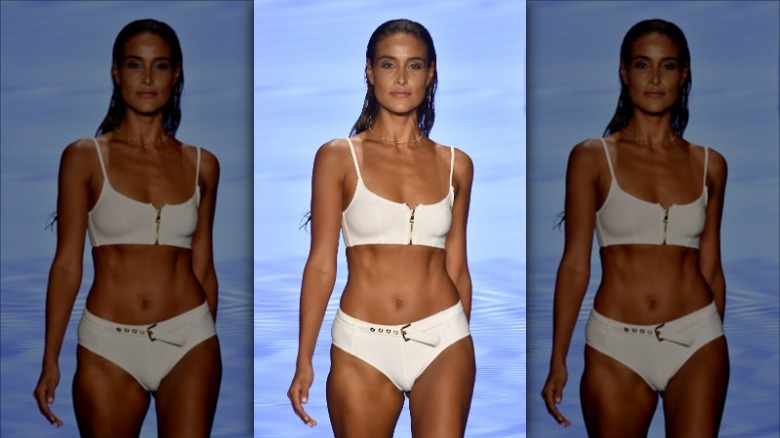 Frazer Harrison/Getty Images
Even though zip-fronts are mostly seen in rashguards or one-pieces, they can also be found in two-piece swimsuits. If you're keen on adding a zipper detail to your swimsuit, bikini tops with a zipper are a way of adding a bit of metal to your look. A small detail such as a zipper can make a huge difference in elevating your swimsuit and making it more unique. A zip-front bikini top paired with a simple pair of bikini bottoms can take your typical swimsuit up a notch.
One-piece zip-front swimsuits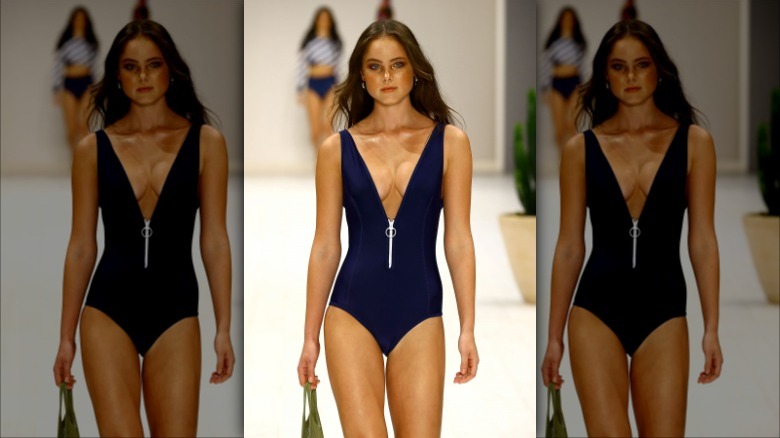 Matt Jelonek/Getty Images
There is nothing more classic than a zip-front one-piece swimsuit because it can easily give you a swimsuit look with timeless appeal to last for seasons to come. In addition, the small metal detail of the zipper makes for the perfect accent to dress up your swim collection — no need to resort to your simple and plain swimsuits when one zipper can make a big difference.