Kate Middleton's Most Regal Looks Of All Time, Ranked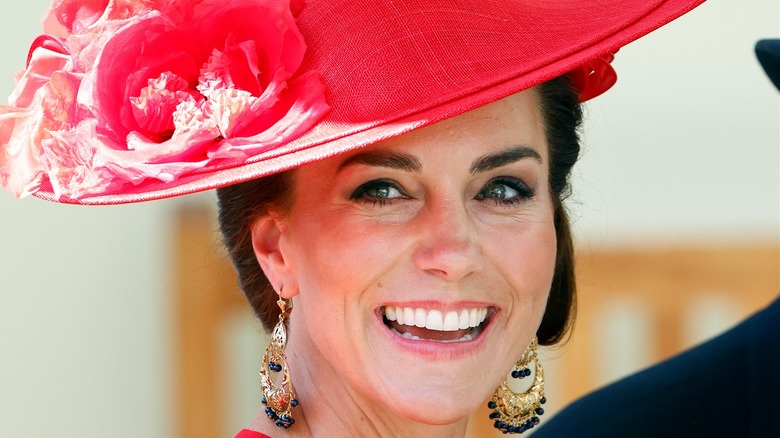 Max Mumby/indigo
Kate Middleton is not only a beloved member of the British royal family but also a pop culture style icon. With her impeccable sense of style, the Princess of Wales has captivated many, and her regal looks serve as inspiration for fashion enthusiasts worldwide. From red carpet premieres to royal weddings, Middleton has consistently showcased her effortless elegance as well as the ability to combine classic and contemporary fashion.
Picking the top regal looks from Middleton's extensive wardrobe is certainly not an easy task, which is why we had to leave so many stunning looks out. Once you embark on this journey with us, you will quickly notice one thing: The Princess of Wales really isn't afraid of embracing bright and bold colors — and teal, red, and pink often find their way into her fashion repertoire.
While the royal star definitely has her signature style, she also has a way of simultaneously showcasing the versatility of her wardrobe. From ethereal gowns that give us major fairytale vibes to sleek and edgy ensembles that prove Middleton isn't afraid to experiment — each outfit showcases just how fun royal fashion can be.
25. Princess Catherine's teal stunner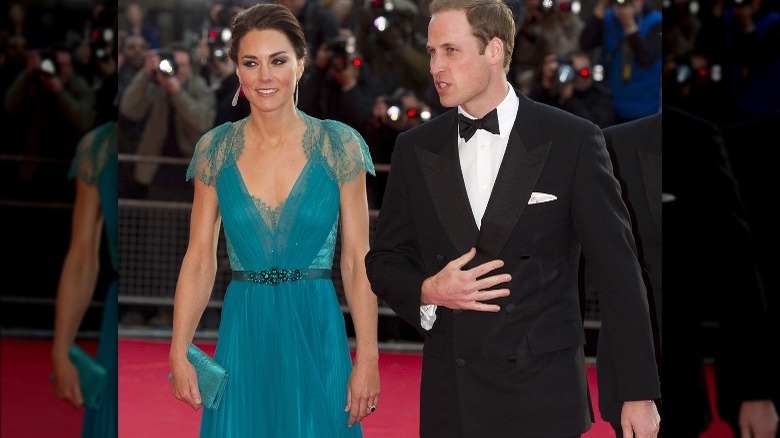 Wpa Pool/Getty Images
In May 2012, Kate Middleton made a stunning entrance at the Royal Albert Hall in London to celebrate the London Olympic Games. Her choice of attire for this occasion was a breathtaking teal gown that suited her perfectly. The rich teal hue of it beautifully complemented her complexion, enhancing her natural beauty even more, and the shoulder lace gave the look a modern twist.
24. Retro elegance: Princess Kate in emerald green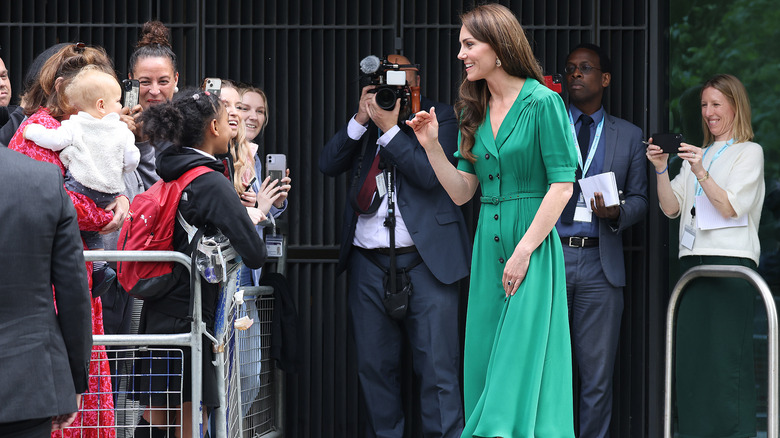 Neil Mockford/Getty Images
For a visit to the Anna Freud charity in May 2023, the Princess of Wales decided to rock a stunning emerald green A-line dress that featured delicate buttons and a sophisticated collar, giving the whole look an elegant retro vibe. The A-line silhouette gracefully flowed, and the vibrant emerald green hue was the perfect choice. Once again, Kate Middleton effortlessly showcased just how easy it is to dabble in vintage fashion, which often provides both comfort and sophistication.
23. Red carpet royalty: Kate Middleton shines in intricate black lace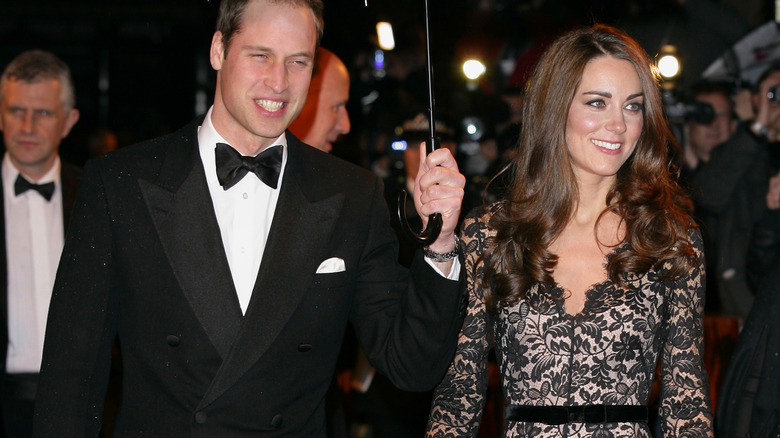 Max Mumby/indigo/Getty Images
Kate Middleton is no stranger to glamorous red-carpet premieres, often attending them alongside her husband. One such memorable occasion was the U.K. premiere of "War Horse," held at Odeon Leicester Square in January 2012. As the cameras flashed, all eyes were on Middleton, who made a breathtaking entrance in an exquisite black lace gown. The intricacy of the lace detailing added an element of timeless elegance to her look, perfectly hugging her figure.
22. Kate was radiant like sunshine at Wimbledon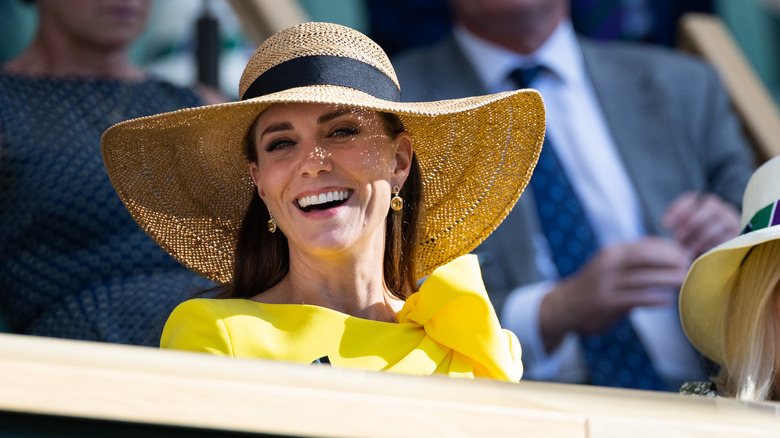 Simon M Bruty/Getty Images
In July 2022, the Princess of Wales graced The Wimbledon Lawn Tennis Championship, where she arrived before the highly anticipated Women's Singles Final between Elena Rybakina and Ons Jabeur. This time, Middleton opted for a vibrant yellow dress that gave her that effortless summer elegance. Accompanying her outfit was a classic floppy sun hat that gave the whole look a touch of casual charm.
21. Kate Middleton is mesmerizing in dusty blue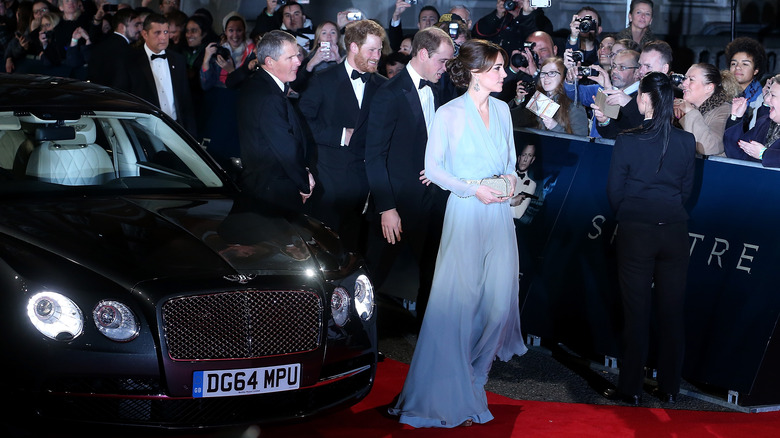 Fred Duval/Getty Images
For the Royal Film Performance of "Spectre" in October 2015, Kate Middleton decided to go with a stunning dusty light blue gown that certainly gave us major fairytale vibes. The flowy silhouette of the gown added an ethereal touch as the fabric gently cascaded around her.
20. Enchanting and whimsical: Kate Middleton in all white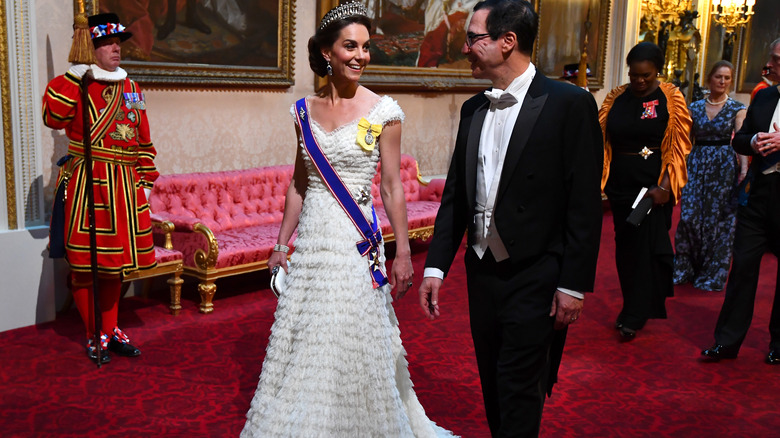 Wpa Pool/Getty Images
During U.S. President Donald Trump's state visit to the U.K. in June 2019, Kate Middleton wowed everyone while making a grand entrance through the East Gallery for a State Banquet at Buckingham Palace. She wore a breathtaking ruffled white gown that was both playful and sophisticated.
19. Princess Catherine's modern metallic midi dress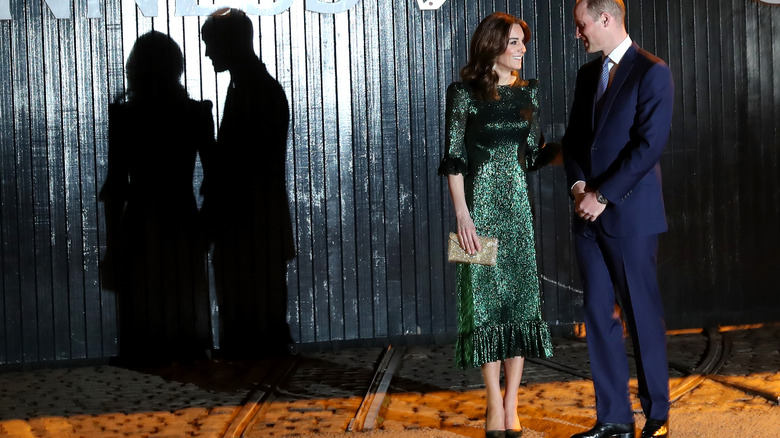 Chris Jackson/Getty Images
During a visit to Ireland in March 2020, Kate Middleton was once again spotted in a trusty color she often turns to: green. Her choice of a midi-length dress was accentuated even more by its metallic material, giving the whole look a very contemporary edge.
18. Kate Middleton proves she can rock white over and over again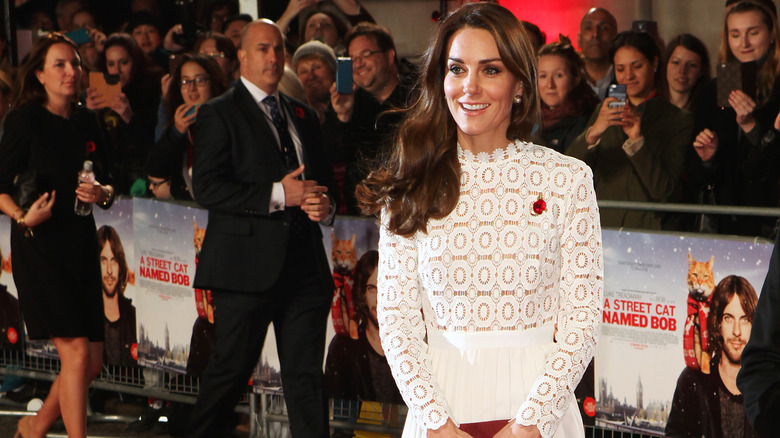 David M. Benett/Getty Images
In November 2016, Kate Middleton attended the U.K. premiere of "A Street Cat Named Bob," and for the red carpet, she chose an all-white ensemble. The princess is known to confidently embrace all-white looks, a style that many tend to shy away from. With every white ensemble she wears, Middleton always ensures the look is both elegant and intricate — and this occasion was no exception. Middleton's modern lace top once again showcased her ability to effortlessly combine contemporary design with timeless sophistication.
17. Kate's daytime look in baby blue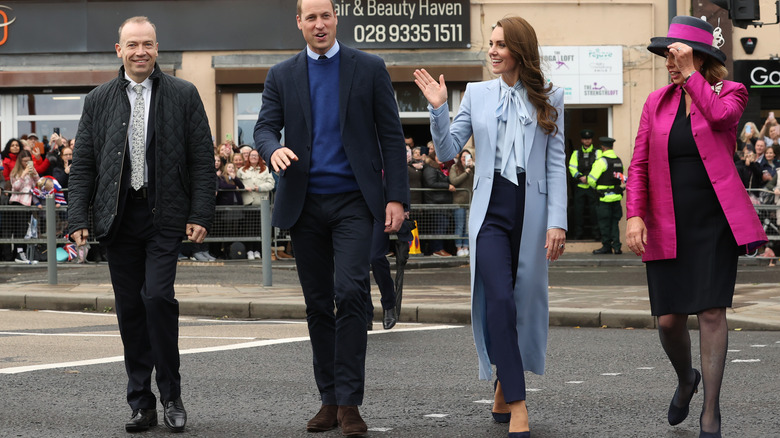 Pool/Getty Images
During her visit to Carrickfergus in Northern Ireland on October 2022, Kate Middleton showcased her style with a chic daytime ensemble. She was spotted wearing sleek navy pants paired with a baby blue silk blouse — however, the true showstopper was a breathtaking floor-length baby blue coat that certainly added plenty of drama to the overall look.
16. Kate Middleton in Barbie pink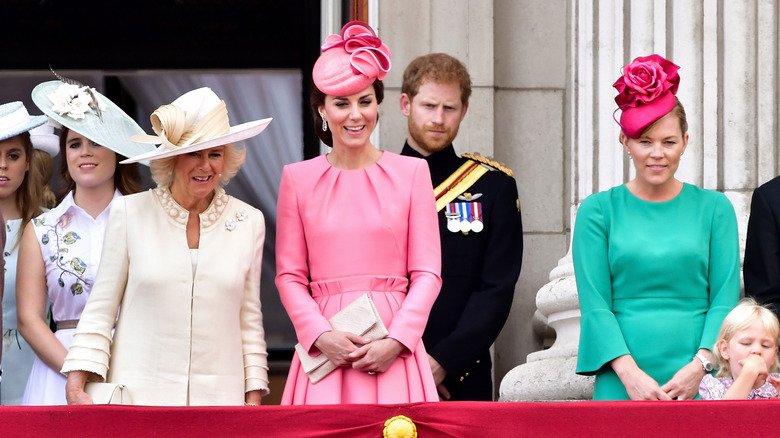 James Devaney/Getty Images
Trooping the Colour sees a lot of bad outfits; however, Kate Middleton is usually one of the few that tends to impress. In June 2017, the Princess of Wales chose a classic bright pink dress with intricate folding. She added a perfectly matching headpiece to complete the look, which elevated her ensemble and made it event-worthy.
15. Radiant in scarlet: Princess Catherine's center-stage moment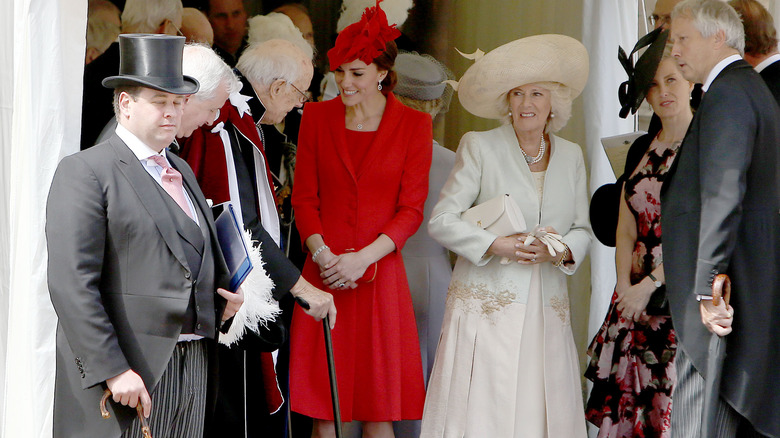 Wpa Pool/Getty Images
In June 2016, Kate Middleton attended the annual Order of The Garter Service held at St. George's Chapel. She opted for a bold and confident choice, wearing a strikingly bright red dress and a matching headpiece that effortlessly made her the center of attention — and for all the right reasons. With a look like this, Middleton stood out among the attendees, radiating confidence and once again stealing the spotlight. Seven years later, Middleton pulled off the red-hot color at the coronation concert in 2023, proving that red really is her color.
14. Kate Middleton's periwinkle suit at the Mauritshuis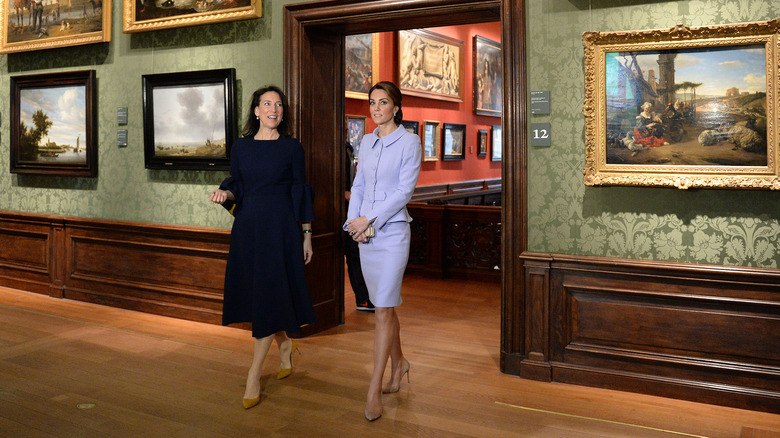 Pool/samir Hussein/Getty Images
During her visit to the Mauritshuis in The Hague, Netherlands, in October 2016, Kate Middleton was seen in a pencil skirt and Peter Pan-collared buttoned-up suit, both in a captivating shade of periwinkle. By now, it's clear that light shades of blue and purple are another favorite color choice for Princess Catherine, who is often seen in baby blue or periwinkle, whether it be at more casual events or red carpet premieres.
13. Kate Middleton's edgy twist at the BAFTA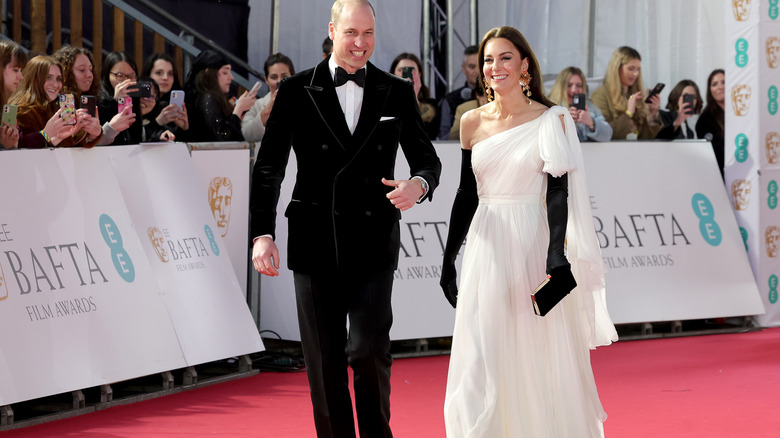 Chris Jackson/Getty Images
In February 2023, the Princess of Wales made a stunning appearance at the annual British Academy Film Awards in London. For the red carpet event, Kate Middleton decided to embrace a slightly edgier look than what we're used to seeing from the royal. She stunned in a gorgeous flowy one-shoulder white gown which she elevated by pairing it with long black silk gloves that added a touch of contrast to the otherwise simple look.
12. The princess is no stranger to polka dots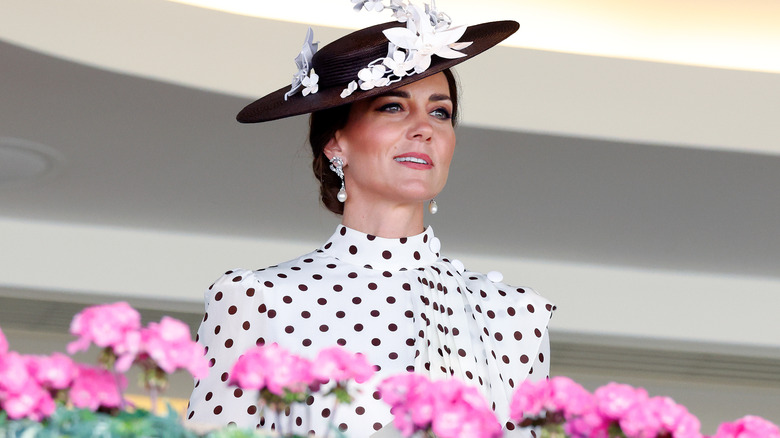 Max Mumby/indigo/Getty Images
For the Royal Ascot in June 2022, Kate Middleton decided to show the world that polka dots are, in fact, a retro print coming back into fashion favor. She wore a white flowy dress with charming brown polka dots. Middleton paired the dress with a fun brown hat decorated with white flowers that added the perfect touch of whimsy to the look.
11. Princess Kate's retro school visit look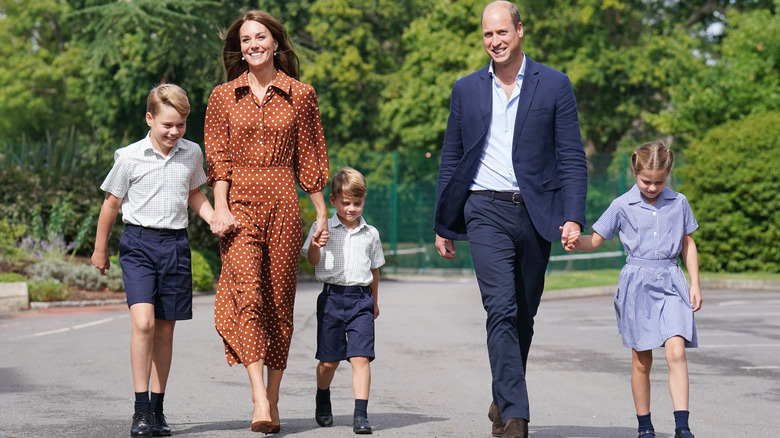 Pool/Getty Images
In September 2022, Kate Middleton and Prince William accompanied their children Prince George, Prince Louis, and Princess Charlotte to Lambrook School in Bracknell, England. Middleton opted for a vintage-looking brown dress with white polka dots, which was the perfect balance between casual, comfortable, and pretty. While the royal is often seen in very elegant and dramatic gowns, this retro-inspired dress gave us a glimpse of her relaxed and down-to-earth nature.
10. Pippa Middleton's wedding: Kate Middleton in dusty light pink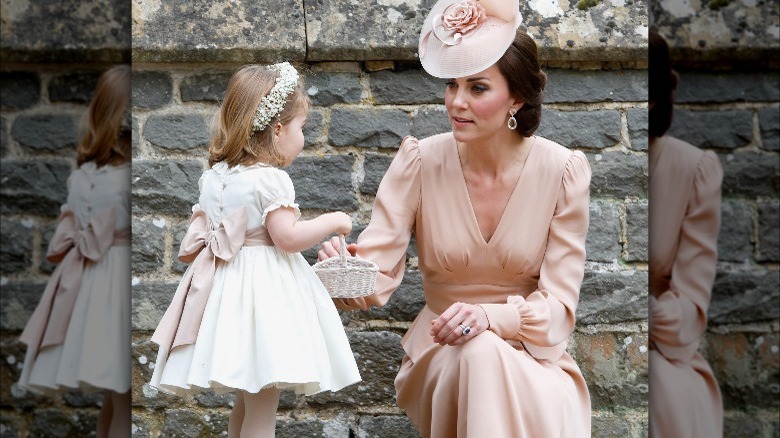 Max Mumby/indigo
In May 2017, Kate attended the wedding of her sister, Pippa Middleton, and James Matthews at St. Mark's Church in Englefield Green, England. For this family occasion, Middleton decided to go with a breathtaking dusty light pink gown and a matching hat that added a touch of sophistication. While her look was undoubtedly elegant and polished, it allowed Middleton to shine without taking the spotlight from her sister.
9. Kate Middleton's classy red museum look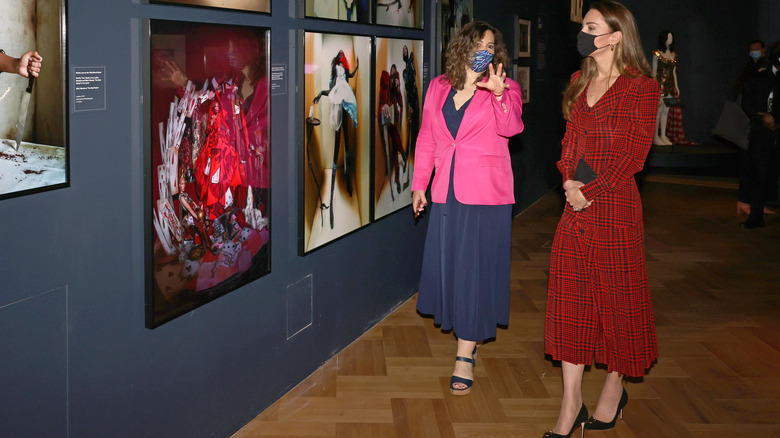 Wpa Pool/Getty Images
Princess Catherine paid the Victoria and Albert Museum in London, England, a visit in May 2021. She wore a timeless red and black dress that featured a charming Peter Pan collar, adding a touch of youthfulness to the ensemble. Made from a lightweight material, the dress had a classic pattern reminiscent of tweed, giving the outfit a dose of sophistication.
8. Princess Catherine's fiery red ensemble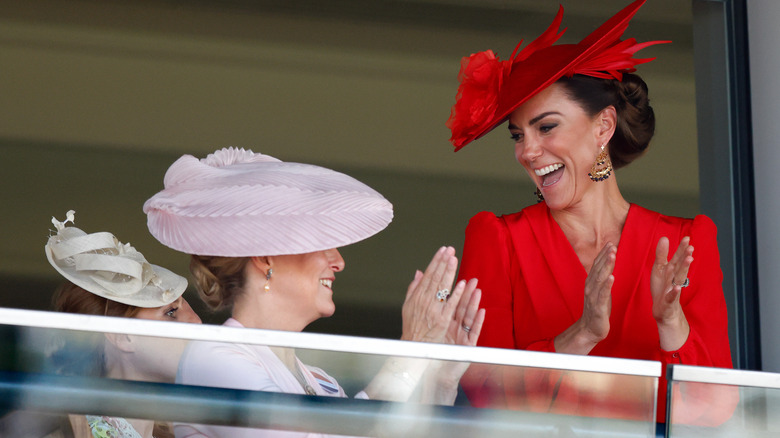 Max Mumby/indigo/Getty Images
In June 2023, the Princess of Wales attended day four of the esteemed Royal Ascot at Ascot Racecourse in Ascot, England. In true Kate Middleton fashion, she confidently embraced a vibrant and bright color, stunning everyone with a flowy and eye-catching bright red dress, which she paired with a complementary red hat.
7. Kate Middleton's stylish blend of tradition and fashion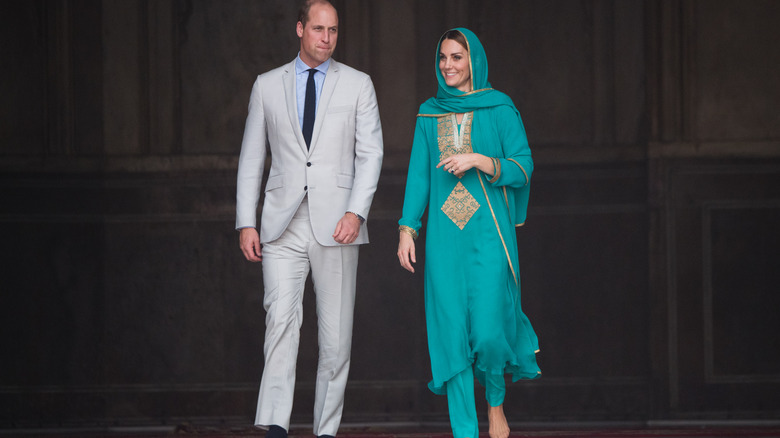 Samir Hussein/Getty Images
During her October 2019 visit to Pakistan, Kate Middleton and Prince William visited the Badshahi Mosque in Lahore. As a mark of respect, Middleton chose a traditional shalwar kameez and headscarf. Being the fashion icon she is, the princess managed to infuse her look with her signature style as she opted for a graceful teal fabric embellished with intricate gold details.
6. Teal elegance: Kate Middleton's St. Patrick's Day parade look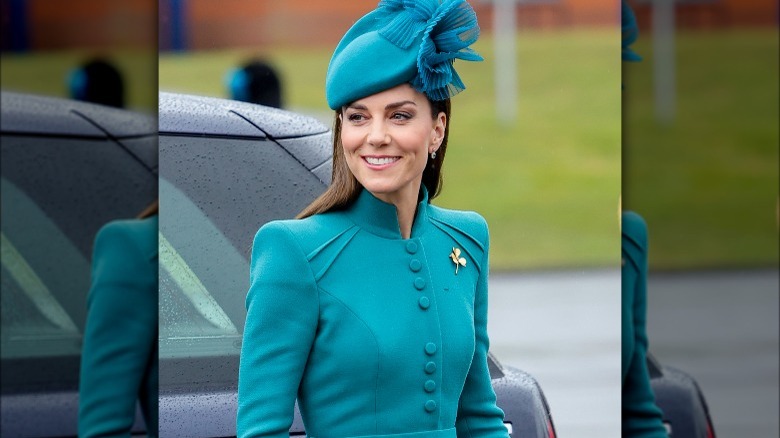 Chris Jackson/Getty Images
For St. Patrick's Day in 2023, the Princess of Wales fulfilled her role as the Colonel of the Irish Guards while attending a parade. As expected, Kate Middleton effortlessly showcased her impeccable style, opting for a modest teal look that perfectly complemented her complexion and brunette hair.
5. Kate Middleton's sultry black lace gown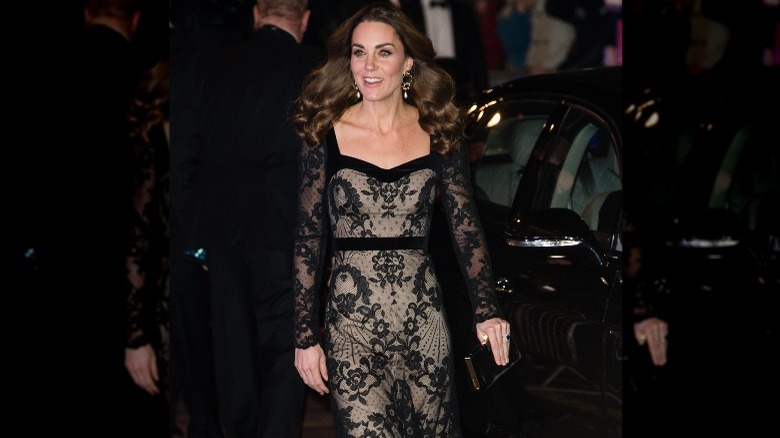 Samir Hussein/Getty Images
As we open the top five of Kate Middleton's most regal looks, there's no doubt that each upcoming ensemble is a winner. One standout appearance was at the Royal Variety Performance held at the London Palladium in November 2019. The Princess of Wales graced the event alongside her husband, and she looked breathtaking in her delicate black lace gown, which only solidified her status as a true style icon.
4. Kate Middleton in lace, pearls, and tulle at the Buckingham Palace Garden party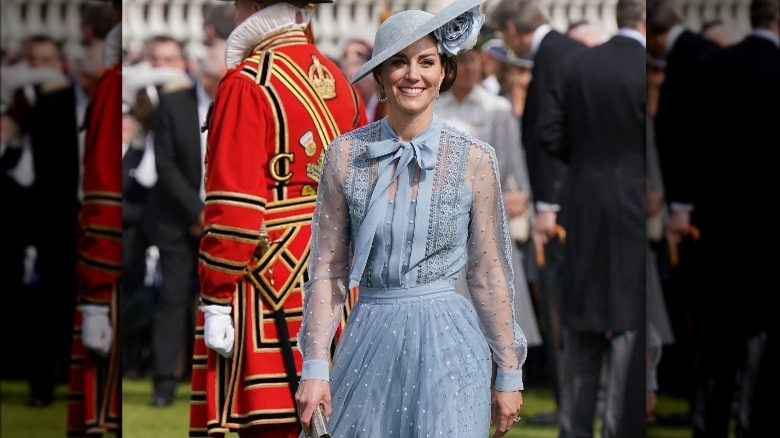 Wpa Pool/Getty Images
Leave it to Kate Middleton to effortlessly pull off a look that combines lace, pearl embellishments, and tulle without crossing into tackiness and over-the-top fashion. This was precisely the case when Princess Catherine attended King Charles' Coronation Garden Party at Buckingham Palace in May 2023. In a color choice that we've already established looks incredible on her, Middleton gave us pure chicness and glamour.
3. Captivating simplicity: Kate Middleton at the Top Gun premiere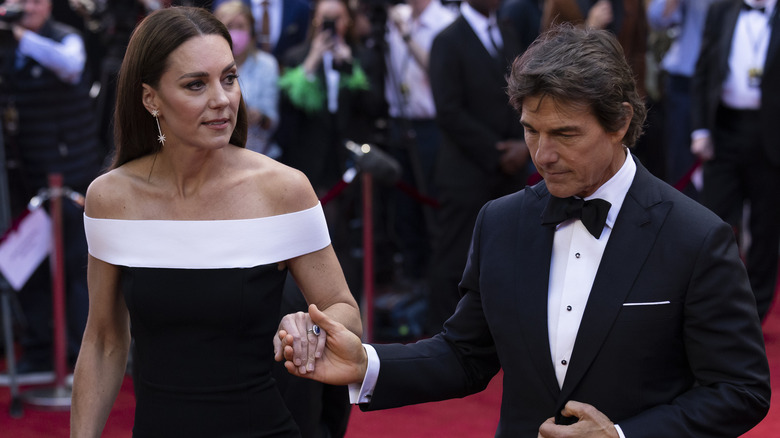 Dan Kitwood/Getty Images
With an array of stunning outfits to choose from, selecting the top three was no easy task. However, one appearance that simply couldn't be overlooked was Kate Middleton's elegant look at the "Top Gun: Maverick" Royal Film Performance in London in May 2022. Middleton opted for a black gown with an off-the-shoulder neckline and thick white trim that elevated the look from a basic black dress to Hollywood glamour.
2. The princess in head-to-toe gold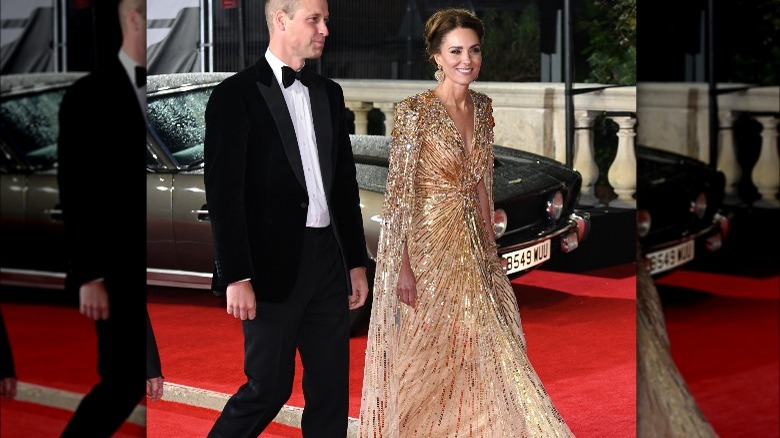 Karwai Tang/Getty Images
Stepping onto the red carpet at the "No Time to Die" premiere in London in September 2021, the princess once again showcased that events like these tend to be a place where she dares to explore fashion more bravely — and that always pays off. Rarely seen in head-to-toe gold, Kate Middleton effortlessly mesmerized all of us with her dazzling gold choice.
1. Kate Middleton's unforgettable princess wedding dress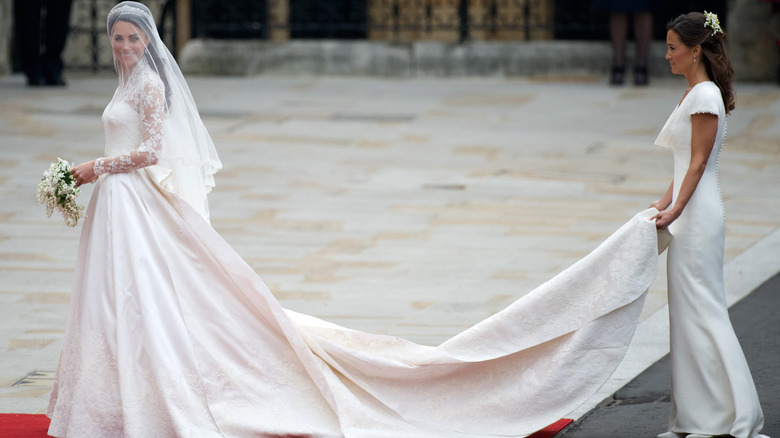 Anwar Hussein/Getty Images
On April 29, 2011, Kate Middleton gracefully walked down the aisle of Westminster Abbey to marry her prince in a highly anticipated royal ceremony. While Middleton has graced numerous events with her stunning looks, none could surpass the very magnificence of her wedding gown. The bride's fairytale princess gown was designed by Sarah Burton of Alexander McQueen — and even more than 10 years later, it remains Middleton's most iconic look.