15 Pop Culture Style Icons You Should Let Influence Your Wardrobe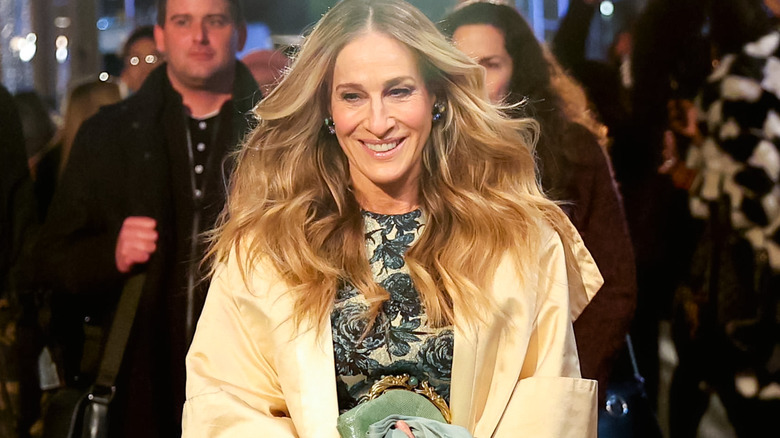 Jose Perez/bauer-griffin/Getty Images
As the saying goes, the clothes make the man — or woman. But they can also make (or break) a film or TV show. In some cases, the clothes even play an additional role — from highlighting a character arc or mirroring a change in tone or feeling to showing a new phase in a character's story. Sometimes those epic wardrobes even transcend the screen and solidify style icons in real life.
Take Audrey Hepburn's classic, pared-down approach to dressing, for instance, or Blake Lively's transition from "Gossip Girl" to the Met Gala's one-to-watch. Sarah Jessica Parker even launched a shoe brand on the heels of her stiletto-wearing, Manolo Blahnik–loving Carrie Bradshaw character. So, as long as fictional characters continue to surprise and delight us, we'll continue to watch, be awed, and take notes for our own wardrobes (and maybe wonder how all those clothes fit in those fictional closets). These are 15 pop culture style icons you should let influence your wardrobe.
Holly Golightly, Breakfast at Tiffany's (Audrey Hepburn)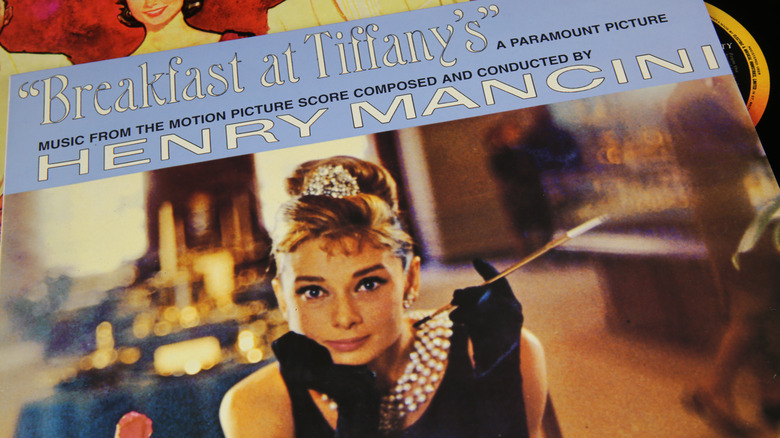 Ralf Liebhold/Shutterstock
Is there any LBD more iconic than Holly Golightly's full-length Givenchy number, paired with sunglasses and pearls? The movie's famous opening scene — where Holly eats breakfast while window shopping in the iconic ensemble — sets the scene for a lineup of effortless and classic looks. Among them: a pretty pink cocktail dress, an elegant knit turtleneck, a striking fur hat, a brightly colored coat, and a classic button-down shirt (for sleeping in, but obviously just as chic beyond the bedroom).
But what really makes her closet one to covet is how she styles the pieces. Accessories such as tiaras, dark sunglasses, strings (and strings) of pearls, and a cute winky eye-mask (again, for a good night's rest) are timeless and give her outfits an effortless charm. There's a reason Holly's classic style has been, and continues to be, inspiration for generations. In her words: "Anyone who ever gave you confidence, you owe them a lot." Well, thanks a lot, Holly.
Tracy Chambers, Mahogany (Diana Ross)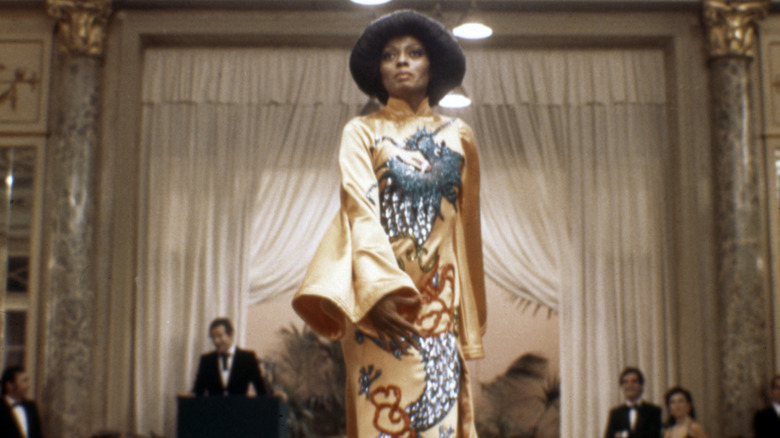 Sunset Boulevard/Getty Images
This cult classic about a young designer's rise to fame is one of the most fashionable films out there. In the movie, Tracy Chambers makes her way to Europe from the slums of Chicago and brings her impeccable style along for the ride. Of course, the accompanying lineup of '70s fashion is as incredible as expected: A purple gown with matching turban, an orange bell-sleeved dress with a bedazzled dragon, and a pleated rainbow cape are standouts among the always-chic wide-brimmed hats, knee-high boots, and oversized outerwear.
Even by '70s standards, some of the looks veer into over-the-top territory, but we are here for every out-there moment. And, as we watch Tracy's meteoric rise from secretary to model to designer, we can't help but admire the looks. While we might not be adding a fur-sleeved dress to our wardrobe, any outfit that makes us feel as confident as Tracy looks has our vote.
Catherine Tramell, Basic Instinct (Sharon Stone)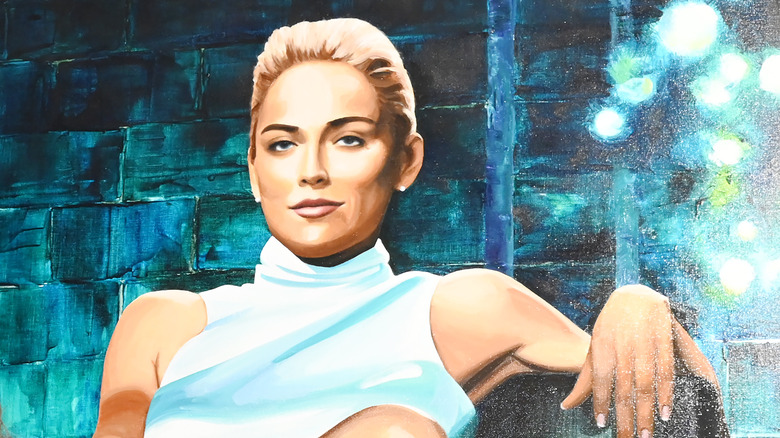 Foc Kan/Getty Images
Nobody pulls off the icy-cool look quite like Catherine Tramell. She dresses in a very '90s palette of neutrals that portrays her wealth and sophistication and helps her hide in plain sight. Catherine doesn't need to wear anything flashy, but she is one to watch for those wanting to look like a million bucks (or, at least, like their clothes do).
There's the white turtleneck dress she wears during that interrogation scene, the sumptuous wraps she wears while looking out at the sea (as you do when you plot murder), and the eye-catching, low-back bronze dress she wears to the disco. In the end, her brand of femme fatale is less about baring it all à la Jessica Rabbit and more about pared-down clothes that bring the focus back to her own beauty. Everyone's wardrobe can be just as thrilling — although, hopefully, your own isn't quite so lacking in undergarments.
Hilary Banks, The Fresh Prince of Bel-Air (Karyn Parsons)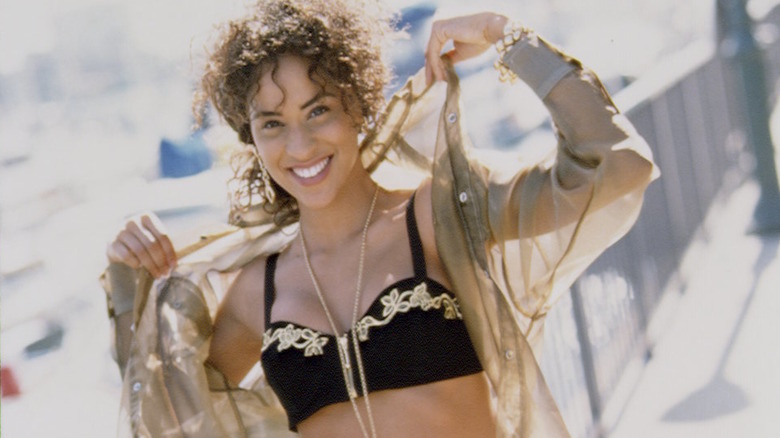 Mikel Roberts/Getty Images
"I'm a beautiful woman trapped in an even more beautiful woman's body." That's how Hilary Banks describes herself on "The Fresh Prince of Bel-Air." This, at least partly, explains her confident approach to dressing — and asking her father for money.
A few of Hilary's closet staples: fun hats, chunky jewelry, power suits (with the requisite shoulder pads), head-to-toe statement colors, animal print, and body-skimming silhouettes — not to mention those curls (although that's a whole other article)! The combination on anyone else could be stodgy, but on Hilary, the outfits always feel fun and youthful. But what really sets her apart from other style icons of the era is her polished dress-for-the-job-you-want energy. After all, looking the part is how she got hired on the spot as a weather reporter. And, while she sports some looks that only Hilary Banks can pull off, there is a lot of sartorial gold in those Beverly Hills.
Rachel Green, Friends (Jennifer Aniston)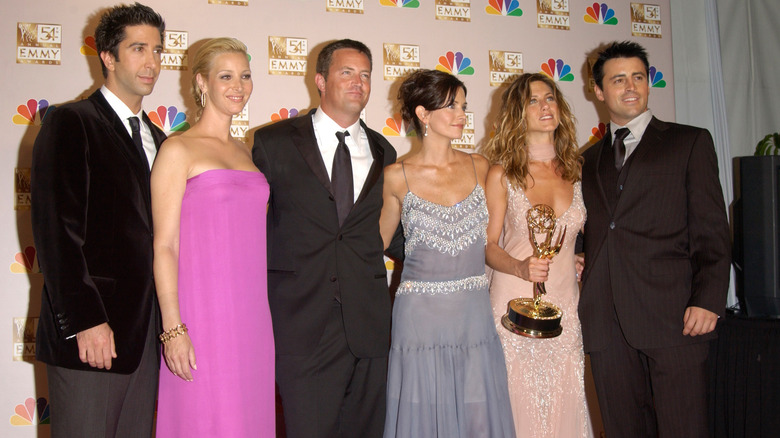 Featureflash Photo Agency/Shutterstock
During the first season of the hit show, Rachel Green had "Friends" fans running to salons to copy her signature layered haircut, dubbed "The Rachel." But that face-framing hairstyle wasn't the only thing Rachel had worth imitating. Her preppy, girl-next-door approach to '90s style made her one to watch — and, in case you hadn't noticed, that era of fashion is back in a big way. If you want the lowdown on fashion in the '90s and early aughts, cue up any of the sitcom's 10 seasons and take notes.
A few of Rachel's greatest hits: miniskirts, crop tops, platform shoes, high-waisted denim, and slip dresses, not to mention structured workwear and even the occasional special-occasion dress (we're looking at you, gorgeous mint-green column dress). After all, Rachel works in fashion at Bloomingdale's and Ralph Lauren, so it only makes sense she'd have the best style of the bunch. And, here we are, almost 20 years since the show aired its final episode, still coveting her closet.
Cher Horowitz, Clueless (Alicia Silverstone)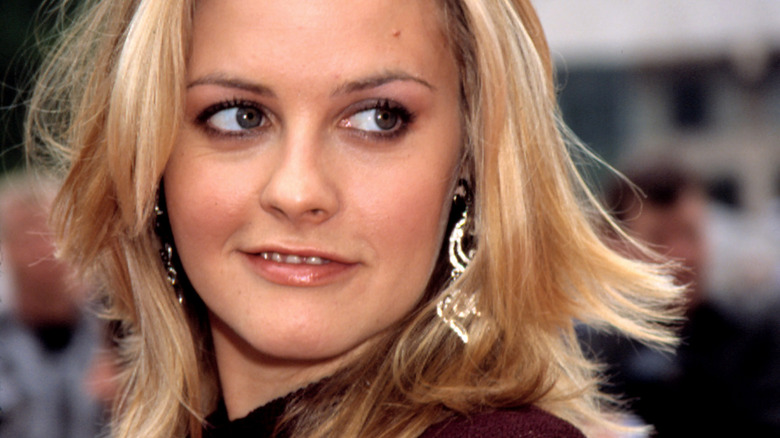 Everett Collection/Shutterstock
Fashion from the '90s is back in a big way, and no one (and, we mean no one) did it better than Cher Horowitz in "Clueless." Cher may be clueless about a few things — like love and passing her driver's test — but she more than makes the grade for her fashion sense. Cher's iconic yellow plaid blazer and skirt set keeps the patterned suiting trend current, even 30 years later. And, who can forget the computerized closet that helps Cher choose that very outfit?
Even today, it's the stuff sartorial dreams are made of, as are the knee-high socks, baby-doll dresses, sheer tops, tiny cardigans, bicycle shorts, and chokers — we can go on and on. Even the designers name-dropped, such as Calvin Klein and Alaïa, are '90s stalwarts. And, even though the film is closing in on its third decade, plenty of Cher's wardrobe is still current, trendy, and covetable. Look anything less than fabulous? As if!
Carrie Bradshaw, Sex and the City (Sarah Jessica Parker)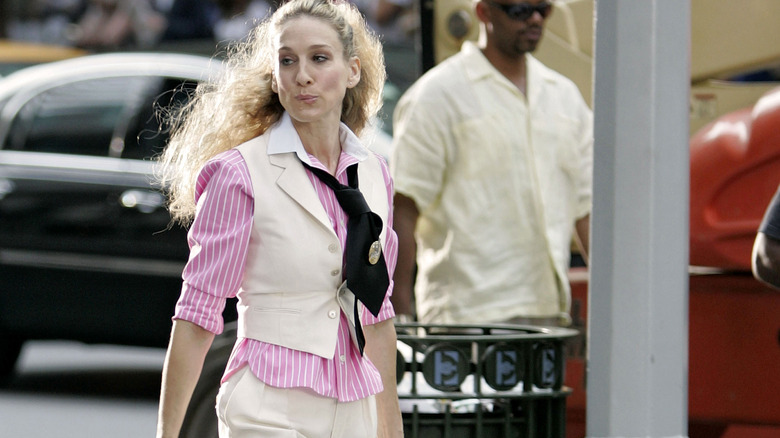 Brian Ach/Getty Images
For those who aren't familiar, "Sex and the City" has five main characters: Carrie, Miranda, Charlotte, Samantha — and the outfits, which epitomize New York City style. Although each character is fashionable in her own way, Carrie has that experimental streak that leaves viewers wondering what she'll wear next. Will it be a head scarf paired with a vintage pink prom dress? A green satin miniskirt with a tiny tulle bustle? A belt worn over her bare midriff? A Chanel shirt worn backwards?
Carrie has a unique ability to mix, match, and transform her clothes into fresh, never-seen-before (or since) outfits, and we are here for it. She's also credited with putting Manolo Blahnik's crystal-encrusted shoes on the map, and ditto for the Fendi baguette bag. ("It's not a bag. It's a baguette.") If we're being honest, not every outfit is a slam dunk, but Carrie's colorful, playful approach to fashion reminds us that getting dressed should be fun, whether you're dressed in a ballgown or a bralette. With the right shoes, you, too, can rescue your ankles from a life of boredom.
Serena van der Woodsen, Gossip Girl (Blake Lively)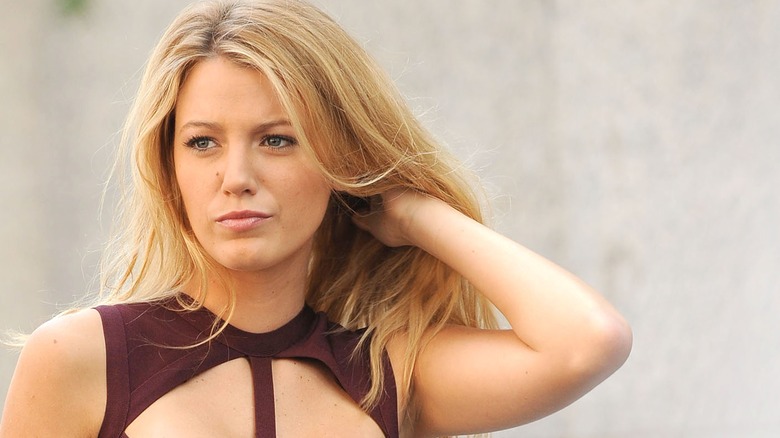 Everett Collection/Shutterstock
While ultra-preppy Blair Waldorf is often hailed as the fashionista of "Gossip Girl," Serena van der Woodsen's effortless, eclectic wardrobe is the one we'd actually love in our closet. All those incredible 5th Avenue labels aside, Serena basically has a PhD in mixing patterns and improbable color combinations, always with winning results. And she never shies away from a bold texture or pattern: feathers, sequins, animal prints, you name it.
But her real superpower is how easy-breezy she makes every outfit look. A loose tie over a t-shirt, undone hair, and strategically-placed statement jewelry – 2023's hottest trend – manage not to overpower and all contribute to her done-up-yet-undone signature style. After all, no one can style a school uniform quite like Serena. Plus, all her incredible stilettos, gorgeous coats, and evening dresses give us something to dream about. Thank you, Serena, for the stylish reminder that getting dressed should be playful and fun — and preferably drama- and scandal-free.
Gabrielle Coco Chanel, Coco Before Chanel (Audrey Tautou)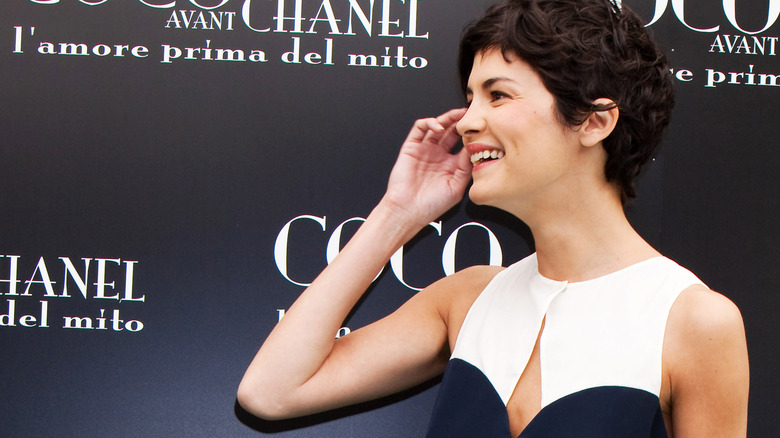 Elisabetta A. Villa/Getty Images
Of course, the biopic of legendary French fashion designer Gabrielle "Coco" Chanel would showcase some incredible fashion. What is even more amazing is Coco's resourcefulness — inspiration for anyone who's ever looked in the closet and found nothing to wear. Even down to her last outfit, she turns what is available (like her lover Boy Capel's shirts, for instance) into something new and chic. As we're all familiar, Coco's style is simple, yet elegant, and she is famous for infusing masculinity into the female style of dressing.
Although most of the film takes place before Coco became a fashion icon, there's plenty of fashion to love — and learn from. And, while we (personally) don't have room for a full horse-riding suit, we definitely enjoy the Breton stripes, collared button-downs, scene-stealing little black dresses, layered necklaces, and, of course, beautiful hats. (Fun fact: Coco got her start as a milliner, or hat-maker.) For all those who love French-girl style, take notes: This is where it all began.
Sydney Prosser, American Hustle (Amy Adams)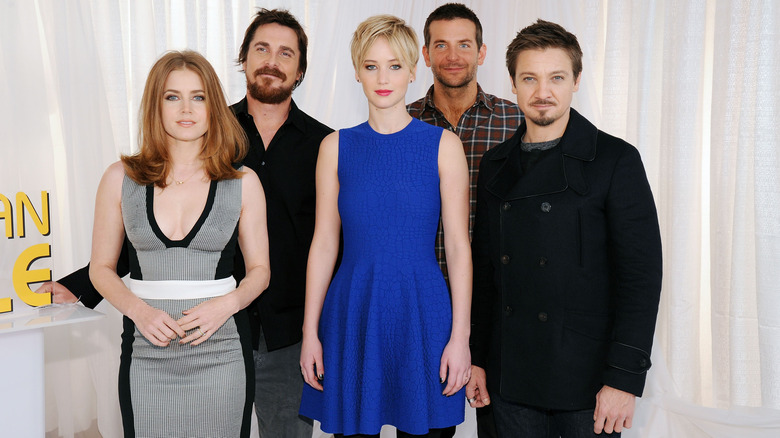 Ilya S. Savenok/Getty Images
To sum up Sydney Prosser's style in just one word: va-va-voom. Her character steals the show in plunging necklines that had us thinking the '70s weren't so unfashionable after all. As costume designer Michael Wilkinson told the Chicago Tribune, "There was a new freedom for women. The clothes were much less structured and relied less on underpinnings. The fabrics were softer. It really allowed me to create these very provocative and strong female characters."
The movie is about a couple of con artists including Irving Rosenfeld (played by Christian Bale) and his comb-over, which can sit this whole list out. So, it's fitting that Sydney's style is just as daring and risky as her character. Her penchant for slinky sequined fabrics, revealing necklines, leather, fur, and huge sunglasses mean all eyes are on her. And that scene when she "shops" Irv's laundromat for lost and forgotten items (with the requisite fashion show)? That's the stuff dreams are made of.
Cookie Lyon, Empire (Taraji P. Henson)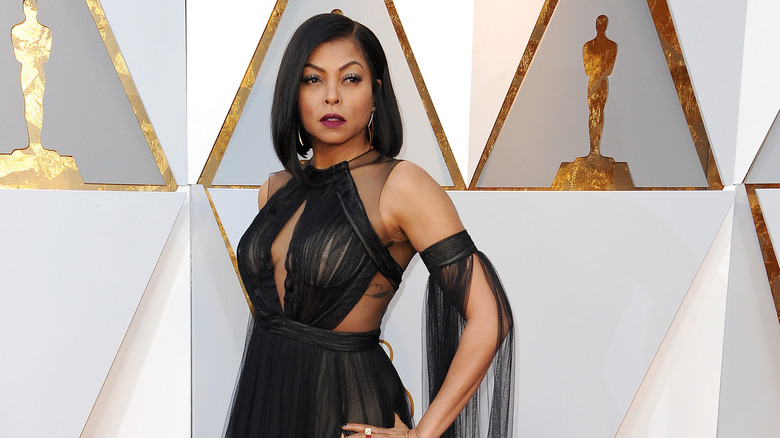 Tinseltown/Shutterstock
Bow down to the queen of stealing the show: Cookie Lyon. Because when there's that much animal print (on animal print on animal print), where else would you be looking? As Taraji P. Henson herself explained to The New York Times, "You're looking at a woman who was living for 17 years in an orange prison suit... She had all that time on her hands to think every day of her life, 'When I get out, what am I going to wear?'"
Once a convict, now a record company mogul, she uses her keen fashion sense to let the world know she's here and bringing the bling. On Cookie, no look is too bold or out-there — and that's saying something. After all, who else can pull off a leopard-print dress, hat, and bag, all at once? Or a furry magenta infinity scarf? Or a red leather suit trimmed in gold chains that gives off real Michael Jackson vibes? If your own closet has veered into hum-drum territory, be sure to tune in for style inspo (and all the hip-hop dynasty's juicy drama).
Titus Andromedon, The Unbreakable Kimmy Schmidt (Tituss Burgess)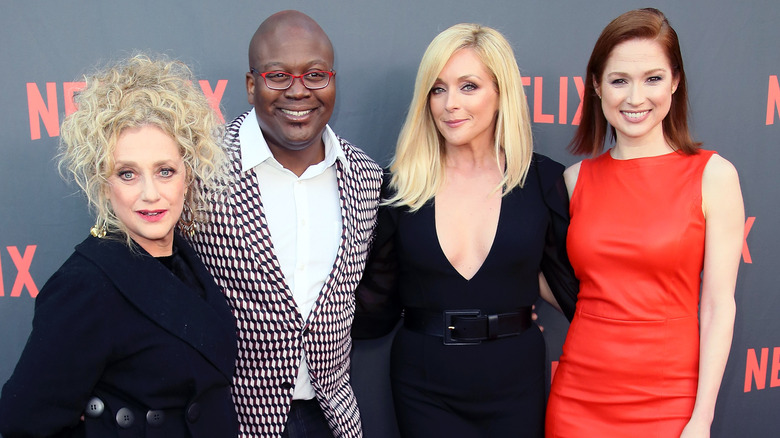 David Livingston/Getty Images
If you're in the market for a fabulous ensemble for eating snacks or pizza on the couch, then Titus Andromedon is your muse. BFF, roommate, and polar opposite of the eternally-optimistic Kimmy Schmidt, Titus is 100% lazy — except when it comes to getting dressed.
Topping his list of greatest outfit hits: his recreation of Beyoncé's famous yellow dress from the "Hold Up" video, complete with baseball bat. But even when he's not working through a breakup via "Lemonade," plenty of inspiration can be found: capes, chunky jewelry, big scarves, leopard print (or just a shirt with a leopard on it), gold boots, vests, and plenty of color — but especially purple. Basically anything goes, as long as it feels good and is comfortable (you know, because snacks on the couch). Oh, and pajamas — for both inside and out. To sum up Titus' style: confident, flamboyant, and fun. Or, as Kimmy would put it: fudging awesome.
Elton John, Rocketman (Taron Egerton)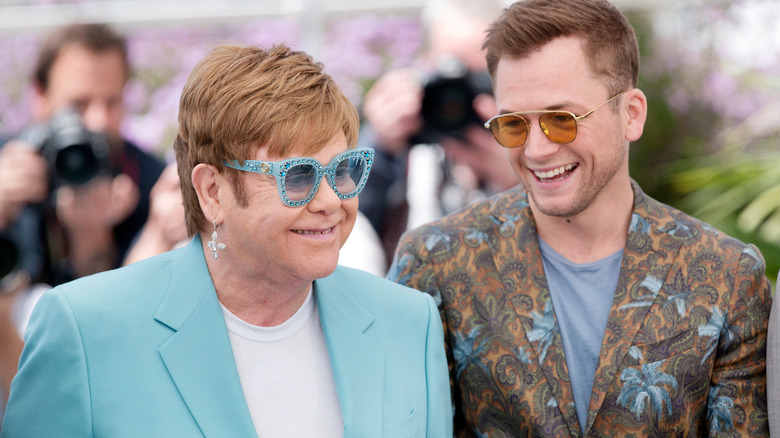 Andrea Raffin/Shutterstock
Some of pop culture's most recognizable style may come straight from the closet of Sir Elton John — which is exactly why his biopic has us on the edge of our seats: so we can get a closer look at all the rhinestones, spangles, and gold lamé (spoiler alert: there's a lot). From a bedazzled cod-piece to a hot-pant and winged-boots combo, the outfits are as ostentatious and exuberant as you'd expect.
Behind the "more than a million Swarovski crystals" in the film is a lesson about letting your personality shine through your clothes. Or maybe dressing for the job you want? Either way, everyone can use a bit more glitter and glam in their wardrobe — or, at least, a little more fun. We'll start slowly, with one of the many pairs of show-stopping glasses (but make them sunnies). Maybe one day we'll graduate to feathered headpieces.
Lando Calrissian, Solo: A Star Wars Story (Donald Glover)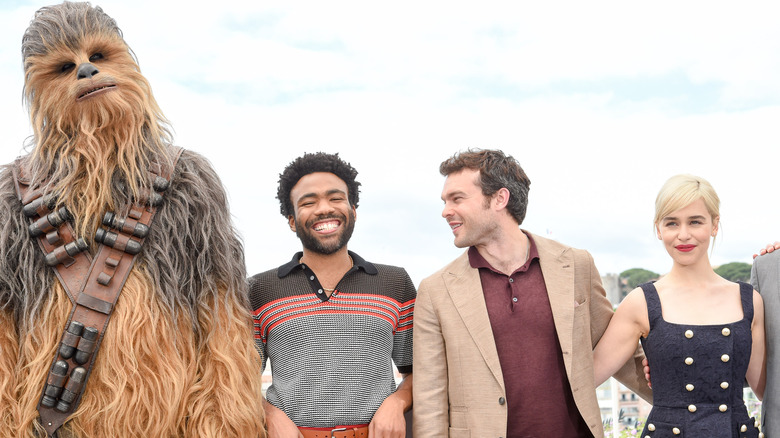 Stephane Cardinale - Corbis/Getty Images
We all need a few more capes in our lives, right? Lando Calrissian from the "Star Wars" universe is here to show us how. Costume designers Glyn Dillon and David Crossman explained that, for Lando's looks, they found inspiration in 1970s rock stars including Jimi Hendrix, Prince, James Brown, and Marvin Gaye. "We're doing this kind of young, aspirant Lando that's kind of using all his money to buy clothes and project himself," Crossman said (via Starwars.com). That explains the devoted cape closet on board his ship, which Qi'Ra spends time perusing (we completely understand).
But this smooth-talking smuggler's style isn't only about capes. He also doesn't mind a bold pattern, large cuffs, loose ties, asymmetrical necklines, and a good leather boot. Plus, it's hard to argue with his huge fur coat that would look just as good on earth as in a galaxy far, far away.
Emily Cooper, Emily in Paris (Lily Collins)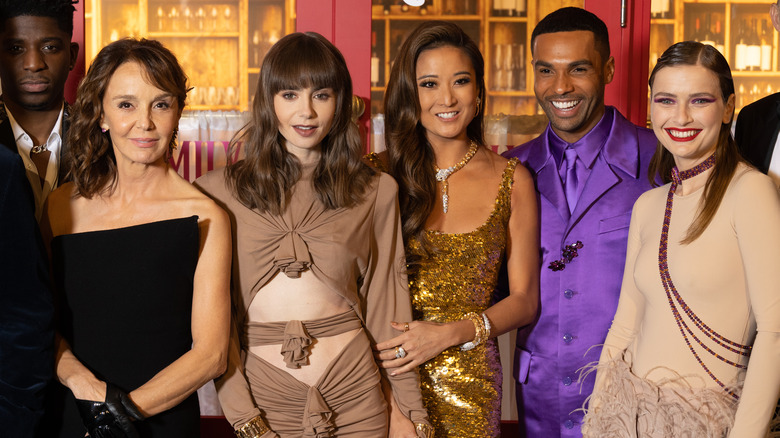 Marc Piasecki/Getty Images
Nothing is particularly French about the fashion that Emily Cooper parades around Paris, but it sure is fun to watch. The young, up-and-coming marketing executive can always be caught in eye-catching and over-the-top outfits whether she's dressing for work or play. Emily's more-is-more aesthetic has her tripping around the city in stilettos and platforms, an array of berets, quilted Chanel bags, elegant little black dresses, and a bold choose-your-own-adventure approach to pattern mixing.
Some of our favorite pieces include a pink feathered cape, a gold-studded blue velvet blazer, knee-high turquoise boots, a voluminous red tulle gown, and a purple ruffled dress coordinated to match Provence's lavender fields. In short: Her style is bold, youthful, and très experimental. As Emily continues to find her (stiletto-clad) footing fashion-wise, we get to watch her style evolution. Only one question remains: Where does she keep all those clothes in that tiny Paris apartment?