Does Aloe Vera Have Benefits For Your Hair? It's Complicated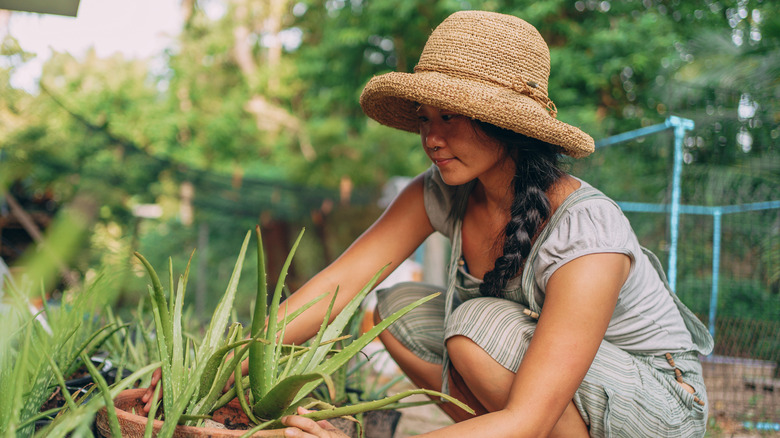 Future Artist/Getty Images
You don't have to be a plant lover to know that aloe vera is a botanical miracle worker. The spiky-leaved succulent is native to the mountains of West Asia, though it's enjoyed by houseplant collectors, chefs, and gardeners across the world. Beyond its applications in the kitchen and garden, aloe is something of a skincare savior, known for its ability to heal a sunburn quickly. The gooey gel stored inside its leaves contains water, vitamins, and other compounds that can soothe irritated skin and increase collagen production, per research published by the Indian Journal of Dermatology.
Given its impressive effects on the skin, one might wonder whether aloe vera is good for hair, too. It frequently appears as an ingredient in products like shampoo, masks, and conditioner, though aloe vera's role in haircare is rarely discussed with the same enthusiasm as skincare. So should you use aloe vera on your hair? The answer isn't quite as straightforward as you might think.
How aloe vera can help your hair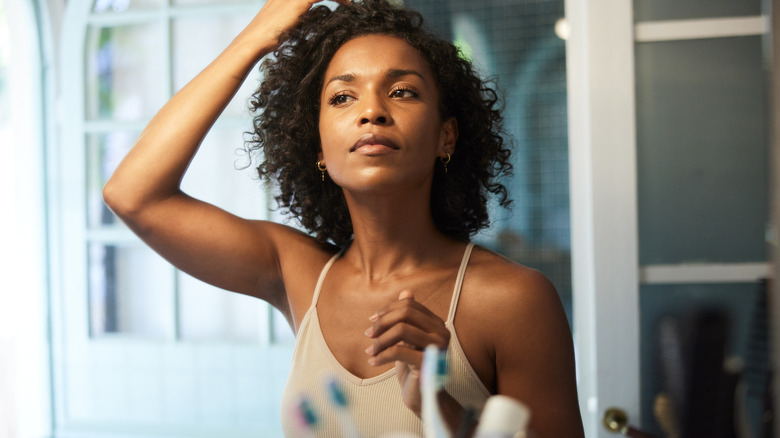 Tempura/Getty Images
Whether you're using a freshly-broken piece of aloe vera or an aloe-based haircare product, you probably want to know what the plant is actually doing for your locks. First, let's start at the source of hair growth. When applied to the scalp, aloe can reduce the severity of the skin condition seborrheic dermatitis, according to a study published in the Journal of Dermatological Treatment. Plus, aloe's healing properties can also treat abrasions, burns, or other scalp concerns that may arise (via the Iranian Journal of Medical Sciences). That could explain why aloe is a widely-used additive in many soothing scalp treatments, hair oils, and other haircare topicals.
But what about aloe applied to the hair itself? As it turns out, using aloe on the hair shaft can help hydrate strands and provide a dose of restorative nutrients. "Aloe vera can be used as a moisturizer on the scalp and hair because it contains polysaccharides. Polysaccharides are complex sugar molecules that help retain and attract moisture," dermatologist Dr. Brendan Camp told Women's Health. Anecdotally, some claim that aloe vera can even stimulate hair growth. "Using fresh aloe in my hair and making my own aloe gel has really made my hair grow. I guess what they say is true," wrote one Twitter user. With that said, it's important to note that little research exists to confirm these effects.
The disadvantages of using aloe in haircare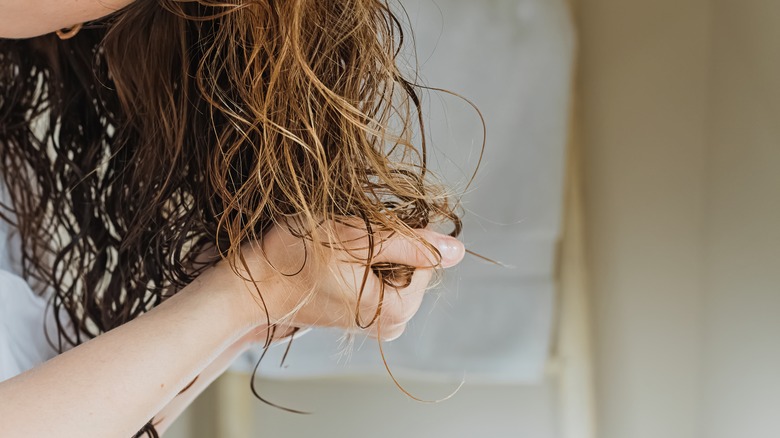 Chiociolla/Shutterstock
It's a well-known fact that what works for some hair types may not work for others, and the same can be said for aloe vera. Despite its hydrating qualities, aloe has its limitations as a standalone haircare product. Its lightweight consistency is useful in many ways, but those with thick or coarse-textured hair will almost certainly need more moisture to smooth their strands. In order to banish frizz and keep your curls voluminous, make sure to use a pre-conditioning or leave-in treatment in conjunction with aloe vera. Alternatively, look for aloe-based haircare products with added moisturizing agents, like shea butter or argan oil.
Several factors can affect your experience using aloe vera, from your hair type to your porosity level. Furthermore, hard water in your shower can limit aloe's effectiveness as a hair moisturizer due to buildup on your strands. Ultimately, the best way to determine if aloe works for you is through trial and error. There are plenty of aloe-based hair products available to try. Otherwise, you can snap off a piece of fresh aloe to extract its inner gel — just make sure to refrigerate and dispose of it within a day or two after harvesting. If all else fails, however, you can always use aloe vera in your skincare routine.