Tips To Keep Your Curls Voluminous Without Adding Extra Products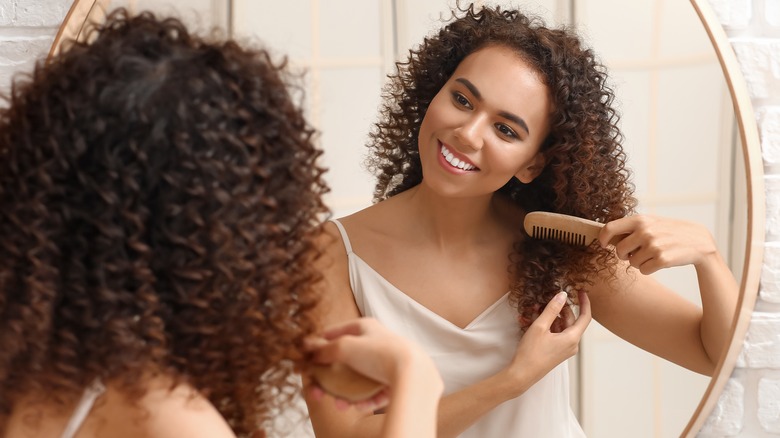 Pixel-Shot/Shutterstock
It is universally acknowledged that curly hair is fun hair. From waves to coils, the curly hair spectrum does not disappoint. Curls that bounce and shine give personality and depth, making your mane the envy of every dame.
When it comes to curly hair, the fun only increases with volume — the greater the volume, the more fantastic the hair. But we all know how unpredictable our hair can be; On some days, our hair cooperates and gives us bouncy, shiny, fun-packed curls that scream volume, and, on other days, our hair looks positively flat and dull. What if we were to tell you, achieving those voluminous curls every day only required following a few simple steps and lesser products? Well, follow these tips, and your curls will never disappoint you.
So, let's get to it and look at some ways to volumize your curls for that pretty, fulfilling curly look.
You don't need a lot, to have a lot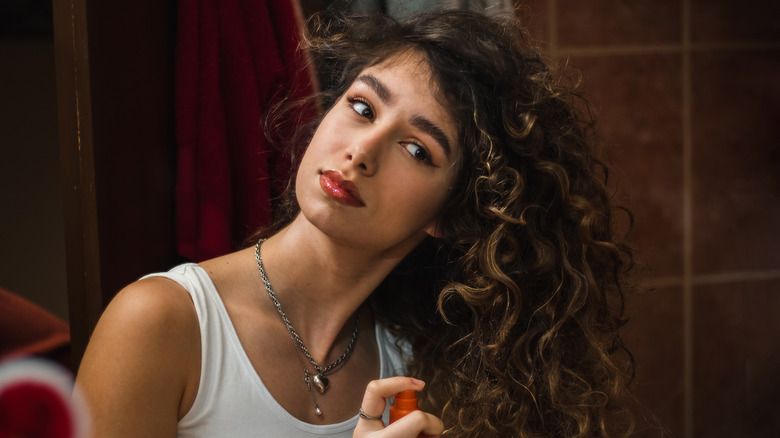 Marko Nikolic Photography/Getty Images
You don't need a lot of hair products, to have a lot of volume. Achieving voluminous hair is a matter of technique and not a matter of applying a thousand and one mousses and gels. So, what do we apply? How much? And when?
To create volume, we need moisture, so start with damp hair. Now to make sure your hair remains moisturized, apply a moisturizer to lock the moisture in. Your moisturizer can be in the form of a styling cream, a curling mousse, or even a moisturizing spray. It doesn't matter as long as your product of choice has moisturizing properties. Always remember, when it comes to hair, less is more. Apply too much moisturizer, and your scalp will suffer from product buildup, plus the heaviness of the moisturizer will weigh your hair down, preventing it from being free and bouncy. A lightweight moisturizer will be perfect for the job. And again, a lot goes a long way, so don't go overboard.
And that is it for products. A moisturizing product is all you need for your curls to look shiny, healthy, and voluminous.
Tricks without products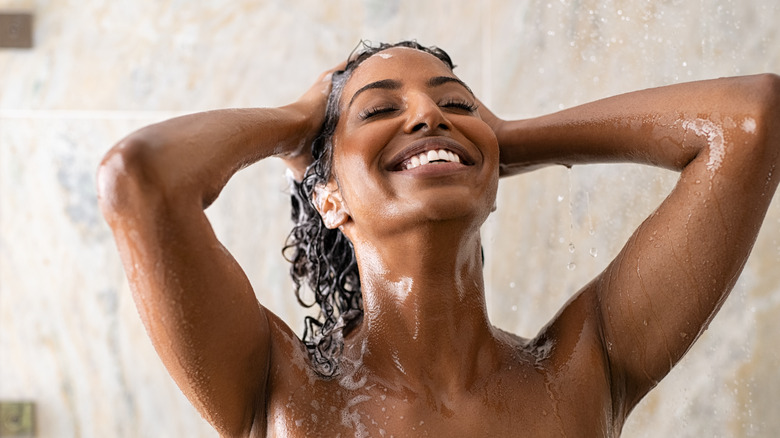 Ground Picture/Shutterstock
This part is going to be fun because we're not going to ask you to buy anything other than what you already have, as promised; no more products. The way you handle your hair, the way you apply products, and your scalp health matter when it comes to volumizing your hair. So here's everything you have to do for everyday volume.
Let's start with scalp health. Even though the phrase is "washing your hair" you're better off "washing your scalp". The scalp is responsible for hair growth, shine, and you guessed it, volume. So next time, when you're in the shower, make sure you're scrubbing away all that dirt, preferably with a sulfate-free shampoo.
Before you apply your moisturizer, make sure your hair is damp and not dripping wet. You can pat dry your hair with an old cotton t-shirt. Applying should be done starting from the root, but remember to scrunch your hair up afterward to reinforce your hair's natural curliness.
Heatless curls and other trends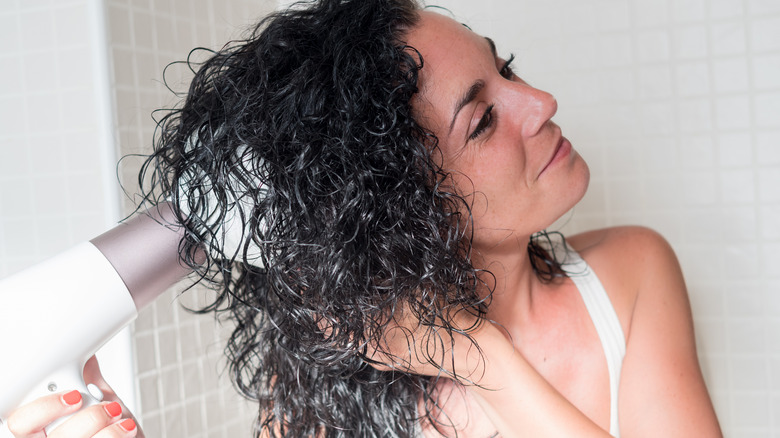 Cerrotalavan/Shutterstock
Now that we got the voluminous part right, let's have fun with those curls.
After you're done with the showering and the moisturizing, your hair is finally ready to put all that volume into its curly self. Here's what you can do to intensify and define your curls: start by diffusing. Diffusing will increase volume while making your hair curlier and frizz-free, plus if you're running late and can't wait around for your hair to air dry, diffusing is the way. If you want pronounced curls, that seems too good to be true, there are so many heat options like heat rollers and heat curlers which will make your curls look bouncier and more defined.
You've sworn off heat? Don't worry, we got you covered, you can still go for those fun curls thanks to TikToks' obsession with wrapping clothing around hair and producing curls like we've never seen before. You can attempt the legging method, the scrunchie method, or even the sock method. Follow these tips to treat your hair to some fun and bouncy curls without hurting your pockets.
Make those curls last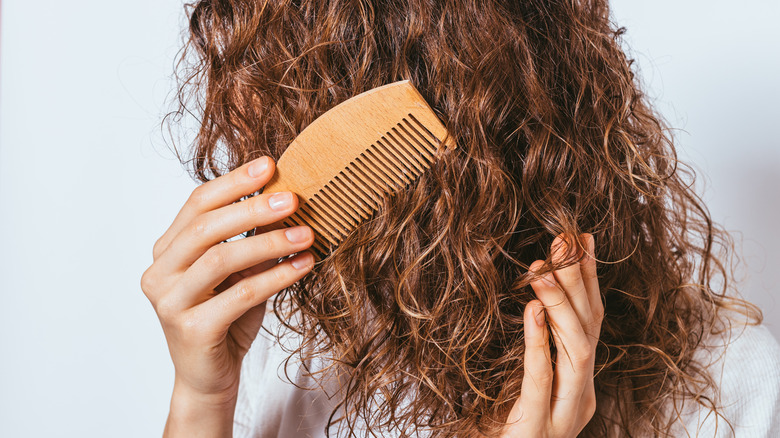 progressman/Shutterstock
We all know when it comes to hair, it's a struggle. So, once we get those voluminous curls in place, let's try and make those last. Showering and styling your hair is quite the hustle — it's a chore we try to avoid. So here are a few tips to keep your curls in for a few extra days.
When it comes to volume, excess oil is never a good thing. Sebum on its own keeps your hair moisturized and shiny, but in excess, they weigh your hair down and fight against volume. So, on your third day after a shower, you'll find your curls losing their bounce and volume. Showering every three days helps keep these oils under control. But it depends on how much your scalp produces, how often you shower is ultimately determined by your genes.
When styling your hair with heat, try doing it on the second day after a shower because your super clean hair is less likely to hold a curl. If you want to keep those curls intact, hair spray them. Hair spray helps hold those curls and volume in. So, set your hair with some hair spray after styling it. The heat setting matters. Remember to adjust the heat setting on your curling tool to suit your hair type. For thick coarse hair, use a higher heat setting, and for thin hair, a lower heat setting should do the trick. Now, you're all set to rock those voluminous curls!