Byzantine Jewelry Is The Regal, Antique-Inspired Trend We're Suddenly Seeing Everywhere
Any fashion fan will remember the iconic 'Heavenly Bodies: Fashion and the Catholic Imagination' theme of the 2018 Met Gala. Not only did we get epic outfits (who can forget Blake Lively's gorgeous red gown), but we were also introduced to the glamour and chicness of Byzantine jewelry. Byzantine jewelry has been around for many years, and its renaissance is one to watch. Not only is it known for its intricate details and colorful gems, but Byzantine jewelry is a favorite for those looking to add a bit of regalness to their looks. The jewelry can come in various ways, but it's mainly known for its extravagance and religious motifs, as per Smart History.
Although many could be looking for minimalist fashion styles, these spectacular jewelry pieces offer a chic juxtaposition to sleek outfits. Not only do these pieces add more color and flair to minimalist ensembles, but they are stunning pieces of art in their own right. After all, Byzantine jewelry can be seen from miles away with its braided details and chunky sizes. Plus, these jewelry pieces go along the same lines as maximalist and over-the-top jewelry trends of past seasons. However, unlike other jewelry trends, Byzantine jewelry is an ode to the beautiful craftsmanship and history that's made it so iconic and classic.
Chunky chokers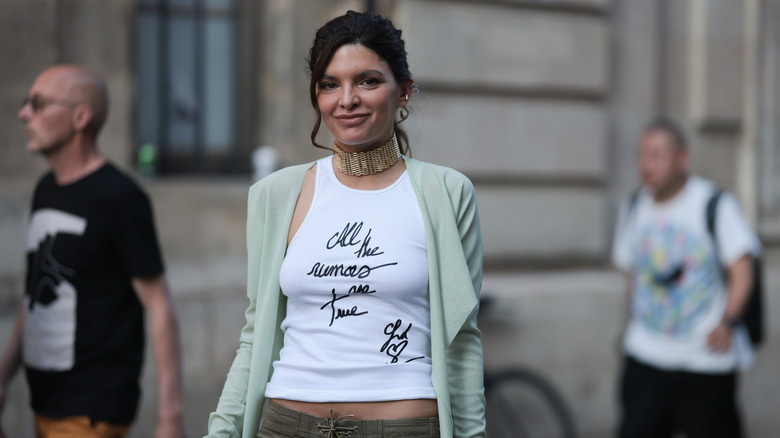 Jeremy Moeller/Getty Images
Chokers aren't just your favorite 90s grunge accessory, they're also an essential piece for Byzantine jewelry. The choker necklace has a long history with royalty in ancient times, shares Niscka, making it an essential part of this jewelry trend. There are multiple ways of getting a Byzantine-inspired choker, which includes braided details or gem accents, as per Smart History. Either way, a chunky choker is meant to be seen and noticed with its oversized thickness and statement design.
Oversized jewelry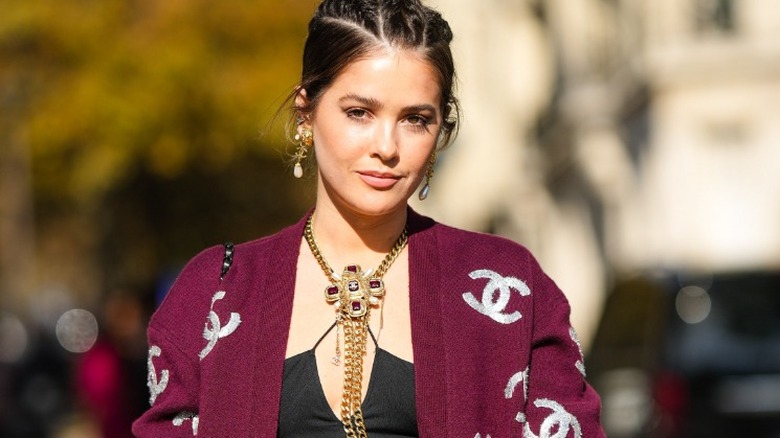 Edward Berthelot/Getty Images
You can't have Byzantine jewelry in your collection without making space for some over-the-top pieces. One of the aspects of this type of jewelry is its large size and design, according to Lang Antiques. Minimalism isn't part of Byzantine jewelry as it's meant to make a huge fashion statement. No matter what gem or design you reach for, ensure its size makes it seen from down the block. In other words, large chunky necklaces and earrings are a must if you're looking to mimic ancient royal jewelry.
Gem earrings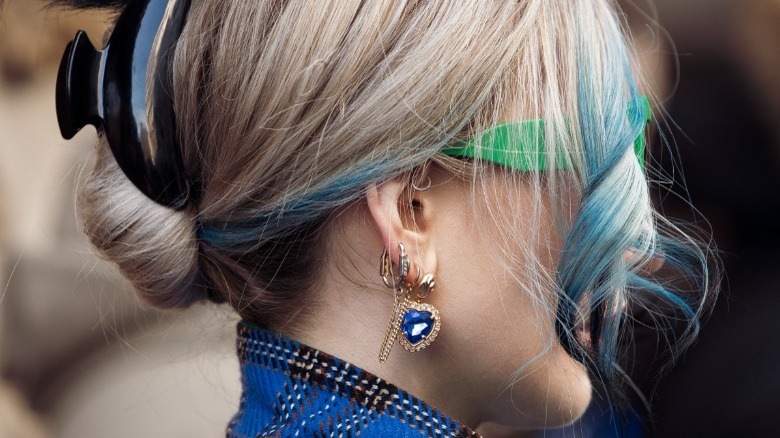 Raimonda Kulikauskiene/Getty Images
Gems are often relegated to playful jewelry or pieces found in kids' play jewelry, but they're both elegant and fun ways of adding color to your jewelry collections. Byzantine jewelry is known for incorporating fun gems, as per Jewels for Me, especially when it comes to their earrings. However, gem earrings are more than just a funky jewelry piece. They're iconic and antique pieces that add flair to your chic jewelry. A fun pop of ruby red or emerald green gem earrings can add much-needed color to a minimalist outfit or complete your 'fit.
Vintage gold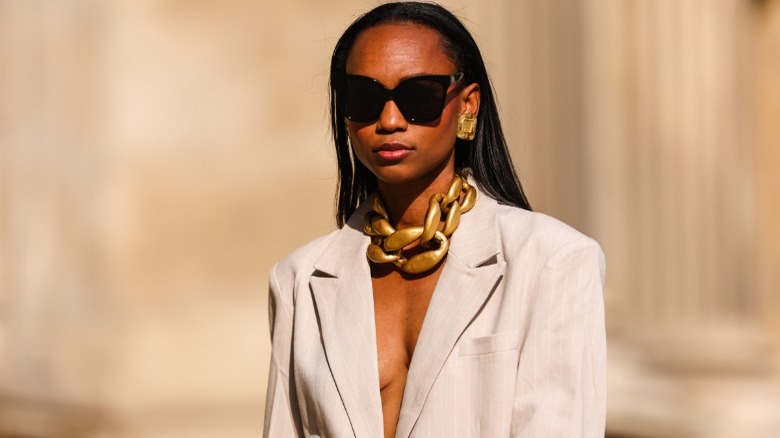 Edward Berthelot/Getty Images
Although we're seeing plenty of shiny metals everywhere, from the streets to the runways, Byzantine jewelry is all about that worn vintage gold look, explains Berganza. Vintage gold doesn't mean you need to head to your antique store, but it does imply a darker and dirtier gold-plated item. This worn and lived-in gold will give your jewelry a tarnished look essential for Byzantine jewelry. The slight imperfections in vintage gold give your pieces the look of passed-down jewelry that gives them an even higher level of sophistication.
Colorful gems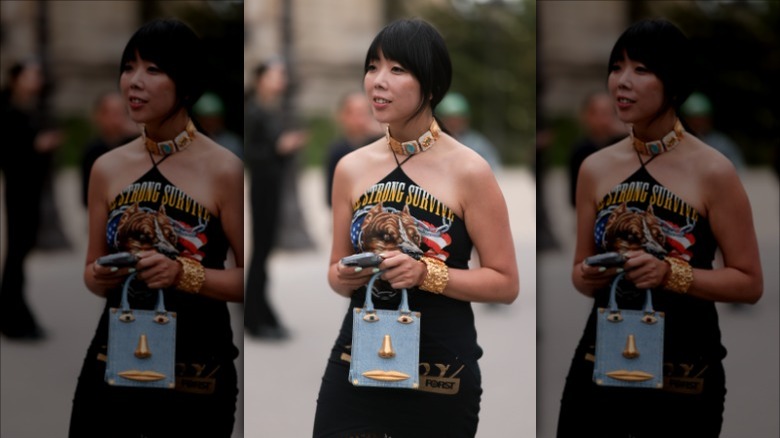 Jeremy Moeller/Getty Images
We already know that gems in your earrings are a must, but it doesn't need to only exist on your ears. Colorful gems in reds, blues, and greens are staples in your Byzantine jewelry (per Lang Antiques). Bracelets, rings, and necklaces with these vibrant hues give your jewelry an extra level of royalty. Plus, the gems don't need to be real. They give the same vibe as if you grabbed them straight from the Queen's vault. If you're looking to impress with Byzantine jewelry, don't forget to add a few gems to your collection.
Motifs and more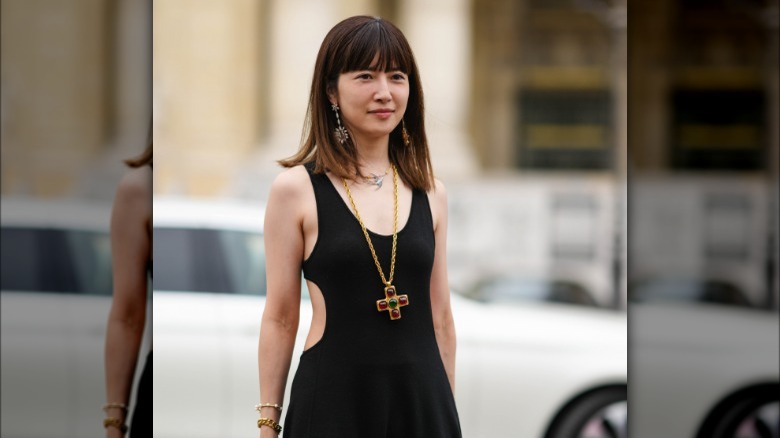 Edward Berthelot/Getty Images
One aspect that separates Byzantine jewelry from other accessories is the amount of intricate detail and motifs that go into it, according to Lang Antiques. Each motif is with purpose and is meant to add a touch of element to your jewelry. Religious designs are common with Byzantine jewelry, even if you aren't religious. Other motifs like sunbursts and moons are part of this Byzantine trend that tells a story rather than just look pretty (although they're also gorgeous).