Become A Bronzed Goddess With The Latte Makeup Trend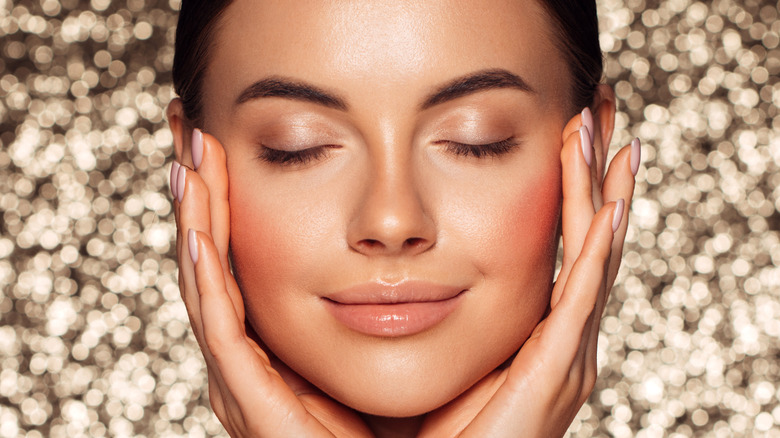 Coffeeandmilk/Getty Images
Move over, "Barbiecore Beauty" — the latest trend making the rounds on TikTok is latte makeup. While hot pink has been taking over for a while now, thanks to Greta Gerwig's "Barbie" film, you're going to want to pull out your bronzes and neutrals for the latte makeup look. Think warm, caramel tones with smokey brown eyes and barely-there coverage on the skin. According to TikTok influencer Rachel Rigler, who coined the term, latte makeup is "warm and bronzy, milky and effortless."
Latte makeup can be worn all year round, but it's especially gorgeous in the summer. You can play up your already sun-kissed skin or fake it with a self-tanner. The key to this look is all about blending, so you don't have to worry about perfecting a sharp winged liner or contouring your face. If you're ready to try this trend, ditch your colorful makeup and bring out your inner goddess with latte makeup.
Create a base with your lightest coverage foundation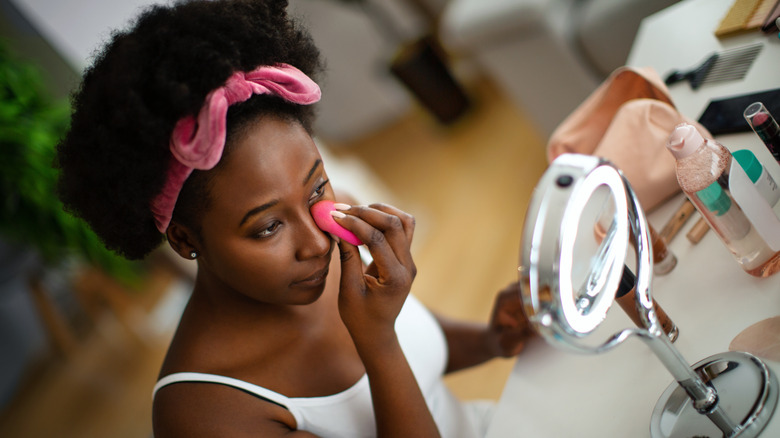 Aja Koska/Getty Images
The latte makeup look is all about letting your skin shine through, so you can forget about baking your full-coverage foundation. Instead, choose a lightweight liquid formula or a tinted moisturizer. If you don't have one, you can always dilute your foundation by applying it with a damp sponge or you can make your own by mixing your moisturizer with concealer. Remember, you'll still want to see your skin's texture — the foundation is for evening out your skin tone, so you may not need to apply it to your whole face. Next, add some concealer — close to your skin tone — under your eyes and blend it with a sponge. This look is not about appearing overly snatched, so you can skip the heavy highlighting and contouring.
If you have freckles, avoid applying foundation to the bridge of your nose so that they can peep through your bronzer. Don't have any? Fake some by adding a few dots with brown eyeliner, and then tap them with your ring finger to blend them into your skin. You can also save the heavy-setting powder for another look — keep your skin luminous with a light dusting of translucent powder after you've applied bronzer to your face.
Contour your face with a cream bronzer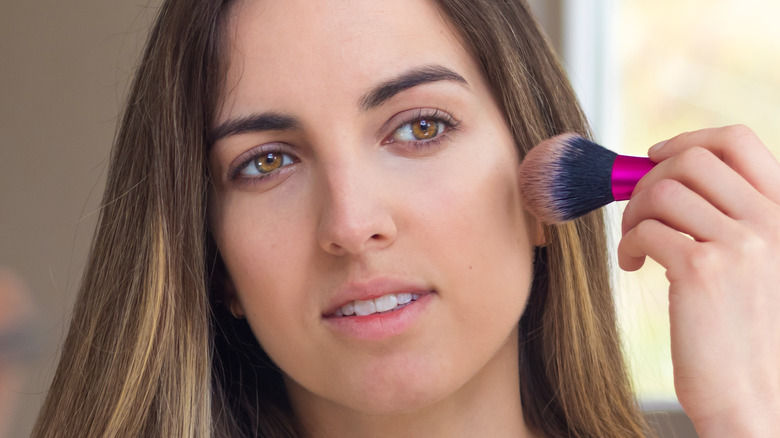 Pablo Vivaracho Hernandez/Getty Images
The latte makeup trend is all about gilded colors, so bronzer is a must-have to achieve this look. To keep your latte makeup looking dewy and dreamy, use a cream bronzer and apply it on your forehead near your hairline, the sides of your nose, right under your cheekbones, and around your jawline. Remember, this look isn't about a heavy contour, so don't choose a color that's too dark — a bronzer that's two or three shades darker than your skin tone should do. Apply some onto your lids as well — it will act as a primer for your shadow. Blend by blotting the bronzer with a sponge.
If your face tends to be oily, you can use a powder bronzer instead. This will also act as a setting powder for your foundation, so you can skip powdering your whole face. To set your concealer, lightly dust on some translucent powder with a fluffy brush, and your eyes will be primed for shadow.
Use various brown eyeshadows to create a smokey look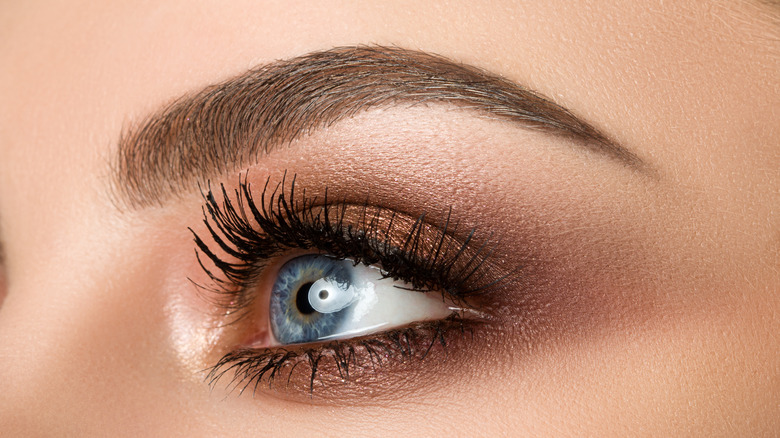 Dutko/Getty Images
While your skin should look naturally bronzed for the latte makeup look, this trend is all about a smokey eye. However, you won't want to reach for your grays and blacks — keep the shades in the brown family, but lean toward ones without any red or orange. Apply a medium brown color all over your lids and bring it up past your crease, almost to your brows. Since the makeup should look effortless, you can even use your fingers to sweep on the eyeshadow. Next, pat on a darker brown color on the outer corners of your eyes and bring them up toward your temples. Using a small flat brush, apply the dark brown shadow on your lower lids, making sure to smudge them downward.
With a dark brown eyeliner pencil, tightline your upper lash line to create some definition, but avoid a strong line on your top lid. Add a light gold shadow to the inner corners of your eyes as a highlight, and finish off the look with a couple of coats of dark brown or black mascara. The finished result should be sultry, smokey bronze eyes that are perfectly blended.
Nude lipsticks are perfect for the latte makeup look
Prostock-studio/Getty Images
To create the perfect latte pout, you're going to need your cream bronzer. With a small brush, loosely outline around your lips and blend the color so there's no harsh line — this creates the illusion of fuller lips. Go over them again with a nude liner and blend it inward to cover the outer half of your lips. For your lip color, you don't want to go too light — a warm beige shade should do. Blend the lipstick into your lip liner and blot once or twice with a tissue. You want to be able to see the texture of your lips and have the color look almost like a stain.
To add more depth and dimension, use a lighter nude color just on the center of your lips. You can keep your lips matte and just leave it as is, but we think a glossy lip just adds to the bronze goddess look of the latte makeup trend.
Don't forget to latte makeup your body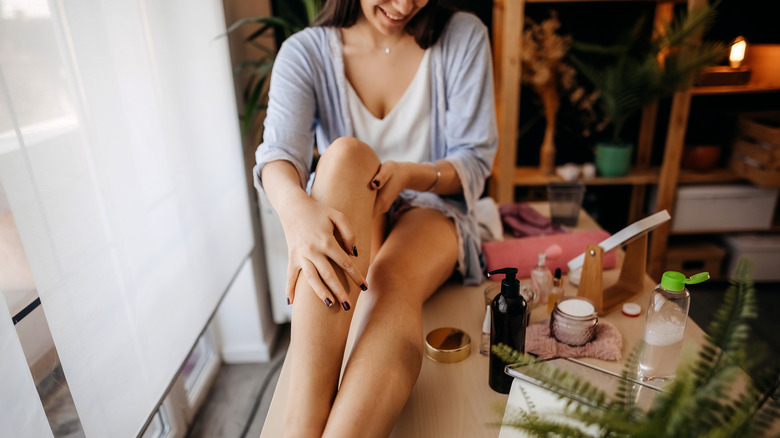 Eclipse_images/Getty Images
Now that your face is all bronzed and ready to go, don't forget about your body! If your neck and chest area is lighter than your face, your latte makeup will look incomplete. Prep your skin by applying shimmer lotion on your décolletage and shoulders. You can add some color by mixing in a bit of liquid bronzer. With a large, fluffy brush, dust powder bronzer all along your chest and the tops of your shoulders. For extra shimmer, take a small brush and add a highlighter along your collarbone.
If you want to even out the rest of your body, mix in a couple of drops of foundation to your body lotion. Apply the mixture to large areas of your body, like your arms and legs. You'll look radiant from head to toe, and no one will be able to take their eyes away from the bronzed goddess that you are.