The Genius Makeup Hack That Turns Your Favorite Concealer Into Tinted Moisturizer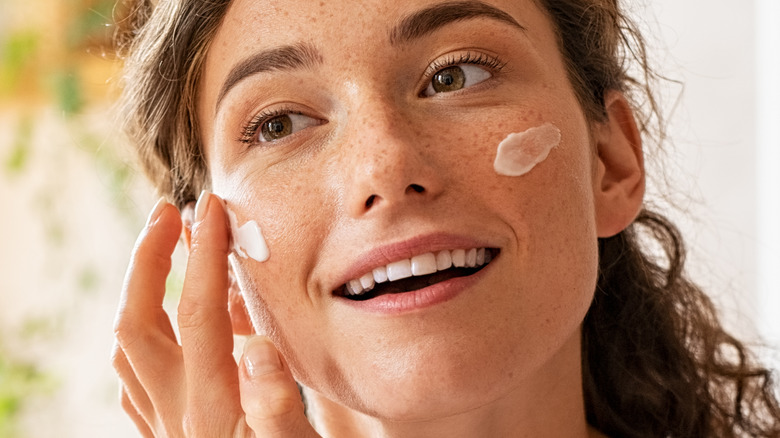 Ridofranz/Getty Images
Tinted moisturizer is a top-rated beauty product, with the tinted cosmetics market estimated to reach $2,290.0 million within the next nine years. Judging from such figures, it is clear that the product is highly popular within the beauty industry. But why? A tinted moisturizer is often used instead of foundation, concealer, or moisturizer as a more "lightweight" option that still offers coverage. Some products even contain SPF, which helps to protect the skin from the sun's UV rays. 
While they offer many benefits, some tinted moisturizers are expensive. However, you can make this highly-desirable beauty product yourself, right in the comfort of your own home, without splashing the cash. Taking root on TikTok, one popular makeup hack uses concealer to create an excellent tinted moisturizer. So, what's the secret, and how can you make it yourself? Thankfully, it's pretty simple. Below, we'll explain what you need to know about this genius makeup hack.
Mix your favorite moisturizer with your concealer
Turning your favorite concealer into tinted moisturizer is incredibly easy and only involves two beauty products. All you will need is your favorite concealer and your favorite moisturizer. Likewise, you should also ensure that your hands are clean before experimenting with your products. Now, for the hack itself.
Start by applying a generous amount of concealer onto your hand (either the palm or the top of your hand will do). Now, take a scoop of moisturizer with your finger and mix it with the concealer on your hand. The result? A tinted moisturizer that is ready to be applied to your face. It's really that simple! Celebrity makeup artist Tim Quinn (via Makeup) recommends applying your tinted moisturizer liberally to your face using your hands. If more is needed, feel free to repeat the technique. If you're not happy with the level of tint, you can always change the ratio of concealer to moisturizer. Using more concealer should help to create a bolder tint, while less will create a more subtle look.
This hack also works great with liquid foundation. As with concealer, mix some liquid foundation in with your moisturizer and repeat the process.
Apply it before your primer and after your serum
Now for the tricky part. If you're opting for a light look, you should apply your tinted moisturizer after any serums and sunscreens. However, if you're looking to apply makeup on top of your tinted moisturizer, such as a cream blush or bronzer, then it's best to apply it beforehand, whether you're using a primer or not. Doing so will allow the product to soak into your skin without mixing unnecessarily with anything else on your face. Once fully absorbed, you can then apply any additional products you desire.
It is crucial that you select the right shade of concealer. Before applying a full face, test a small amount on your skin. Experimenting with shades will help you find what works well with your skin. Other hacks are also handy to implement in your makeup routine. Some others include a viral concealer blending technique as well as highlighter and bronzer hacks.