Colorful Metallic Eyes Shine Brighter Than The Sun This Summer - How To Pull It Off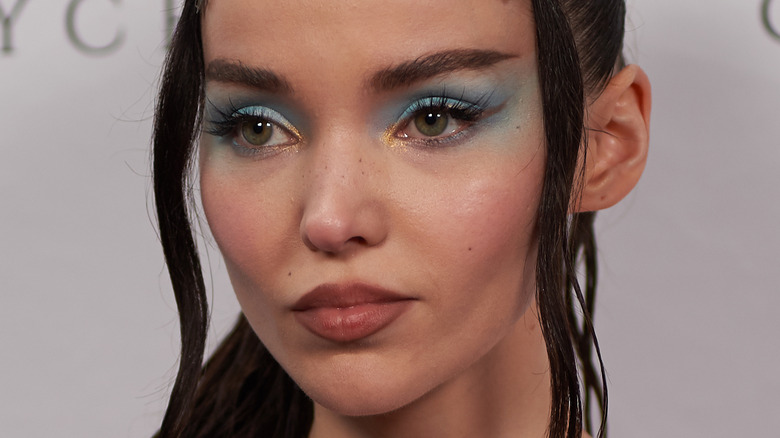 Unique Nicole/Getty Images
The sun is shining, and it's time to switch up your makeup routine for summer. While you may have stuck to a neutral eyeshadow palette throughout the other seasons, now is the perfect time to experiment with colorful metallic eyeshadows.
In the summer, we tend to opt for effortless, breezy looks with less coverage. We want our makeup to have a skin-like finish, using more body lava, bronzer, and bold lip colors. Taking it up a notch, try adding metallic eyeshadow to your warm-weather makeup routine. Although it's easy to associate metallic eyeshadow with copper, gold, bronze, or silver, there's more to it than that. Metallic eyeshadow refers to any shimmery, molten-like eye color with luster.
You can experiment with a wide range of metallic eyeshadows this summer, whether a cream, powder, or liquid formula. From a lovely lilac shimmer to a deep red luster, you can have any eye color you want. If you're excited about catching the sunlight on your eyelids just right, you'll need to perfect your summer metallic eyeshadow looks.
A smear of color
We love intricate and experimental makeup looks, but sometimes we just don't have the time. When you're in a rush (like when your Uber is almost here and you're already running late), a swipe of metallic eyeshadow across your eyelids can be enough to make it work. Using your index finger, apply the eyeshadow to the center of your eyelid and then smudge it towards your inner and outer corners with a small eyeshadow brush. This simple technique can give you a blinding summer glow.
Smoke it out
Apart from her clever lyrics and lively personality, we live for Megan Thee Stallion's makeup inspo. Her signature smoky eye will be our go-to look for every hangout this summer. Whether you opt for a playful molten pink shimmer or a bold gold cream formula, you can incorporate your choice of colorful metallic eyeshadow into your look by applying it from your inner corner to the middle of your eyelid. Then, blend it appropriately into the darker shadows on your outer corner for a seamless smoky effect.
Cut the crease
Is there a more significant marker of 2016 makeup than the cut crease? Okay, maybe the heavy contour, but you get the idea. It might be a 2016 classic, but we're bringing it back this summer with some colorful metallic eyeshadow. After defining your crease with primer, concealer, and a flat eyeshadow brush, accentuate the area with a metallic eyeshadow. For example, you can use a green metallic shadow on the crease and blend it with a darker gray for a defined gradient. You can also achieve this with other colorful metallic eyeshadows, such as yellow, orange, and blue.
Shimmered out
Have you ever considered combining two metallic eyeshadows? Hear us out on this one. Choose a pair of shimmers that complement each other, such as orange and green, and apply them to different areas of your eyes. Blend the colors together for a seamless transition. You can try using one color on the inner corner and the other on the outer corner, or use one on both the inner and outer corners and the second in the middle of the eyelid. The possibilities are endless with this technique, so have fun experimenting with different combinations using your brushes.
Mermaid magic
Summer is all about color, so why limit yourself to just one or two shimmers on your eyelids? Instead, try using a variety of colors for different corners of your eyes. Take inspiration from this look by Lauren Brown, which features a shimmery sea blue, a hint of lavender, and some purple as the transition color. Our advice? Don't be afraid to experiment and try more colors than you usually would, just be sure to blend them well.
Lower lash fun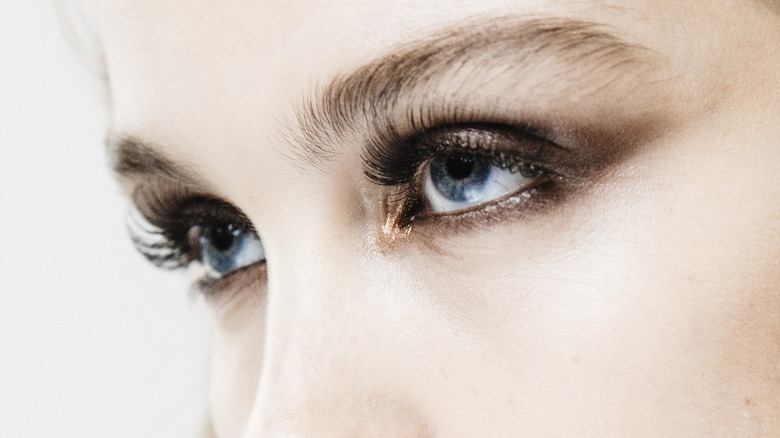 Rosdiana Ciaravolo/Getty Images
Sometimes, we focus so much on our eyelids that we forget about a crucial part of our look: the lower lash line. To balance out your eye look, try applying colorful metallic eyeshadow to your lower lash line. You can use the same eyeshadow as on your eyelid or opt for a different one for more contrast. Either way, have fun with it! After all, it's summertime.