The A/W 23/24 Fashion Shows Have Been An Ethereal Celebration Of Femininity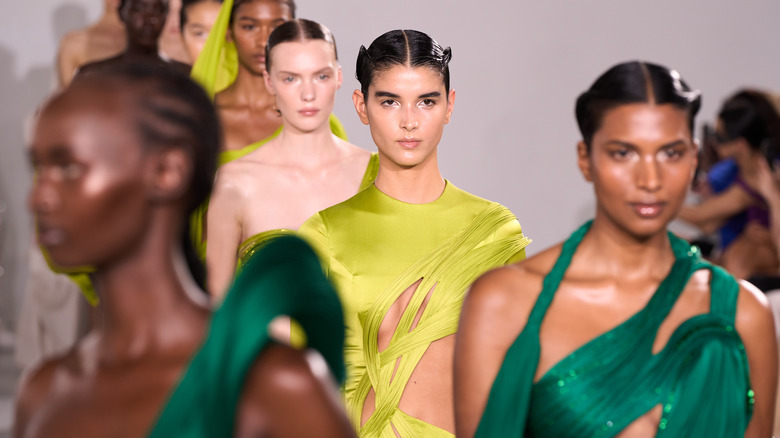 Francois Durand/Getty Images
As the fashion world eagerly anticipates the start of another season, the fashion houses are in full swing, providing us with all the glitz and glam of the Fall/Winter 23-24 Haute Couture lineup. As tradition dictates, fashion shows took over July in various parts of France. Some of the world's biggest and oldest fashion houses descended to provide exquisite detailing, tailoring, and construction. Haute couture, as explained by The Business of Fashion, describes garments made with the highest execution and typically for a single customer. The rareness of each piece and attention to detail has turned haute couture shows into a spectacle of some of the best dressmaking in the world.
Haute couture shows highlight some of the most interesting and creative designs, giving us plenty of fashion trends to implement today. One common thread among the Fall/Winter 23-24 Haute Couture shows was the celebration of the modern woman and all of her phases. Whether you're a romantic at heart or prefer simpler, chic designs, the latest haute couture offerings reflected what it means to be feminine in the current day and age. Like the concept of femininity, there were a variety of styles that represented the complexity of womanhood.
Chanel's Parisian woman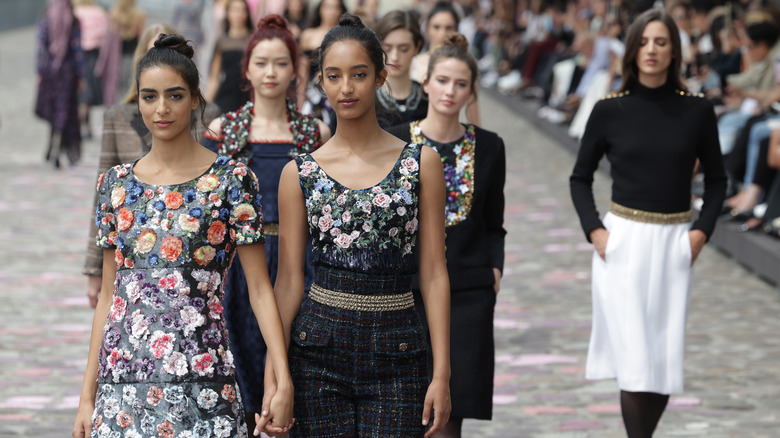 Pascal Le Segretain/Getty Images
Chanel is a beloved fashion house known for dictating future fashion trends. This year's haute couture show celebrated the femininity and beauty of the Parisian woman. The French brand showcased its collection along the Seine River, one of the most prolific and iconic landmarks in France. Chanel's creative director, Virginie Viard, didn't resort to gimmicks or out-of-the-box designs to make her point. Instead, Viard's focus on femininity was simple, emphasizing "contrast and balance ... the portrait of a sensitive yet bold Parisienne," according to the brand's press release.
Chanel brought its concept to life by exploring the beauty found in everyday activities, such as running errands or picking flowers, no matter how mundane they may appear at first glance. Draping and embellishments were used to add a feminine element to even the most masculine designs. Sheer clothing also prevailed, marking a continuation of this retro trend.
Dior's free-flowing goddess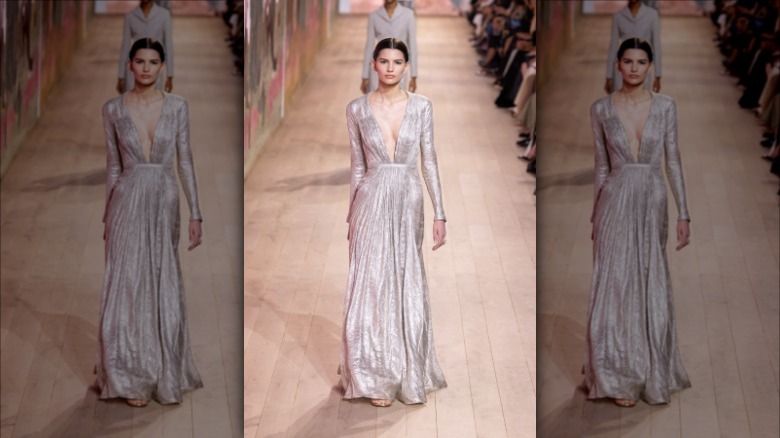 Victor Boyko/Getty Images
In contrast to Chanel's glitzy display, Dior went in a different direction for representing femininity. Without relying on saturated colors or over-the-top embellishments, Dior's approach exuded a calmness that showed femininity can be more than just sparkle. Inspired by mythic goddesses and draping, the collection embraced a natural flow that symbolizes beauty in movement. Dior's free-form silhouette, adorned with metallics and mostly neutral hues, was perfect for those looking for a classic yet chic look. 
With minimalism at its peak, the Dior Fall 2023 Haute Couture show presented a unique take on a feminine collection. Despite featuring simple color palettes and designs, it still exuded beauty through its small embroidery details and unmatched pieces. Dior proved that timeless minimalist designs can still be feminine without relying on flashy or Barbiecore elements. Drawing inspiration from ancient Rome and Greece, the lineup emphasized that you can still be a goddess without all of the frills.
Valentino's modern simplicity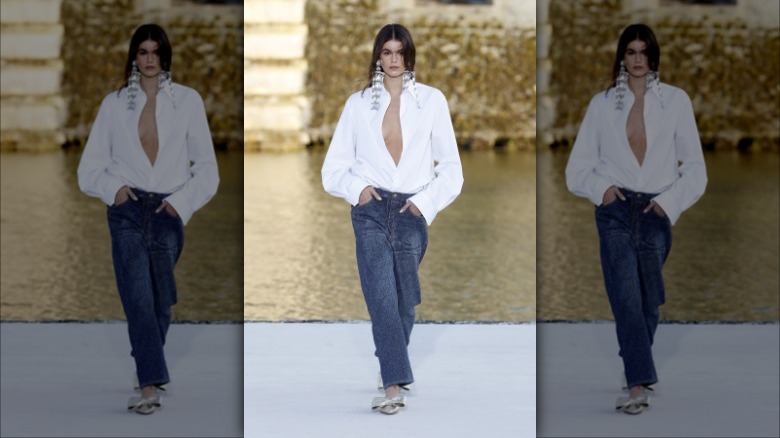 Estrop/Getty Images
Valentino decided to go with an updated approach for its haute couture collection. While haute couture is known for its extravagant and avant-garde pieces, the fashion house surprised the audience by opening the show with a pair of jeans. This unexpected addition symbolized the idea of femininity as a modern concept, not limited to frilly dresses and gowns. Held against the backdrop of the Chateau of Chantilly, the Valentino Fall 2023 Haute Couture show was an ode to the modern woman who has a lot on her plate. From handling her personal life and career to maintaining her social connections, Valentino brought femininity to her.
Throughout the show, embellished denim jeans, fun color contrasts, and mules were staples that balanced modernity with classic feminine details. Bright colors were employed in interesting ways, along with some traditional haute couture accessories. With a balance of fun, sleek, and modern elements, what could be more feminine than doing it all in style?
Fendi's bejeweled woman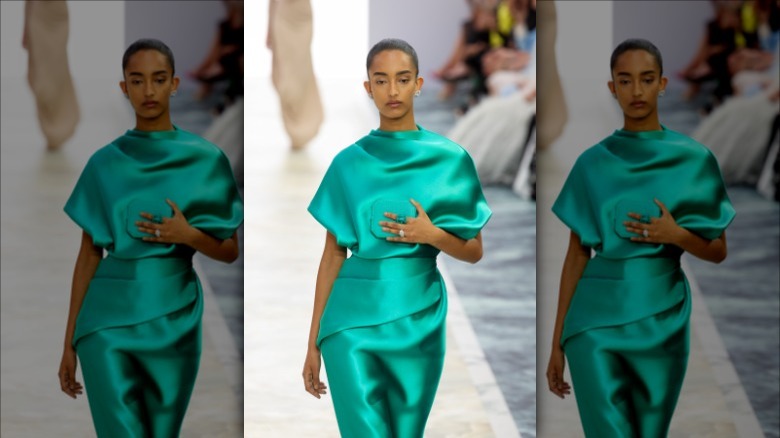 Daniele Venturelli/Getty Images
Feminity doesn't have to be limited to Barbiecore pink; it can come in many colors. Although we typically associate pastel and pink shades with the feminine, Fendi's chosen palette was a step toward changing that narrative. With rich and deep jewel tones, the Fendi fashion show highlighted plenty of other colors that can be used to express femininity. The show also featured draping and flowy fabrics that were soft and subtle, adding fluidity to the movements and creating a graceful showcase.
Compared to other fashion houses, Fendi's haute couture was much closer to what we would expect from a feminine show. With flowy fabrics, dreamy draping, and cinched details, Fendi is perfect for those looking for a gown to make them feel and look like a princess. Fendi also put ornate jewelry on display, providing details that can be picked apart for feminine touches in your own closet. Whether it's the jewel tones or free-flowing fabrics, it's all about finding the perfect balance for you.
Schiaparelli's creative femininity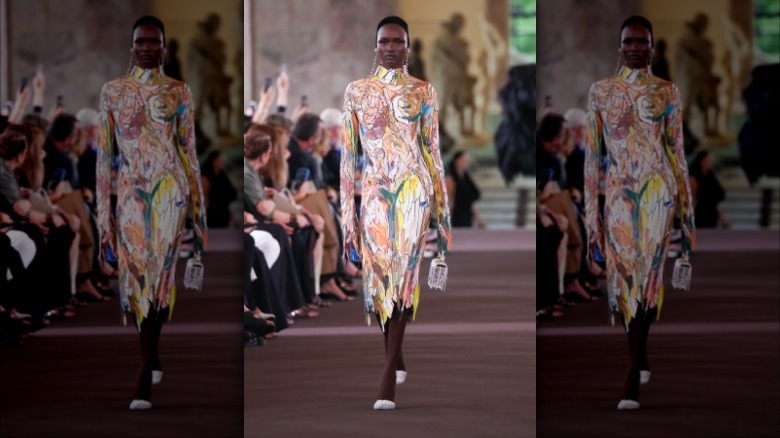 Peter White/Getty Images
There is a stunning beauty in liberated and creative feminine collections, just as there is in minimalist femininity. Schiaparelli, a staple in haute couture, often provides some of the most viral moments of the week. Who could forget Kylie Jenner wearing a lion's head on her dress during the last Fashion Week? This season was no exception, though there were no faux animal heads on display. There were, however, plenty of surrealist moments for those who long for the over-the-top and dramatic. While some may find it more theatrical than wearable, there is a feminine aspect to being able to wear something outrageous. Filled with chic details, Schiaparelli's lineup did not lack prints, designs, and silhouettes.
While feminine collections typically feature soft, fluid silhouettes and colors, Schiaparelli added a surrealist touch to feminine thought. Turning typical fashion on its head, Schiaparelli's show was filled with outrageous volumes and unexpected twists. In the show notes for the collection (via W Magazine), creative director Daniel Roseberry explained, "There's a sense of disobedience; these are pieces a woman can assemble however she wants. Most of the 'looks' you see here were put together in the days leading up to this show, as opposed to head-to-toe formulas that have been labored over for months. This approach felt like a revelation."