Slick, '90s Minimalism Is One Throwback Trend Staying Put This Fall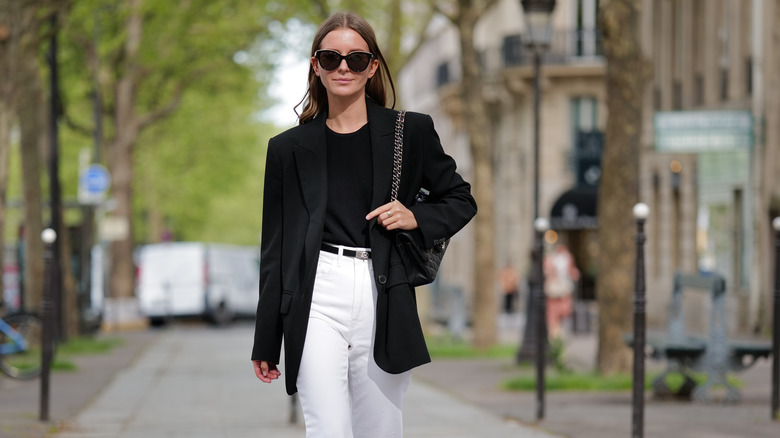 Edward Berthelot/Getty Images
The '90s aren't back, because they never left. If there's one style to come out of this era that has prevailed and increased in popularity, it's the minimalist trend. Retro sleek pieces have become more popular thanks to two simple facts: They're so easy to style, and they can be huge money savers.
The minimalist garments that make up this trend are versatile and adaptable, which means you only need to invest in a few staples that will last, rather than bold statement items you'll get sick of before the year is out. Though you'll be saving money, '90s minimalism doesn't mean having to sacrifice style for dollars, as this is the go-to aesthetic for many fashion influencers and celebrities. More than anything, this vintage style is the perfect way to capture the coveted minimalist vibe of '90s supermodels, like Naomi Campbell and Kate Moss, whose fashion choices continue to echo throughout history. Even though the trend is void of color, it's chic and easily recognizable, and a must-have for your wardrobe this fall.
Slip dresses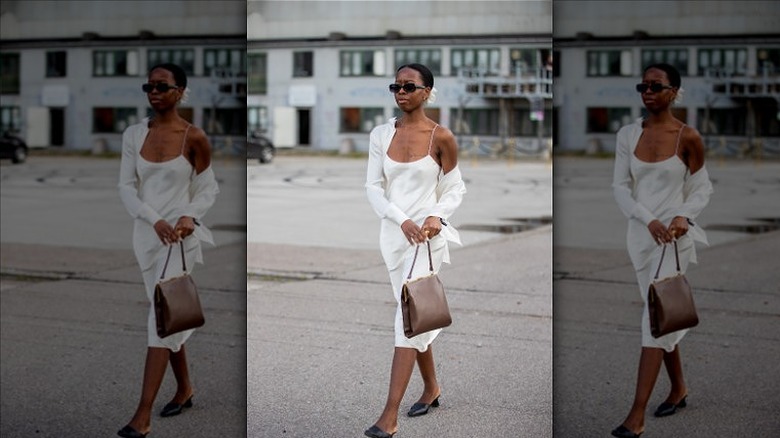 Christian Vierig/Getty Images
Although wearing a slip dress in the fall may seem out of the norm, the truth is this is a classic piece that you can wear during any season, provided you make use of layering. Slip dresses are quintessential for the '90s minimalist look, since they incorporate a simple silhouette with a luxurious fabric. Cover up your slip dress with a trench coat or blazer for a continuation of the minimalist trend. You could also opt for the '90s trend of wearing your slip dress over a turtleneck or long-sleeve top.
Denim everywhere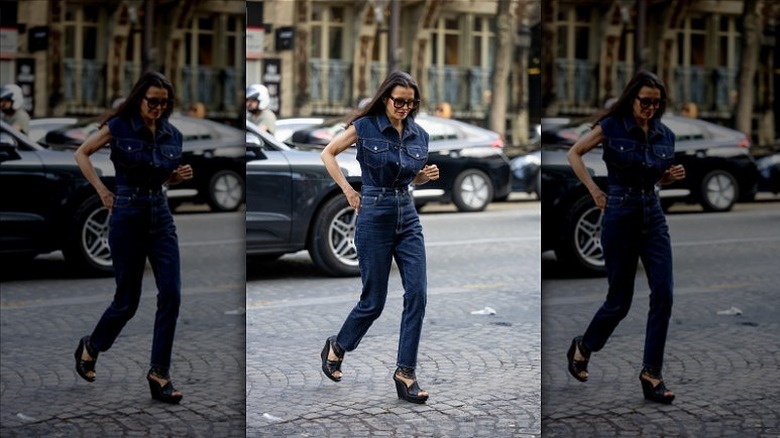 Christian Vierig/Getty Images
You can't have a '90s trend without denim. Whether it's head-to-toe denim or a sole pair of straight-leg denim jeans, this classic material should be part of everyone's wardrobe. Blue denim jeans or jumpsuits are great ways to incorporate the fabric into your look with ease. Remember that minimalist denim is all about no distressed detailing or Y2K-inspired embellishments. 
Leather outerwear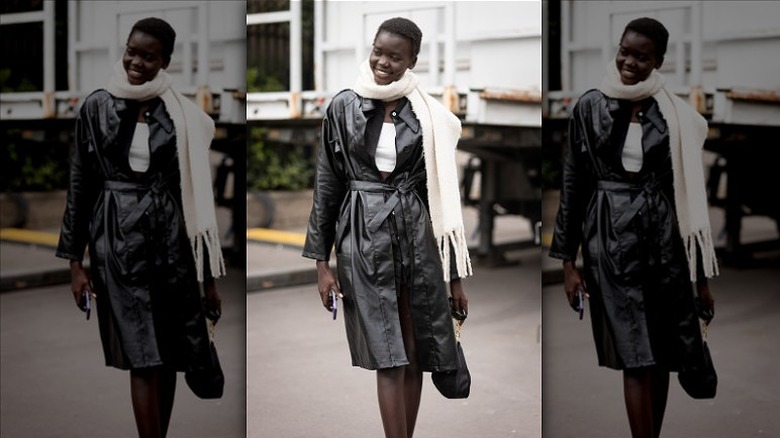 Claudio Lavenia/Getty Images
You can't enter the fall season without a few leather pieces to use in your outerwear rotation. The classic leather jacket is an example of a slick '90s piece that will instantly elevate any look, allowing you to keep warm and look stylish while doing so. In particular, leather trench coats will turn any outfit you have into high fashion.
Classic shirt dresses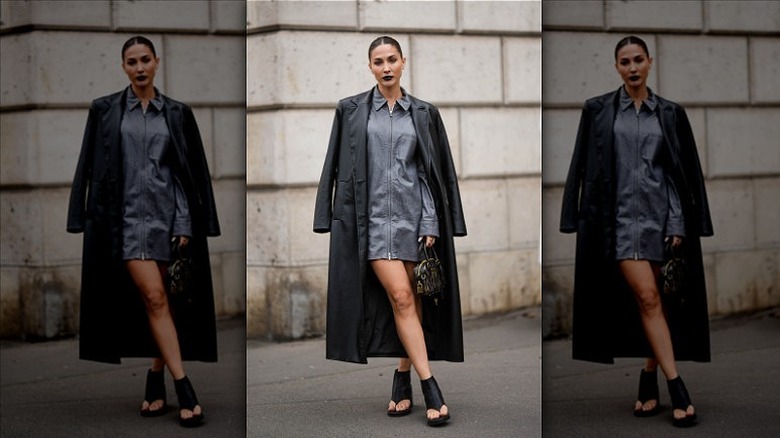 Edward Berthelot/Getty Images
Shirt dresses may not attract the same attention as slip dresses, but they are still a chic '90s piece to add to a minimalist closet. A shirt dress gives you more coverage and fabric than a slip dress, but maintains within the realm of simple design. Pair these dresses with a blazer or trench coat for extra warmth and style points.
Button-up shirts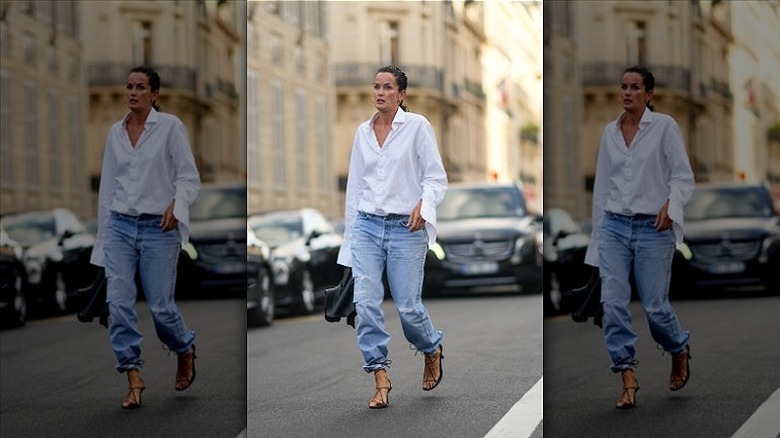 Edward Berthelot/Getty Images
Although button-up tops are staples in the business casual realm, they are also key for a complete and cohesive '90s wardrobe. These tops are perfect since they work for any circumstance or event. Dress it up with a pair of trousers or dress it down with a pair of jeans. In the fall, a neutral button-up can serve as the base for any minimalist outfit and will often be seen on your favorite style influencers.
Simple tank tops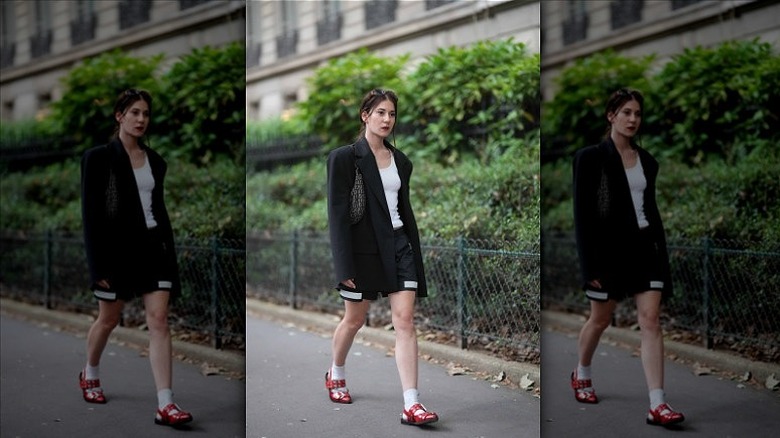 Edward Berthelot/Getty Images
We've already seen brands like Prada embracing the white tank top as a must-have product for the last couple of seasons. For the fall, the tank top is continuing its reign as a simple piece that can fulfill many roles. In the fall season, the tank top can perfectly fit under warm outerwear pieces to keep up with the chic '90s minimalist vibe.
The blazer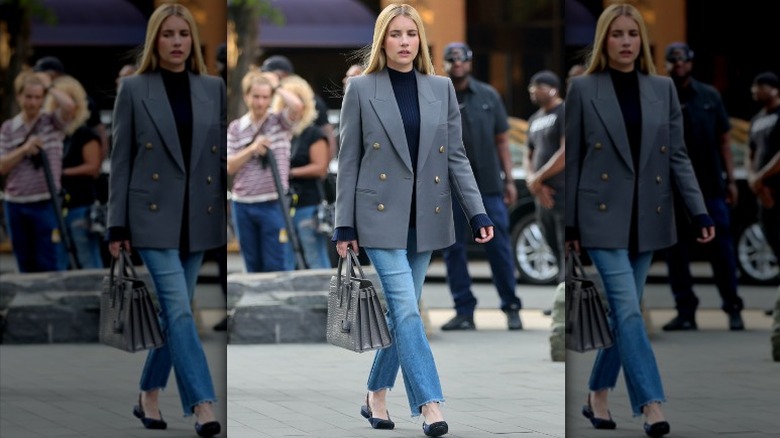 Jose Perez/bauer-griffin
You can't discuss '90s minimalist style without mentioning the blazer. No matter what color or fabric, a good blazer is essential if you're looking to evoke the style of your favorite '90s supermodel. Neutral blazers work well for any outfit, situation, event, or weather, but channel a particularly retro vibe when paired with a turtleneck. No matter what you wear underneath it, a blazer will complete all of your fall looks and remains one of the most iconic pieces to come out of the '90s.