Curie: What Happened To The Brand After Shark Tank?
When Sarah Moret walked into the Shark Tank, she didn't wear the typical business professional attire you'd expect for a product pitch. Instead, she sported white slacks paired with a baby blue tank top, perfect for showing off her underarms. That's right — the Boston University alumna grabbed the Sharks' attention by asking why we don't invest more time and high-quality products into one of our body's most sensitive areas: the pits. 
Much of Moret's presentation centered around odors, particularly the poor track record of natural deodorant in keeping the stink away as effectively as the chemical-ridden alternatives. Moret's mission, outlined on her website, aims to honor her love for the "idea of natural deodorant" as a healthier option, without the typical lackluster results. 
"Shark Tank" fans will certainly remember that Moret's deodorant presentation didn't stink. Although her initial ask for $300,000 for 5% equity in Curie was declined, an exchange in the final minutes of her episode resulted in a deal and an elevated launching point for the brand. 
What happened to Curie on Shark Tank?
Entrepreneurs often enter the Shark Tank with elaborate props and demonstrations. Moret, on the other hand, was able to capture the Sharks' interest and wallets with just a roll of aluminum foil. The founder and CEO asked the investors, "Do you think about what you put on your pits every day? I didn't ... until I learned that most conventional antiperspirants are made out of this!" With a flourish, she then unspooled an armful of aluminum, crumpling it into a ball. 
Thus begins a persuasive pitch for Moret's all-natural deodorant and "better body basics" products. While the judges didn't have time to test out their efficacy, Moret attested to her own belief in the formula. "I was hiking on Griffith Observatory two hours ago," she shared. "I got a call from the producers, and here I am." She went on to say that she didn't even stop for a shower before her presentation — she just used a spritz of the Curie all-over body deodorant. 
After some back-and-forth deliberation, the Sharks couldn't deny her hustle. Mark Cuban and Barbara Corcoran went in on an offer together, leading Moret to accept $300,000 for a 10% stake in the company and 4% ownership in advisory shares.
Curie after Shark Tank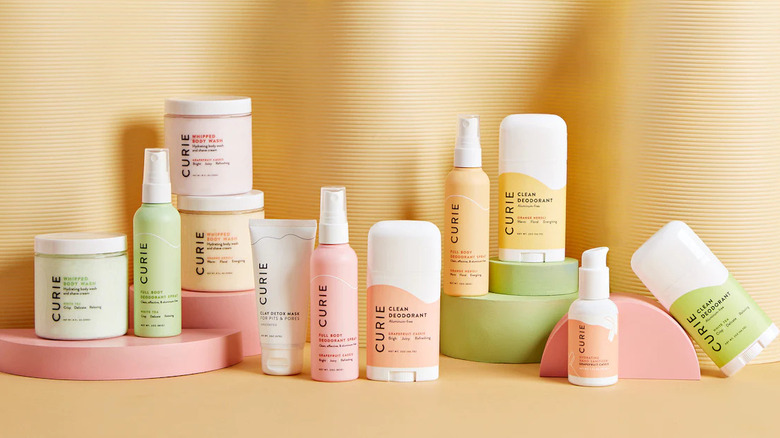 Curie
In March 2023, Moret and Curie celebrated their first "Tank-iversary." The founder and CEO documented all of the immense changes and milestones her company had achieved since appearing on the hit show. In a blog post, Moret celebrated involvement with Equinox Clubs, QVC, and Corcoran's Entrepreneur Summit. She also noted that "Shark Tank" was far from Curie's only moment on the screen. Not only did the product and the entrepreneur appear in segments for "Good Morning America" and "The Today Show," but Sarah was also asked back on "Shark Tank" for a recap of her success post-show. 
The year also included milestones in terms of introducing new scents. But Curie wasn't just adding products, they were adding people! The two new Shark investors provided additional mentorship and fueled the growth necessary for the small business to increase its team from two people to five. It's unsurprising that an appearance on a popular TV show would result in an influx of sales ... but is the growth sustainable, or just a fad? 
Is Curie still a successful business?
According to the Small Business Administration (SBA) Office of Advocacy, about half of small businesses fail within the first five years. However, Curie has managed to escape that fate. The company's first product launched in 2018 and quickly gained a "cult following." As expected, Curie's appearance on "Shark Tank" substantially increased cult membership, and, according to Moret, the enthusiasm remained strong. In a blog post about the experience, she reflected, "This past year has been life-changing for myself, and Curie. Overall, the 'Shark Tank Bump' never slowed down, in the best way possible!'"
As of March, Moret reported that there were over 80,000 people using and enjoying Curie products. The brand even launched a Sniff Club subscription to further connect with the most loyal and regular users. Curie has also continued to expand its product line, and fans of the brand are eager to try out new items. Its most recent launch of mini deodorants sold out within 72 hours, as documented by a meme posted to its Instagram account. As of right now, it appears as though the success of Curie is far from odor — er, over. 
What's next for Curie?
As Curie has grown, Moret has stayed hands-on and enthusiastic. The brand's Instagram is often updated by the CEO herself. In one video, dubbed "Founder Friday," Sarah shared exciting news about new hires, product launches, and a behind-the-scenes look at a Curie warehouse. 
Curie products can already be found in over 300 stores around the country, including popular retailers like Nordstrom. Its growth isn't slowing down, as seen on Moret's personal Instagram account, where she gives a glimpse into the day-to-day operations and hints at new developments. In the caption of one photo, she excitedly shared, "We are manufacturing 50,000 sticks of deodorant per WEEK right now as we gear up for a big retail launch at the end of the summer. Yeehaw! I can't wait to announce!!!!!" 
It also appears that her "Shark Tank" investors remain fully committed to the mission and product. Corcoran, in particular, is featured heavily on the two Instagram accounts, and even received a birthday shoutout from the founder, who called her "one of the smartest, funniest, quirkiest, ballsiest, and most importantly KINDEST people I know." Clearly, Corcoran's bold investment in Curie was the right choice.