How To Style The French Tuck For Any Occasion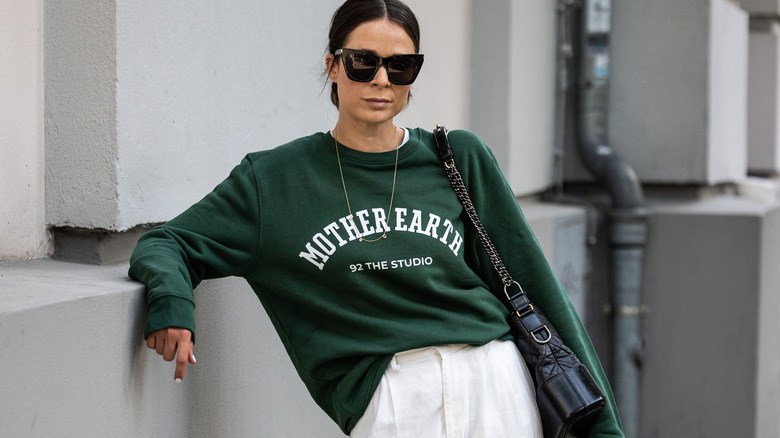 Mathis Wienand/Getty Images
When it comes to formality in fashion, there's been a long-standing conflict around our waistlines: to tuck, or not to tuck. On the one hand, tucking in your shirt looks neat, tidy, and professional. But it can also come across as stiff, preppy, and a little too formal for some occasions. However, going the untucked route has pitfalls of its own. While an untucked top may read cool and casual, it also has the potential to completely drown out your silhouette. So what's a fashionista to do? When in doubt, turn to the French tuck for the perfect marriage of style and ease.
Also known as a half-tuck or one-hand tuck, the French tuck is a versatile look that involves tucking only a portion of your shirt's hemline. Often, the front is tucked loosely while the sides and back are left to hang out, though there are also variations that use a side tuck or even an asymmetrical approach. The result is a harmonious blend of draping and definition, so your outfit rides the line between effortless and put-together.
This technique was recently propelled into the public eye by iconic stylist Tan France, who often employed the French tuck when assisting with glow-ups on "Queer Eye." And according to MasterClass, which features a course led by Tan France himself, the French tuck is at its very best when used with a relaxed, loose-fitting shirt and a high waistline. But what does this really look like in action? Regardless of your personal style, the French tuck has a place in every fashion arsenal, and in a wide variety of outfits. 
French tuck a voluminous top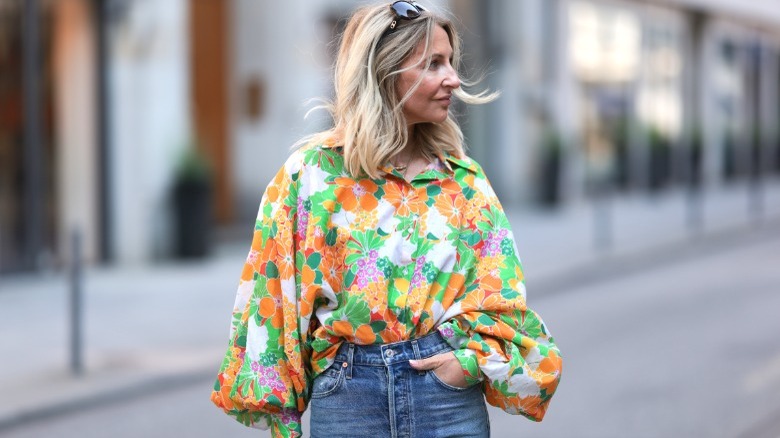 Jeremy Moeller/Getty Images
A billowy blouse can be a fun way to add volume to your outfit, but it can also run the risk of making your look overly shapeless. Fortunately, employing the French tuck is a quick trick to rein in a breezy top and create a more balanced silhouette. No matter how baggy your top may be, tucking in the front hem of a voluminous shirt will accentuate your hips and waistline for a casual fit that still shows off your figure.
Balance short shorts and mini-skirts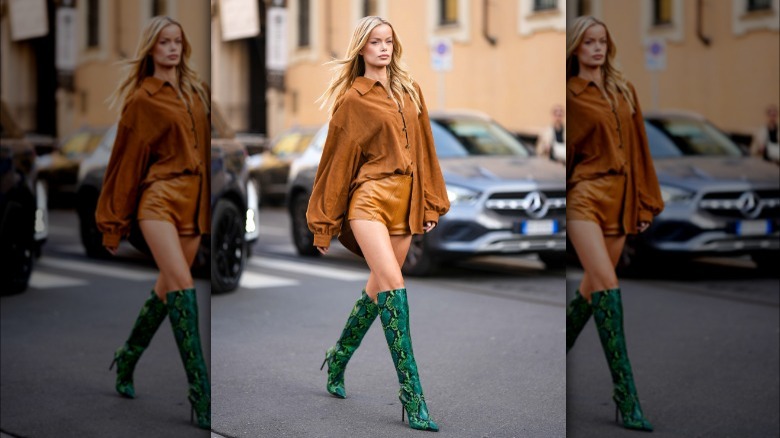 Edward Berthelot/Getty Images
So you want to wear your favorite mini-skirt or micro shorts with an airy top, but you don't want your bottoms to disappear under your shirt's long hemline. Much like it tames an oversized blouse, using the French tuck here is an easy answer to ensure you're showing off each piece of your ensemble to the fullest. Try a front tuck to lengthen your legs and leave some drapery across the back, or go for an edgier side tuck to draw the eye up your hip and create a flirty vibe.
Add interest with an asymmetrical French tuck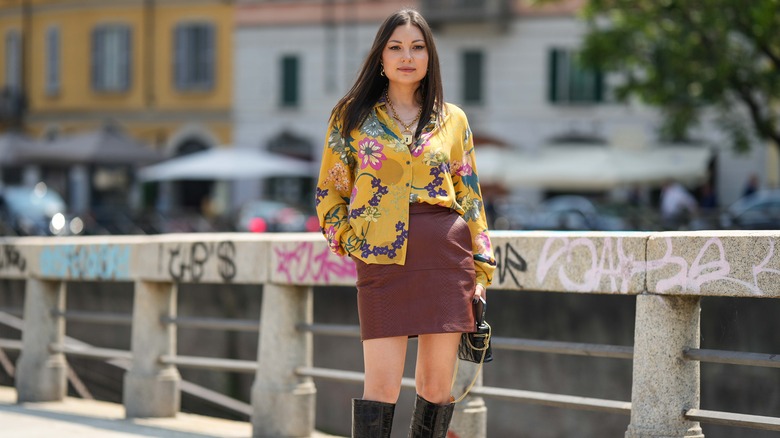 Edward Berthelot/Getty Images
While the front tuck is a classic technique, some fashionistas prefer to mix it up and create some extra visual interest by tucking in only one side of their blouse. This blurs the boundaries between your separates, creating a sense of cohesion in any outfit. And especially when you're rocking a shirt that's boxy or sharply tailored, going for an asymmetrical French tuck plays with lines and adds a little extra geometry and structure to your ensemble.
Pair the French tuck with wide-legged trousers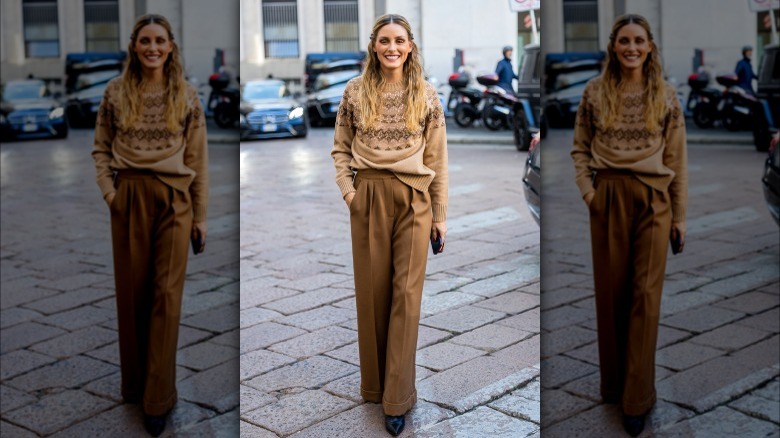 Christian Vierig/Getty Images
When it comes to flaunting a pair of wide-leg trousers, balance is key. More specifically, it usually pays to complement their width with length by displaying their full silhouette from waist to hem. But pairing trousers with an all-around tuck can sometimes read overly restrictive, demure, or even corporate. Enter the French tuck, which lets you display your wide-leg trousers to the best effect while maintaining a relaxed air and fit around the waist.
Lengthen the silhouette of maxi skirts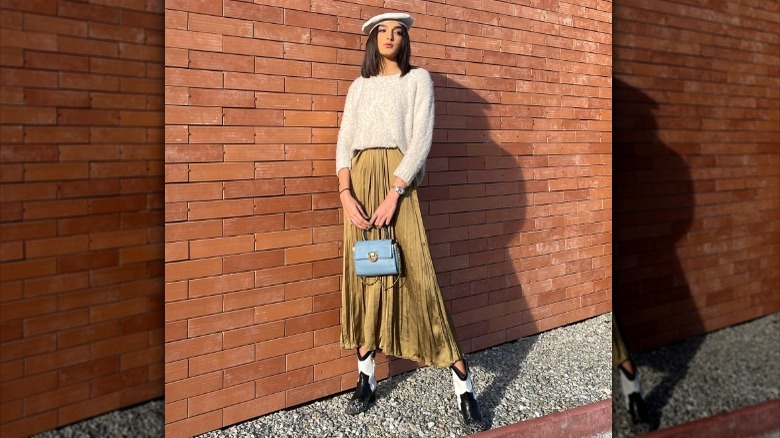 Edward Berthelot/Getty Images
Maxi skirts are a perennial fashion favorite. And while there are plenty of refreshing ways to style a maxi skirt, don't overlook the French tuck as a means to emphasize your skirt's length. Tucking in just the front of your top gives your maxi skirt a tall silhouette, while the hanging tails of your shirt soften the proportions. This is especially handy if you're trying to hide a maxi skirt's elasticated waistband without losing your outfit's shape.
French tuck sweaters and sweatshirts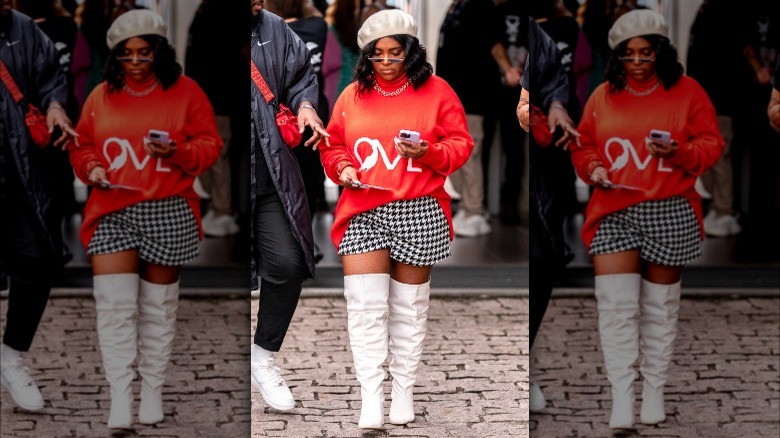 Mauricio Santana/Getty Images
While light, diaphanous blouses and tees are perfect candidates for a French tuck, you can also use this waist-nipping technique on thicker garments like sweaters and sweatshirts that might otherwise swallow up your figure. Keep the French tuck in your rotation throughout fall and winter to bring a fashionable sensibility to your layers, whether you're venturing out in cozy basics or livening up the cold climate with more boldly paired pieces.
Add shape to your athleisure ensemble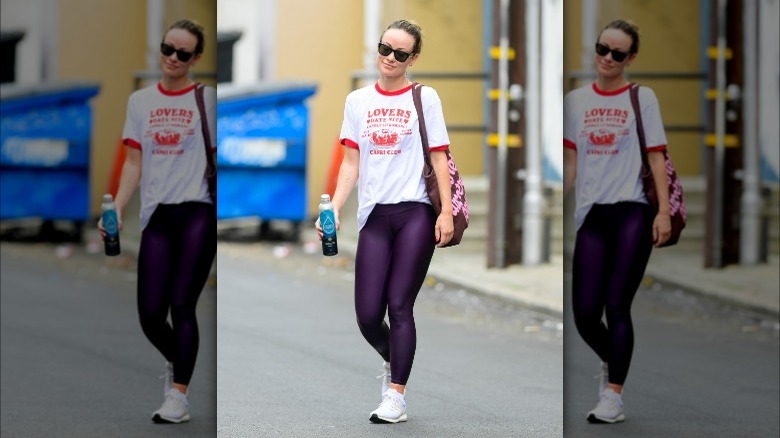 Bg029/bauer-griffin
We all love a good athleisure combo. But throwing on a baggy shirt over leggings can sometimes look a little too much like pajamas — or like the outfit of an elementary schooler in the '90s. Want your sportswear to seem a bit more intentional? Believe it or not, you can even use the French tuck with leggings and yoga pants, quickly elevating your athleisure look. Simply tuck in your shirt to take the aesthetic from "last-minute errand" to "active and on the go."
French tuck your next couture look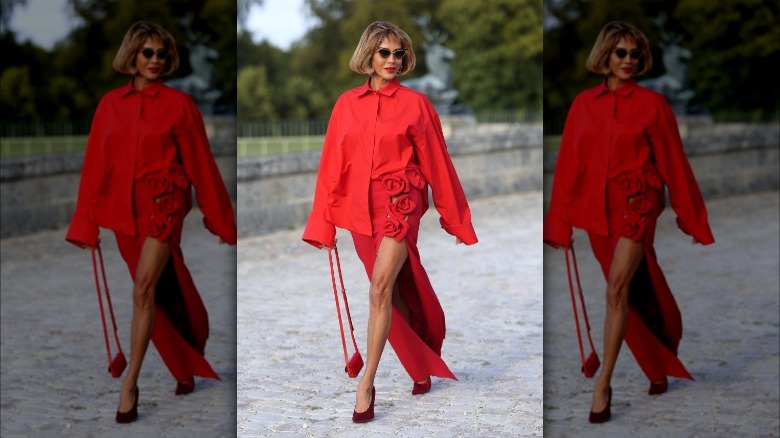 Jacopo Raule/Getty Images
The French tuck is an ideal style choice for everyday activities, but don't count it out for black tie events, either. Used strategically, a simple shirt tuck can elevate your next formal or haute couture outfit. Half-tuck a button-up into a slitted skirt to mix a sleek yet sexy vibe, or French tuck any top into sharply tailored trousers to achieve understated elegance.