All The Benefits Of Investing In A Designated Wedding Guest Dress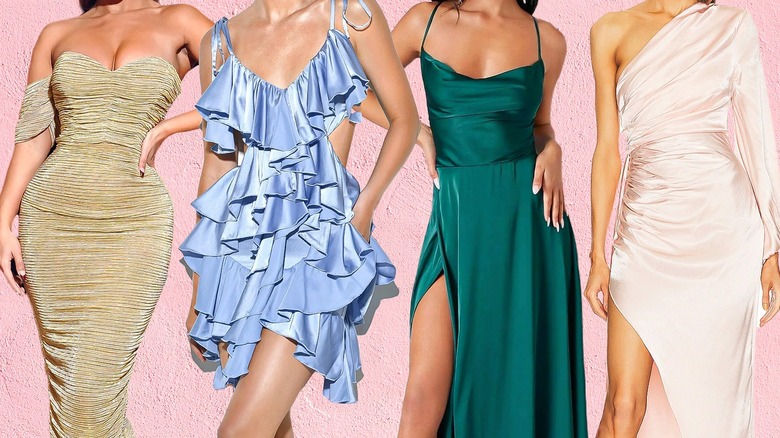 Static Media / Shutterstock
Being a wedding guest is arguably the best role to have at any wedding — you dress up, celebrate your loved ones, and enjoy a nice party without having to plan any of it. But as the wedding invitations start piling up, the title of wedding guest can feel less like a treat and more like a part-time job. While some of the stressful elements of weddings are unavoidable, such as traveling, there is an easy way to streamline part of the wedding guest experience: Stop buying new dresses.
It's tempting to look at each wedding as a chance to buy a new special outfit, and you may even feel obligated to get something specific to match a dress code or show that you put effort into the event. However, buying a dress for every single wedding is not only a waste of money, but it's also not necessary for being a well-dressed guest. By investing in one quality piece, you can become the style star of any wedding you attend.
It saves your money (and the environment)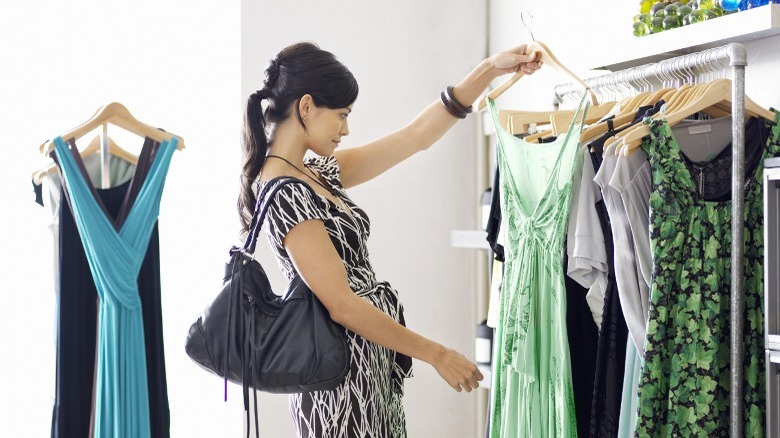 Siri Stafford/Getty
The obvious reason to stick to one wedding guest dress is money. According to data collected by Bankrate, a wedding guest in the United States spends an average of $611 for each wedding they attend, and part of that hefty cost comes from clothing. You can easily cut out that expense by purchasing one high-quality dress that you can see yourself re-wearing. You won't experience the shopping thrill of buying a huge bundle of dresses from a fast-fashion brand, but you'll end up with a well-made dress that lasts you an entire wedding season. You can then use the extra room in your budget for other wedding-related expenses, like upgrading your hotel room or giving the couple a special wedding gift.
Aside from giving your checking account more breathing room, investing in one nice wedding guest dress is much more sustainable for the environment. One of fast fashion's many negative environmental impacts is the amount of clothing that gets thrown away. According to Business Insider, 85% of textiles end up as waste every year. By having a durable wedding guest dress that you can re-wear for a long time, you'll be reducing your own clothing waste and redirecting money away from the fast fashion industry.
Repeat dresses are inoffensive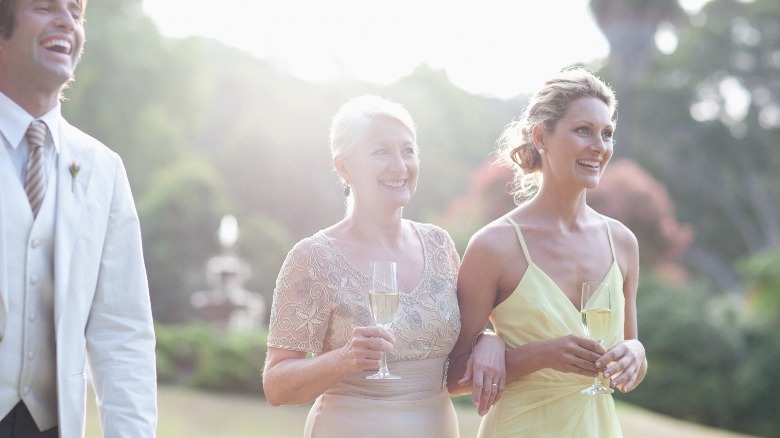 Paul Bradbury/Getty
Contrary to the common concern that wearing a repeat wedding guest ensemble is a fashion disaster, the reality is that it's in line with standard wedding etiquette, and few people will even notice. Having one reliable dress will actually help you avoid any unintended offense. There can be a lot of nuance about what not to wear to a wedding, but if you have a designated dress that avoids any major social taboos, you eliminate the risk entirely for every single wedding you attend. As for whether anyone will observe the repeat 'fit, the couple getting married and their bridal party will be far too busy coordinating the day to pay attention to what any of the guests are wearing. Meanwhile, other wedding guests are much more interested in saying hi to their friends and family and finding out when the food will be served than inspecting every single person's outfit.
It's also worthwhile to remember that never repeating an outfit is an unrealistic expectation. If you find yourself encountering the idea that re-wearing a nice dress is distasteful, weigh that attitude against your own values surrounding consumption and sustainability. You'll find that in most circles, repeating an outfit is perfectly ordinary and rarely a topic of conversation. As long as your attire follows the wedding's dress code, a repeat dress is the best way to fly under the radar and cause zero drama.
One dress can be versatile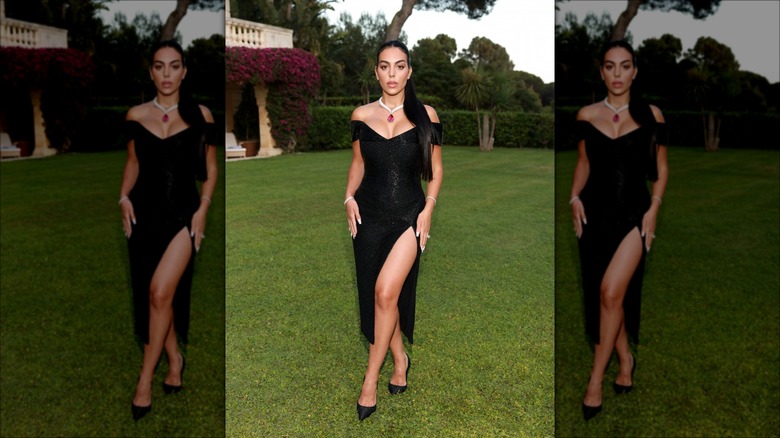 Arnold Jerocki/Getty Images
Let's face it: Shopping for a wedding guest dress can be stressful. You have to find a dress that's appropriate for the event, fits you well, and stays within your budget. When you already have an officially designated wedding guest dress that you love, planning your ensemble becomes so much easier. The key is choosing a dress that can work for any wedding.
A versatile wedding guest dress should be a color that looks good on you year-round. If you aren't confident in knowing your best colors, it may be time to look up some resources on color analysis. Generally, distinctive prints or patterns should be avoided if you want a dress that can work in a large variety of settings. For length, a midi or tea-length dress is your best option — you can dress it up for a black-tie affair and dress it down for a semi-formal wedding.
One dress can make many outfits, thanks to the power of accessories. Jewelry, shoes, and a handbag can do wonders in setting the tone of your outfit, allowing your dress to seamlessly blend in at any wedding while still maintaining your personal flair. Wear your dress with high heels and earrings for a fancy wedding, or rock it with some colorful sandals and a floral-print purse for a garden reception. When the seasons change, you're all set — throw on a faux fur wrap for winter nuptials and a stylish sun hat in the summer.
You can create a signature look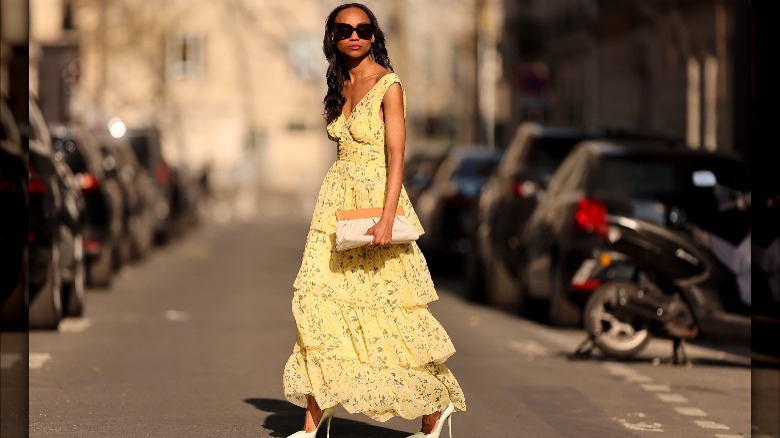 Edward Berthelot/Getty
While your designated wedding guest dress should be versatile, that doesn't mean you can't be creative with it. As you'll only be getting one dress, consider springing for a piece that feels truly special to you. That could mean going for a bold wedding guest jumpsuit or a glamorous designer dress. You may also want to explore more avant-garde silhouettes and necklines that you typically wouldn't risk on a cheaply-made dress. Recent wedding guest trends suggest that bright colors and playful details are becoming the norm, so there's no reason why you shouldn't invest in a dress that makes a statement.
Since you'll be wearing the dress for multiple weddings, focus on crafting a unique, signature look. Search through vintage stores and independent designer brands to find a dress that won't be seen on any other wedding guest. Having a standout, high-investment ensemble will take a repeat outfit from boring to iconic. Who doesn't want to be recognized as the wedding guest with the one-of-a-kind gown?
It keeps the attention on the newlyweds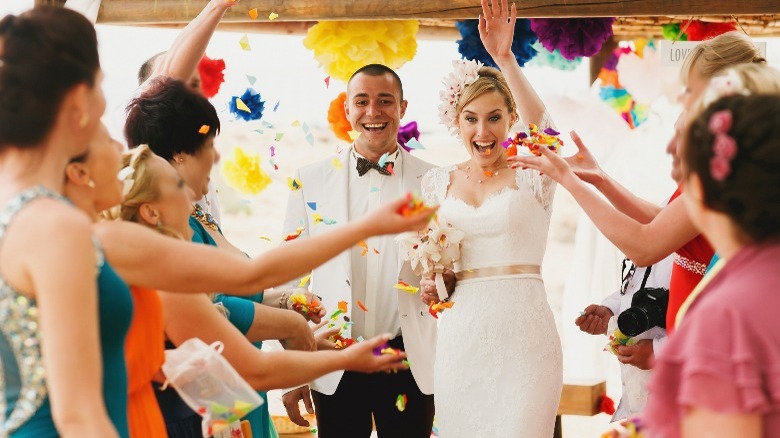 IVASHstudio/Shutterstock
As fun as it is to dress up for a special occasion, a wedding is ultimately about the couple getting married. Having one designated wedding guest dress can help keep attention on the newlyweds. There's nothing inherently rude about getting a new dress for every wedding you attend, but it does run the risk of distracting you from what the day is really about. Shopping for yet another dress takes up time and energy that you could be using on helping out the soon-to-be-wed couple. When you already have a go-to dress, you'll be less fixated on your appearance and can instead focus on celebrating and supporting your loved ones.
If you invest in the perfect dress, you're guaranteeing that you'll always look fabulous, but you won't be treating a wedding like your personal fashion show. By choosing one special dress that captures your style, you'll quickly become known as the considerate, attentive wedding guest with excellent taste, all while saving yourself a lot of unnecessary effort.