Monochrome Highlights Give Your Hair Natural, Effortless Dimension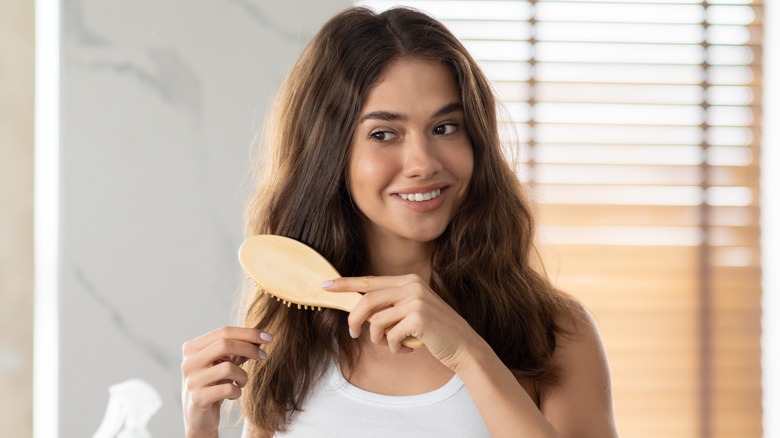 Prostock-studio/Shutterstock
If you're a fan of highlights, you may have already tried every kind in the book to make your tresses truly shine. However, the style of highlights you choose to get at the salon will likely change with the seasons — what works in the summer might not be trendy come fall. Monochrome highlights are one of the hottest options you might want to consider for the warm weather months. If you want to avoid going too dramatic, they're also perfect for those who want subtle yet glowing locks.
Monochrome highlights can be seamlessly integrated to work with virtually any hair color. Whether you feel like bringing out your blond side this season or flaunting brunette tresses, your hair colorist can help you elevate your look. "With any hair color, you want to have some dimension that adds movement and keeps the hair from looking flat," celebrity hair colorist Rita Hazan told The Zoe Report.
Perhaps the best part of monochrome highlights is that they require little maintenance. Whether you decide to keep up with them with routine salon trips or let them grow out, these highlights will blend effortlessly into your evolving hairstyle. Whether you rock short or long locks, monochrome can work for you.
How to get the monochromatic highlights you really want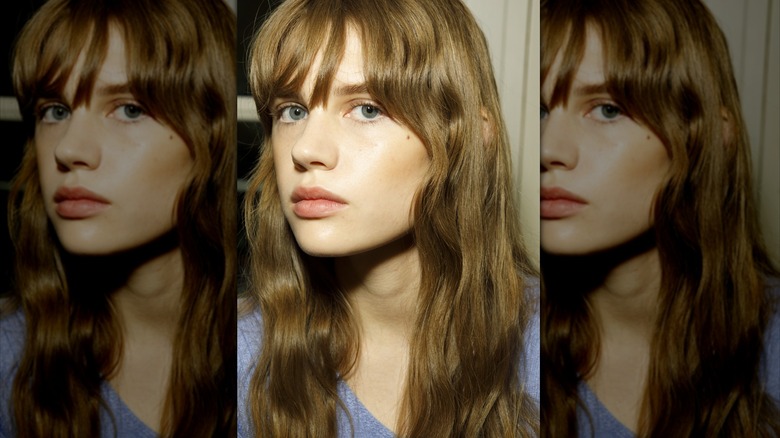 Rosdiana Ciaravolo/Getty Images
It's understandable if you've always been fearful of highlighting your hair. Once you begin the process, it requires upkeep with time, and it can be intimidating to decide on what type of highlights you're looking for. Whether you want to go bold or simply try a new color, it can be hard to find the right words to explain your final vision to your colorist. Using the word "monochrome," however, can take some of the guesswork out of the process for the expert.
In short, monochrome highlights are meant to naturally integrate with the hue of your tresses, pulling from the base color. For example, if your hair is chestnut brown, your colorist might incorporate highlights one or two shades away from this color for a soft but eye-catching look. The ultimate goal is to allow the various elements of your hair's existing tone to shine.
If you're afraid of using the word "monochrome" to help your colorist nail the shade you desire, you can try "dimensional" instead. When it comes to your tresses, dimensional (sometimes referred to as "multi-dimensional") coloring involves combining several techniques to create subtle, yet noticeable highlights. In this process, tones that stem from the base tone of your hair are added — just as they are in the monochromatic highlight process — and they are specifically chosen to complement the existing hue.
Making sure your monochrome highlights stand out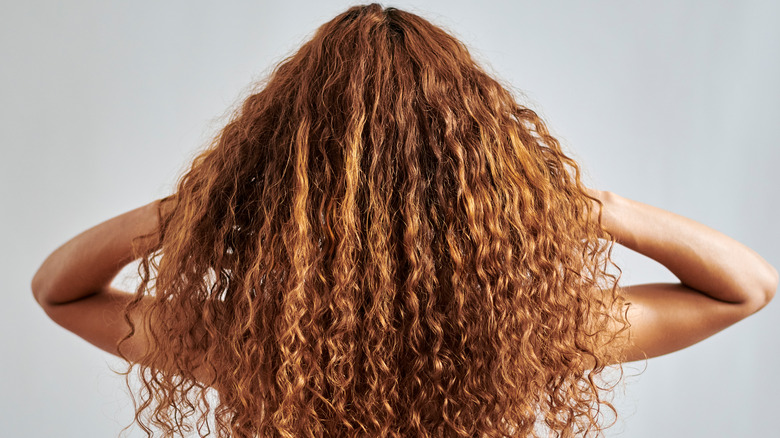 Delmaine Donson/Getty Images
Many people steer clear of highlighting their hair because they're afraid of it looking too unnatural. While this is certainly true of some types of highlights (think the chunky variety that dominated the '90s), monochrome highlights prove that we've come a long way. By opting for hues that don't stray far from your existing hair tone, you can give your tresses new life with the appearance of more body. Beauty website Alicia Bartnes explains that any type of dimensional highlights will add contrast to your locks, which is beneficial if you feel like your hair often lacks that pop.
If you think monochromatic highlights may not be enough to make your hair truly shine, ask your colorist to go lighter with the tones they add to your tresses. Not happy with the end result? There are other subtle variations of highlights that can give your hair a boost, such as strandlighting, which involves lightening thin segments of hair. Teasylights are another option — your stylist will tease your hair before adding color, one small section at a time. "When teasing the hair, it gives an automatic softer blend when you highlight," celebrity stylist Ryan Pearl explained to Hair.com by L'Oréal. "By putting [the hair] in a foil, it allows the hair to reach a lighter and brighter state."
Just remember to avoid washing your hair at least 24 hours before your highlighting appointment. This will help your hair maintain the barrier it's created with natural oils, limiting the damage caused by color.