We're All Wearing Denim Bralettes Now Thanks To Prada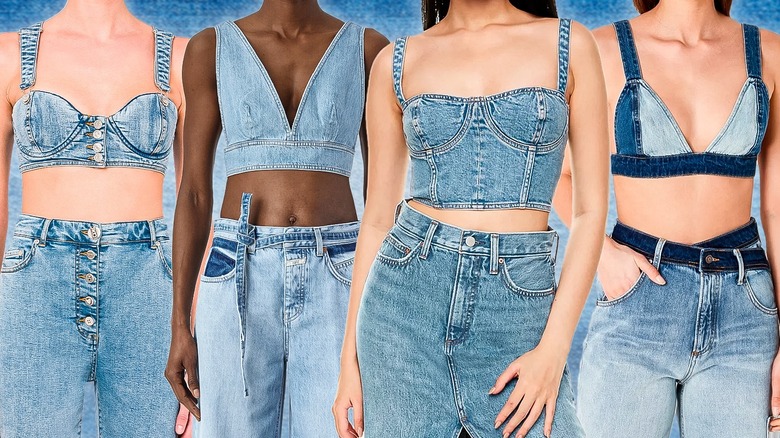 Image credits: Static media / Shutterstock
It is nothing new for fashion powerhouse Prada to influence trends and give us the must-have pieces of the season. First, they brought us the ultra mini skirt and now they are reintroducing us to one of the top denim trends from the Y2K era: the denim bralette. Although it's not the only '90s piece to make a comeback, this bold item is ready to set the tone for the rest of the year.
Though denim bralettes can feel off-limits for those who aren't keen on revealing too much skin, their appeal is in their versatility, which allows them to be styled in various ways. And because they are denim, these bralettes will work with almost anything in your wardrobe. 
The denim bralette is far from just another fad that was created this year; it's a recurring trend that's sure to stick around ... at least for the remainder of the season. See how many different ways you can work this nostalgic piece into your wardrobe this summer.
The denim bandeau bralette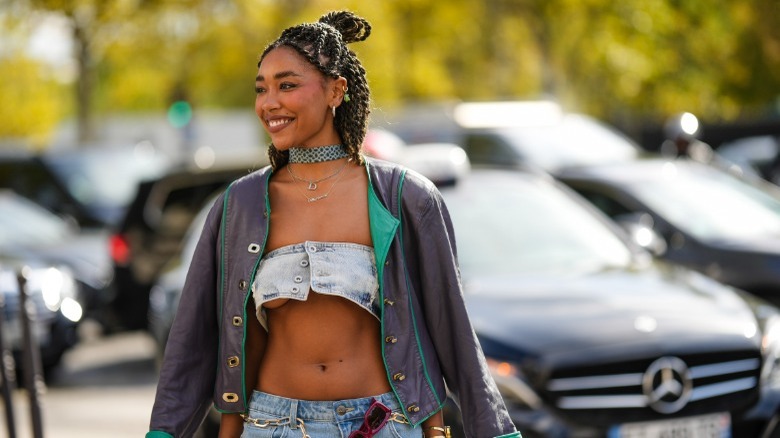 Edward Berthelot/Getty Images
Looking to add a unique twist to your bralettes? Ditch the straps and rock a denim bandeau bralette that mixes '90s street style with Y2K vibes. Although they aren't an option during the fall or winter, denim bandeau bralettes can be the perfect peekaboo piece to wear under your heavier summer layers to balance out the amount of skin showing.
The decorated denim bralette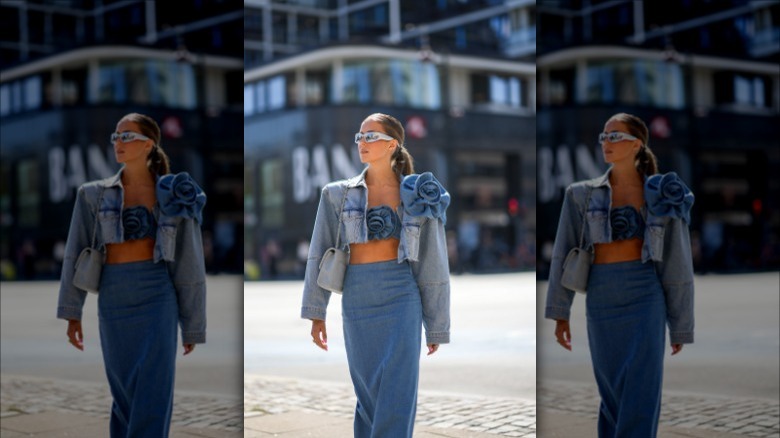 Edward Berthelot/Getty Images
Denim bralettes are bold already, but add accents and loud details to their design and you will really up the fun factor. Decorated denim bralettes are unexpected and can give you that extra something special. If you are a maximalist at heart, a decorated denim bralette will fulfill your more-is-more aesthetic.
The denim bikini bralette
Christian Vierig/Getty Images
Sometimes a denim bralette is just too much fabric ... and that's where the denim bikini top comes in. Wear a denim bikini top underneath multiple layers to give you the perfect mix of resort wear and street style, no matter the occasion. Even when worn as a peekaboo piece, a denim bikini top will add some fun to your look.
The colored denim bralette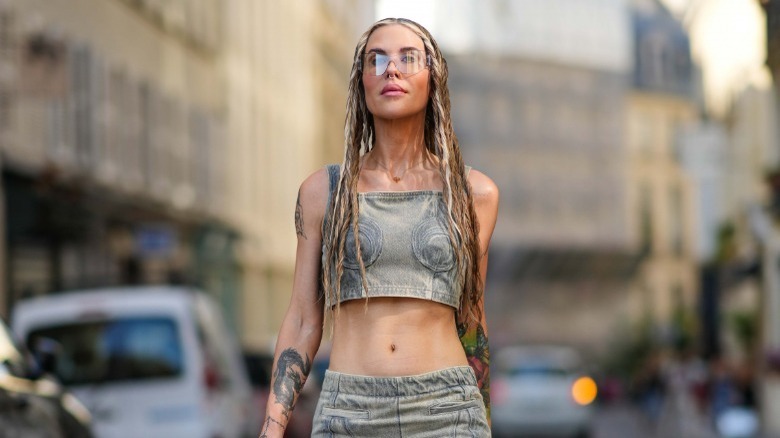 Edward Berthelot/Getty Images
Denim comes in various washes, but if you want to add extra pizzazz, you'll need to try a special color treatment. A colored denim bralette is more exciting to wear than your typical denim pieces, and if you aren't a fan of the denim-on-denim look, choosing a colored denim bralette gives you just enough contrast. Add bleached or distressed details to add even more interest.
Wear a bralette over your clothes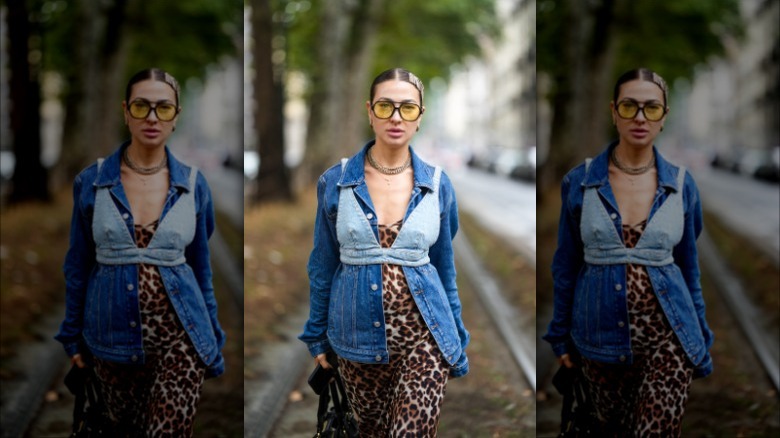 Edward Berthelot/Getty Images
You may not have considered it, but a denim bralette can be the perfect layering piece to wear over your clothes. In a nod to '90s street-style, the simple addition of a denim bralette can tie your whole look together and it is just another way you can add an unexpected twist to your personal style.
Wear a bralette under shirts and outerwear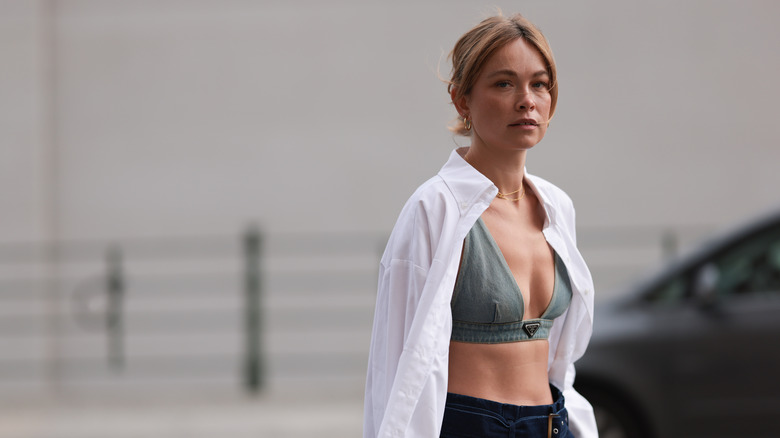 Jeremy Moeller/Getty Images
No matter the season, a denim bralette can complement your favorite outerwear piece. This summer, we've seen denim bralettes worn under coverups like crisp white shirts as a way to stay cool while still looking stylish. During the chillier fall months, switch out the shirt for a jacket or blazer for more warmth.
The standalone denim bralette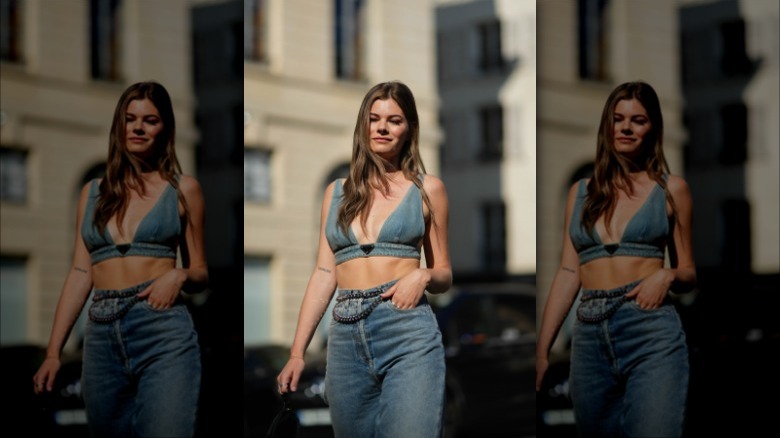 Edward Berthelot/Getty Images
Although a denim bralette works well under or over other clothing items, there's nothing quite like confidently wearing it all on its own. Pair it with your other denim bottoms for a complete '90s-inspired 'fit. Stick with similar denim washes for a cohesive look or opt for a mix of light and dark denim for a stylishly mismatched moment.