Chunky Hoop Earrings Are The Easiest Way To Turn Classic Jewelry Into A Statement
Shane Anthony Sinclair/Getty Images
Jewelry is the ultimate final touch to any outfit. Even the most basic pieces can leave your look with an entirely new feel. One piece in particular stands above the rest though, with its ability to transform an outfit — hoop earrings. Are you feeling classy? Throw on a pair of hoops. Are you getting ready for a night at the club? Put on those hoops. Are you going to the beach for the day? You guessed it! Hoops are the way to go.
Hoop earrings are a classic jewelry piece being innovated into more fashion-forward iterations. While a classic pair of thin silver or gold hoops is always on trend, we are looking for more noticeable (chunkier) pairs this season. Let the hoops be seen! In fact, all our favorite celebrities and influencers are letting their hoops show, including Hailey Bieber herself, who posted a photo on Instagram rocking the look. If you are looking to turn your plain-Jane jewelry into a fashion statement, look no further than wearing a pair of chunky hoops.
Classic gold in a chunky shape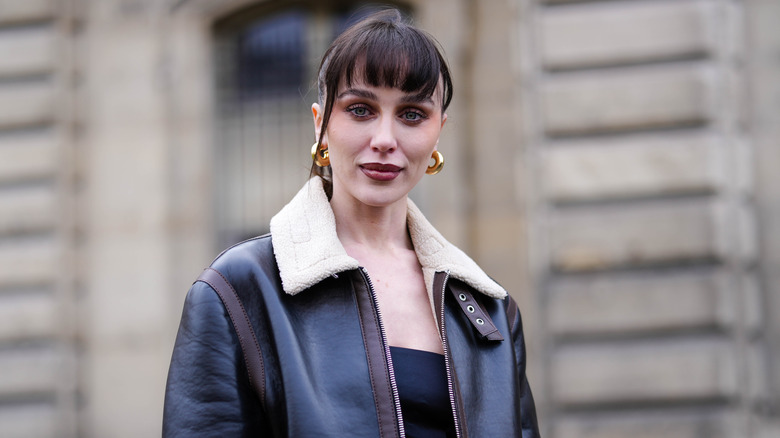 Edward Berthelot/Getty Images
A classic gold pair of earrings is always a good idea, but to elevate the look to the next level, try out a chunky hoop. If you have been on social media in the past year, you probably have seen influencers trying out the "clean girl aesthetic" with most of their looks featuring chunky hoop earrings. These elevate this look in particular, as the aesthetic is about looking like you are fresh out of the shower. In other words, the hoops are a simple but effective addition.
Beaded hoops
For a fun take on the chunky hoop earring trend, check out beaded hoop earrings. These feature big beads threaded onto slim hoop earrings. Fashion and lifestyle Instagram influencer, who goes by Melanie, shows us how beaded earrings are an effective way to make any outfit more eclectic as she styles a multicolored pair with a thrifted purple outfit.
Classically colorful
Solid, colorful hoop earrings are anything but basic. If you are looking to add a pop of color or accentuate a color already in your outfit, a pair of colorful chunky hoops is a great option. We love these hoops as a way to add some fun to a casual outfit, especially if you're wearing an updo, as they will be even more noticeable.
Pearl hoops
Pearls are ideal for any time of the year, perhaps because they pair well with almost any trending aesthetic. From royalcore to coastal grandma, pearls are an essential part of the aesthetic, which includes pearl earrings. However, pearl earrings don't just have to be studs. Instead, try out a chunky version of the hoop threaded with pearls.
Silver and stunning
While gold has trended recently, silver should not be forgotten. Shining silver is a great option for those with cooler skin tones especially. "Silver looks so fresh on a very pale skin, especially those who also have pale or blonde hair," says jewelry designer Charlotte Blakeney in an interview with Grazia. Plus, silver chunky hoops are another option for those who are not sure about trying out the gold trend.
Twisted chunky hoops
Twisted hoops are like art on the ears. These sculptural hoops are a great way to make a statement. We love to see these paired with other smaller hoops if you have multiple ear piercings. Social media influencer Brooke Hyland shared her ear stack, as shown above, featuring a chunky twisted hoops and smaller hoops up the ear.