Tips For Wearing Your Favorite Oversized Blazer All Summer Long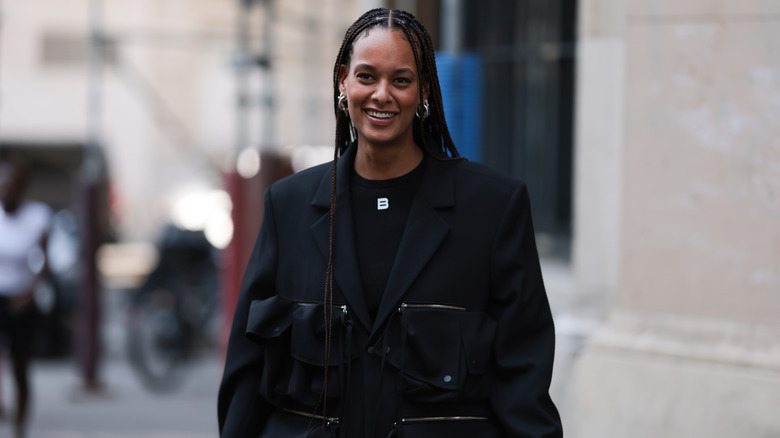 Jeremy Moeller/Getty Images
Blazers are likely not the first item that comes to mind when you think of summer weather. However, they have become a must-have staple regardless of the season. Blazers can be combined with a variety of pieces, making them a flexible addition to any wardrobe. Specifically, oversized blazers are currently a hot fashion trend. As they are oversized, these blazers add an extra touch of street style to your looks, making them perfect for all your summer outfits.
While picking out your favorite oversized blazer is the easy part, there are a few things to consider before wearing it out the door. For starters, an oversized blazer can be overwhelming for your figure. With all of the extra fabric, it's easy to feel drowned in the blazer. You also need to be careful when pairing your oversized blazer with other items, to avoid a disproportionate balance. Despite these considerations, an oversized blazer is a must-have and chic piece anyone can rock all summer long.
Style with matching bottoms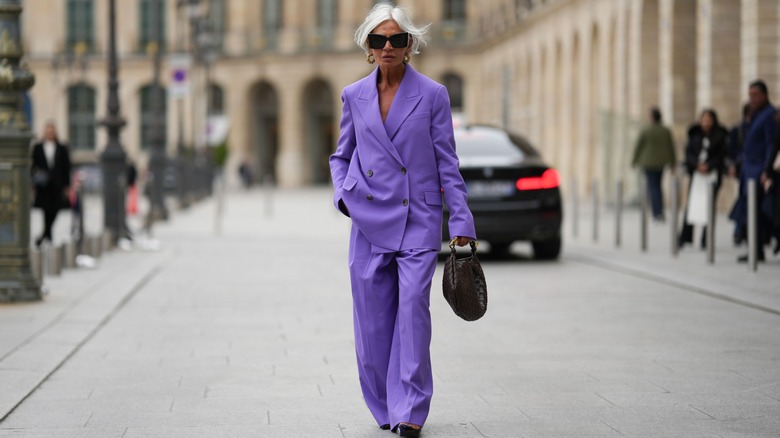 Edward Berthelot/Getty Images
One of the biggest challenges when wearing an oversized blazer is finding the right bottoms to pair with it. Due to its length, you need to be mindful of what you wear to avoid being overwhelmed. Wearing a matching bottom, such as pants or shorts, can help reduce confusion and create a chic, head-to-toe outfit. It also gives the impression that the oversized blazer was a deliberate fashion choice, as the matching color creates a cohesive and elegant look.
Linen oversized blazers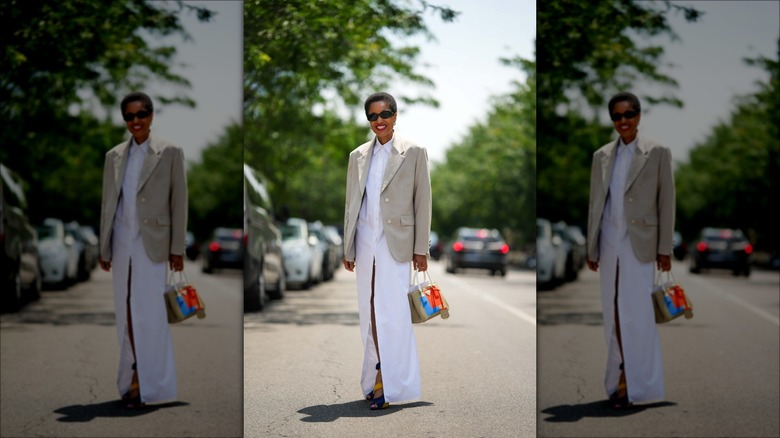 Edward Berthelot/Getty Images
The most comfortable way to wear an oversized blazer in the summer is to choose lightweight fabrics. Linen and cotton are two summer staples that provide plenty of style while keeping you cool and fresh. A linen blazer is a particularly good option due to its natural hue, which is a beautiful neutral shade that complements other neutrals or pops of color.
Style with maxi lengths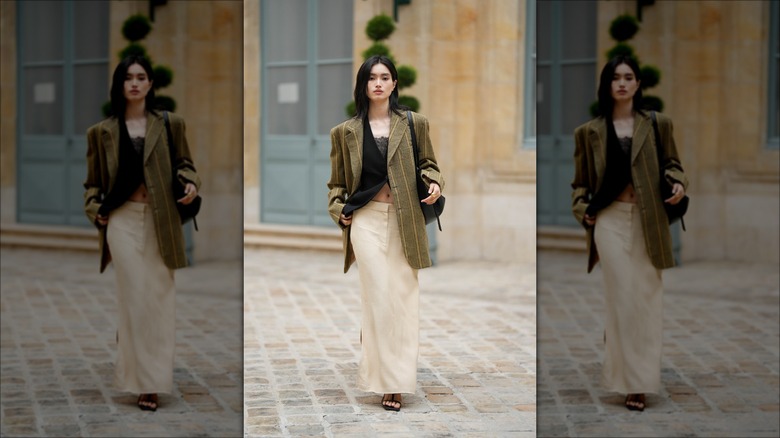 Edward Berthelot/Getty Images
Although many people will immediately shorten their skirts or dresses to compensate for the oversized blazer, there's nothing more chic and high fashion than pairing it with a maxi length. Whether it's a maxi dress or skirt, the floor-length cut compliments the oversized blazer perfectly. Additionally, the blazer adds another layer to your outfit, which can be a cool add-on. To balance out the oversized element of your blazer, opt for form-fitting maxi pieces.
Sleeveless blazers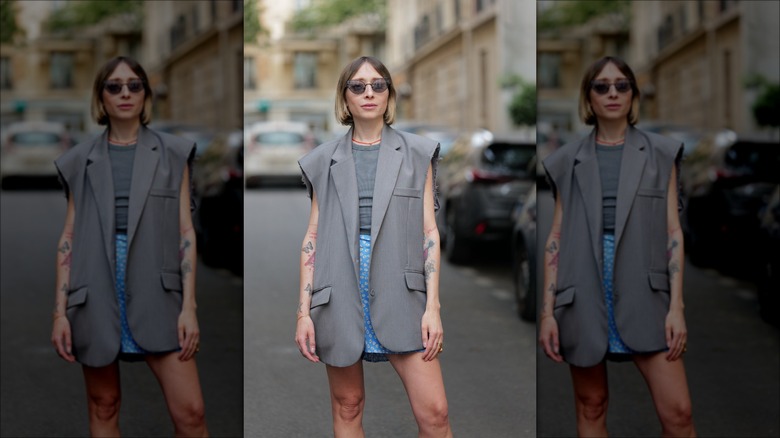 Edward Berthelot/Getty Images
Just because you're opting for a blazer doesn't mean you have to suffer through wearing long sleeves in the summer. Blazer vests are the perfect solution for looking put together while staying cool. An oversized blazer vest provides the same chicness as a blazer but in a comfortable style for the summer season. You can wear an oversized blazer vest with almost anything, as it's a fashionable layering piece that brings your entire outfit together.
Wear with dresses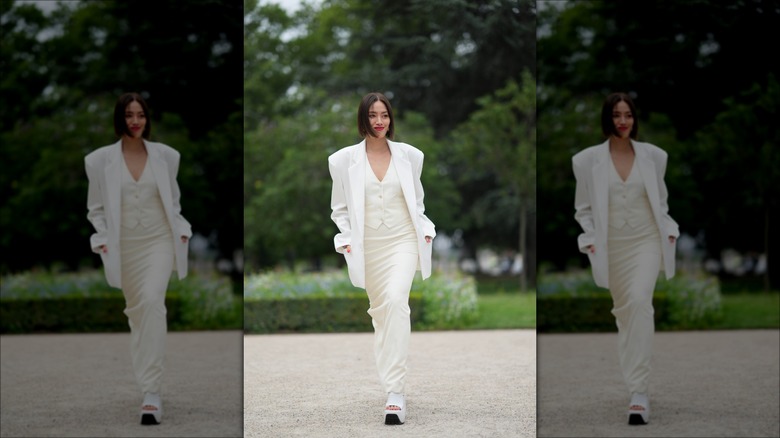 Edward Berthelot/Getty Images
Blazers are known for their business casual vibe, but they're also the perfect outerwear piece to complement all of your summer dresses. The professional look of a blazer provides a great contrast to the free-flowing nature of a dress. Style influencers and celebrities alike appreciate the ease of this combination, which dresses up your sundresses in a way that makes them stand out.
Wear with mini lengths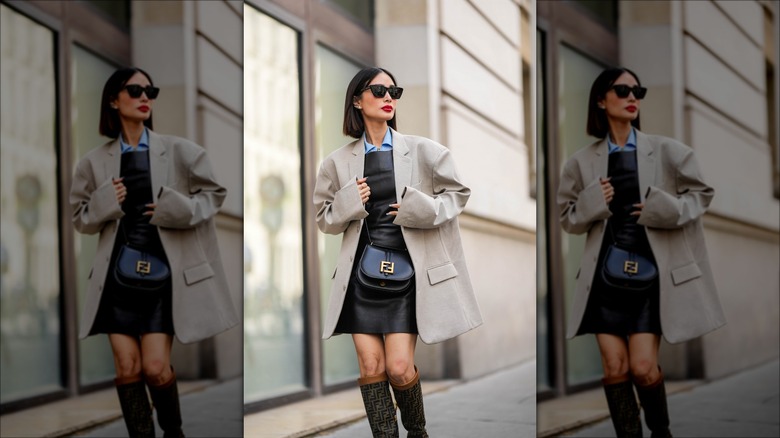 Edward Berthelot/Getty Images
An oversized blazer that hits the bottom hem can look chic and put-together, no matter what you wear underneath. Pair your oversized blazer with a miniskirt or dress for a combination of fun, flirty, and modern styles. Be mindful of balancing the proportions of your outfit by wearing the oversized blazer with more form-fitting pieces, just as you would with a maxi length.