The Viral & Easy TikTok Contour Hack That Only Uses Tape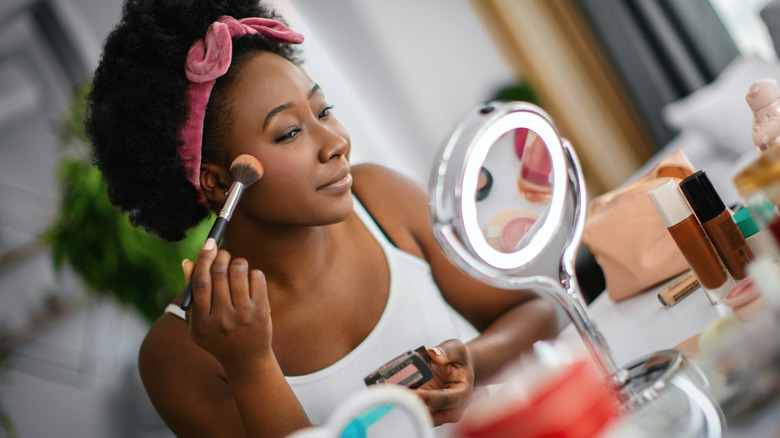 Aja Koska/Getty Images
With so many contouring tutorials out there, there are endless ways to get the look you want. If you're new to this makeup technique, contouring allows you to sculpt and add dimension to your face by using shades a bit darker or lighter than your skin tone, per MasterClass. It's meant to mimic natural shadows and light on your face to bring out your gorgeous features.
However, there are a few things to consider when contouring your face with makeup, such as choosing what your contour shade should be, which products and tools you'd like to use, and of course, where you want to apply it. The best-looking contour can certainly be done on your own, and TikTok has a simple yet effective hack to help you achieve a stunning cheekbone contour. All you need is your makeup and some tape, either makeup tape or standard plain Scotch tape will work. If you've ever struggled to figure out where to apply your cheek contour, this hack can help you line it up perfectly. 
The contour tape hack
For the contour hack, measure your tape so it's long enough to reach the edges of your cheekbones. Stretch the tape out in front of you and place the center of it in your mouth, closing your mouth around the strip of tape to hold it in place. Then take the two side tape pieces and pull them out toward your ears, lining them up with your cheekbones and sticking them to your cheeks. Placing the tape in your mouth forces the contour lines to be symmetrical on each cheek. It might feel a little silly, but trust us — it helps! If you really aren't comfortable with the tape in your mouth, you can take two pieces of tape and do your best to line them up with the corners of your mouth. 
Once the tape is set, take your contour product of choice, whether it's a stick, bronzer, dark foundation, or powder, and apply it above the tape line. The tape will be your guide for a straight line. Blend your contour using your brush or sponge and carefully remove the tape. This will leave you with a perfectly chiseled, straight line on each cheek. You can use a highlighter or powder under the line to bring out the contour. Then blend everything together once more until the lines are blurred naturally into your face. You'll have a perfectly placed contour in no time. 
Other ways to use tape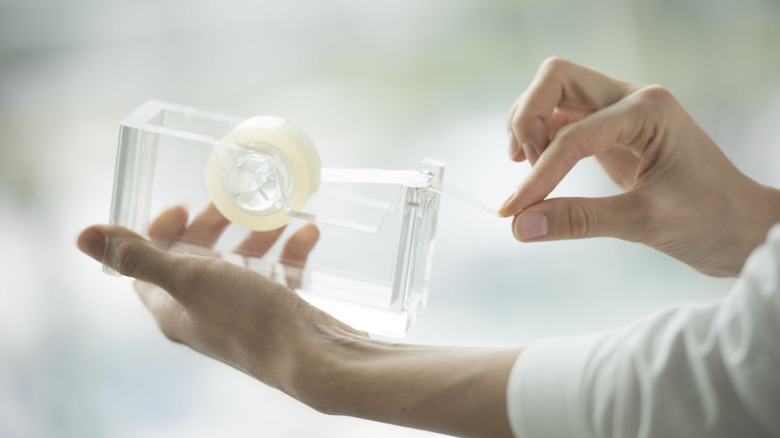 Shotshare/Getty Images
You can use tape to contour your cheekbones alone. However, some TikTokers have taken the tape hack a step further and are using it around their eyes and on their noses. In one TikTok video, beauty content creator Cynthia places tape under her nose and brings the two pieces toward her outer eye. She then applies a light concealer above the two pieces of tape and blends it in. Applying a lighter shade to this area can help lift the face and give you a gorgeous glow.
To precisely highlight your nose, as Cynthia does, you can line a piece of tape up with each nostril, leaving a straight line on the bridge of your nose. When both tape additions are on the face, this creates a triangle-shaped area under your eyes where you can lay down some concealer. Just make sure you can still breathe with the tape near your nose. Blend everything with your sponge or brush, add a touch of blush, and you'll be ready to go.