How To Make Your Sweatshirt A Fashion Choice (Not Just A Lazy Day Option)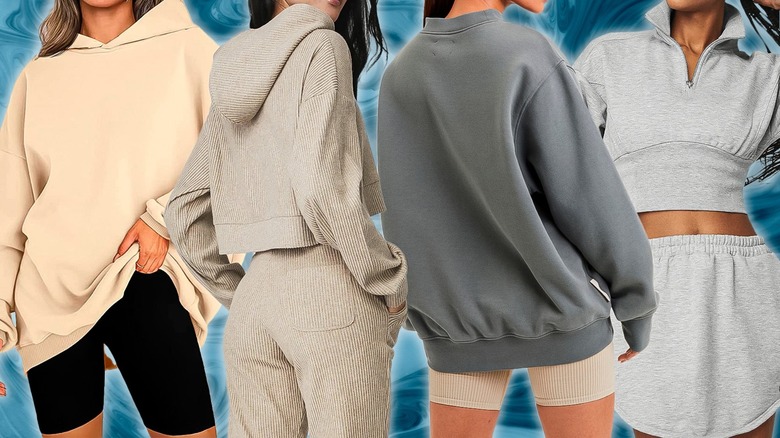 Static Media / Shutterstock
Let's face it, there's nothing simpler than throwing on a comfortable sweatshirt to go about your day. However, if you're looking to elevate your daily looks, this can be a problem. Sweatshirts are typically casual pieces that provide warmth and comfort. On seldom occasions, sweatshirts meet the criteria for high-fashion outfits. Luckily, recent trends are all about practicality meeting style. With this fashion movement, people are looking for more ways to elevate their comfortable pieces to wear them stylishly. No matter how simple or basic your sweatshirt might be, they can certainly help create some street-style ensembles that look intentional. Stylist AK Brown, for example, suggests going for a sweatshirt on top of a white button-down shirt (via InStyle). The combination is "very elevated and layered," Brown told the outlet.
Creating high-fashion looks from practical pieces is nothing new. After all, it's been replicated with other pieces, like oversized blazers or sneakers. With more people looking to elevate everyday pieces, we can start to see the mixture of comfort and style in creative ways. In fact, after adding a few stylish details, your sweatshirt may turn into the base of your new favorite go-to outfit.
Grab a vibrant sweatshirt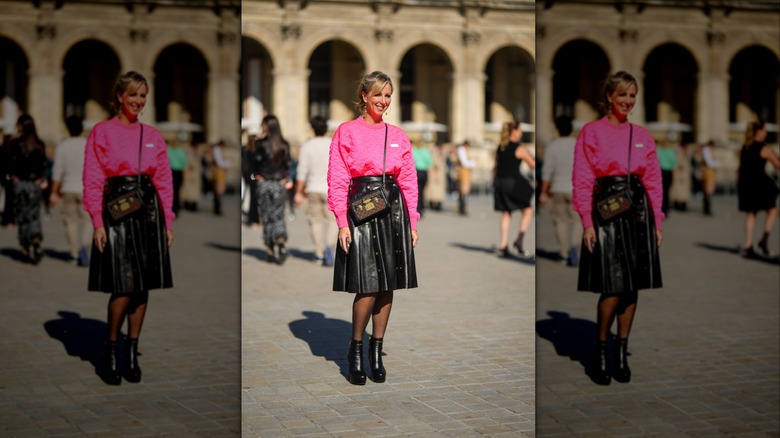 Edward Berthelot/Getty Images
The easiest way of creating a comfortable yet chic wardrobe is by opting for a vibrant and bold sweatshirt. Despite the bold appearance, it will still have the comfort and ease of any sweatshirt. Giving your sweatshirt an elevated appearance from the beginning with a stylish print or color ensures that this piece doesn't look like any other sweatshirt. It will not only look more intentional but will go with any pair of jeans or bottoms you choose to style it with.
Go for an oversized sweatshirt look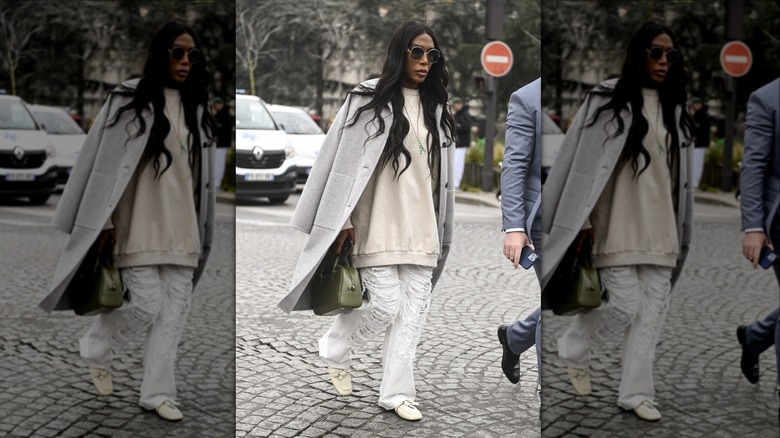 Daniel Zuchnik/Getty Images
Oversized blazers, tops, and bottoms are some of the most common trends to transcend in the fashion world. As for sweatshirts, you just want to be sure you go up a size for the oversized look. Oversized sweatshirts have an ease and chicness that's very simple to replicate. Pair your oversized sweatshirts with tighter-fitting bottoms for a balanced look. On the other hand, you can also pair your oversized sweatshirt with an oversized blazer for a carefree look with a little more intention behind it.
Wear it under a blazer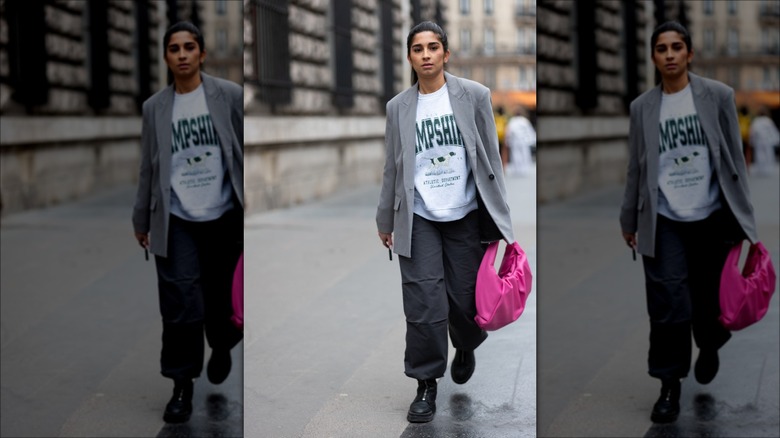 Claudio Lavenia/Getty Images
We already know that the blazer can solve many of our fashion problems. Need to spice up an outfit? Throw on a blazer. Need to add warmth to a cute look? Add a blazer. The versatility of a blazer can also be the solution for elevating your sweatshirt. In other words, pairing your favorite sweatshirt with a blazer can help combine casual with sophisticated.
Pair it with a statement bottom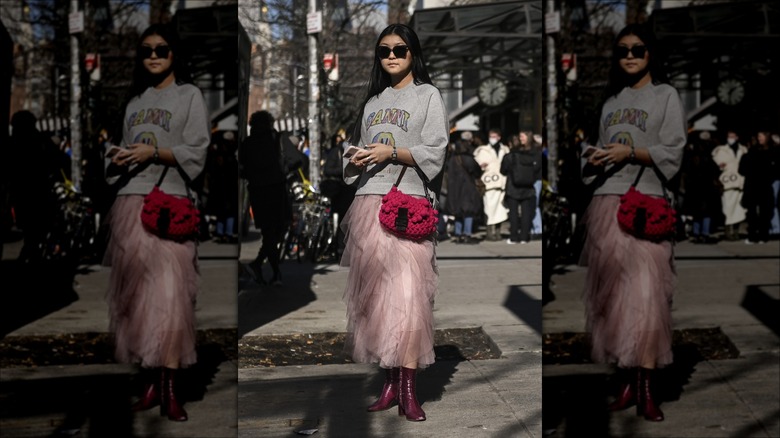 Daniel Zuchnik/Getty Images
Need to elevate the top portion of your outfit? Match it with a statement bottom. Since sweatshirts can sometimes convey a lack of appeal or interest, a statement bottom can add just the right contrast to your fit. Whether it's a printed pair of pants or an over-the-top skirt, these bold bottoms will elevate any top. Your casual sweatshirt also serves as the perfect counterweight for a unique bottom, creating the best outfit balance.
Don't forget the graphic sweatshirts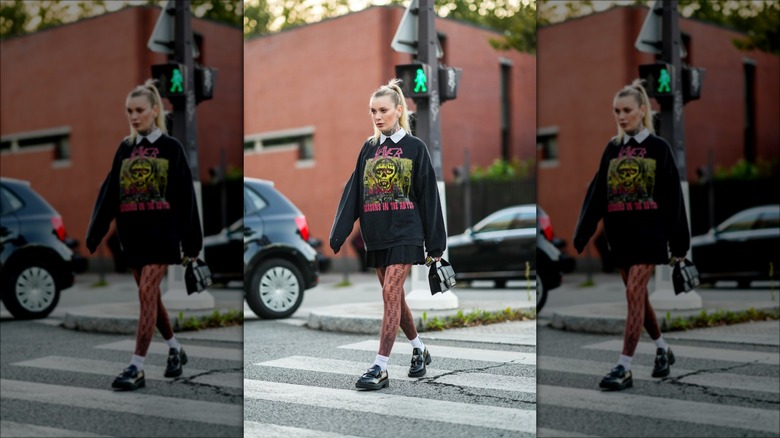 Edward Berthelot/Getty Images
Just like bold and bright sweatshirts can elevate your comfy piece, so can a little bit of graphics. Whether you're a fan of retro graphic sweatshirts or simple text graphics, these pieces can help make your sweatshirts look more chic than casual. Not only do graphic sweatshirts give you something to play off of, but they also allow you to showcase more of your style preference. A chic retro text graphic can help embody your preppy style, while a dark graphic sweatshirt can give you a bit more edge.
The athleisure look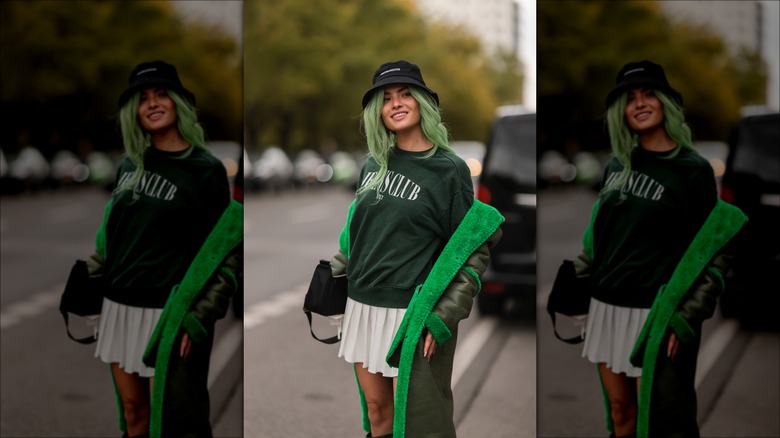 Jeremy Moeller/Getty Images
Instead of turning your sweatshirt into something it's not, why not lean into the athletic characteristic of your item? In other words, pair your sweatshirt with tennis skirts or over a tennis dress for a stylish athleisure look. Thanks to recent tenniscore trends, this combination of sweatshirts and athletic bottoms has become more high-fashion than just a way to keep warm. Whether or not you plan to play tennis is up to you, but it can't be debated that this combination is as chic as they come.
Pair the sweatshirt with leather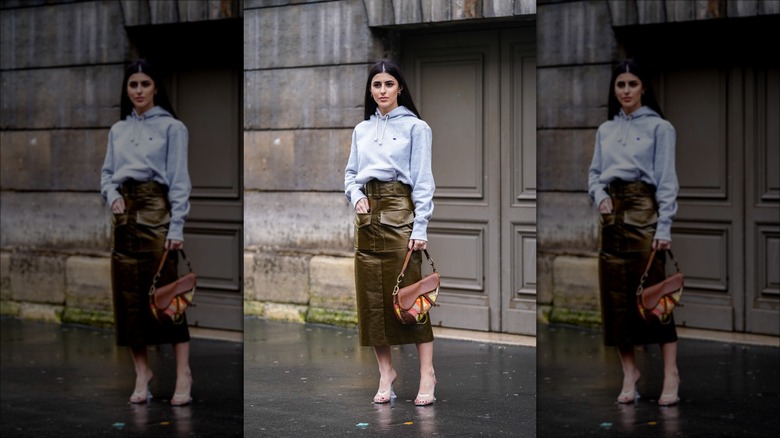 Edward Berthelot/Getty Images
Whenever you're working with fashion pieces that are more casual or laidback, you'll need to contrast them with elevated fabrics and materials. One of those materials that pair perfectly is leather. A leather bottom or jacket automatically has sophistication behind it because of the luxurious material. A regular sweatshirt styled against a sleek leather piece is a blend of carefree and polished. Even though you'll be wearing a sweatshirt, the leather piece takes your look to another level.