The Genius Hack For DIY-Ing A Perfect-Match Brow Gel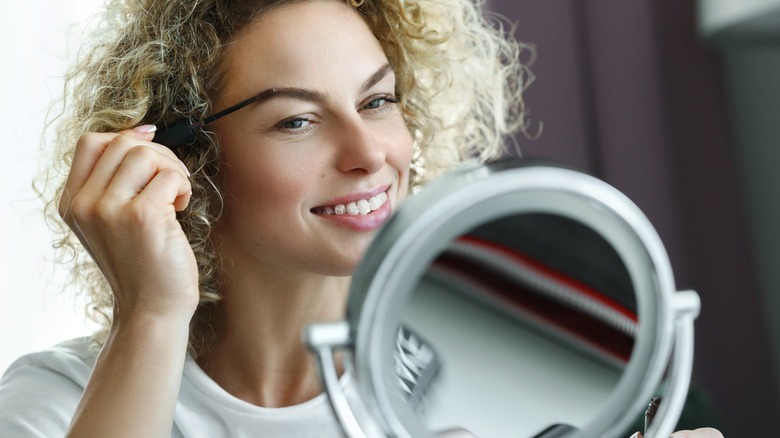 Jun/Getty Images
For centuries, eyebrows have been a centerpiece of fashion and beauty. Styles change, from bushy brows to pencil-thin lines, but the focus on eyebrows hasn't waned as the years, decades, and beauty eras have passed. Today, the focus is on fashioning eyebrows with a collection of cosmetics to enhance them, no matter the size or shape of contemporary chic. And one newfound trend in eyebrow maintenance is the use of eyebrow-specific makeup products, which have rapidly become popular in the beauty sphere.
Brow products span from eyebrow pencils, tint pens, powder, pomade, and eyebrow gels galore. Amongst the many offerings, though, you still may not be able to find a brow gel that matches your hair color and works in a complementary fashion to your skin tone. The good news is a simple DIY hack is here to give you exactly what you need to find your own personalized brow color — and the items are likely already in your makeup bag. If you have a clear eyebrow gel and a powder eyeshadow on hand, you can get in on this trend in a snap. 
Combine your eyebrow gel and eyeshadow
Professional makeup artist Vincent Ford is the superhero of brow hacks, recently introducing a magic makeup DIY trick for finding the perfect shade of brow gel. Ford posted on his TikTok account that the hack involves only two items for an unbelievably unique brow tincture: clear brow gel and powder eyeshadow. The aim of the hack is to match your DIY brow gel hue with your hair color, so an eyeshadow palette of neutral shades or coloring closest to your hair color is best for this tinted tactic.
To do the hack, first place a small amount of the clear brow glue or gel on the back of your freshly-washed hand and then put a bit of the eyeshadow powder on top of the gel. Using a clean spoolie brush, mix the cosmetics together and then apply the individualized tone to your brows for a perfect pairing of brow tint with your hair strands. If you aren't inclined to use your hand, choose a clean surface instead. This hack works with older eyeshadow palettes, though be mindful of expiration dates and cosmetic hygiene.
Play with eyeshadow palettes for different pigments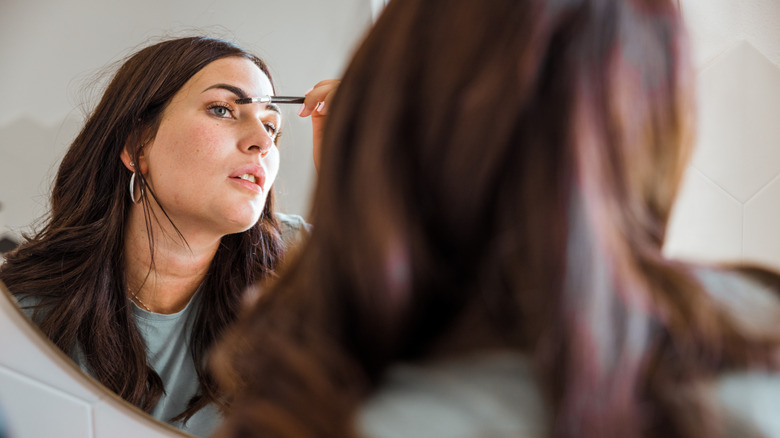 Leopatrizi/Getty Images
Part of the fun with this DIY brow gel hack is the experimenting you can do with any (or all!) shades of powder eyeshadow palettes, exploring various neutral tones that match your hair or shades across the color wheel. The simplicity of the hack makes it an incredibly versatile way to innovate your eyebrow styling, going for lighter tints on certain days and darker hues on others without having to purchase multiple brow gels.
Take this TikTok video shared by @sukhmanikhokhar, for example. With text on the video that reads, "I didn't know I can use eyeshadow to colour clear brow gel," the content creator mixes clear brow gel and a stunning mauve pigment on a hard surface to create her very own one-of-a-kind tinted eyebrow gel. She glides the color onto her eyebrows with a spoolie, producing a unique finished look. The options are truly endless with this hack! Grab any color of eyeshadow you desire to play with fun looks — all without purchasing new products.