How To Use Your Eyelash Curler As A Brow Stencil (We Love Multipurpose Hacks!)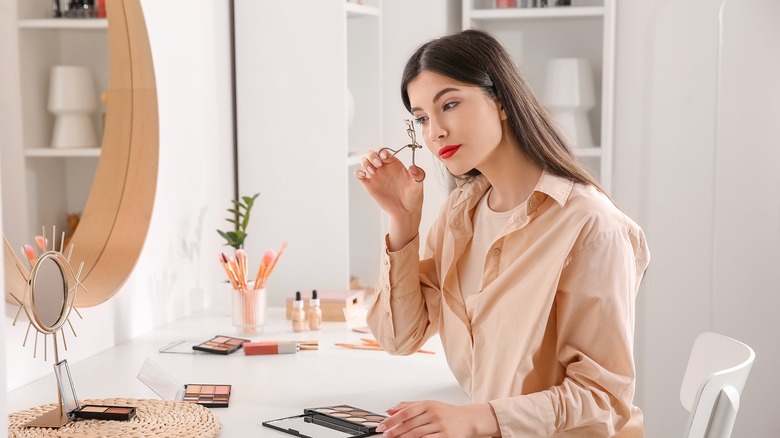 Pixel-Shot/Shutterstock
In any makeup look, our eyebrows are like the icing on the cake, giving us the confidence to take on the day looking and feeling our best. For some, filling them in is quick and easy, but some days prove to be a challenge when we can't get them to be symmetrical or even. Luckily, TikTok has some tricks up its sleeve when it comes to brow hacks, from the viral eyebrow filter to using self-tanner as eyebrow tint. Today's hack allows you to repurpose a tool that you likely use every day: an eyelash curler.
Your eyelash curler may be built for more than just lashes; it can act as a super quick and easy stencil option to fill in your brows symmetrically. This tip was shared by TikTok makeup creator Krislyn Kuhn (aka @beautypebykrislyn1), who is known for posting hair and makeup advice on her page. Kuhn's eyelash curler video has over 10,000 likes with comments like "I think you just changed my life!!!" and "Now [my brows] will look like sisters instead of cousins ..." Considering its positive reception, trying out this quick hack can help you shape your eyebrows to perfection at home.
Use the curler for arched brows
The flat side of your lash curler will act as a straight edge to create the outline of your brows. Start at the inner part of your brow at the bottom and trace a line until you reach the center. Then, use the curved top of the curler to create an arch following the natural shape of your brow. Repeat these steps at the top of your brows, and you'll have a perfect stencil ready to be filled in with the product of your choice. In her video, Krislyn Kuhn uses an eyebrow powder, but in the comments, she writes about using the Urban Decay Brow Blade Ink Stain to make her brows waterproof.
It's helpful to use eyebrow mapping techniques when tracing and filling in your brows. If you're looking to make your brows longer, the beginning of your brows should line up with the inner corner of your eye. The end of your brows should be lined up with the outer edge of your eye. With this in mind, your eyelash curler can help you make precise lines to map out your stunning brows.
Another way to use a lash curler for sharper, straighter brows
Some people prefer their brows to have a high, rounded arch. Others like straighter lines and sharper edges for their brows. While Krislyn Kuhn's video shows how to use the rounded side of the curler for an arch, you can take a different approach.
Rather than using the curved top of the curler to create a rounded arch, you can use the straight side only to trace lines, which will give your brows a sharper look. In this case, you might want to consider using a brow pencil for cleaner lines rather than a powder. 
It may take some practice and a steady hand, but this eyebrow hack is meant to make things much easier. Once you have your perfect brows filled in, you can curl your lashes and finish your look with your favorite mascara. Over time, you may not even need the lash curlers anymore as you master your brow shape.