Rachel Green's Iconic Pout On Friends Was Thanks To A MAC Lipstick Still Being Sold Today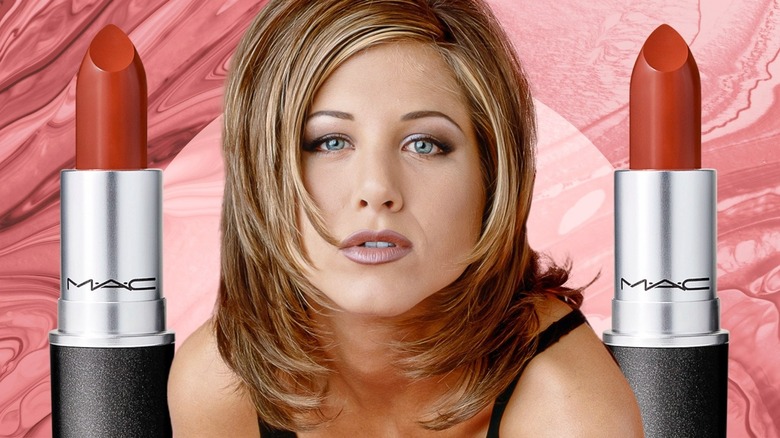 Static Media / Shutterstock
We may receive a commission on purchases made from links.
"Friends" had an impact on more than just the sitcom genre — the show's influence on fashion has had some serious staying power. Whether you watched "Friends" when it aired, caught it during the reruns of your youth, or binge-watched it on a streaming platform (shoutout to the Gen Z fans), there's something about the '90s fashion that feels impossibly cool, like the older sister you always wanted to copy. Some of the influences are obvious, like the Rachel haircut or flannel shirts, but one of the underrated style elements of "Friends" is the makeup. Namely, the fabulous lipsticks.
The lipstick on "Friends" was warm, creamy, and moody, and it didn't get much better than Rachel's cute, nearly-nude lip. Rachel's signature lipstick was sexy and effortless, and if you want to try it out for yourself, the color is still available today. In a 2017 interview with Glamour, Jennifer Aniston name-dropped the shade she frequently wore on the show: M.A.C. Satin Lipstick in Paramount. A gorgeous shade of warm brown, this lipstick can transform you into an iconic '90s babe.
Shopping for Rachel Green's go-to lipstick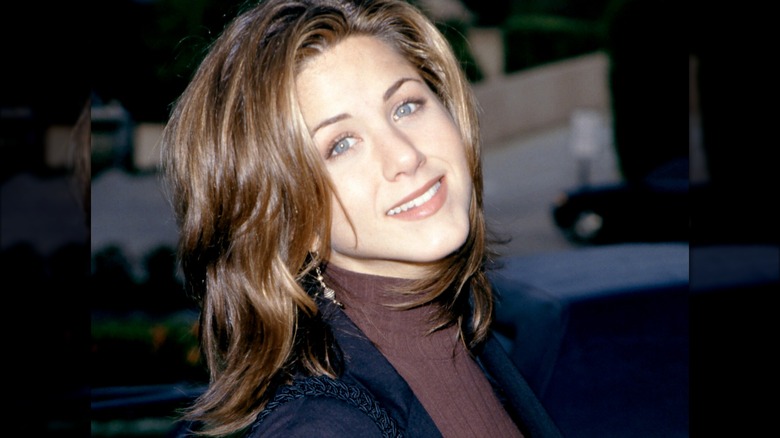 Ron Davis/Getty
Rachel Green's lipstick of choice is still on the market — you can buy M.A.C. Satin Lipstick in the shade Paramount directly from the M.A.C. website or from department stores like Macy's or Nordstrom. You can also find the lipstick sold by retailers on Amazon, but at the time of writing, the best price was actually at the official M.A.C. store and most department stores, where it is available for $23.
To follow Rachel Green's look precisely, you'll also want to get a lip liner. A lip liner will help define your lips and prevent any color from bleeding out of your lip area. Choose a shade that matches closely to Paramount. Luckily, M.A.C. has a lip pencil that comes in several shades that look nice with Paramount, including Spice, which, per Glamour, was a shade frequently used for Jennifer Aniston on the "Friends" set. There's also the same lip liner in the shade Chicory, which is still beige but slightly pinker, which may suit some skin undertones better. However, if you prefer a softer, less defined lip, you can skip the pencil and wear the lipstick on its own.
How to pull off the look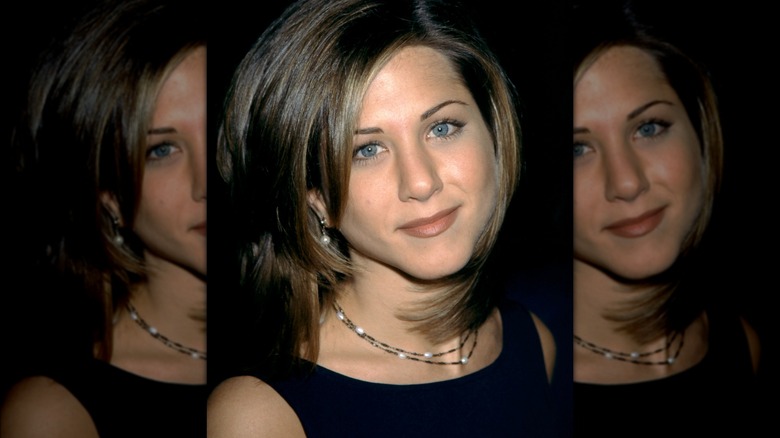 Ron Davis/Getty
Some folks might balk at the concept of a brown lipstick. It's certainly a '90s vibe, but the Paramount shade has enough of a warm, red undertone that it won't feel like a major plunge into the brown lipstick look. Instead, the shade Paramount adds a neutral, rosy hue to your natural complexion, and — as Rachel Green continually demonstrated — it works with all kinds of outfits, making it a prime candidate for an everyday shade.
Your first step when using this lipstick is to prep your lips. After all, the last thing you want is lipstick clumping up on flaky lips, so be sure to properly exfoliate and moisturize your lips before applying your lipstick.
You can either put M.A.C. Satin Lipstick directly on your lips or use a small makeup brush for more precise application. Whether you use the stick or a brush, blot off the excess product with a tissue. The lipstick has buildable coverage, so you can start with one layer and add more if you want a more saturated color. For a more muted, blurred effect, place a small amount of lipstick in the center of your lips and smudge it out with your fingertip.
Incorporate this lipstick into your favorite moody or neutral makeup look, and all you'll need is a claw clip and your favorite flannel to cosplay as a Central Perk regular.