Ingenious Self-Tanner Tricks That Will Erase Even Your Worst Mistakes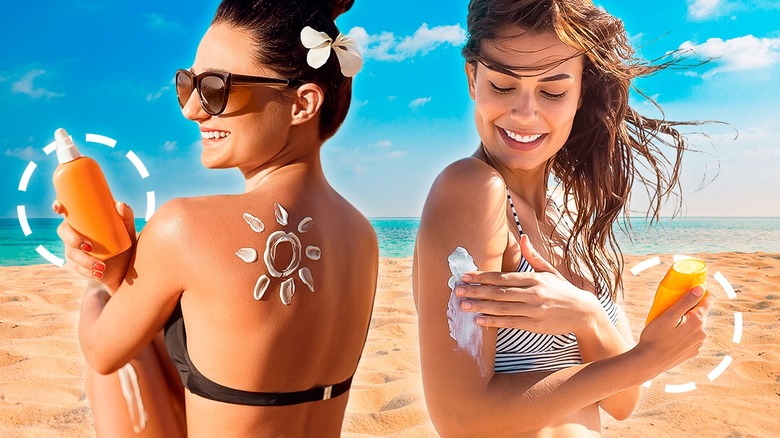 Static Media / Shutterstock
When it comes to achieving that beautiful, bronze glow, you know the saying — "Fake it 'til you make it." Gone are the days of baking in the sun with a sheen of baby oil on your body. We all know that UVA and UVB rays are harmful to your skin and that even the strongest SPF doesn't shield you completely; in order to get that summer tan, the safest option these days is to use a self-tanner. Unfortunately, applying tanning agents can be tricky, and we're often left with streaks or uneven patches.
While the pre-application process and exfoliation can help ensure a smoother fake tan, they're not foolproof. As the color develops, self-tanning mistakes can be obvious, and we're stuck with the task of evening them out. But don't throw in your self-tanning towel and give up in frustration — by using a few easy-fix tips, you'll soon be looking like you just came back from the beaches of Bali.
Exfoliate just the uneven areas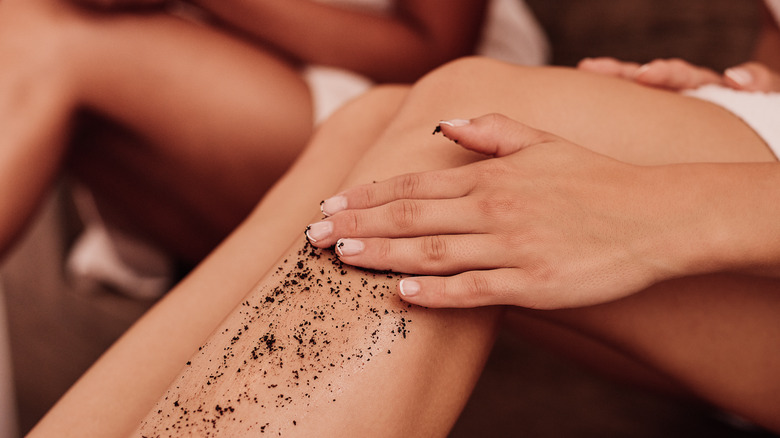 Knape/Getty Images
We know to scrub away dead skin cells and moisturize before applying self-tanner to create a smooth, even base. But that doesn't always guarantee a mistake-free application, especially if you're using a color-free product. You may have applied more self-tanner in one area, or perhaps your self-tanning mitt needs to be replaced. Whatever the cause, messy streaks can be fixed. The quickest solution is to gently scrub the area that's darker than the rest of your body — you can use a sugar body scrub and work it into damp skin in circular motions until the color has faded.
If the unevenness is in a sensitive area, such as your face or chest, you can also use a product that contains glycolic acid, which will exfoliate your skin without having to scrub it. According to Sheer Luxe, the acid will lift the tanning agent away from the skin so that it'll wash away and fade. You can either use a glycolic cleanser or swipe over the uneven area with a cotton pad soaked with toner.
Add another layer of self-tanner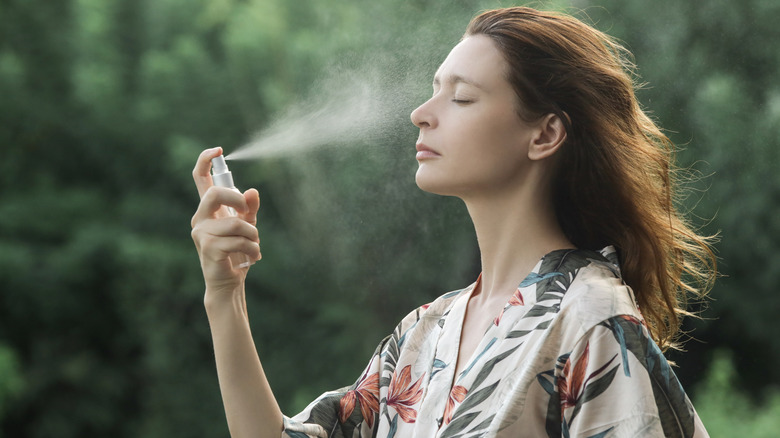 triocean/Shutterstock
This may seem counterintuitive, but adding another coat of tanning spray can help even out messy streaks. Just like a wall that needs two coats of paint, sometimes an extra spritz all over your body is all that's needed to smooth out the color. During the first application, you may have applied too little — or you could have had lotion on some parts of your body that you forgot to rinse off, which can cause the self-tanner to not develop as deeply. When applying the second coat, make sure your skin is free of all moisturizers and deodorants. If you have sweat on your skin, take a quick rinse in the shower and make sure you dry off completely.
If you only have a few troublesome areas, you can also just spot-treat those uneven patches. This works best with a bronzing self-tanning mousse so that you can see where you're applying it. Use a small kabuki brush to buff it into your skin, and blend it into your darker areas so that you don't end up with a clear line.
These kitchen products can help remove a botched job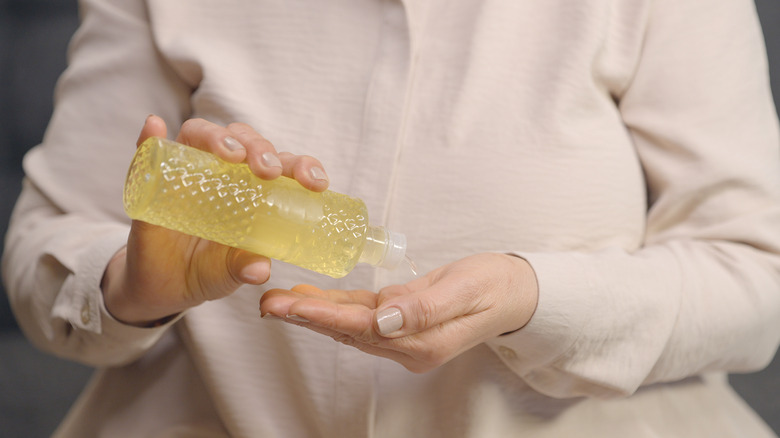 Red Stock/Shutterstock
Your elbows and hands can be especially tricky places to apply self-tanner, and it's these areas that often end up blotchy. For an all-natural remedy, look no further than your kitchen. Cut a lemon in half and rub it over uneven areas. Much like with the glycolic acid facial exfoliators, the acid from the lemon will break down the tanning agent and remove the dark spots. But before trying this method, be sure you don't have any cuts or irritation on your skin, and if your skin is extra sensitive, dilute the lemon juice with water. Rinse immediately afterward — lemon juice left on skin can cause citrus burns if exposed to sunlight, per Forefront Dermatology.
Another chemical-free way to erase a streaky tan application is to mix equal parts baking soda and water. Gently rub the concoction over uneven areas with a washcloth for a few minutes and rinse with warm water. (You may need to do this a few times until you get the self-tanner off.) Baking soda can dry out your skin, so be sure to moisturize after you're happy with the results.
Fix a too-dark tan with body oil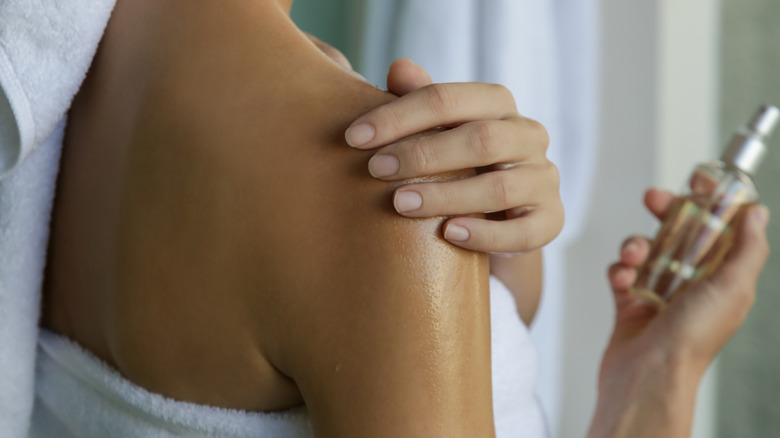 triocean/Shutterstock
If you were overzealous with your self-tanner and find yourself a few shades too dark, you can erase an all-over mistake with body oil. Reach for baby oil or coconut oil and slather it all over your body, being generous with the amount. Let it sit for no longer than 10 minutes, then rinse off the oil with an exfoliating washcloth and body wash. Don't scrub too hard, however, or you'll risk causing certain areas to fade and end up with an uneven tan.
When you have the perfect color, moisturize your body frequently to prevent the tan from fading too fast. To extend the life of your tan, you could even mix a dollop of self-tanning formula with your moisturizer or body oil and apply daily. The lotion will go on more smoothly, ensuring a more even application, and it will also dilute the tanning agent so you won't have to worry about ending up too dark. (If you do — because mistakes happen — go back to an all-over oil application.)
These bathroom products can help erase self-tan mistakes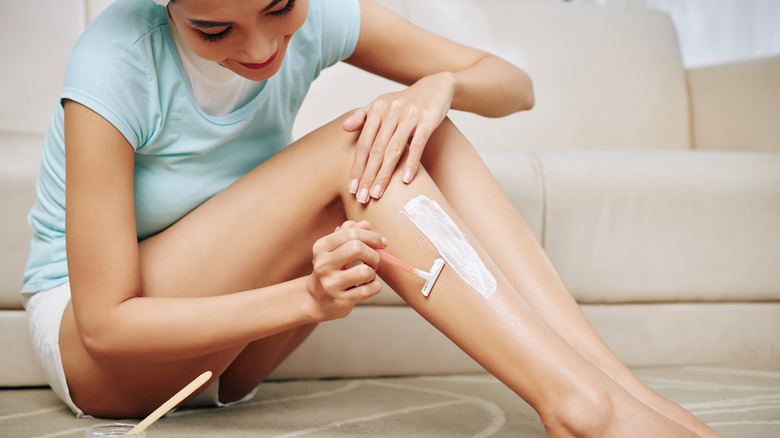 Dragon Images/Shutterstock
Your bathroom is full of self-care products that can help erase a self-tan disaster. For instance, hair removal cream can also take off self-tanner — it's another good option for fixing larger areas where your self-tanner needs a do-over. Make sure the cream has calcium hydroxide, which is the ingredient that will break down the color by exfoliating the skin. Leave the cream for half the time recommended for hair removal, then rinse off.
For small areas, such as between your fingers or on the palms of your hands, whitening toothpaste is an option that offers greater control. Apply on the too-dark areas and leave it on for about 10 minutes. Wash the toothpaste off with warm water and gently scrub the area with a washcloth.
Shaving cream works for large areas, such as your legs or torso. Simply rub a thick layer of foam on the desired area and let it sit for 10 minutes before you rinse off. You can also actually shave the area, which will further get rid of unwanted color. Of course, there are also actual self-tan remover products, so if you find yourself making a lot of blotchy mistakes, make sure you have them on hand!