Things To Keep In Mind When Choosing Your Signature Jewelry Style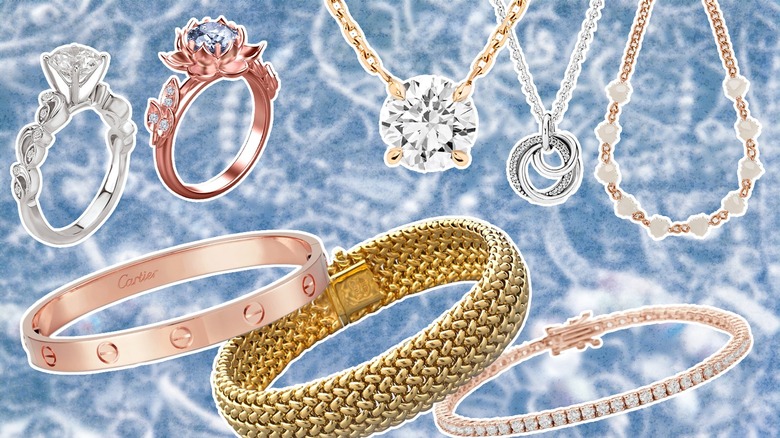 Ever come across a necklace, ring, or bracelet and think, "Wow, that is so me!" With signature jewelry, the pieces you wear every day are opportunities to convey both your style and personality to the world. Bright, bold pieces can represent your larger-than-life attitude, while smaller, more minimalistic pieces can signify your elegant and sophisticated nature.
With signature jewelry, you're not only looking to deliver a message about who you are as a person, but you're also looking to stay loyal to one sense of style. Having a signature jewelry style also means you can be consistent with the type of outfits you wear, and you'll save a lot of time in the morning by not having to worry about whether or not your jewelry is matching.
But finding your signature jewelry style can be a journey and there are certain things to keep in mind when going about determining what it ultimately is.
The wardrobe in your closet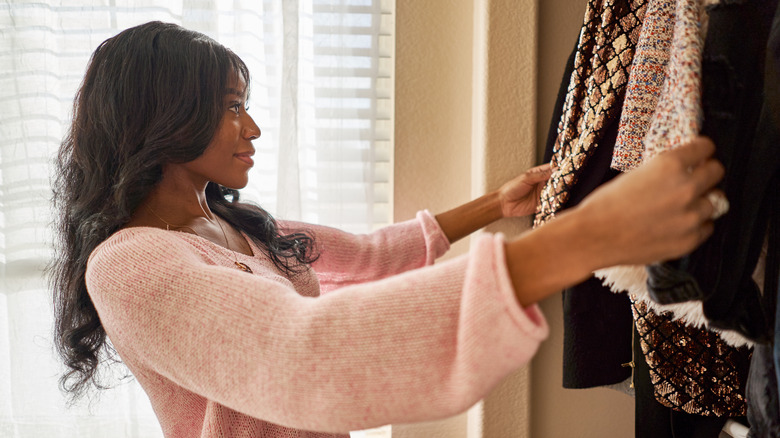 Joshua Resnick/Shutterstock
A good place to start when trying to determine your signature jewelry style is your closet. Take a peek in there, look at all of your outfits, and try to narrow down your sense of style to one word. It's easier and more economical to match your jewelry to your existing wardrobe than it is to decide on a jewelry style, then buy clothes to pair with it.
If you can't seem to pin down what your signature jewelry style is, turn to the outfits that you wear on a regular basis or the ones you enjoy wearing the most. If sweatpants paired with a hoodie is your go-to outfit, your style is casual, so your jewelry should match that. If you're more into baggy jeans, graphic T-shirts, and long frocks, you likely prefer a vintage or retro aesthetic. You have a chic, professional sense of style if blazers and office pants are more your thing, so look for jewelry to best complement that. Knowing what your preferred sense of style is, is key to finding your signature jewelry style.
The materials your jewelry is made of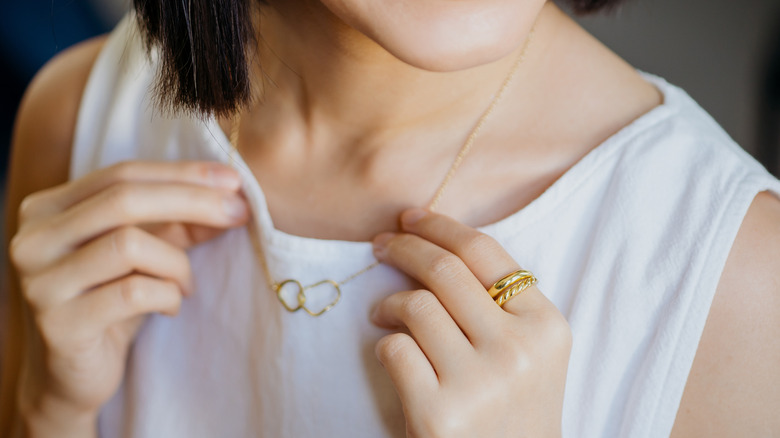 Simon2579/Getty Images
Jewelry comes in different materials and finding the one that suits you best depends on many factors, from your skin tone to your wardrobe, to how your skin reacts to certain metals. If you have a warmer complexion, gold will suit you best, althoughthe level of "yellowness" can change the entire game. The deeper shade of yellow gold is due to being a higher karat value, the better suited it is for darker skin tones. If you have lighter skin, silver is your go-to. And then there is rose gold, which is anyone's cup of tea.
When picking a signature jewelry material, your sense of style also plays a role. Whether you're going down the metal route, the pearl route, or even the wood route, it's important to know that your choice will complement your wardrobe.
Lastly, picking the material based on your skin's sensitivity can save you from rashes, irritation, and even allergies. For example, nickel is a material to avoid if you have sensitive skin. To play it safe, invest in pure metals or hypoallergenic jewelry that is less likely to cause allergies.
How you will style your jewelry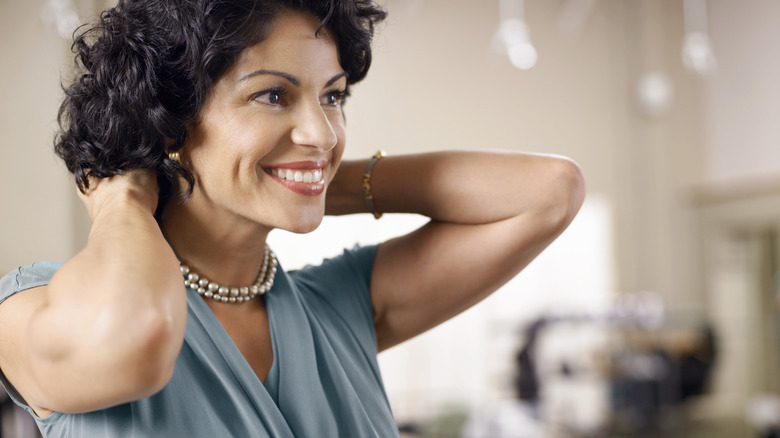 Siri Stafford/Getty Images
Once you've decided what your signature jewelry look is, or maybe even before, it's important to know how you will style the pieces. If you want to go all out, you can try layering your necklaces, bracelets, earrings, and rings. For your necklaces, simply purchase chains of varying lengths. For your bracelets and rings, you can pretty much go all out and buy them in different shapes and sizes. It's about what feels right to you.
If you would rather take the minimalist approach with your signature jewelry, stick just one necklace, one bracelet, one pair of earrings, and one or two rings. Or you can eliminate some of these pieces completely. At the end of the day, it depends on what features of your jewelry you want to highlight, what you want them to say about you, and what you find beautiful, so trust your gut.
Whether you will mix and match metals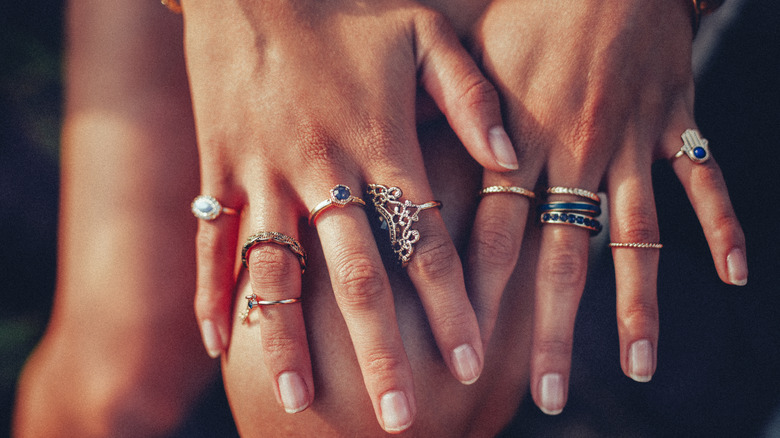 Wundervisuals/Getty Images
Mixing and matching different metals used to be a jewelry faux pas. But it is a new age, and you shall no longer be shunned for mixing gold and silver pieces. If it feels like you, you should also not be afraid of mixing and matching different styles, textures, and aesthetics. After all, this is all about your signature jewelry style. 
So, if you want your necklace to be gold while your bracelet is silver, there's nothing holding you back. And if you want a necklace with a tiny pendant to be accompanied by big, dangly earrings, you're welcome to do that as well. As long as it feels right to you, go nuts.
And keep in mind that your signature jewelry look is not a one-and-done deal. It can be fluid, and change as you do. Your signature jewelry look can handle variation, and embracing that only adds more personality to it.
How much you can afford to spend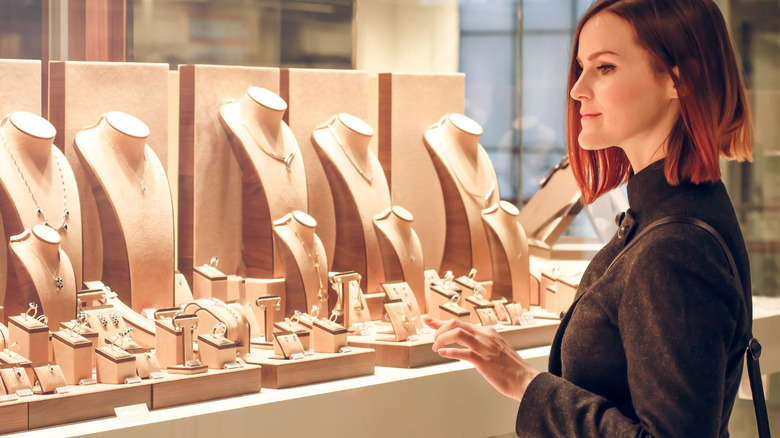 Alexa_Space/Shutterstock
When it comes to jewelry, you can either end up spending a lot of money or very little. It's important to think about your signature jewelry collection as a long-term investment. Since you'll be wearing these pieces as a part of your daily outfits, choosing good-quality jewelry is a great option if you have the means to do so. And this includes pure gold, which you can pass down for generations. Therefore, think of investing in certain pieces as a one-time purchase that will literally last more than a lifetime. 
If you don't have the means to spend large amounts of money on pure metals, you can still achieve that look by opting for gold-plated or vermeil pieces. They won't be of the same quality, but they will look very similar, allowing you to embrace them as a part of your signature jewelry style. Out of the two, vermeil takes the win as it's much thicker than your basic gold-plated jewelry. But as vermeil pieces begin to lose their luster, remember to get them re-plated. Additionally, polishing them, along with proper maintenance can go a long way toward extending their lifespan.
What's trending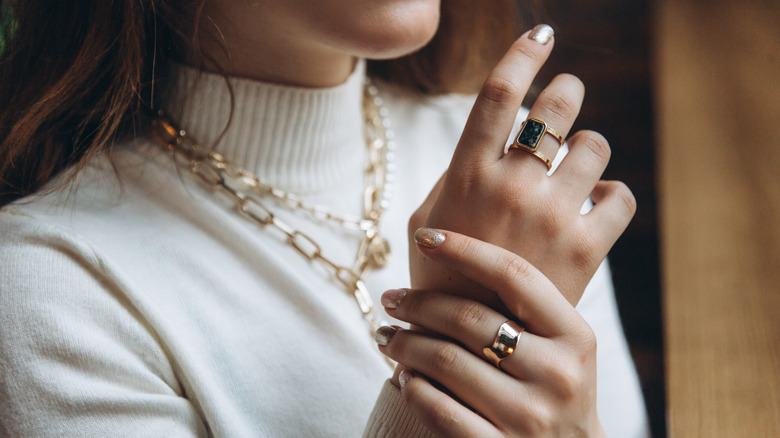 Kristina Holovach/Shutterstock
Jewelry trends really shouldn't matter when it comes to picking your signature jewelry. Trends come and go, but your signature pieces should be timeless. So, when picking out the jewelry that you'll most likely be wearing daily for years, don't be carried away by ongoing trends. You are better off choosing classic pieces such as gold chain necklaces, pearls, diamond studs, pendant necklaces, and tennis bracelets. 
If you want to infuse more of your personality, try to take a classic piece that you resonate with and make it your own by giving it a quirk. You can get studs with your birthstone or get a pendant that's meaningful or symbolic for you. Having a story behind your signature pieces can be a great conversation starter, and making your jewelry pieces uniquely yours connects them to you in a special way.
Choosing a signature jewelry look for yourself can elevate your outfits, giving them consistency and personality, and it says a lot about who you are as a person. So take your time when deciding on what your jewelry style will be.