Reception-Ready Wedding Dresses Are The Biggest Bridal Trend Of 2023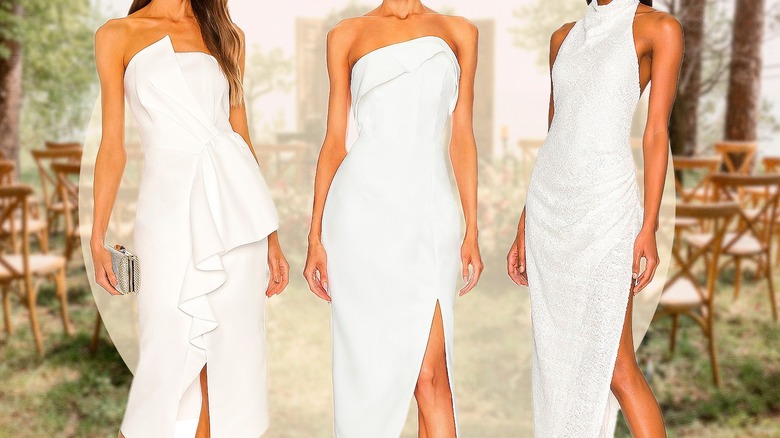 Static Media/Shutterstock
For bridal trends, it seems like they've become less about impractical expectations and more about practical wedding must-haves. For example, some trends like bridal separates and natural bridal makeup looks are easy ways of making your big day less stressful and more comfortable. Another recent bridal trend set to make your life easier is the reception-ready wedding dresses. Let's face it, your ceremony is only part of your big day, with the reception taking up a vast majority of the planning. With this in mind, you'll want a wedding dress that's easier to party in and doesn't require a mid-wedding change.
Instead of spending money on two separate bridal looks, opt for one wedding dress that's ceremony and reception-ready. Even though you'll be using the same look for both parts of the day, there's no reason why you have to sacrifice your dream wedding look for either. "Ensuring all eyes are still set on you when you make that entrance, choose a reception dress that is incredibly special to you and shows a different side of your style and personality while making you feel confident and comfortable," bridal curator Sheila Adetib told Harpers Bazaar. Luckily, with just a few details, you can get your dream wedding look ready for the party that comes afterward.
No-pants gowns
Estrop/Getty Images
For the unconventional bride, full-length gowns might be a tired tradition that simply gets in your way of dancing the night away. If you're not afraid of a bolder wedding look, go for the no-pants gown. These dresses have a bodysuit bodice with a sheer overlay and a slit either through the side or middle. These whimsical dresses give you maximum dancing power and the romantic details of a wedding gown. 
Bridal jumpsuits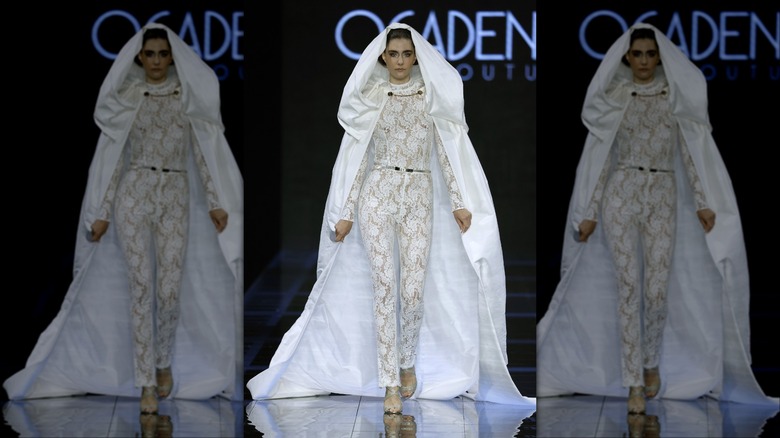 Estrop/Getty Images
Bridal jumpsuits are no stranger to bridal trends. While these garments have been around for years, they remain an easy way of getting the most out of your look. Whether you opt for a quick change with a detachable tulle skirt or want a bridal jumpsuit for the whole day, these pieces are fun and modern. Ditch the uncomfortable and puffy wedding dress and opt for a moveable bridal jumpsuit that lets you dance, jump, and go to the bathroom all on your own.
Over-the-top shoulders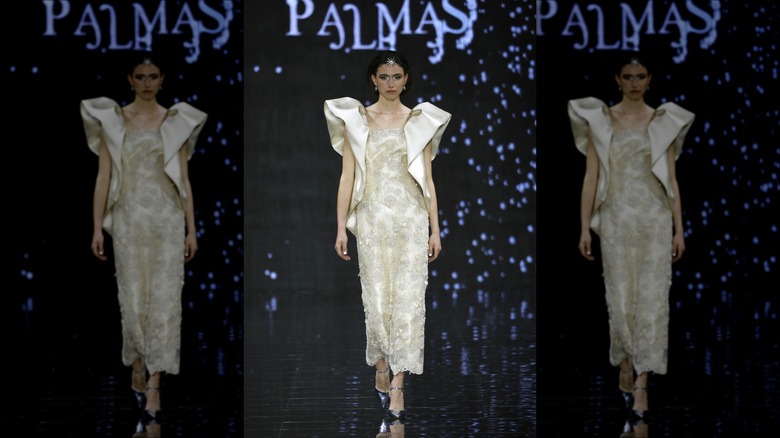 Estrop/Getty Images
Nothing screams party more than an over-the-top shoulder detail. In other words, puffy sleeves, off-the-shoulder details, or organza sleeves are just some ways you can add flair to your bridal look. These small details aren't going to overpower your wedding dress. Instead, they will add more personality and fun to your party.
Sequins and feathers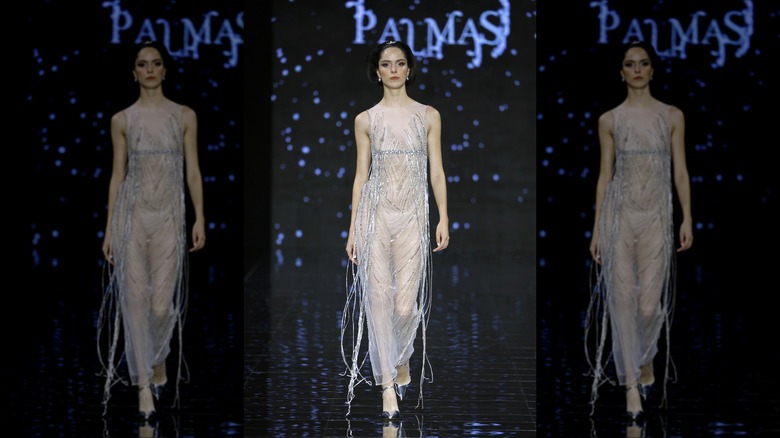 Estrop/Getty Images
Sequins, feathers, and embellishments are essentials for any party, including your reception. Incorporating these into your wedding dress gives you a simple look that will flow seamlessly into your wedding reception. A sequin-filled wedding gown will not only help you shine during your ceremony but also glimmer during the reception. Luckily, sequined dresses are easy to find, and adding other fun textures, like feathers or fringe, will make it even more festive.
Printed gowns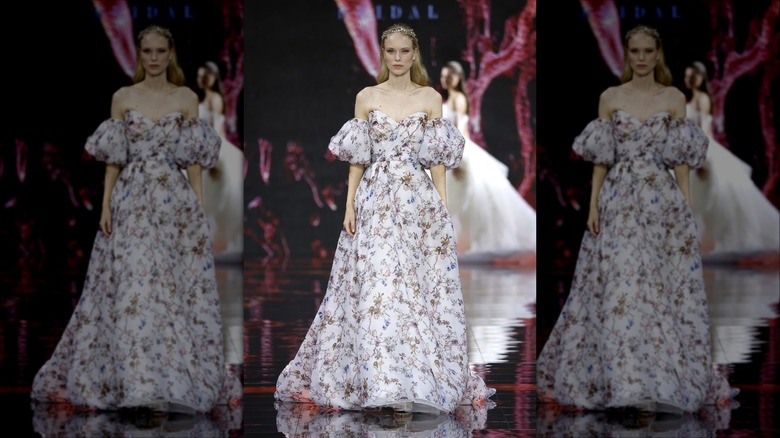 Estrop/Getty Images
Long gone are the days when you were expected to only wear white at your wedding. Nowadays, printed wedding gowns are more common, especially among those looking to break away from a traditional wedding. Not only are printed gowns unique, but they're sure to make for perfect wedding reception looks. After all, fun floral printed gowns instantly turn your romantic wedding dress into a funky reception-ready gown. So, go all out on your wedding looks with a romantic or bold print that will steal the show.