Jonathan Van Ness Has The Perfect Hair Hack For Getting Gentle Waves With Just A Flat Iron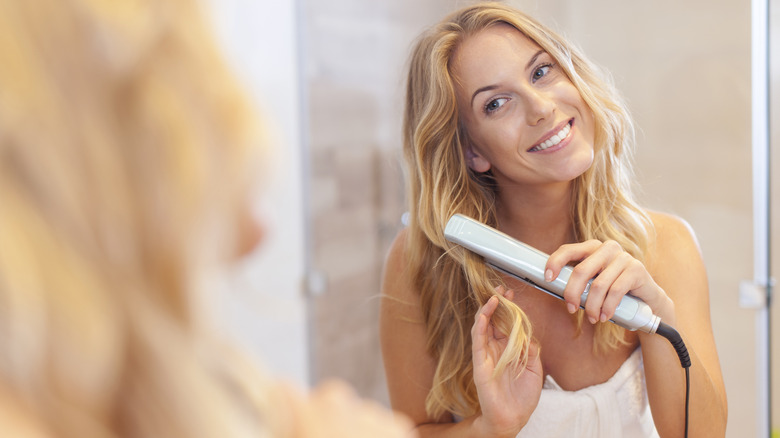 gpointstudio/Shutterstock
Wavy hair is beautifully versatile, as those wavy locks can give off any vibe from angelic and hyper-feminine to messy cool-girl energy. But we know that some people don't have naturally wavy hair. Luckily, there are various ways for people who don't already have natural waves to get wavy hair, such as buying a hair waver for perfect waves. However, hair wavers can be expensive, and it's understandable if you don't want to spend money on yet another styling tool when you already have a flat iron, hair dryer, and any other hot hair tools. So, don't assume you need to add yet another tool to the roster if you want waves.
While we don't know anyone who doesn't own a flat iron, many don't know that those classic hair styling tools' abilities aren't limited to straightening your tresses. After all, believe it or not, you can get a wavy look with your flat iron by strategically shifting the styling tool in a wavy motion and not leaving the iron on your hair for too long, like you usually do when straightening. Luckily, the talented and famous Jonathan Van Ness demonstrated the method on social media.
The hand technique that will provide you with flat iron waves
In an 11-second video on TikTok, Jonathan Van Ness shows viewers how to get gentle waves. Anyone interested in trying the technique should remember that this wavy look is soft, loose, and luxurious-looking yet somewhat subtle. Thus, if you want beachier, bolder, tighter, or messy-looking waves, Van Ness's video might not be the best tutorial for what you want. But if you enjoy the gentle look, his flat ironing strategy is very helpful.
In the clip, Van Ness held a section of hair with one hand and worked the flat iron with the other. Rather than fully closing the flat iron on the area of hair while sliding it down as we do to straighten our locks, he carefully opened and closed the styling tool over the section of hair from top to bottom while turning their hand in a wavy motion to create the waves. The results were beautiful, dainty waves.
While this technique looks easy, it's crucial to remember that many hairstyles aren't as simple as they appear on TikTok, and you shouldn't give up if the results aren't what you initially expected. In fact, one fellow user commented, "You make it look so easy," and Van Ness responded, "Practice is everythingggggg." Therefore, the more you practice, the better the waves will eventually look.
More ways to get wavy hair with a flat iron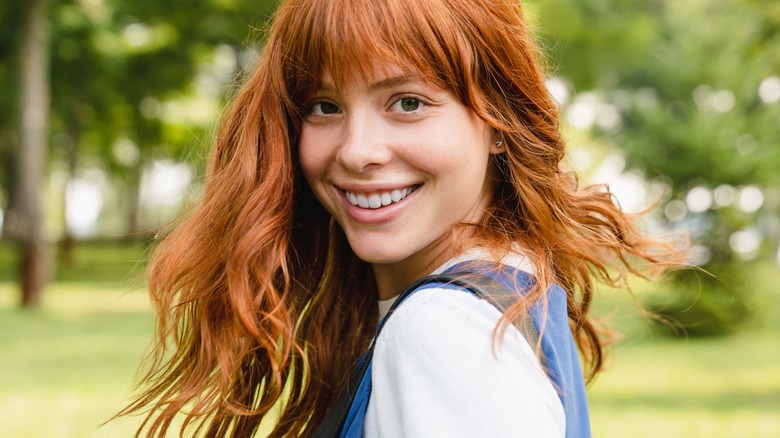 Inside Creative House/Shutterstock
As previously mentioned, the gentle waves Jonathan Van Ness taught us how to achieve aren't the only wavy hair option. While we appreciate Van Ness' advice, we also enjoy watching tutorials on how to get other wavy hairstyles with flat irons, such as free-spirited beachy waves. Fortunately, hairstylist Melissa Brooke posted a video styling her straight hair into beach waves with a flat iron. The hairstylist noted that how you handle the flat iron for this technique may feel "awkward," as she pulled a section of hair up, which almost looked like a horizontal line, and held the flat iron vertically while keeping grasp of the bottom of the hair. She clamped the flat iron on the section of hair, notably lower than the roots, and twisted the hair styling tool as she pulled it down the section of hair to create a beachy-looking wave. This method is a bit more like the straightening process than Van Ness' strategy.
Furthermore, if you want a more defined spin on beachy waves, hairstylist Jen shared a video showing viewers how to get the tighter look. Wrapping her section of hair around the flat iron before sliding down, the hairstylist instructs viewers to "angle the flat iron down and slide the iron down at a faster speed for beach waves." The results were glamorous.