Flat Vs. Domed Foundation Brush: The Differences, Explained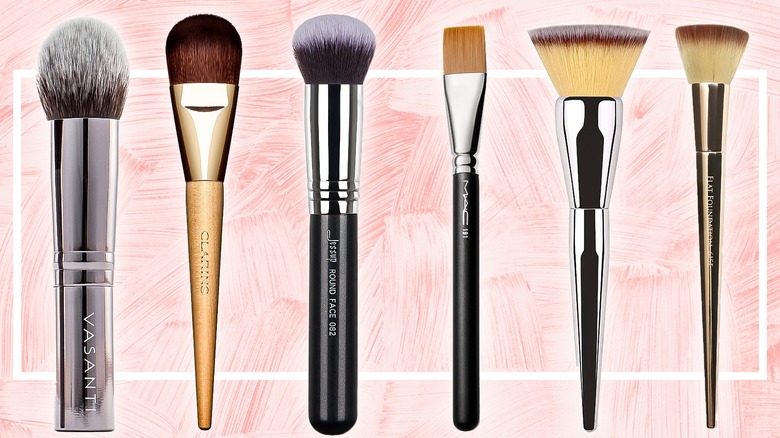 Static Media/Shutterstock
The success of any makeup look starts with a good foundation — literally. And one of the keys to getting foundation right is choosing the best application tool. In addition to beauty sponges, makeup brushes are the most common method for applying foundation, and though there are seemingly endless varieties of brushes, those that are used for foundation mostly fall into two categories: flat and domed.
Flat brushes resemble paint brushes in that the bristles are arranged in a flat shape rather than being dense and rounded. Typically, you'll "paint" your foundation on using this kind of brush, while domed brushes feature a greater number of bristles and have a wider, rounded surface area.
Neither brush is objectively better, but there are some differences that might make you choose one brush over the other. Speaking to Marie Claire, celebrity makeup artist Melissa Murdick revealed that flat brushes "offer buildable coverage, so you can really control whether you want a sheer application of the product or want to build up to fuller coverage in certain areas." By comparison, Murdick explained that domed brushes provide "fuller coverage" simply because the denser nature of the bristles allows them to apply a greater amount of foundation at once.
In addition to the coverage differences, you should also take into account what application technique you are more comfortable with using, and what consistency of foundation you lean towards, before investing in either kind of brush.
Flat brushes pair with liquid foundation for flexible coverage
Flat brushes should be your go-to if you're looking for a sheer-to-medium coverage level that you can build as you go. They are also best matched with liquid foundation, as this type of foundation is typically "painted" or "spread" onto the face.
Interestingly, you can still work your way up to a high level of coverage with a flat brush, per Sephora. Just make sure you are painting on and blending the product before adding subsequent layers. Additionally, flat brushes come in different sizes, so you'll naturally want to choose a larger one that holds more product if you want more coverage.
Note that flat brushes aren't to be confused with flat-topped domed brushes (these fall under the category of denser, rounded brushes). Those are brushes with a round surface area but a blunt, flat edge that is ideal for applying an even higher level of coverage (via Makeup.com).
One of the greatest benefits of flat brushes that are smaller, or those with rounded edges, is that you can easily get into hard-to-reach areas of the face that domed brushes won't be able to get to. In terms of downsides, Live Glam warns that foundation applied with a flat brush can have a streaky finish, due to the painting technique. That's why it's extremely important to blend as you go and always apply your foundation in the best light possible.
Domed brushes match various foundation formulas
Domed brushes also come in many variations — such as the flat-topped domed brush — which are all used for different purposes. However, the universal similarity between all domed brushes is that they are compact with a larger, rounded surface area that allows them to bring more product onto the skin, creating more coverage. If you're having trouble telling the difference, the actual neck of this brush will be round as opposed to flat. 
You can apply liquid foundation with a domed brush, particularly one with a flat top, but these brushes are typically matched with powder or mineral foundation. Lamora Beauty explains that the best way to use them is to dip the brush in the powder and then tap it against a hard surface to eliminate the extra product. Apply to the skin in a circular motion.
If you have a domed brush with a flat top, you can apply liquid foundation in a patting motion before blending out. Live Glam explains that domed brushes make it easier to blend in your product than flat brushes, and are often used as buffing brushes.
As domed brushes can be used with liquid and powder formulas, they are more flexible when it comes to foundation type. However, flat brushes tend to be more flexible in that you have more control over the coverage level. Both can work wonders to create your ideal makeup look, so first identify what your foundation style is to find your perfect brush.