Graceful Ruffles Are The Ultra-Feminine Dress Trend We're Seeing Everywhere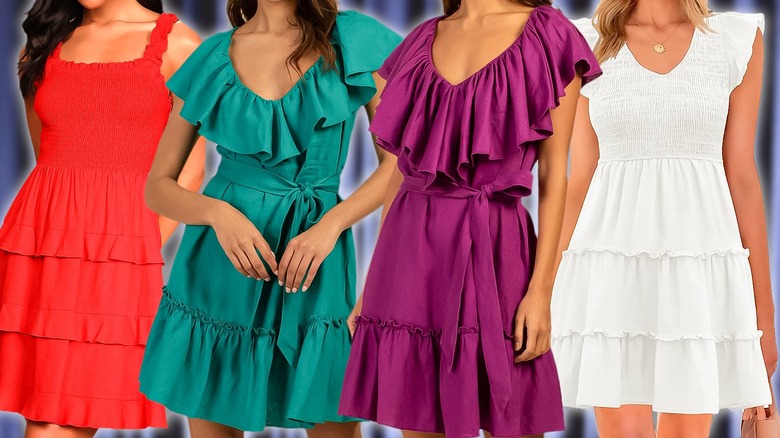 Static Media / Shutterstock
In 2023, ruffles are back in a big way, so add them to your wardrobe! While we always thought ruffles were beautiful and charming embellishments, we understand that some people might be unsure how to incorporate them into an outfit because of the dramatic, theatrical ruffles we sometimes see actors wear in movies and TV shows. However, everyone could try adding more graceful ruffles to their closet — once you experiment with them, you'll see they don't have to be as intense as you may have initially assumed. "While truly anything goes if you love it, my best advice for feeling confident when trying out a more daring trend is to pair it back to a staple or favorite pieces in your closet," Kendall Becker, a trend forecaster, told Seventeen.
Thus, you don't have to swap out all your clothes for pieces with ruffles — you should just consider adding a few ruffley garments to your wardrobe for fun, trendy ensembles. If you don't know where to start, dresses and ruffles beautifully complement each other. And ruffles are such lovely embellishments that you won't have to worry about additional accessories. If you enjoy trying various trends, give dresses with ruffles a chance, as you have a wealth of options!
Lean into girly vibes with a pink dress with ruffles
Anyone who enjoys ultra-feminine looks should add a pink or pastel dress with ruffles to their wardrobe for the ultimate girly outfit. Perfectly on theme with the coquette fashion trend that's all over TikTok, light dresses with ruffles fit 2023's appreciation for all things dainty and sweet.
Soften a black dress with ruffles
On the other hand, ruffles are perfect for making black dresses look less intense. If your go-to outfit is a black dress, consider looking for one with ruffles next time you go shopping. These details can make black dresses appear more fun while still being appropriate for various settings, events, and occasions.
Wedding dresses look even more beautiful with ruffles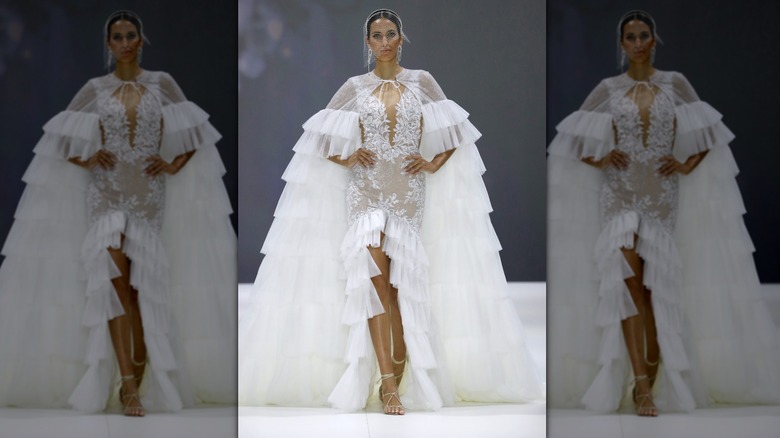 Estrop/Getty Images
Bridal gowns look so elegant and enchanting when they feature ruffles. Whether you opt for an ultra-dramatic wedding dress covered in bold ruffles, a more minimalistic look with a subtle hint of ruffle details, or any style in between, ruffle embellishments are perfect for weddings.
Ruffles are excellent for elevating sleeves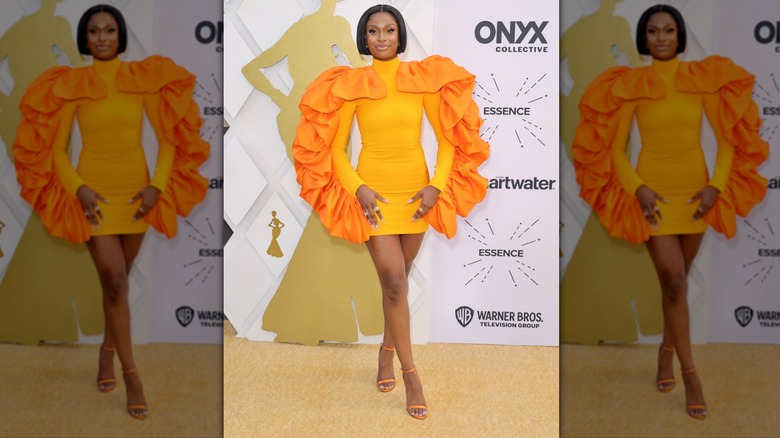 Momodu Mansaray/Getty Images
Ruffles can beautifully enhance sleeves on an outfit. While this red carpet look brings beautiful and bold drama to the long sleeves, more lowkey ruffle sleeve looks are ideal for everyday outfits. Anyone who doesn't want a dress with too many embellishments because they don't want those details to overpower the outfit should opt for a dress with delicate-looking ruffles on the sleeves. Likewise, short ruffle sleeves are more subtle yet playful, acting as the perfect flirty embellishment for any warm weather garment.
Let the ruffles make a statement
Are you bored by plain white minidresses? While there's nothing wrong with sticking with that classic, minimalistic look on sunny days, ruffles can make the garment appear trendier and more stylish. Even the most otherwise basic white minidress will make a fashionable statement with added details, so consider switching it up by wearing a minidress with ruffles.