TikTok Diet Advice May Not Be Worth Following - Here's Why, According To A Recipe Developer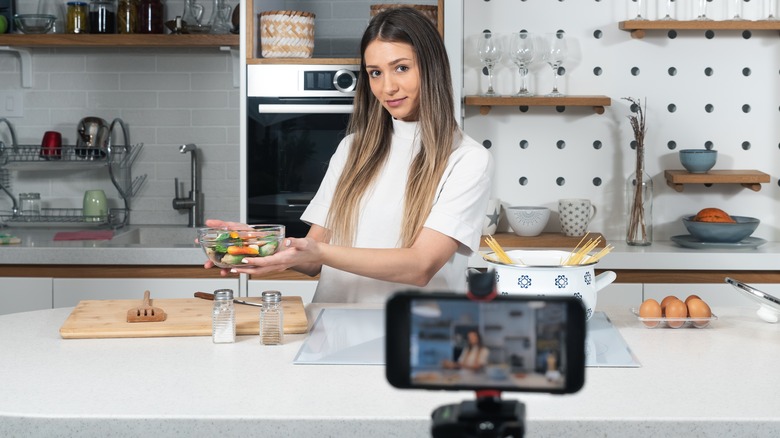 Srdjan Randjelovic/Shutterstock
The weight loss and food communities on TikTok are some of the most active corners of the social media app, as well as one of the easiest avenues to take if you want to be a food content creator. Users who claim to have quickly lost large amounts of weight, for instance, frequently share diets, tips, tricks, and recipes that supposedly helped them reach their goals, with many followers hoping to do the same. 
Unfortunately, there's no real way to verify these creators' claims when it comes to posting weight loss or the nutritional content of their recipes, and the vast majority have no credentials that qualify them to safely advise others. They're simply content creators, and as we all know, content often spreads like wildfire when it feels too good to be true. At best, this behavior is careless; at worst, it's the harmful boosting of "crash diets" (via Mashable).
To decipher the trustworthiness of DietTok once and for all, Glam spoke exclusively to recipe developer Helen of the popular food blog Hint of Helen to hear her insights about the ever-increasing volume of TikTok recipes and food advice — and the meal-building expert didn't mince words when sharing her concerns about the type of food content that's being shared on the world's most viral social media platform. 
TikTok diet recipes vs. reality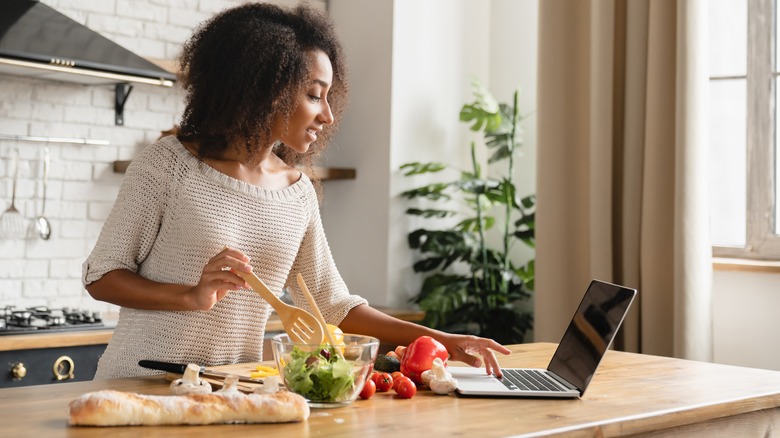 Inside Creative House/Shutterstock
Helen exclusively tells Glam that while scrolling to find motivation for her recipe development business, she frequently comes across video recipes that make glaringly false nutritional claims. "Many short videos have really alluring nutritional stats and promises of quick weight loss results," she warns. "However, it's blatantly obvious that the stats the creators are boasting about are incorrect." Furthermore, according to Helen, one claim appears more frequently than the rest: dishes that promise to be high-protein, low-carb, and low-calorie. 
According to Helen, recipe videos often claim that they meet the parameters of a low-carb and/or low-calorie diet and then they "proceed to show high-calorie dinners with more than the daily recommendation of carbs on the plate." As a result, people searching for recipes to help them create a sustainable and nutrition-based approach to weight loss might be duped into eating more carbs and calories than expected, though, of course, this isn't the case for every video that claims to meet these parameters. You just have to keep your wits about you when reviewing the recipes' ingredients and serving sizes.
Unintended effects of TikTok diets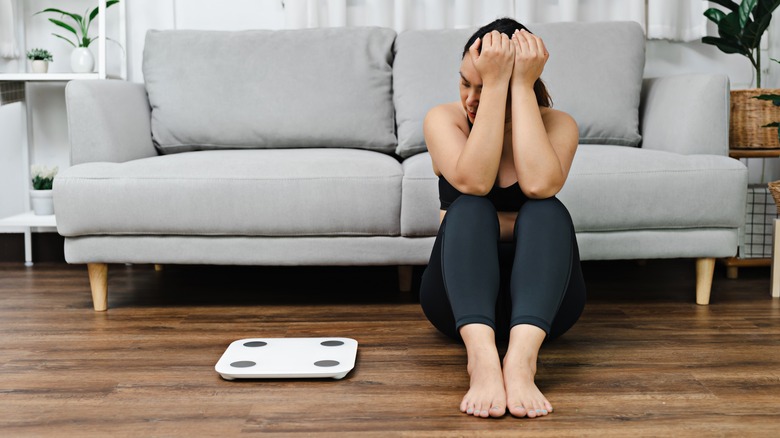 mojo cp/Shutterstock
When recipes underreport their calorie and nutrient content, people's actual health can be affected. "... [M]isleading videos can misguide viewers into unknowingly following a high-calorie diet, leading to unintended weight gain and frustration," Helen exclusively explains to Glam. "I am concerned about the impact of misleading content on people's well-being." 
"It is vital to promote accurate nutritional information and encourage individuals to seek advice from credible sources," Helen adds. If you've made the choice to intentionally reduce your body weight, be sure to consult with your physician or a registered dietitian for advice regarding your individual body. While TikTok and other social media platforms can provide recipes to help you on your journey, don't assume that their nutrition information is correct. You can use a database like MyFitnessPal or product labels to calculate your own nutritional profiles of the meals you make to ensure that they support your goals.