Your Makeup Won't Be In Danger Of Melting Off With This 100-Year-Old Hack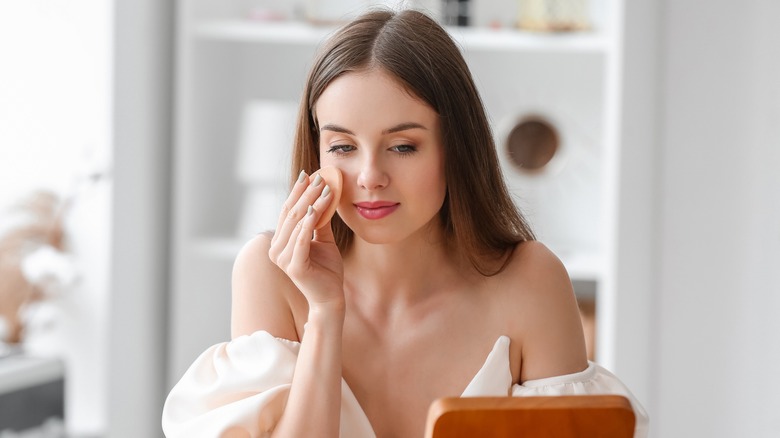 Pixel-Shot/Shutterstock
If you're in for a long day, you might do everything you can to ensure that your makeup stays put. However, even the best setting spray can begin to falter after several hours, especially in heat and humidity. Luckily, there are several TikTok hacks that can help you make your makeup last all day, regardless of the weather. One that is growing in popularity has been around for decades, and all you need is cold water.
Makeup artist Lisa Eldridge recently took to TikTok to post a video demonstrating the power of cold temperatures on the skin. In the clip, she dips a pair of clean cotton pads into a glass of ice water. After wringing them out, she dabs the pads on her face — already prepped for the day with makeup — and that's it. In the comments section of the video, Eldridge said the technique "felt like a refreshing setting spray." As an added bonus, she noted that the method removed "excess powder."
You might be confused if you've always assumed that any exposure to moisture does more harm than good while wearing makeup — but it turns out there's a reason this hack was created in the first place. A century later, this technique is still around and gaining popularity on social media.
Does this cold water makeup hack really work?
This 100-year-old makeup hack is credited to Ern Westmore, who made a name for himself as Hollywood's best go-to makeup artist in the 1920s. Beginning his career at Warner Brothers in 1925, Westmore eventually went on to work with some of the era's biggest stars, including Bette Davis and Maureen O'Hara. "In old Hollywood days, makeup was very heavy and oil-based, and required a lot of powder to set in place," makeup artist Tilly Ferrari told Refinery29. "Using cold water on a cotton pad helped to remove the top layer of powder and brighten the complexion." While this technique works best for those who use a lot of powder, even if you don't, it may still be beneficial.
BeautyTok creator @_ayshabegum_ tried the hack (without caking her face in powder!) to see if it could prevent her makeup from transferring and was pleased with the results. "This hack actually does work," she says in the video. One user commented, "Did this on wedding in 40 degrees heat. Lasted all day." However, not everyone has seen foolproof results, and the amount of powder some people believe is required to execute the hack can be considered a setback. "Personally, I wouldn't want to waste this much powder every time I applied my makeup," makeup artist Saffron Hughes told Refinery29. "I would probably recommend it for special occasions only." 
How to keep your makeup flawless throughout a long day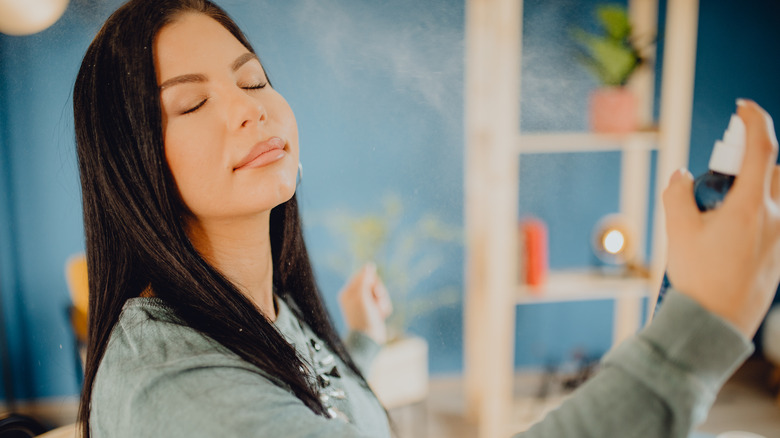 Rema/Getty Images
If you're wary of using a TikTok hack to ensure your makeup stays put throughout an important day, there are a few classic tips you can try to maintain your look. First, an obvious one is to opt for waterproof formulas when it comes to your mascara and eyeliner. This type of makeup is designed to withstand everything from sweat to beach waves.
Secondly, you might already know it's essential to start with primer before applying any of your makeup, but a waterproof formula may be your best bet for keeping your base set all day. Finally, ensure you're using a foundation and concealer suited for extended wear. Select one based on your coverage preferences — long-wear foundation, for instance, is often formulated with different consistencies to suit many different needs.
Consider polishing off your look with a waterproof, long-lasting setting spray to seal the deal. Just a spritz of it over your makeup can keep it in place from sun up to sundown. It can also help reduce creasing and smudging, which may be concerns if you know you're going to break a sweat during the day.