Kate Middleton's Favorite Perfume Is A Floral Scent Lover's Dream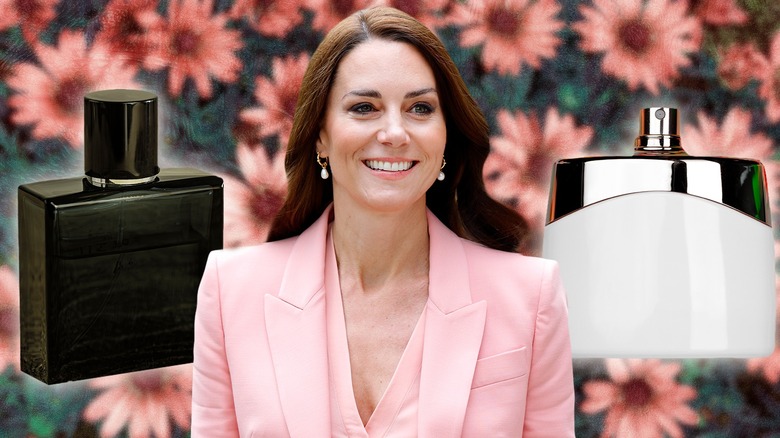 Static Media / Shutterstock / Getty
We may receive a commission on purchases made from links.
Fans of the British royal family have always strived to look like its key players. Notably, Catherine, Princess of Wales, has inspired women all over the world with her fashion and beauty choices. It's not always easy (or affordable) to replicate Kate Middleton's regal style visually — unless you're in a position to spend on items such as the Chanel classic wallet, retailing at around $3,500 at the time of writing, which Middleton carried to the National Portrait Gallery opening in June 2023. However, it's decidedly easier to smell like the royal star now that we know her favorite perfume.
According to Woman & Home, Middleton's favorite perfume is Jo Malone London Orange Blossom Cologne. While she didn't wear it for her 2011 wedding to Prince William, it is believed to be her go-to scent.
You can purchase the unisex fragrance directly from Jo Malone London, however, a number of department stores and online retailers also sell it. This includes Amazon, Nordstrom, and Sephora. While the cologne retails at $165 at the time of writing, it's still cheaper to invest in this fragrance than some other iconic staples of Middleton's wardrobe and beauty rotation.
What does Orange Blossom Cologne smell like?
The Jo Malone London website describes the Orange Blossom Cologne as "a shimmering garden oasis," making it ideal for those who are drawn to floral scents. It contains notes of clementine flower, which is known for its delicate and sweet citrus elements, per Fragnatica. Of course, orange blossom, along with water lily, is the star of the fragrance. Orange blossom is a complex yet popular scent, honey-like and irresistible to fans of citrus.
Beneath these main characteristics, the cologne has "warm undertones of orris and balsamic vetiver." This gives it a slight earthy and woody quality that pairs wonderfully with the citrus and floral notes. Everything comes together to create a fragrance fit for a princess.
As Hindustan Times notes, "woody" and "floral" elements can help citrus scents to last longer on your skin, so you might also find that you don't need to reapply the cologne frequently throughout the day. It's a light scent that's particularly well-suited to the warmer weather, but you could get away with wearing it in winter, too, if for no other reason than to bring a touch of summer to the dreary colder months. However, if the price tag is a dealbreaker for you, there are cheaper alternatives available.
Where can we get a cheaper alternative?
Jo Malone London is a prestigious fragrance brand, so you can always expect to pay a little extra for the name on the bottle, as well as the delectable scents. For those who don't want to pay quite as much, there are a few citrus and floral-based perfumes with lower price points to explore.
The Body Shop sells a vegan eau de parfum called Full Orange Blossom that is described as having "citrus" and "floral" characteristics, and is also a gender-neutral fragrance. Woody notes also make it comparable to the Jo Malone London Orange Blossom Cologne. While it's not likely to be as subtle as the Jo Malone London version, it's definitely a more affordable alternative, retailing at $46 at the time of writing.
Though it doesn't contain orange blossom, Kayali Citrus 08, which is available from Huda Beauty, is a similar light and floral scent that can offer a comparable fruity experience. The citrus notes in this perfume come from bergamot and pink grapefruit, resulting in a final aroma that is more tart and bitter than the sweeter orange blossom. However, at $125 for the same size bottle, it's a more affordable way to capture that summery scent.