Manicure Ideas For August To End Your Summer On A Brighter Note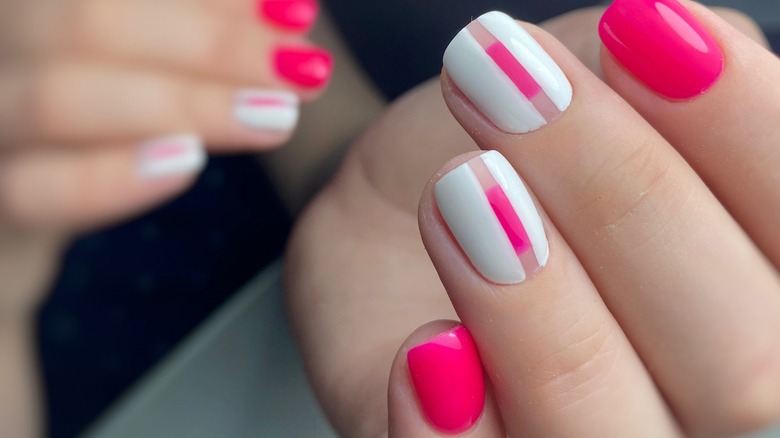 Vetrova-Noskova/Shutterstock
If there was ever a time for a bright, fun, or even silly manicure, it's summer. Under the golden warm rays of the sun, everything tends to feel a little lighter, freer, and less serious. If you struggle to embrace the arrival of autumn and the more stoic vibes it tends to usher in with it, now is the time to take a last stand for summer through your nails. Who says you have to skip ahead to a solid wine-colored mani just because August is upon us?
For those who choose to rebel against the coming big chill, we've assembled a collection of the brightest and most joyous summer manicures to inspire you to keep your nails as fun and summery as possible until fall. Choose your favorite looks, customize them until they represent your unique style, and then rock them until the first leaves fall from the trees (and beyond). 
Watermelon nails
What screams 'summer fun' more than watermelon? Add neon green tips to a pink base and dot on a few black seeds, and, suddenly, you have the most summery of all manicures. Or, you could ask your local nail tech for a more detailed, longer-lasting, and nostalgic airbrushed nail art version. 
Let the sun shine
Sun's out, fun's out with these sun-themed summer nails. Using two colors per hand means you can wrap up summer with a full palette of sizzle. Of course, if you're more of a matchy-matchy babe, feel free to stick to one color for the base and one for the sun art. Either way, you'll be the belle of the beach. 
Florescent coral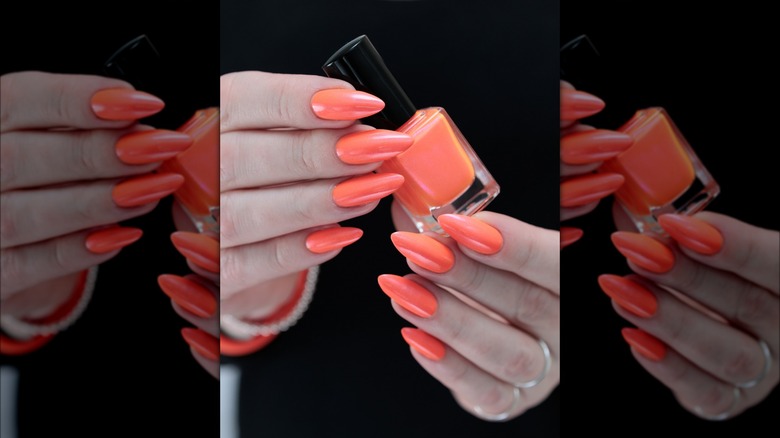 TanitaKo/Shutterstock
The bright red, orange, and pink tones of fluorescent coral are impossible to mentally separate from the feeling of the scorching hot days of summer. And rocking it as a solid manicure — with or without warm-toned shimmer — is a gorgeous way to say goodbye to everyone's favorite season. 
Fruit salad
From picnics and barbeques to gardens and farmer's markets, summer is the season of the juiciest fresh fruits. Make an ode to Mother Nature's seasonal bounty with a nude base and tiny fruit art accents on your nails. 'Winter squash nails' just doesn't have the same ring to it. 
Flower power
If part of what summer represents to you is the experience of attending outdoor music festivals, you might enjoy these psychedelic patterned nails with smiling sunflower art. Of course, you can customize everything from the color combination to the type of flower to make the mani your own. 
Summer sunsets
Do you enjoy long walks on the beach at sunset? If so, we've got the manicure idea for you. Stick to sunset pinks and blues or incorporate warm gold and orange hues, depending on your skin tone and preferences. Then, add or request the iconic palm tree silhouette to this ombré nail design to drive the summer vibes home.